Open Access This article is
freely available
re-usable
Review
Insights into the HIV Latency and the Role of Cytokines
1
Department of Basic Science, Kampala International University-Western Campus, Faculty of Science and Technology, Bushenyi, Uganda
2
Center for Translational Medicine, Thomas Jefferson University, 1020 Locust Street, Philadelphia, PA 19107, USA
3
Department of Biochemistry and Molecular Medicine, The George Washington University, Washington, DC 20037, USA
*
Author to whom correspondence should be addressed.
Received: 6 August 2019 / Accepted: 1 September 2019 / Published: 4 September 2019
Abstract
:
Human immunodeficiency virus-1 (HIV-1) has the ability to infect latently at the level of individual CD4+ cells. Latent HIV-1 proviruses are transcriptionally silent and immunologically inert, but are still capable of reactivating productive lytic infection following cellular activation. These latent viruses are the main obstacle in the eradication of HIV-1, because current HIV-1 treatment regimens are ineffective against them. Normal immunological response against an antigen activates CD4+ naïve T cells. The activated CD4+ naïve T cells undergo cell cycle, resulting in further transformation and profound proliferation to form effector CD4+ T-cells. Notably, in HIV-1 infected individuals, some of the effector CD4+ T cells get infected with HIV-1. Upon fulfillment of their effector functions, almost all activated CD4+ T cells are committed to apoptosis or programmed cell death, but a miniscule fraction revert to quiescence and become resting memory CD4+ T cells to mediate a rapid immunological response against the same antigen in the future. However, due to the quiescent nature of the resting memory T cells, the integrated HIV-1 becomes transcriptionally silent and acquires a latent phenotype. Following re-exposure to the same antigen, memory cells and integrated HIV-1 are stimulated. The reactivated latent HIV provirus subsequently proceeds through its life cycle and eventually leads to the production of new viral progeny. Recently, many strategies against HIV-1 latency have been developed and some of them have even matured to the clinical level, but none can yet effectively eliminate the latent HIV reservoir, which remains a barrier to HIV-1 cure. Therefore, alternative strategies to eradicate latent HIV need to be considered. This review provides vital knowledge on HIV latency and on strategies to supplement highly active anti-retroviral therapy (HAART) with cytokine-mediated therapeutics for dislodging the latent HIV reservoirs in order to open up new avenues for curing HIV.
Keywords:
HIV-1; latency; eradication; transforming growth factor-beta (TGF-β); resting memory CD4+ T-cells
1. Introduction
Human immunodeficiency virus type-1 (HIV-1) infects human CD4+ T cells [
1
,
2
] and macrophages [
3
] via mucosal or blood contacts. The virus is then carried into the lymph nodes where it subsequently spreads into other lymphoid organs followed by enhanced virus replication and systemic infection [
4
]. After three to six weeks of primary infection, there is an onset of acute phase which is characterized by mononucleosis-like syndromes; fever, sores in mouth, pharyngitis, rash, myalgia, malaise, lymphadenopathy, headache, nausea and vomiting, lethargy, ulcers on the genitals, enlarged liver, weight loss, night sweats, diarrhea, and other neurological symptoms with a sharp increase in viremia in peripheral circulation [
1
]. The increase in viremia during the acute phase is also marked by a concomitant decline in the CD4+ T-cell population attributable to direct virus-mediated cytotoxicity or infection-induced cytotoxic T-cells (CTL)-mediated killing of virus infected cells [
1
,
2
]. Usually, the viremia peak resolves following HIV-1-specific immune responses, but this immunological response to infection is insufficient to completely suppress HIV-1 replication [
1
,
2
].
The acute phase of HIV-1 infection is followed by a chronic asymptomatic phase, referred to as "clinical latency", which lasts for several years [
2
]. During clinical latency, HIV-1 replication kinetics are highly dynamic and characterized by gradual depletion of peripheral blood CD4+ T-cells [
3
]. In this stage of HIV infection, the virus continues to replicate at very low levels. Pantaleo et al. demonstrated that even though the viremia is low or undetectable in peripheral circulation, virus replication is enhanced in lymphoid organs, perhaps due to a spectrum of mechanisms such as viral accumulation, cellular activation, rapid viral turnover etc. [
4
,
5
,
6
]. In addition to direct virus-mediated cytotoxicity, infection-induced CTL-mediated killing of HIV-1 infected cells is a potential mechanism for T-cell depletion [
1
,
2
,
7
]. It is also believed that HIV-1 infection induces an autoimmune phenomenon throughout the course of infection, which causes hyper-activation of cellular immune response that results in non-specific killing of immune cells [
2
].
Progressive decline in host immunity during a prolonged period of the clinical latency phase results in the inability of the host immune system to respond to other invading pathogens and is referred to as acquired immunodeficiency syndrome (AIDS). This phase is marked by depletion of CD4+ T-cells, which is inversely proportional to virus load in peripheral circulation and lymphoid organs [
7
]. The inability of the host to activate an immunological response during the AIDS phase leads to an onset of a broad range of opportunistic infections associated with HIV-1 infection referred to as AIDS-defining illnesses [
1
,
2
,
7
]. Common co-infections, which induce AIDS-defining illnesses in HIV patients, include herpes simplex virus type-1 (HSV-1), salmonella, candidiasis, and toxoplasmosis. Under the normal immune system, these co-infections remain latent. However, due to deterioration of the immune system, these pathogens become reactivated and extremely difficult to treat and clear. Moreover, opportunistic infections, such as Kaposi's sarcoma (KS)-associated herpesvirus (KSHV), hepatitis, M. tuberculosis, and P. carinii exhibit multiple strains, which further complicate infection dynamics and treatment outcomes. Earlier occurrence of these infections due to the lack of quick, effective, reliable, and affordable diagnostic tools results in delayed detection and treatment initiation. However, following the introduction of highly active antiretroviral therapy (HAART), AIDS-defining illnesses have reduced to negligible levels. Although HAART has significantly increased the lifespan of infected individuals, it is unable to eliminate HIV-1.
Toxicities arising from HAART, as well as from the chemotherapy, used in the management of malignancies, such as HIV-associated KS, further enhances the hardship of HIV patients. Additionally, the replication of the HIV-1 in immune-privileged sites with limited access to therapeutic drugs, and the ability of the virus to establish latent infection are the two main factors that hinder the eradication of HIV. The lack of a suitable animal model to study and evaluate novel therapeutic approaches, further hampers the discovery of novel therapeutic avenues. This review discusses in-depth details on latently infected HIV and possible strategies for supplementing anti-HIV therapy to dislodge HIV-1 reservoirs.
2. Establishment of HIV-1 Latency in Resting Memory CD4+ T-Cells
3. Factors Mediating HIV-1 Latency in Memory CD4+ T-Cells
Unlike HIV-1 infection of activated CD4+ T-cells, which is characterized by high levels of virus replication, resting memory CD4+ T-cells support only restricted transcription of latent provirus [
21
,
22
]. Analysis of HIV-1 transcription patterns in latently-infected resting memory CD4+ T-cells has revealed the basal expression of short viral mRNA transcripts, with extremely low expression of complete genomic HIV-1 mRNA transcripts, which are necessary to generate new viral particles [
16
,
21
,
22
]. Cellular factors regulate HIV-1 latency both by controlling HIV transcription and the metabolic state of the HIV-1-harboring cell. Thus, latency is the result of multiple factors acting in concert, including (a) absence of nuclear forms of cellular transcription activation factors and sub-threshold levels of viral Tat protein; (b) epigenetic silencing of the HIV-1 long terminal repeats (LTR); (c) transcription interference; (d) microRNA-mediated degradation of viral mRNA and/or impaired HIV-1 gene expression; and (e) physiological maintenance of the quiescent memory CD4+ T-cell.
4. Current Approaches to Eliminate Latent HIV Reservoirs
The findings from the current investigations, focusing on HIV-1 persistence have open up new avenues for a wide variety of potential therapeutic strategies [
63
,
64
,
65
,
66
,
67
,
68
]. One of the approaches that has undergone several clinical trials is known as 'shock and kill.' In this strategy, latency reversing agents (LRAs) or transactivator(s) are administered to patients on HAART to reactivate latent HIV-1 by stimulating the transcription of latent/silent provirus and subsequent prevention of new infections through HAART [
69
]. This strategy aims to limit exposure to LRAs until the latent reservoir falls to an extent that would allow HAART discontinuation without the risk of viral rebound. The most common LRAs include histone deacetylase (HDAC) inhibitors/antagonists and protein kinase-C (PKC) activators/agonists. The 'shock and kill' strategy entails activation of HIV-1 expression to allow latently-infected resting memory CD4+ T-cells to die from viral cytopathic effects and/or host cytolytic immune effectors, while controlling new infections via HAART [
69
].
Arguably, this strategy seems promising for a scalable solution to HIV-1 eradication. There have been over 15 completed clinical trials testing LRAs from distinct mechanistic classes [
70
,
71
]. However, only modest perturbation to the reservoir was observed to-date. On the other hand, ex vivo experiments using aviremic patient cells have demonstrated that viral reactivation, even when using potent regimens, occurs for only a minority of latently infected cells after a single administration of the LRAs [
72
,
73
,
74
]. The reactivation of latent HIV-1 by LRAs was primarily limited to the circulating latently infected T-cells. Unfortunately, a majority of latently-infected CD4+ T-cells continue to hide in certain anatomical sites, where LRA access was highly limited. The key to utilize LRAs as part of a curative method for HIV-1 is that LRAs should not only be able to reduce the size of the latent reservoir, but they should also be able to restrict the re-emergence of the virus upon HAART discontinuation. To eliminate activated virus-expressing CD4+ T-cells, cytotoxic T-lymphocytes (CTLs) may also need to be boosted. In acute infection, CTLs are important for controlling HIV-1 replication, but in chronic infection, the cytolytic capacity of CD8+ T-cells is impaired and not restored by HAART. HIV acquires and maintains resistance mutations to CTLs in long-lived memory CD4+ T-cells due to the pressure from the CTLs and the evolution of the virus sequence during replication [
75
]. Considering the limitations of latency-reversing interventions observed thus far, additional strategies to deplete latently-infected resting memory CD4+ T-cells are needed.
5. Cytokines Modulation of HIV Infection
Infection with HIV is known to result in dysregulation of the cytokines, which play an important role in modulating the homeostasis of the immune system. Infection with HIV induces the production of pro-inflammatory cytokines, including interleukins, interferons and chemokines. Some of these cytokines regulate homeostasis of the immune system as well as HIV replication. HIV infection also tends to increase the production of T helper type-2 (Th2) cytokines (Interleukin-4 (IL-4), Interleukin-10 (IL-10)), proinflamatory cytokines (Interleukin-1 (IL-1), Interleukin-6 (IL-6), Interleukin-18 (IL-18)), and TNF-α; and it tends to decrease the level of T helper type-1 (Th1) cytokines, including Interleukin-2 (IL-2) and anti-viral interferon-gamma (IFN-α) [
67
]. Osuji; et al. [
76
] have shown that, compared with uninfected individuals, HAART-naïve HIV-infected individuals have elevated levels of proinflamatory cytokines (TNF-α, IL-6), anti-inflammatory cytokines (IL-4, IL-10), and transforming growth factor-beta (TGF-β). The level of TNF-α and TGF-β remained significantly elevated even 12 months after the initiation of HAART.
Furthermore, it has also been shown that the cytokines TNF-α, TNF-β, IL-1 and IL-6 stimulate HIV-1 replication in both T-cells and monocyte-derived macrophages (MDM). The cytokines IL-2, IL-7 and IL-15 are also reported to upregulate HIV-1 replication in T-cells (
Table 1
). Meanwhile, the cytokines IFN-α, IFN-β, and IL-16 have been shown to repress HIV-1 replication in T-cells and MDM, while IL-10 and IL-13 inhibit HIV-1 replication in MDM [
67
]. The beta-chemokines, such as macrophage inflammatory protein (MIP)-1 alpha, MIP-1beta and RNATES, are inhibitors of macrophage-trophic strains of HIV-1 whereas the alpha-chemokines, such as stromal-derived factor-1, inhibit infection by T-trophic strains of HIV-1 [
67
]. As the disease progresses, the cytokines TNF-α, IL-2 and IL-6 regulate and replenish the latent HIV reservoir [
69
]. Immunosuppressive and pro-inflammatory cytokines favor the HIV latency by inhibiting the viral replication [
70
].
6. The Role of TGF-β in the Modulation of Latent HIV Provirus Pools in Resting Memory CD4+ T-Cells
HIV-1 remains dormant in CD4+ T lymphocytes and forms a reservoir, which is controlled but not eliminated by HAART. Even though, the success of HAART in HIV/AIDS therapeutics has extended the life span of many infected individuals, there is still room for improvement. The common HAART regimen consists of Nucleoside Reverse Transcriptase Inhibitors (NRTIs), Non-Nucleoside Reverse Transcriptase Inhibitors (NNRTIs) to inhibit the activity of reverse transcriptase (RT), and protease inhibitors (PIs) to restrict virus replication and proliferations. New generation of HAART regimens also contain viral entry and integrase inhibitors, which inhibit the cellular entry and integration of the HIV provirus into the host cell genome. The primary focus of the current anti-HIV therapy is to inhibit HIV replication and transmission, rather than HIV-1 eradication or cure. Therefore, under the current scenario, the infected individuals need to rely on HAART for the rest of their life. Hence, to restrain HIV-1, the infected individuals must take HAART regularly. However, continuous use of HAART drugs inflicts mild to serious side effects both for the short and long term. Some side effects appear for the first couple of weeks while others are continuous for months or even years after starting HAART. Individuals are required to continue HAART despite any side effects because discontinuation will allow HIV-1 to multiply and damage the immune system.
7. Conclusions
HIV-1 establishes latent infection in CD4+ memory T cells and persists indefinitely, even in individuals who are on HAART. The stability of latently-infected resting memory CD4+ T-cells is not, for the most part, due to new de novo infection events during HAART, but rather to the ability of resting memory CD4+ T-cells to proliferate and promote immunologic memory. Even though the current treatment regimens for HIV have greatly improved the life expectancy of HIV/AIDS patients, the current HAART therapies, which inhibits the replicating virus are unable to eliminate these latent infected viruses. The quality of life in HIV/AIDS patients on HAART is compromised since they need to adhere to it for rest of their lives to prevent the virus from rebounding. Long-term HAART causes drug toxicities, numerous side effects, and complications. Therefore, treatment options that target both the replicating and latently infected virus are the need of the hour. We believe that the application of adjuvant therapy in combination with HAART could prove more effective in eradicating not only the replicating virus but also the latent virus. This approach may disrupt and deplete the latent HIV reservoirs in resting memory CD4+ T-cells and thus potentially remove the need to rely on HAART for lifelong. The information generated from this review will provide vital information on HIV latency and the strategy of adjuvant immunotherapies for depleting latently-infected resting memory CD4+ T-cells in HIV patients. The success of these strategies will depend upon a greater understanding of the causative factors responsible for immune activation and immune responses.
Author Contributions
J.H., A.L.S., M.D. and M.T. managed the production of this paper, drafting and analysis process. J.H., A.L.S. and M.T. designed this study. M.T. supervised this study.
Funding
The work performed in the laboratories of the authors was supported by grant from FIC at the NIH through the Fogarty-AIDS International Training and Research Program (AITRP) at Case Western Reserve University (Training Grant: #464 NIH 5D43 TW00011) to JH and through the R01 grant (R01DA041746) to MT.
Acknowledgments
We are grateful to the Fogarty International Center (FIC) at the National Institutes of Health (NIH) for a doctoral training fellowship through the Fogarty-AIDS International Training and Research Program (AITRP) at Case Western Reserve University to JH. (Training Grant: #464 NIH 5D43 TW00011). We are also grateful to National Institute on Drug Abuse (NIDA)/National Institute of Health (NIH) for R01 grant (R01DA041746) to MT. The funders had no role in study design, data collection and analysis, decision to publish, or preparation of the manuscript.
Conflicts of Interest
The authors declare no conflict of interest.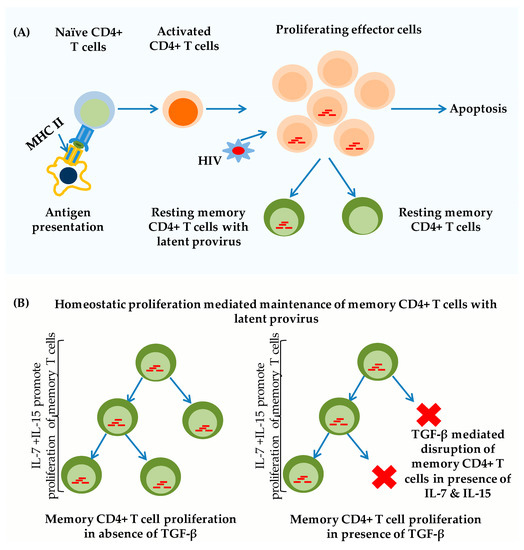 Figure 1. Mechanism of antigen presentation and the generation of latently-infected memory CD4+ T-cells. (A) Naïve CD4+ T-cells encounter antigen, become activated, and undergo enormous proliferation and differentiation to become effector CD4+ T-cells. Upon clearance of the antigen, many of these effector T-cells die, but a small fraction of the activated effector T-cells survive and revert back into quiescence. HIV-1 preferentially infects activated T-cells, and HIV latency is established when activated T-cells become infected and revert back to become memory T cell. Due to their quiescent nature, these cells are resistant to HIV superinfections, but are capable of reactivating productive infection following cellular activation. (B) Mechanism for the maintenance of HIV-1 latency in resting memory CD4+ T-cells under antiretroviral therapy (ART) and the potential effects of TGF-β on resting memory CD4+ T-cell proliferation. In the absence of TGF-β, latently-infected memory CD4+ T-cells are able to survive and proliferate periodically to replenish the latent HIV-1 provirus pools in presence of IL-7 & IL-15, Left panel. However, higher levels of TGF-β are able to disrupt the homeostatic proliferation of latently-infected resting memory CD4+ T-cells and restrict their number, Right panel.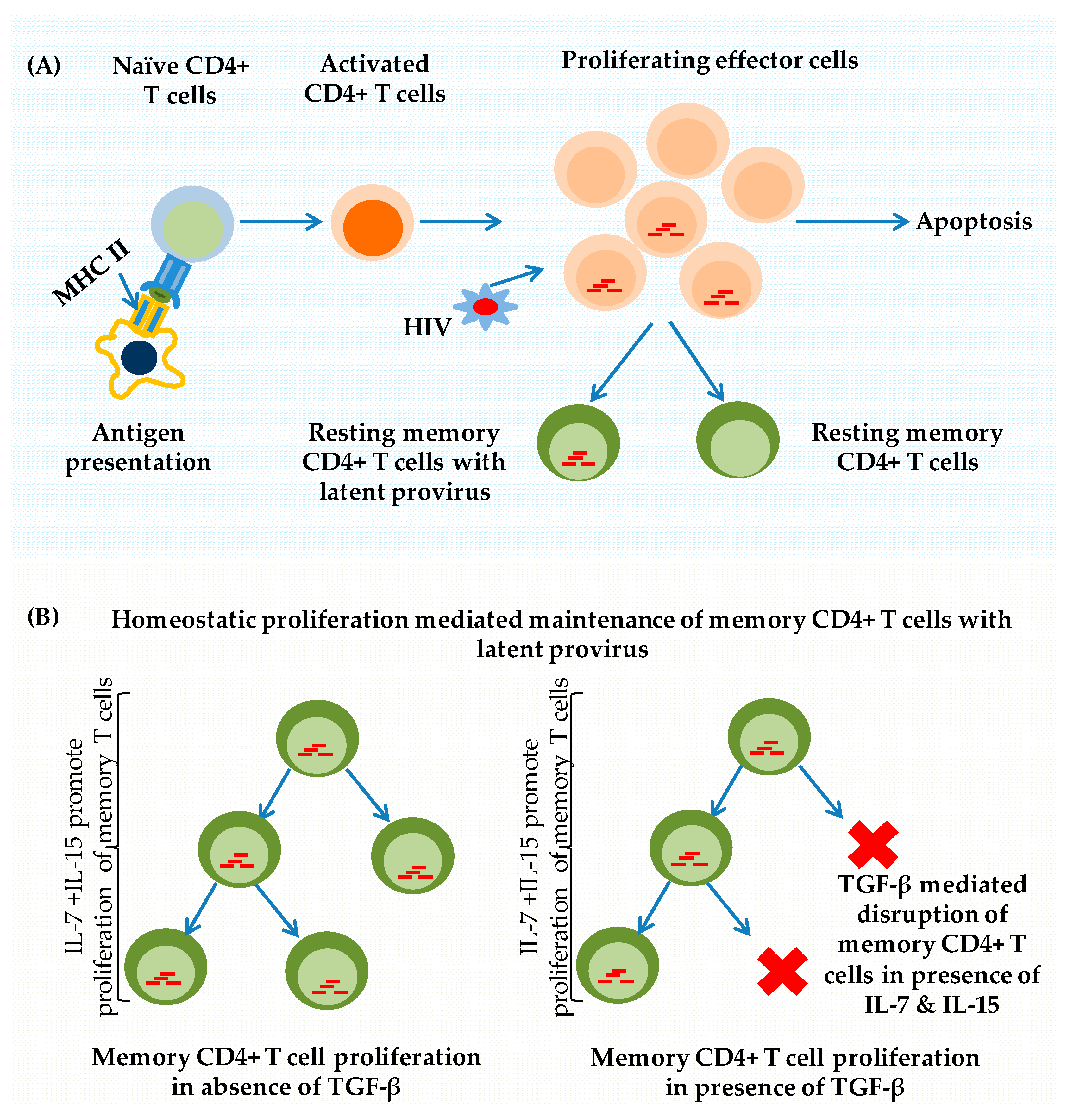 | Impact on HIV Replication | Cytokines |
| --- | --- |
| Enhance HIV replication in most of the cells | IL-1, IL-2, IL-4, IL-6, IL-7, IL-15, IL-18, TNF-α, TNF-β, M-CSF |
| Repress HIV replication in most of the cells | IL-10, IL-13, IL-16, IFN-α, IFN-β, SDF-1, MIP-1α, MIP-1β, RANTES |
| Enhance/reduce HIV replication depending on type of cells | IL-4, IL-12, IFN-γ, GM-CSF |
IL: interleukin; SDF: stromal derived factors; MIP: macrophage inflammatory protein; TNF: tumor necrosis factors; INF: interferons; GM-CSF: Granulocyte-macrophage colony-stimulating factor.

© 2019 by the authors. Licensee MDPI, Basel, Switzerland. This article is an open access article distributed under the terms and conditions of the Creative Commons Attribution (CC BY) license (http://creativecommons.org/licenses/by/4.0/).