Colonization of HIV-Infected Children with Methicillin-Resistant
Staphylococcus aureus
1
Department of Medical Microbiology, School of Biomedical and Allied Health Sciences, University of Ghana, P. O. Box KB 143, Korle Bu, Accra, Ghana
2
West African Centre for Cell Biology of Infectious Pathogens, University of Ghana, P. O. Box LG 54, Legon, Accra, Ghana
3
FleRhoLife Research Consult, P. O. Box TS 853, Teshie, Accra, Ghana
4
Department of Biochemistry, Cell and Molecular Biology, University of Ghana, P. O. Box LG 54, Legon, Accra, Ghana
5
Department of Community Health, School of Public Health, University of Ghana, P. O. Box LG 13, Legon, Accra, Ghana
*
Author to whom correspondence should be addressed.
Received: 9 January 2019 / Revised: 17 February 2019 / Accepted: 21 February 2019 / Published: 17 March 2019
Abstract
Background: Methicillin-resistant
Staphylococcus aureus
(MRSA) poses a public health threat owing to its extensive resistance to antibiotics, association with persistent outbreaks, and markedly increased healthcare costs. Moreover, HIV-infected individuals are at a greater risk for colonization with MRSA, and may act as reservoirs for subsequent transmission to other individuals. In Ghana, little is known about MRSA in relation to at-risk populations, such as HIV-infected children. The aim of this study was to investigate nasal carriage of
S. aureus
and MRSA among HIV-infected children in Accra, including the prevalence, risk factors and antibiotic resistance. Methodology: The study was cross-sectional, and involved 107 children with HIV infection and an equal number of sex- and age group- matched apparently healthy controls recruited from the Princess Marie Louis Children's Hospital in Accra. Nasal swab specimens were collected from the study participants and cultured for bacteria.
S. aureus
isolates were confirmed by the coagulase test while MRSA was confirmed by PCR of the
mec
A gene. Antimicrobial susceptibility testing of
S. aureus
isolates was done by the Kirby Bauer method. A structured questionnaire was used to collect data on demographic, household and clinical features of the study participants. A logistic regression analysis was performed to identify determinants of
S. aureus
and MRSA carriage among participants of both study groups. Results: The carriage prevalence of
S. aureus
and MRSA were 44.9% (48) and 5.6% (6), respectively, among the HIV-infected individuals, and the corresponding values within the control group were 23.4% (25) and 0.9% (1). There was a significant association between HIV infection and
S. aureus
colonization (
p <
0.001), but not MRSA colonization (
p
= 0.055). The main predictor of
S. aureus
colonization in both study groups was absence of colonization with coagulase negative staphylococcus (
p
< 0.001). Furthermore, the main predictor of MRSA colonization was regular hand washing with soap (
p
= 0.043); this was observed among HIV-infected individuals but not the control group. The proportion of
S. aureus
isolates that were multidrug resistant was 62.3% (33/53) in the HIV-infected group and 80% (20/25) in the control group (
p
= 0.192). Conclusions: HIV infection is a risk factor for nasal colonization of
S. aureus
among children in Accra but may not be for MRSA. Both the HIV-infected and uninfected children are reservoirs of multidrug resistant
S. aureus
. Demographic, household and clinical features appear to have little or no relationship with
S. aureus
and MRSA colonization in the study children.
View Full-Text
►

▼

Figures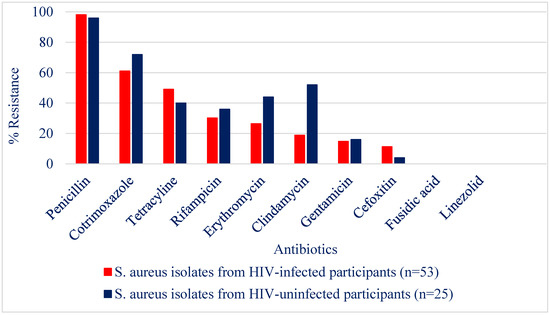 Figure 1
This is an open access article distributed under the
Creative Commons Attribution License
which permits unrestricted use, distribution, and reproduction in any medium, provided the original work is properly cited (CC BY 4.0).

Share & Cite This Article
MDPI and ACS Style
Donkor, E.S.; Kotey, F.C.N.; Dayie, N.T.K.D.; Duodu, S.; Tetteh-Quarcoo, P.B.; Osei, M.-M.; Tette, E.M.A. Colonization of HIV-Infected Children with Methicillin-Resistant Staphylococcus aureus. Pathogens 2019, 8, 35.
Note that from the first issue of 2016, MDPI journals use article numbers instead of page numbers. See further details here.
Related Articles
Comments
[Return to top]