SseL Deubiquitinates RPS3 to Inhibit Its Nuclear Translocation
Department of Diagnostic Medicine/Pathobiology, Kansas State University, Manhattan, KS 66506, USA
*
Author to whom correspondence should be addressed.
Received: 23 September 2018 / Revised: 2 November 2018 / Accepted: 5 November 2018 / Published: 7 November 2018
Abstract
Many Gram-negative bacterial pathogens use type III secretion systems to deliver virulence proteins (effectors) into host cells to counteract innate immunity. The ribosomal protein S3 (RPS3) guides NF-κB subunits to specific κB sites and plays an important role in the innate response to bacterial infection. Two
E. coli
effectors inhibit RPS3 nuclear translocation. NleH1 inhibits RPS3 phosphorylation by IKK-β, an essential aspect of the RPS3 nuclear translocation process. NleC proteolysis of p65 generates an N-terminal p65 fragment that competes for full-length p65 binding to RPS3, thus also inhibiting RPS3 nuclear translocation. Thus,
E. coli
has multiple mechanisms by which to block RPS3-mediated transcriptional activation. With this in mind, we considered whether other enteric pathogens also encode T3SS effectors that impact this important host regulatory pathway. Here we report that the
Salmonella
Secreted Effector L (SseL), which was previously shown to function as a deubiquitinase and inhibit NF-κB signaling, also inhibits RPS3 nuclear translocation by deubiquitinating this important host transcriptional co-factor. RPS3 deubiquitination by SseL was restricted to K63-linkages and mutating the active-site cysteine of SseL abolished its ability to deubiquitinate and subsequently inhibit RPS3 nuclear translocation. Thus,
Salmonella
also encodes at least one T3SS effector that alters RPS3 activities in the host nucleus.
View Full-Text
►

▼

Figures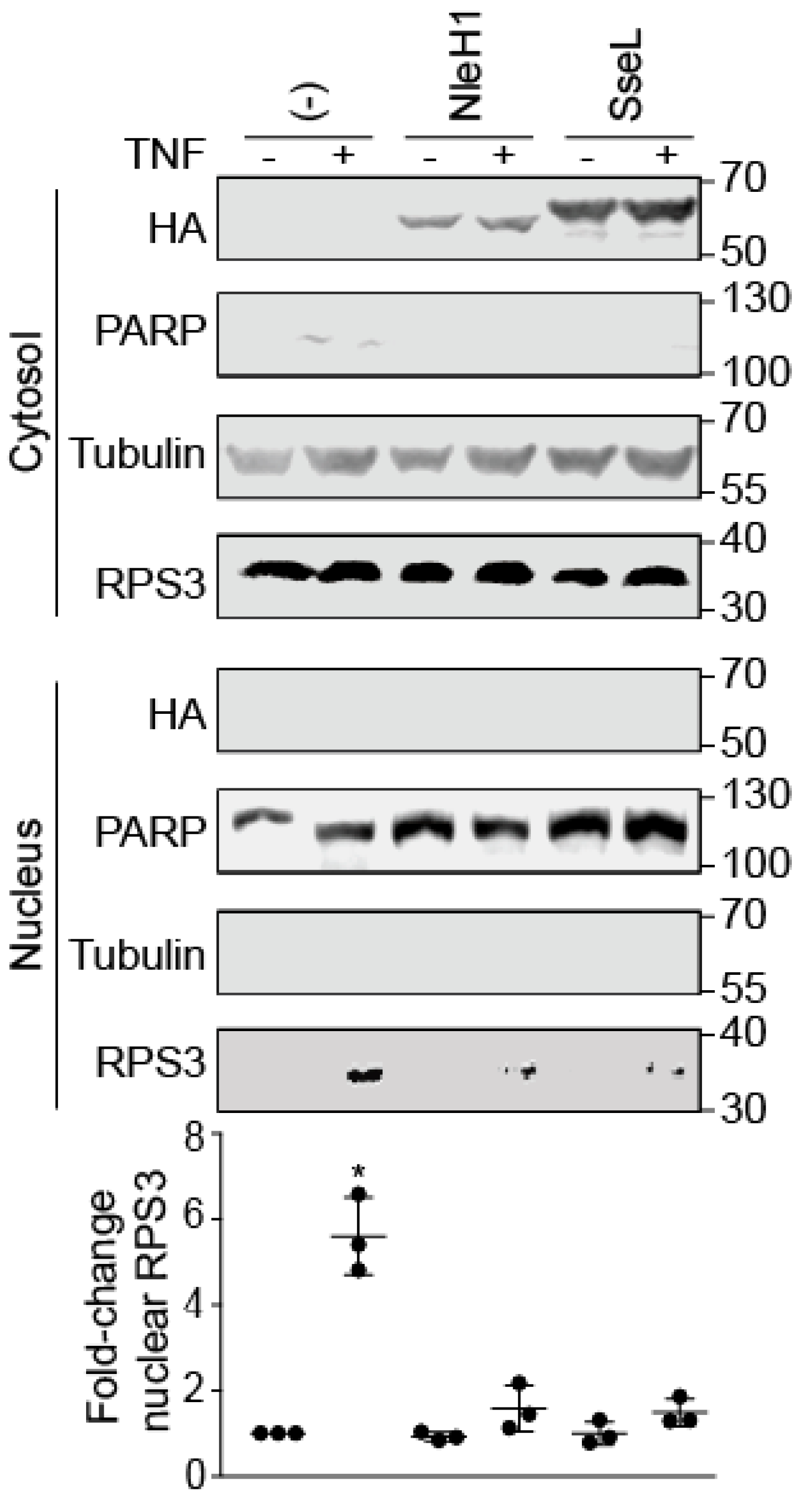 Figure 1
This is an open access article distributed under the
Creative Commons Attribution License
which permits unrestricted use, distribution, and reproduction in any medium, provided the original work is properly cited (CC BY 4.0).

Share & Cite This Article
MDPI and ACS Style
Wu, M.; El Qaidi, S.; Hardwidge, P.R. SseL Deubiquitinates RPS3 to Inhibit Its Nuclear Translocation. Pathogens 2018, 7, 86.
Note that from the first issue of 2016, MDPI journals use article numbers instead of page numbers. See further details here.
Related Articles
Comments
[Return to top]