Open Access This article is
freely available
re-usable
Review
Improving the Breadth of the Host's Immune Response to Lassa Virus
Institute of Human Virology, School of Medicine, University of Maryland, Baltimore, MD 21201, USA
*
Author to whom correspondence should be addressed.
Received: 21 September 2018 / Accepted: 24 October 2018 / Published: 28 October 2018
Abstract
:
In 2017, the global Coalition for Epidemic Preparedness (CEPI) declared Lassa virus disease to be one of the world's foremost biothreats. In January 2018, World Health Organization experts met to address the Lassa biothreat. It was commonly recognized that the diversity of Lassa virus (LASV) isolated from West African patient samples was far greater than that of the Ebola isolates from the West African epidemic of 2013–2016. Thus, vaccines produced against Lassa virus disease face the added challenge that they must be broadly-protective against a wide variety of LASV. In this review, we discuss what is known about the immune response to Lassa infection. We also discuss the approaches used to make broadly-protective influenza vaccines and how they could be applied to developing broad vaccine coverage against LASV disease. Recent advances in AIDS research are also potentially applicable to the design of broadly-protective medical countermeasures against LASV disease.
Keywords:
Lassa virus disease (LVD); vaccine breadth; mimicry; B cell anergy; conserved antigens; Fc-gamma receptors; conformational antigens; broadly-neutralizing antibodies; focused immunity; dominant and subdominant epitopes; cross-restriction
1. Introduction
The goal of this review is to discuss possible ways to improve the immune response to LASV. In the first part, we discuss what is known about the development of immune responses to Lassa virus and the current vaccine candidates used to confer antiviral immunity, then we describe the approaches used to obtain "universal flu vaccines" and broadly protective AIDS vaccines, and how these approaches could possibly be applied to medical countermeasures against Lassa fever.
2. Clinical Manifestations and Pathogenesis of Lassa Virus Disease
LASV pathogenesis and its failure to develop strong immune responses remain a mystery. Although there is a strong correlation between the level of viremia and the disease outcome (
Figure 1
), the damage is not caused directly by viral-cell lysis and seems to depend on the initial host immune response [
20
,
21
,
22
]. The first symptoms are poorly differentiated from other diseases. In addition, the incubation period can be as long as two weeks. Those two situations make the initial diagnosis difficult and cause a delay in the initiation of the treatment. Twenty percent of the infected patients develop symptoms of muscle fatigue, facial edema, and sore throat, and a few of these progress to systemic disease with mucosal, conjunctival, gastrointestinal or genital bleeding. Platelet dysfunction and endothelial damage seem to play a role in the characteristic vascular leakage.
Fatal cases are associated with myocarditis, pulmonary edema, acute respiratory distress, and a hypovolemic shock; in addition, elevated plasma aminotransferases (AST and ALT), uncontrolled viremia, and high levels of IL-6 are pathognomonic for LF [
22
]. Massive viral replication in the liver and spleen leads to progressive hemorrhagic manifestations and increased mortality. It is common to find hepatocellular necrosis and foci of hepatocyte proliferation [
24
,
25
,
26
]. A recent description of arenavirus-induced liver pathology was characterized by hepatocytes with increased cell death, upregulated cell cycling factor p21, IFN-γ, and LASV receptor Axl-1, but aborted cell cycling. Whereas mature hepatocytes had low alpha-dystroglycan (α-DG; a LSV receptor) expression, oval cells had high expression of α-DG [
27
]. Coagulation disorders are not common in LF; however, when they happen, platelet counts could be normal with little disseminated intravascular coagulation, while platelet aggregation is impaired and loss of liquids [
28
,
29
,
30
,
31
,
32
]. Neuropathological manifestations include disorientation, motor and sensory abnormalities, convulsions, hiccups, and in advanced stages coma. Brain dysfunctions are associated with poor prognosis and it is not clear if they are the result of the direct effect of LASV, nonspecific metabolites, or immune-mediated effects. LASV infection is responsible for the high prevalence of hearing loss in West Africa: around 30% of LF patients develop hearing problems and 17% of LF survivors suffer permanent hearing loss [
33
,
34
,
35
,
36
,
37
].
3. Early Immune Response to Lassa Virus Infection
Taken together, the above evidence suggests that LASV targets monocytes and DC, inhibits the initial immune response and suppresses the migration of activated cells to the primary infection site resulting in higher viral replication, greater virulence, and a delay in the induction of the acquired immune response.
4. Acquired Immunity to Lassa Virus Infection
5. A comparison of Promising Lassa Vaccine Candidates
Immunization of monkeys and guinea pigs with LCMV, MOBV, MOPV, and other non-pathogenic Old-World viruses can all confer some protection against LF disease [
15
,
19
,
41
,
70
,
75
,
76
,
78
] (
Figure 2
). Mopeia virus (MOPV), an arenavirus species found in rodents of eastern and southern Africa, serves as a naturally attenuated vaccine, protecting non-human primates from a lethal challenge with LASV [
78
,
79
]. The fact that MOPV and LASV can cross-protect, even though they belong to different species shows that broadly-protective vaccines are feasible. Knowledge that MOPV is a widespread, cross-protecting and non-pathogenic virus led to the production of at least two vaccines based on the MOPV platform (ML29 and MOP-VAC).
In this section, we compare five Lassa vaccine candidates with respect to their estimated economy of production, safety for pregnant women, breadth of protection, and capacity to confer sterilizing immunity after a lethal challenge (
Table 1
). Published claims and extrapolated guesses have been used for these estimates, since no pair of these vaccines has yet been put to a rigorous head-to-head comparison. Such a comparison should eventually be done for the benefit of all stakeholders.
ML29, derived from lineage IV Lassa
Josiah
, is considered a broadly cross-protective Lassa vaccine because it showed sterilizing immunity in guinea pigs challenged with a distantly-related lineage II strain of Lassa virus [
5
,
16
]. Broad cross-protection by ML29 was also observed in SIV-infected rhesus macaques given a lethal challenge with LCMV-WE. Whereas naive macaques given LCMV-WE succumbed to a LF-like febrile illness, four macaques immunized with ML29 survived for a month without increases in plasma AST or ALT (MSS unpublished, with remaining animals from [
19
]). This finding was consistent with the previous observation that ML29-inoculated rhesus macaques induced strong cross-reactive cell-mediated immunity to LCMV-WE [
15
].
The VSV-Las vaccine is a rhabdovirus vector expressing a single Lassa gene, the GPC. Guinea pigs vaccinated with VSV-Las
Josiah
were challenged with two closely-related strains, Liberian Lassa
Z-132
, and a Malian Lassa
SorombaR
. Currently, there is no challenge model for LASV from lineage I LASV
Pinneo
, so in these experiments all animals survived including the challenge controls, making it impossible to justify claims about cross-protection from LASV
Pinneo
. Three cynomolgus macaques vaccinated with VSV-Las
GP
and challenged with the related lineage IV strain, Lassa
Z-132
, also survived. Monkey challenges with distantly-related strains such as LASV
Pinneo
were not reported. Thus, in contrast to ML29, the VSV-Las
GP
has demonstrated only narrow protection against LASV lineages closely-related to the vaccine and has failed to demonstrate sterilizing immunity [
81
].
Lassa vaccine testing in guinea pigs has given misleading positive results in the past, for example a LasNP vaccine was able to protect guinea pigs but not primates [
82
]. Cross-protection between LCMV and LASV in guinea pigs was less effective in primates [
83
]. Vaccines constructed on the yellow fever vaccine platform, YF17D, were found to work well in guinea pigs but were relatively disappointing in primates. It was discovered that the YF-Las
GP1
and YF-LAS
GP2
vaccines were more stable than the YF-Las
GPC
vaccine and protected 80% of guinea pigs [
84
,
85
] but failed to protect marmosets (I. Lukashevich, unpublished). We would speculate that the best cross-protection can be achieved only with the most stable and conserved particle structures. Additional Lassa antigens, such as NP or Z, which provide conserved epitopes as well as increase the formation of stable ribonucleoprotein particles, are predicted to increase vaccine breadth. A rigorous test of vaccine cross-protection or breadth must ultimately occur in primates.
The laboratory of Silvain Baize has recently described a new vaccine (MOPVAC
LasGP
) that is a Mopeia recombinant bearing a Lassa
Josiah
glycoprotein (GP). It has been genetically engineered to have six missense mutations in the exonuclease portion of its nucleocapsid protein (NP), a portion that is known to suppress the antiviral IFN response by cleavage of PRR-detecting RNA. This MOPVAC has not been tested for cross-protection, but it is seen as a platform for insertion of sequences for each of the Lassa lineages. Whereas the wild-type virus can reach high titers in culture, this attenuated version (MOPV-ExoN6b) reaches titers that are two logs lower [
86
], so it may not be vigorous enough for scaled production. In addition, it is possible that the altered exonuclease would allow vaccine persistence in vivo
.
No live-attenuated RNA virus vaccines are recommended for administration to pregnant women because all replicating RNA viruses tested have been teratogenic for live births from an infected pregnant host. This is likely because viral replication requires host molecules that are also needed for fetal development [
92
]. Amongst the Lassa vaccines listed above, the first three are live-attenuated RNA viruses, whereas the last two, MVA and DNA vaccines, are not able to replicate in mammals, so are likely to be safe for pregnant human subjects.
All five listed vaccines can be altered by reverse genetics. A recombinant ML29 (rML29) has recently been rescued from cDNA clones. Using rML29 and tri-segmented technology, additional genes of interest (eGFP, Ebola GP, and
Plasmodium berghei
antigens) have been expressed in rML29 [
93
]. Thus, rML29 can be used as a potent vaccine platform for expressing arenaviral genes (e.g., LASV GP
Pinneo
from distantly-related lineage I) and non-related antigens and immunomodulators.
At this time, only two Lassa vaccine candidates (ML29 and VSV-LasGP) have demonstrated breadth of protection in guinea pigs; and only one, ML29, has shown the ability to protect against challenges from virus outside the lineage IV of LassaJosiah. After a head-to-head comparison, the ML29 and VSV-LasGP candidates should move forward in clinical trials targeting health care workers and other people on the front lines of an outbreak. The two vaccine candidates that do not replicate in mammals, MVA-LAS and LASV-DNA, and would consequently be more expensive to produce, should be reserved for clinical trials with children and pregnant women.
6. Improving the Humoral Immune Response to Lassa Vaccines
7. Improving the Cell-Mediated Immune Response to Lassa Infection
8. Future Directions Combining Immunological and Drug-Therapy Approaches
When health care professionals are getting ready to risk their lives during an epidemic, a strong, fast-acting and broadly-protective vaccine should be available. The poor conditions and shear volume of needy patients makes a dangerous situation for first-responders and they deserve to be armed with protection. In addition to vaccines, broadly-protective antiviral therapies should be available. Both the ML29 and VSV-LAS vaccines have shown antiviral efficacy when used within two days of Lassa infection [
16
,
81
], however their action within this brief window of time is lineage-specific rather than broadly protective. It is telling that a repatriated health care worker who ultimately survived was given intravenous fluids and two broadly acting antivirals (ribavirin pn days 6–15 of illness and favipiravir days 8–12 of illness) [
74
]. Nevertheless, it is still unclear whether the optimum care requires anything more than intravenous fluids and good hospital practices.
Several studies have yielded broadly cross-protective antivirals that could be used against Lassa infection. High-throughput screens for small molecule inhibitors of LASV revealed an inhibitor of arenavirus polymerases (favipiravir) that was recently used on a LASV-infected health care worker along with intravenous fluids and ribavirin [
74
]. This treatment is so broadly cross-protective it has even been used on Ebola cases [
121
]. Ribavirin also has broad reactivity against many RNA viruses and at its lowest concentration works by blocking the capped-mRNA-promoting function of eIF4E [
122
]. Unfortunately, ribavirin resistance is problematic; thus, it is best used in combination with other antivirals [
123
]. A recent study of the interactome of LCMV gene products with host cell molecules revealed several host-cell molecules essential to the life cycle of viruses including Junin, LASV and Ebola [
124
,
125
]. Mining such data will yield a steady pipeline of antiviral approaches that could protect simultaneously against several viruses. The standard of care for patients may eventually include both rapid-acting vaccines and broadly-acting antiviral drugs.
In summary, there is an urgent need for head-to-head comparisons of the current popular vaccine candidates because their relative stabilities, production capacities, and protective breadth in primates remain unknown. Having established such a comparison, two types of vaccines should be developed: a cheaply-produced vaccine (e.g., ML29 or VSV-LAS) for emergency use in endemic areas, and a more expensive vaccine (e.g. the MVA or DNA vaccines) for vulnerable populations such as pregnant women. These two types of vaccines can be further improved by increasing immunity to conformational antigens or by favoring epitopes known to bind tightly to HLA and cross-restrict with conformational antigens. After following this path to improving the current popular Lassa vaccine candidates, treatments combining vaccines and therapeutic drugs should be optimized as well.
Author Contributions
J.C.Z., S.M.-M., C.G.-C. and M.S.S. reviewed the literature and wrote the manuscript.
Funding
This research was funded by NIH/NIAID-supported awards: R01 AI052367 and R01 AI068961 to IS Lukashevich, and 5RC2CA149001 from NCI and R21-AI074790 to MS Salvato. Support also came from the EU Commission Horizon2020 STARBIOS2 grant No. 709517 under Vittorio Colizzi in accord with five key tenets of Responsible Research and Innovation: Public Engagement, Gender Equity, Open Access, Graduate Education, and Ethical conduct.
Acknowledgments
We like to thank I.S. Lukashevich for providing critical remarks and comments.
Conflicts of Interest
The authors declare no conflict of interest.
Figure 1.
This is a representation of LASV viremia in relation to Lassa virus disease outcomes and immune responses to Lassa virus based on published data about rodent, non-human primate and human infections. When the immune system fails to control the virus, disease is more acute and leads to death. Those individuals with moderate viral replication (~80%) are either asymptomatic or, if they develop symptoms, they have higher possibilities to survive (low solid red line), while those patients with high viral loads suffer severe disease that can lead to death (high solid red line) [
21
,
23
]. Dotted lines represent cellular and humoral immune responses. Solid blue line represents the rise of neutralizing antibodies.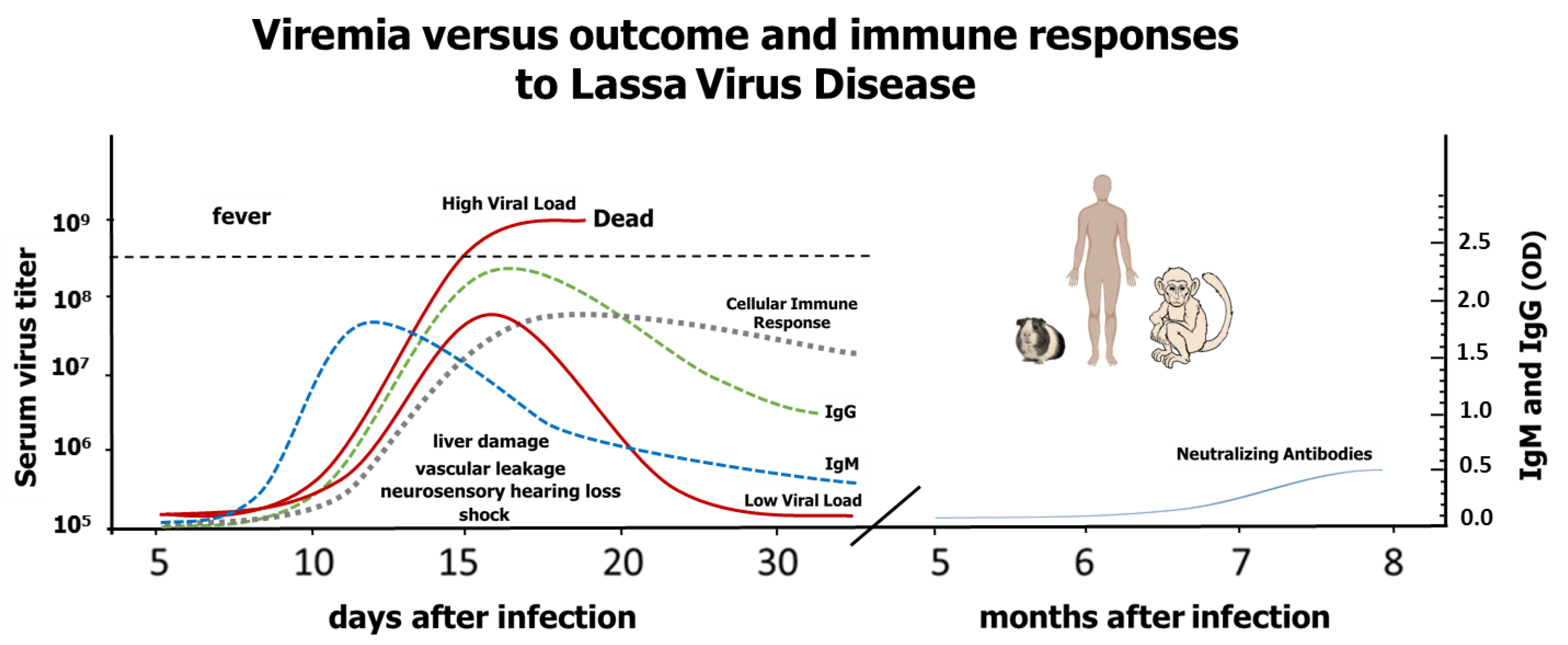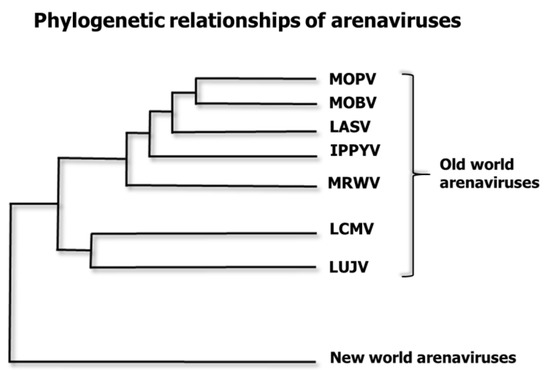 Figure 2.
Phylogenetic relationships of some Old-World arenavirus species. LASV is related to several "Old World" arenaviruses. Mopeia virus AN20410 (NC_006574.1) is designated MOPV. Mobala virus (NC_007904.1) is MOBV. Lassa virus (NC_004297.1) is LASV. Ippy virus (NC_007906 is IPPYV. Merino Walk Virus (NC_023763.1) is MRWV. Lymphocytic choriomeningitis virus (NC_004291.1 is LCMV. Lujo virus (NC_012777.1) is LUJV. The family
Arenaviridae
has three genera:
Mammarenaviruses
,
Reptarenaviruses
and
Hartmaniviruses
[
80
]. Here, we only depict seven species of the Old-World group of the
Mammarenavirus
genus, omitting the New World
Mammarenaviruses
and the other two genera. This is a maximum clade credibility tree of the polymerase region. The tree was constructed from amino acid alignment using Bayesian MCMC method with LG model of substitution.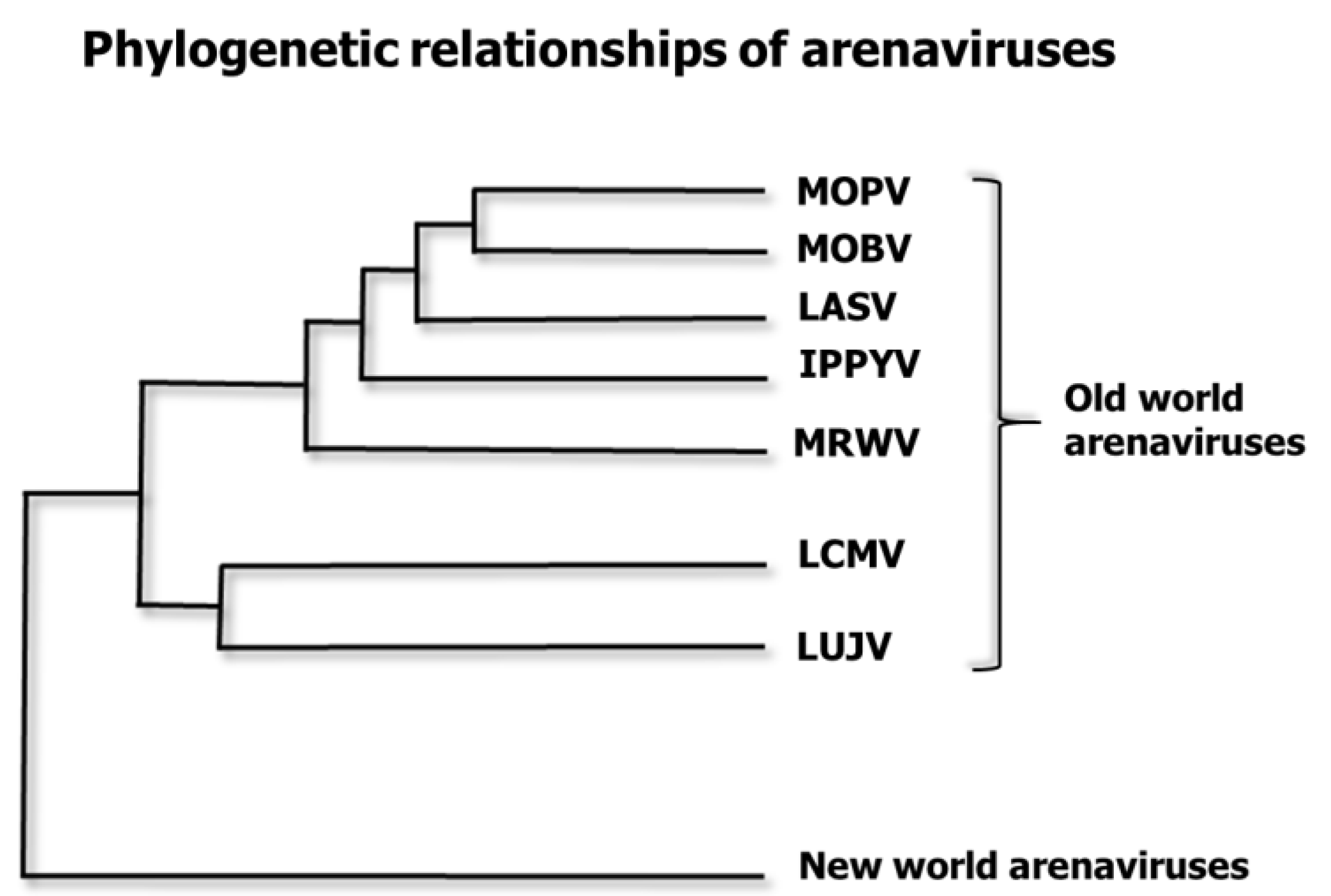 | Vaccine | Breadth of Cross-Protection a | Safety for Pregnant Women and Fetus b | Sterilizing Immunity c | Production Costs d | References |
| --- | --- | --- | --- | --- | --- |
| ML29 e | High | Low | Yes | Low | [16] |
| MOPVACLasGP f | ND g | Low | Yes | Med | [86] |
| VSV-LASGP h | Med | Low | No | Med | [81] |
| MVA-LASGP+Z i | ND | High | ND | Med | [87] |
| LASVGPC DNA j | ND | High | Yes | High | [88] |
a Refers to protection from distantly-related virus isolates. b This is a guess based on the propensity of similar viruses to cause fetal malformations or miscarriage. c Sterilizing immunity means that, after immunizing with an effective dose, there is no trace of the vaccine a week after immunization, neither in tissue nor in excreta. d Production costs are extrapolated from reported doses and levels of virus (or RNA) production in cell culture. e Mopeia/Lassa reassortant 29 (ML29) has the L RNA of Mopeia and the S RNA of LassaJosiah. It was selected from a library of MOPV/LASV reassortants for small-plaque phenotype, attenuation in mice, genotype from MOPV L RNA and LASV S RNA, genetic stability, and efficient replication in Vero cell cultures (~108 plaque forming units (pfu)/mL) [14]. The Russian laboratories of Fort, LLC have produced a variety of Mopeia/Lassa reassortants to improve upon the vaccine efficacy and patent protections of the initial isolates (Moshkoff D. and Nasidi A. in preparation). f MOPVAC or Mopeia-ExoNb6 (MOPV-ExoNb6) is a recombinant virus expressing the Mopeia genome, six mutations in the MOPV-NP exonuclease, and the LASV GP in place of the MOPV GP [86]. g ND means not determined. h VSV-LASGP refers to vaccines using the vesicular stomatitis virus (VSV) platform and expressing the Lassa GP. Both current versions have reduced neurovirulence: the Feldmann/Merck version has been attenuated by replacing the VSV G with the Lassa GP [89], and the Rose/Profectus version has been attenuated by altering the natural VSV gene order [90]. Both have reduced growth capacity compared to VSV, and, from our experience with other VSV pseudotypes, it is likely that they fail to reach titers above 107 plaque-forming units (pfu)/mL. i The GeoVax-made vaccine replicates well in avian cells but does not replicate in mammals. In mammals, it expresses LASV GP and Z genes, forming virus-like-particles (VLP) in vivo. The Modified Vaccinia Ankara (MVA) vector was developed by B. Moss at NIH and has been used in thousands of human beings in the form of an AIDS vaccine [91]. VLP can be powerful and broadly-protective immunogens. j LASVGPC DNA vaccine.

© 2018 by the authors. Licensee MDPI, Basel, Switzerland. This article is an open access article distributed under the terms and conditions of the Creative Commons Attribution (CC BY) license (http://creativecommons.org/licenses/by/4.0/).