Open Access This article is
freely available
re-usable
Article
Longitudinal Surveillance of Porcine Rotavirus B Strains from the United States and Canada and
In Silico
Identification of Antigenically Important Sites
1
Department of Veterinary and Biomedical Sciences, College of Veterinary Medicine, University of Minnesota, 1971 Commonwealth Avenue, St. Paul, MN 55108, USA
2
State Key Laboratory of Agricultural Microbiology, College of Veterinary Medicine, Huazhong Agricultural University, Wuhan 430070, China
3
Department of Veterinary Population Medicine, College of Veterinary Medicine, University of Minnesota, 1365 Gortner Avenue, St. Paul, MN 55108, USA
4
Veterinary Diagnostic Laboratory, Kansas State University, 1800 Denison Ave, Manhattan, KS 66506, USA
*
Author to whom correspondence should be addressed.
Received: 28 October 2017 / Accepted: 30 November 2017 / Published: 3 December 2017
Abstract
:
Rotavirus B (RVB) is an important swine pathogen, but control and prevention strategies are limited without an available vaccine. To develop a subunit RVB vaccine with maximal effect, we characterized the amino acid sequence variability and predicted antigenicity of RVB viral protein 7 (VP7), a major neutralizing antibody target, from clinically infected pigs in the United States and Canada. We identified genotype-specific antigenic sites that may be antibody neutralization targets. While some antigenic sites had high amino acid functional group diversity, nine antigenic sites were completely conserved. Analysis of nucleotide substitution rates at amino acid sites (dN/dS) suggested that negative selection appeared to be playing a larger role in the evolution of the identified antigenic sites when compared to positive selection, and was identified in six of the nine conserved antigenic sites. These results identified important characteristics of RVB VP7 variability and evolution and suggest antigenic residues on RVB VP7 that are negatively selected and highly conserved may be good candidate regions to include in a subunit vaccine design due to their tendency to remain stable.
Keywords:
rotavirus B virus; antigenic epitopes; vaccine; genetics; swine
3. Discussion
In conclusion, the genetic analysis of RVB VP7 strains identified new G genotypes and potential residues important in immune interactions. Antigenic sites under negative selection may be better vaccine candidates due to their propensity for synonymous change. Future research should include analysis of the differences in variability and antigenicity of the VP4 protein of RVB, which is another target of neutralization, and in vivo experiments to confirm our findings and understanding of neutralizing epitopes for RVB.
4. Materials and Methods
Indels were deleted from the alignment to compare residues that were present in all strains. A mean amino acid pairwise percent identity value was generated by comparing all of the pairs of amino acids within a residue and adding a score of 1 each time that the strain was identical to another. The sum of the scores within a residue was divided by the total number of residues.
Acknowledgments
We thank the University of Minnesota Veterinary Diagnostic Laboratory Molecular staff for their technical services. We also thank Todd P. Knutson at the University of Minnesota Supercomputing Institute for his assistance with sequence generation and coding. The study was funded by Marthaler lab start-up funds.
Author Contributions
Frances K. Shepherd, Douglas G. Marthaler, and Michael P. Murtaugh conceived and designed the study. Frances K. Shepherd performed the experiments. Frances K. Shepherd, Fangzhou Chen, Douglas G. Marthaler, and Michael P. Murtaugh analyzed the data. Frances K. Shepherd, Marie R. Culhane, Michael P. Murtaugh and Douglas G. Marthaler wrote the paper.
Conflicts of Interest
The authors declare no conflicts of interest.
Figure 1. Distribution of RVB genotypes by state. States are colored according to dominant G genotype, and the percentage of the dominant G genotype is represented in the top line of each state. Number of strains belonging to dominant genotype is indicated in parentheses out of the total strains from that state. Brackets indicate additional G genotypes identified in the state.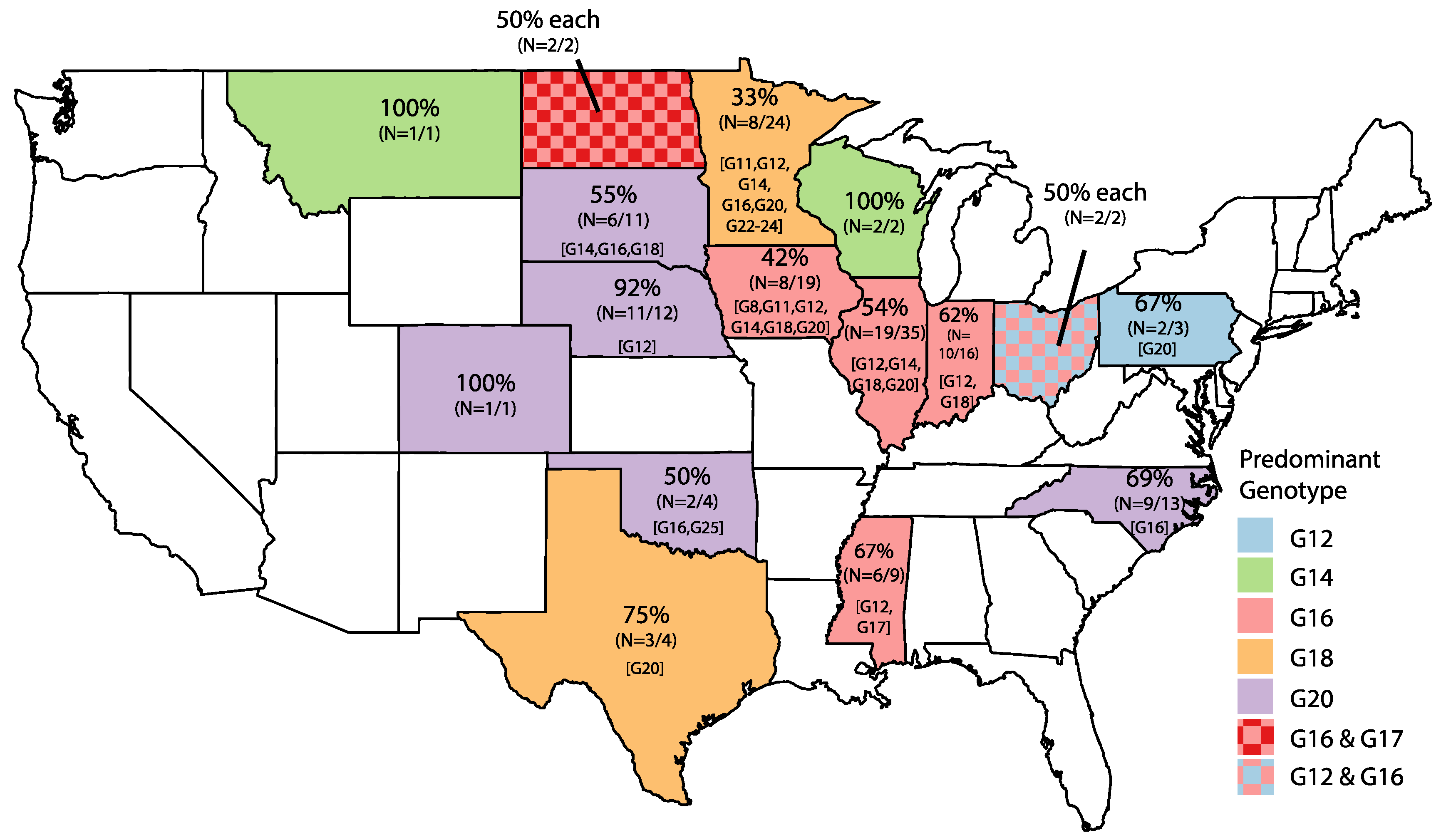 Figure 2. Radial line graph of mean amino acid pairwise percent identity of RVB VP7 sequences. The outer circle heatmap represents the number of amino acid functional groups present at each residue position. The inner circle denotes amino acid residue locations 0 through 248. Blue sections highlight the variable regions (VRs).
Figure 3. Average predicted antigenicity within predominant genotypes and their relationships with variable regions (blue).
Figure 4. Genotype-specific predicted antigenic sites on RVB VP7 trimer. Residues are labeled with (+) if positively selected or (−) if negatively selected, and are labeled for one monomer of the trimer, modeled from a strain of the respective genotype.
Genotype
Year
2011
2012
2013
2014
2015
2016
2017
Total Sequences
G8
0
0
1
0
0
0
0
1
G11
0
0
1
0
1
0
0
2
G12
3
4
2
2
3
1
0
15
G14
1
0
1
2
3
4
0
11
G16
9
9
19
18
6
5
2
68
G17
0
2
0
0
0
1
0
3
G18
0
7
2
5
1
2
0
17
G20
0
8
19
17
2
5
1
52
G22
0
0
0
1
0
0
0
1
G23
0
0
0
2
0
0
0
2
G24
0
0
0
1
0
0
0
1
G25
0
0
1
0
0
0
0
1
Total Sequences
(Genotypes)
13
(3)
30
(5)
46
(8)
48
(8)
16
(5)
18
(6)
3
(2)
174
Residue Location
G12
[

n

= 21]
G14
[

n

= 15]
G16
[

n

= 21]
G18
[

n

= 19]
G20
[

n

= 16]
Changed Properties
Conserved Properties
33
D −
D
D
D
N −
34
D
D
N
N
D/N −
36
T/N −
Q/T
N
N
N/T
Chemical composition
Volume, hydropathy
37
D
E
E
E
E
Iso-electric point
39
K
K/R
T −
K
R/T/K
Chemical composition
40
K/Q
E
Q/E
E
E
61
N
N
N
N
N −
65
N/E/D
E/D
Q/R+
D
D/N
Volume
Polarity
66
N/D
N
N/S/D
N
N/K −
Polarity
67
Y
Y −
Y
Y
Y
76 *
H
Y −
T/I/V/M
Y
N/S
Iso-electric point
77 *
N
N
D/N
D
N/S
78 *
Y
Y
Y
Y
F −
88 *
V
V
V/I −
V
I
Hydropathy
89
K
A
D
S/G/D
D/N
90
Y −
D
E −
D −
D −
Iso-electric point
91
A −
P
P
P
P
Polarity
92
Y
Y
W
F −
W
102 *
E
E −
E
E
Q
104 *
N
N
N
N
N
109 *
A/T
V/A
A
A/T
A
111
G/R
K/N
N
E/D/N
E/G
128
S
S
S −
S
A
129
R/K
K
K/R
K/R
M/T
Polarity
Volume, iso-electric point, hydropathy
130
D
G −
G −
G −
D/N
149
L
L
L
T
T/I
Iso-electric point
150
E/K
S
S
Y
P −
Polarity
Chemical composition
151
G/D
G/S/A/N
S/D/G
T
G/T/E/S
158
P
P
P
P −
P −
159
D/N
K −
E/K
E/D
N/K/D/S
Volume
160
R
R
R −
R
R
161
R
R −
K
R
K/R
170 *
F
F
F −
F −
F −
178
Y
Y
H
R
R
Polarity
179
S
S
S
S
S −
180
N
D/E
T/A/K
S
Q/E
Iso-electric point
181
N −
D
S/N
H/Y
N/S
193 *
Q/P
L/D/N
P
P
P
Red text indicates the residue location is antigenic for the given genotype. Positive and negative selection indicated by (+) and (−), respectively. Functional diversity at each residue locations highlighted according to complete conservation (green), high within-genotype conservation (blue), moderate within-genotype conservation (yellow), or variability across all genotype groups (pink). Asterisks (*) indicates sites inaccessible to antibody binding (antigenic site at residue 88 is inaccessible in G18 strains only). Brackets indicate number of predicted surface-exposed neutralizing epitopes per genotype.

© 2017 by the authors. Licensee MDPI, Basel, Switzerland. This article is an open access article distributed under the terms and conditions of the Creative Commons Attribution (CC BY) license (http://creativecommons.org/licenses/by/4.0/).