Open Access This article is
freely available
re-usable
Review
Antibiotic Resistance Related to Biofilm Formation in
Klebsiella pneumoniae
1
Microbial Biofilm Laboratory, IRCCS Fondazione Santa Lucia, Rome 00179, Italy
2
Clinical Microbiology Laboratory, IRCCS Fondazione Santa Lucia, Rome 00179, Italy
3
Department of Biomedical Sciences and Public Health, Section of Microbiology, Polytechnic University of Marche, Ancona 60126, Italy
*
Author to whom correspondence should be addressed.
Received: 10 July 2014; in revised form: 2 September 2014 / Accepted: 3 September 2014 / Published: 5 September 2014
Abstract
:
The Gram-negative opportunistic pathogen,
Klebsiella pneumoniae
, is responsible for causing a spectrum of community-acquired and nosocomial infections and typically infects patients with indwelling medical devices, especially urinary catheters, on which this microorganism is able to grow as a biofilm. The increasingly frequent acquisition of antibiotic resistance by
K. pneumoniae
strains has given rise to a global spread of this multidrug-resistant pathogen, mostly at the hospital level. This scenario is exacerbated when it is noted that intrinsic resistance to antimicrobial agents dramatically increases when
K. pneumoniae
strains grow as a biofilm. This review will summarize the findings about the antibiotic resistance related to biofilm formation in
K. pneumoniae
.
Keywords:
Klebsiella pneumonia
; biofilm; antibiotic resistance
3. Biofilm
K. pneumoniae
was reported to be able to grow
in vitro
as a biofilm since the end of the 1980s [
57
], but clear evidence of an
in vivo
biofilm was provided only in 1992 by Reid and coworkers, who investigated by scanning electron microscopy some bladder epithelial cells of a spinal cord injured patient with an asymptomatic urinary tract infection caused by
K. pneumoniae
[
58
].
Later,
in vitro
studies have demonstrated that about 40% of
K. pneumoniae
isolated not only from urine, but also from sputum, blood and wound swabs, were able to produce biofilm [
59
], as well as that about 63% of
K. pneumoniae
isolates from urine samples of catheterized patients suffering from UTIs were positive for
in vitro
biofilm production [
33
]. Recently, also a high rate of
K. pneumoniae
strains isolated from endotracheal tubes (ETT) of patients affected by ventilator-associated pneumonia (VAP) were reported to be able to form an
in vitro
biofilm [
39
].
Biofilm formation on abiotic surfaces was shown to be more consistent at 40 °C than 35 °C, using atomic force and high-vacuum SEM [
60
]. The ability of
K. pneumoniae
clinical strains to adhere and form biofilm
in vitro
was recently investigated by field emission scanning electron microscopy (FESEM) [
61
] and by confocal laser scanning microscopy (
Figure 1
).
3.1. Virulence and Biofilm Formation
Type 1 or type 3 fimbriae, as well as the capsule and the LPS are the virulence factors mostly involved in the ability of
K. pneumoniae
to grow as biofilm.
Type 3 fimbriae have been demonstrated to be the major appendages that mediate the formation of biofilms on biotic and abiotic surfaces and the attachment to endothelial and bladder epithelial cell lines [
62
,
63
,
64
,
65
,
66
,
67
]. In particular, growth of
K. pneumoniae
on abiotic surfaces is facilitated by the MrkA type 3 fimbrial protein, whereas growth on surfaces coated with a human extracellular matrix (HECM) requires the presence of the type 3 fimbrial adhesin MrkD [
62
,
64
].
Figure 1.
Bidimensional (
A
) and three-dimensional (
B
) images of a
K. pneumoniae in vitro
biofilm obtained by Confocal Laser Scanning Microscopy (CLSM) on different areas of a biofilm-covered glass coverslip. SYTO ® 9 green fluorescent nucleic acid stain has been used to detect both live and dead bacteria (Life Technologies, Monza (MB) , Italy).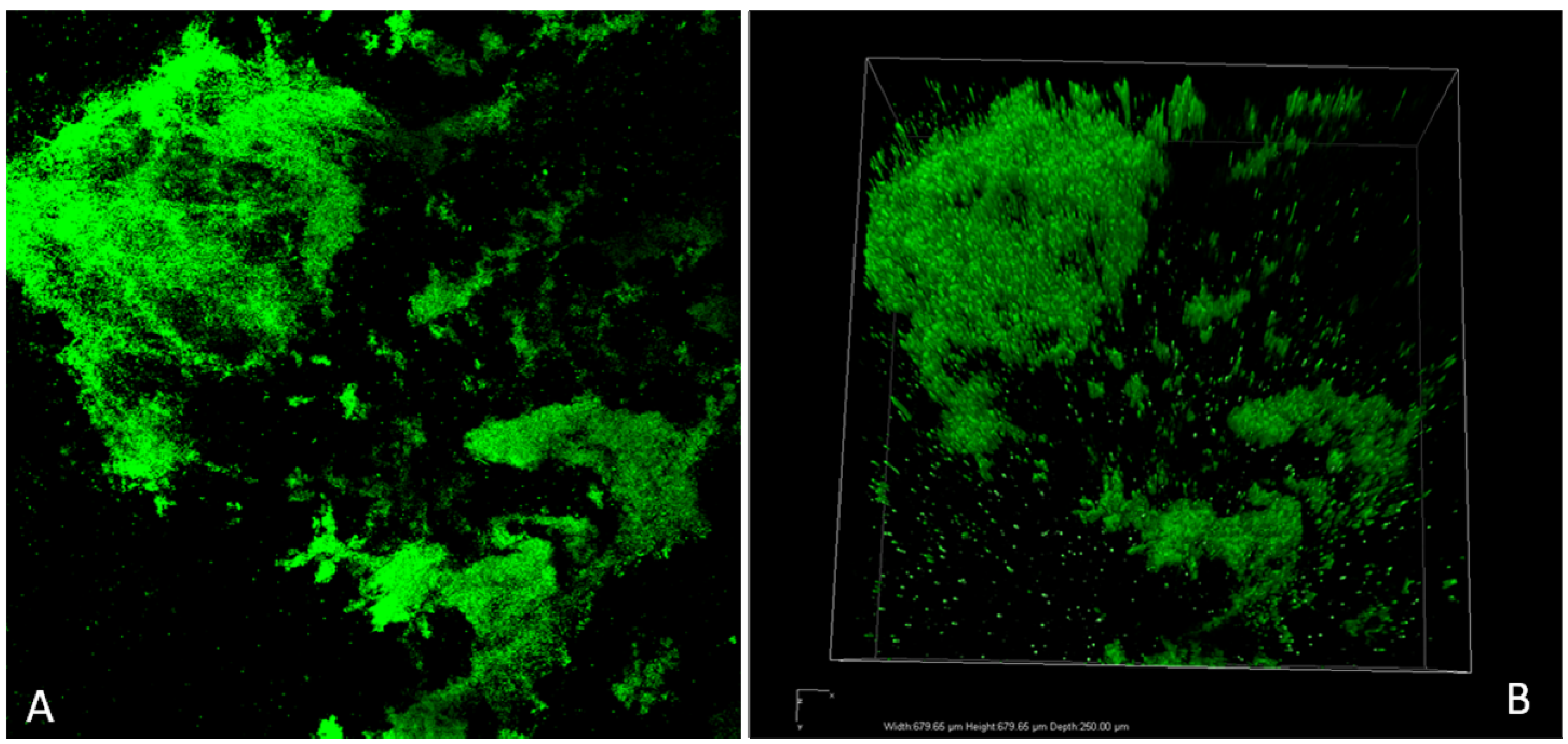 Recent investigations have verified that type 3 fimbrial gene expression is regulated, at least in part, by the intracellular levels of cyclic di-GMP [
68
].
Type 3 fimbriae have been confirmed by Murphy and colleagues (2013) to be a very important colonization factor in biofilm-mediated infections associated with catheter-associated urinary tract infections (CAUTIs) by obtaining mutants lacking the ability to produce type 1 or type 3 fimbriae or a combined double mutant. These mutants were impaired in colonization and had subsequent persistence under specific experimental conditions [
69
].
Alcántar-Curiel and colleagues demonstrated that, among the 69 examined
K. pneumoniae
isolates, 55 were able to produce biofilm and all of them contained
mrkA
, but only 57% of them produced MR/K fimbriae [
18
]. The same group also revealed that 96% of 69
K. pneumoniae
isolates harbored the
ecpABCDE
operon homolog of the operon encoding the
E. coli
adhesive structure common pilus (ECP), with 94% of them producing ECP during adhesion to cultured epithelial cells and 8% during the formation of biofilms on glass. These results suggest that ECP also seems to be required for biofilm formation, at least
in vitro
[
18
].
Regarding the involvement of capsule and LPS in
K. pneumoniae
biofilm formation, it has been proven that both of them contribute to the structure of biofilm communities of
K. pneumoniae
. In fact, gene disruption and microscopic analyses showed that LPS is involved in the initial adhesion on abiotic surfaces and that the capsule is necessary for a proper initial coverage of substratum and construction of mature biofilm architecture [
70
].
Furthermore,
treC
and
sugE
genes have been demonstrated to affect biofilm formation by modulating CPS production [
71
].
However, conflicting results on the involvement of CPS production in biofilm formation arise from a paper of Huang and coworkers (2014). In fact, the authors found that two knockout mutants, the first one with the entire gene cluster responsible for biosynthesis of the extracellular polysaccharide capsule deleted and the other one with the capsule export subsystem deleted, have lower amounts of capsule, but produce greater amounts of biofilm [
72
].
3.2. Involvement in Mixed Biofilms
The first investigation of mixed microbial populations including
K. pneumoniae
dates back to 1991. Siebel and colleagues demonstrated the ability of
K. pneumoniae
to form
in vitro
a dual-species biofilm together with
P. aeruginosa
. Authors determined that, although the
K. pneumoniae
specific cellular growth rate was five times that of
P. aeruginosa
, it did not dominate the microbial population, with results indicating that neither the specific cellular product formation rate nor the glucose-oxygen stoichiometric ratio of
K. pneumoniae
or
P. aeruginosa
when grown together were affected by the presence of the other species [
73
].
Later,
K. pneumoniae
was shown to form a biofilm more successfully in a mixture than in isolation with an increased resistance to disinfection [
74
].
In the same year, Stickler and colleagues, by using a model of a catheterized bladder, firstly investigated the possible role of
K. pneumoniae
and other uropathogens in the development of crystalline biofilm on catheter surfaces, demonstrating that this microorganism is not able to raise the urinary pH and, thus, to contribute to the crystalline biofilm formation [
75
].
In 2007, the same research team analyzed 106 biofilms samples developed on urinary catheters, finding that
K. pneumoniae
was able to form a mixed biofilm with
Proteus mirabilis
, when
E. coli
,
Morganella morganii
or
Enterobacter cloacae
were also present [
76
].
The ability of
K. pneumoniae
to form a mixed-species biofilm
in vitro
with
P. aeruginosa
and
Pseudomonas protegens
was confirmed by adding a fluorescent tag to each species in order to determine the abundance and spatial localization of each of them within the biofilm. The development of the mixed-species biofilm was delayed 1–2 days compared with the single-species biofilms, and the composition and spatial organization of the mixed-species biofilm changed along the flow cell channel. Furthermore, the mixed-species biofilm resulted in being more resistant to sodium dodecyl sulfate and tobramycin with respect to the single-species biofilms [
77
].
Recent investigations on 35 ETTs obtained from 26 neonates with mechanical ventilation demonstrated that
K. pneumoniae
, together with
Pseudomonas
and
Streptococcus
, was the most common bacteria isolated from ETT-bacterial biofilms, and it was hypothesized that there were interactions among these species in the biofilm [
78
].
Our recent findings demonstrated that
K. pneumoniae
is able to form a multi-species biofilm together with
Candida albicans
within a urinary catheter removed from a patient hospitalized at the neuromotor rehabilitation hospital, Fondazione Santa Lucia in Rome, Italy (
Figure 2
).

Figure 2.
FESEM micrographs (
a
= 2000×;
b
= 25,000×) of a polymicrobial biofilm grown in the lumen of a urinary catheter removed from a patient recovered at the research hospital for neuromotor rehabilitation, Fondazione Santa Lucia in Rome. The species identified by culture methods were
Klebsiella pneumonia
and
Candida albicans
.

4. Antibiotic Resistance of Biofilm-Growing Strains
5. Correlation between Biofilm and Antibiotic Resistance
6. Conclusions
The opportunistic pathogen,
K. pneumoniae
, can give rise to severe diseases, typically nosocomial infections, such as septicemia, pneumonia, UTI and soft tissue infection.
Klebsiella
infections are often considered as a paradigm of hospital-acquired infections. The indiscriminate use of antibiotics has revealed a considerable increase in outbreaks caused by microorganisms resistant to antimicrobial drugs, such as KPC-producing
K. pneumoniae
.
Nosocomial
Klebsiella
infections continue to be a heavy burden on the economy and on the life expectancy of patients in developed countries. Thus, further progress in the prevention of hospital-acquired infections will require new approaches to infection control.
The increasing evidence on the ability of
K. pneumoniae
to form biofilm, mostly on medical devices and the recent data supporting the correlation of such a behavior with the antibiotic resistance acquisition should alert even more regarding the hazard of this pathogen in hospital settings.
The exploration of these virulence factors and the study of new mechanisms to control them could be an important way to counteract
K. pneumoniae
nosocomial infections. In particular, the biofilm mode of growth makes bacteria up to 1,000-times more resistant to antibiotic therapy. In
K. pneumoniae
, many studies were performed in order to better highlight the mechanisms underlying this resistance, demonstrating that the limitation of the penetration of antibiotic molecules through the biofilm matrix is not the main reason for the increasing resistance, but rather the slow growth rate in the center of biofilm is. In any case, other mechanisms are involved, and further studies are requested as a future challenge to elaborate new concepts in the preventive measures against nosocomial
K. pneumoniae
infections.
Acknowledgments
The authors are indebted to Antonino Salvia, Director, and Angelo Rossini, Vice-Director, of the Medical Services of the Fondazione Santa Lucia in Rome for their advice on the clinical issues of this research.
Author Contributions
Claudia Vuotto wrote the manuscript. Francesca Longo selected references and contributed to the manuscript drafting. Maria Pia Balice supplied investigated urinary catheters and
K. pneumoniae
strains. Gianfranco Donelli critically revised the manuscript. Pietro Emanuele Varaldo provided insightful comments.
Conflicts of Interest
The authors declare no conflict of interest.
© 2014 by the authors; licensee MDPI, Basel, Switzerland. This article is an open access article distributed under the terms and conditions of the Creative Commons Attribution license (http://creativecommons.org/licenses/by/3.0/).