Pyrosequencing Reveals the Predominance of
Pseudomonadaceae

in Gut Microbiome of a Gall Midge

1

Department of Entomology, Kansas State University, Manhattan, KS 66506, USA

2

Department of Plant Pathology, Washington State University, Pullman, WA 99164, USA

3

Department of Entomology, Purdue University, West Lafayette, IN 47907, USA

4

USDA-ARS, Hard Winter Wheat Genetics Research Unit, 4008 Throckmorton Hall, Kansas State University, Manhattan, KS 66506, USA

*

Author to whom correspondence should be addressed.

†

Current address: Department of Entomology, Ohio Agricultural Research and Development Center, The Ohio State University, Wooster, OH 44691, USA.

Received: 1 April 2014 / Revised: 13 May 2014 / Accepted: 3 June 2014 / Published: 11 June 2014
Abstract
Gut microbes are known to play various roles in insects such as digestion of inaccessible nutrients, synthesis of deficient amino acids, and interaction with ecological environments, including host plants. Here, we analyzed the gut microbiome in Hessian fly, a serious pest of wheat. A total of 3,654 high quality sequences of the V3 hypervariable region of the 16S rRNA gene were obtained through 454-pyrosequencing. From these sequences, 311 operational taxonomic units (OTUs) were obtained at the >97% similarity cutoff. In the gut of 1st instar, otu01, a member of
Pseudomonas
, was predominant, representing 90.2% of total sequences. otu13, an unidentified genus in the Pseudomonadaceae family, represented 1.9% of total sequences. The remaining OTUs were each less than 1%. In the gut of the 2nd instar, otu01 and otu13 decreased to 85.5% and 1.5%, respectively. otu04, a member of
Buttiauxella
, represented 9.7% of total sequences. The remaining OTUs were each less than 1%. In the gut of the 3rd instar, otu01 and otu13 further decreased to 29.0% and 0%, respectively. otu06, otu08, and otu16, also three members of the Pseudomonadaceae family were 13.2%, 8.6%, and 2.3%, respectively. In addition, otu04 and otu14, two members of the Enterobacteriaceae family, were 4.7% and 2.5%; otu18 and otu20, two members of the Xanthomonadaceae family, were 1.3% and 1.2%, respectively; otu12, a member of
Achromobacter
, was 4.2%; otu19, a member of
Undibacterium
, was 1.4%; and otu9, otu10, and otu15, members of various families, were 6.1%, 6.3%, and 1.9%, respectively. The investigation into dynamics of
Pseudomonas
, the most abundant genera, revealed that its population level was at peak in freshly hatched or 1 day larvae as well as in later developmental stages, thus suggesting a prominent role for this bacterium in Hessian fly development and in its interaction with host plants. This study is the first comprehensive survey on bacteria associated with the gut of a gall midge, and provides a foundation for future studies to elucidate the roles of gut microbes in Hessian fly virulence and biology.
View Full-Text
►

▼

Figures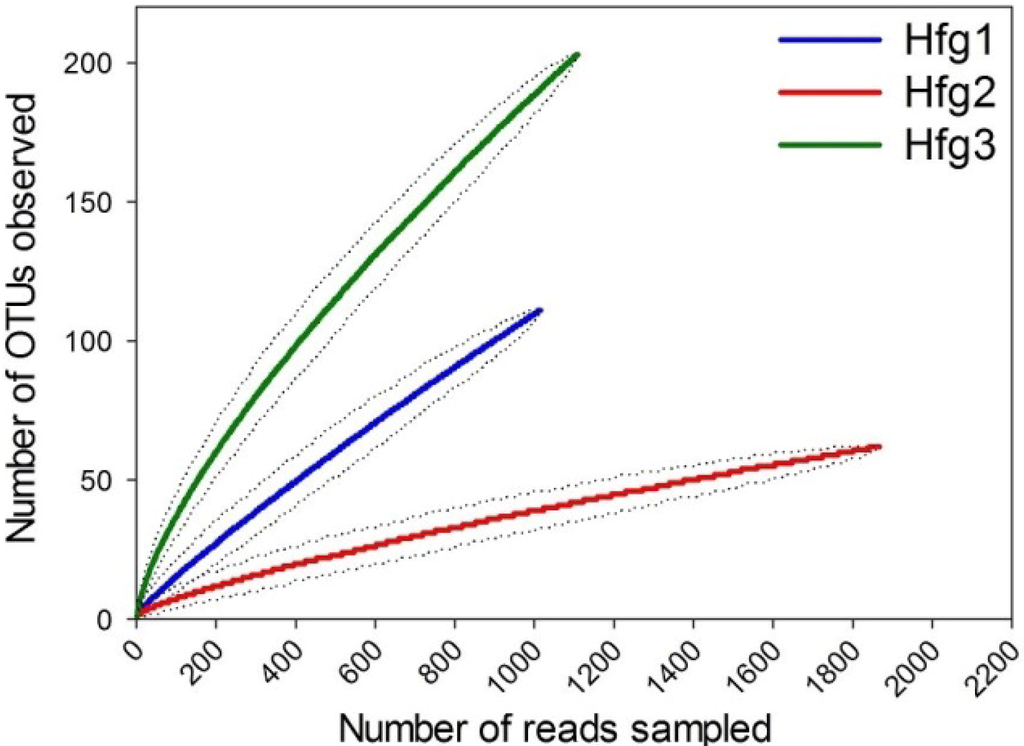 Figure 1

Share & Cite This Article
MDPI and ACS Style
Bansal, R.; Hulbert, S.H.; Reese, J.C.; Whitworth, R.J.; Stuart, J.J.; Chen, M.-S. Pyrosequencing Reveals the Predominance of Pseudomonadaceae in Gut Microbiome of a Gall Midge. Pathogens 2014, 3, 459-472.
Related Articles
Comments
[Return to top]