Open Access This article is
freely available
re-usable
Article
Teaching Urban Sustainability: A Study Abroad Perspective
1
Department of Geography, Ohio University, Athens, OH 45701, USA
2
Department of History, University of Exeter, Exeter EX4 4RJ, UK
3
School of Geosciences, University of Edinburgh, Edinburgh EH8 9XP, UK
4
School of Law, University of Edinburgh, Edinburgh EH8 9YL, UK
*
Author to whom correspondence should be addressed.
Received: 14 July 2019 / Accepted: 31 August 2019 / Published: 5 September 2019
Abstract
:
Since 2011 more than 100 students from Ohio University have travelled to Edinburgh, Scotland, to study history, urban planning, and sustainability. In this paper we recount the genesis of this highly successful program, situate it in the broader literature on urban sustainability and study abroad, and then unpack its contents. We then consider how the adoption of green living practices combined with hands-on and experiential learning activities developed specifically for this program—including sustainability diaries, green spaces surveys, group research projects, and walking tours—complement content that is delivered in the classroom, and furthermore, how an emphasis on planning history and social equity contributes to student understanding of the forces that shape urban landscapes over time. In the end, we conclude that an urban sustainability theme conjoined with a location abroad presents educators with an opportunity to communicate critical sustainability principles that would be difficult to replicate if students did not leave their home university.
Keywords:
Edinburgh; Scotland; experiential learning; green living; social equity; study abroad; urban history; urban planning; urban sustainability
1. Introduction
In summer 2011, faculty at Ohio University in Athens, Ohio, USA, and the University of Edinburgh in Scotland, UK, launched the Edinburgh: City and Environment study abroad program. The origins of the program date to 2008 when its primary architects first conceived the idea at the annual meeting of the European Association for Urban History in Lyons, France. These initial conversations eventually paved the way for a partnership between the two institutions, and subsequently, the creation of a successful interdisciplinary academic enterprise that has brought more than 100 American students to the University of Edinburgh to study history, urban planning, and sustainability.
The Edinburgh: City and Environment program was designed with two goals in mind: to meet the demands of a growing number of undergraduate students for a short-term study-abroad experience; and to develop a course of study focused on urban planning and sustainability that would appeal to geography majors and others interested in human-environment interactions. Although not formally articulated, we also hoped the program's emphasis on experiential learning and sustainability would have a ripple effect, inspiring transformative lifestyle changes among participants who might pass these behaviors on to students and others unable to travel abroad.
Given Ohio University's rural location, the opportunity to study urban planning in a European capital offers numerous advantages. In addition to experiencing everyday life in a bustling urban center, Ohio University students—most of whom grew up in automobile-dependent suburbs—were able almost immediately to identify key attributes that distinguish European cities from their American counterparts. Most obvious at the outset were the existence of a comprehensive public transit system, a physical infrastructure that facilitates walking and biking, and an extensive network of public parks and gardens. With its dormitory-style accommodations and teaching spaces that promote energy saving, water conservation, and waste reduction, the University of Edinburgh is an ideal host for a program focused on urban sustainability. The University has a dedicated Department of Social Responsibility and Sustainability, and was judged Highly Commended in the Sustainable Institution of the Year category at the 2019 International Green Gown Awards. The award recognized Edinburgh's demonstrable actions in delivering a positive impact on society, including the University's commitments to becoming carbon neutral by 2014, and to fully divest themselves from fossil fuels by 2021 (
University of Edinburgh 2016
).
In this paper, we review the recent literature on study abroad, including the development of programs that have employed experiential learning techniques to address sustainability concerns. We then dissect the Edinburgh: City and Environment program, examining how various experiential learning activities adopted over the years support and reinforce content delivered via lectures and readings, and how an emphasis on planning history and social equity demonstrates how cities have dealt with sustainability challenges in the past and how urban landscapes evolve over time. Finally, we consider how students have responded to the program as well as the value of using a location abroad to communicate urban sustainability principles.
2. Study Abroad–Trends and Benefits
3. Experiencing Edinburgh
Grounded in the "three E's" (environment, economy, and equity—also known as, the triple bottom line), and the "three D's" (density, diversity, and design), the Edinburgh: City and Environment program exposes students to the ecological benefits that accrue to cities that are more densely populated, offer a diversity of mixed commercial and residential land uses, and are designed around people instead of cars. They also learn that balancing environmental concerns with economic priorities is challenging; furthermore, that ensuring an equitable distribution of "goods," such as parks and affordable housing, is difficult to achieve. Finally, students come to appreciate that many of the "sustainability" problems cities face today are not new and that a historical perspective is needed to understand the forces that created the urban landscape we see today—a point we return to later in this paper when we highlight two of the program's modules: the development of the city's New Town in the eighteenth century; and the demolition of a working-class neighborhood called Craigmillar.
4. Sustainability in History
Sustainability is a modern term used increasingly in recent years to help us understand how cities balance concerns of environment, economy, and equity. But sustainability as a concept has a much longer history—one that reaches hundreds of years into the past. Cities are by definition spaces of constant change, and making improvements and planning for sustainability is part of how urban residents think about their environment and plan for the future.
Glaeser
(
2005
) argues that cities constantly re-invent themselves, and that long-term urban success is the result of a city's ability to successfully respond to challenges and exogenous shocks. In developing the Edinburgh: City and Environment program, one of our goals was to place the concept of sustainability in the
longue durée
—to make clear that planning for sustainability is not new, and to invite students to consider not only how notions of sustainability have changed over time, but how the conceptual language we use to discuss it has also changed. As an experiential learning lab, Edinburgh offers a space for students to witness firsthand the challenges that the city has faced over time. Hands-on experience is combined with classroom instruction, as students observe and assess how the city has addressed social, economic, and environmental concerns. Attention to history through two specific case studies highlights some core points about sustainability outlined by Glaeser and others: first, that it is not a new concept and that cities constantly reinvent themselves; second, that cities remain successful by tackling challenges (though the nature of those challenges changes over time); third, that contemporary challenges are shaped by inheritance, and often the inheritance of previous efforts aimed to ensure sustainability; and finally, that issues of equity and power are central to evaluating success.
4.1. Part I: The Old and New Towns of Edinburgh
Today, central Edinburgh is designated as a UNESCO world heritage site. It is notable for the juxtaposition of the medieval Old Town and the eighteenth-century New Town. The historic center appears frozen in time. But when we look more closely, we see that it is in fact the result of layers of urban planning, shaped by changing notions of sustainability and efforts to address several centuries' worth of challenges. We challenge students to peel through these layers by synthesizing the academic with the experiential.
For those who lived in eighteenth-century Edinburgh, the Old Town was more than a chaotic and smelly environment: it was a home. People created place out of space; they created meaning out of the built environment. Distinctive smell and sound environments shaped urban identities and communicated meanings. For example, because of occupational zoning, it was said that a blindfolded person in Edinburgh could tell which part of town they were in by the soundscape. The clinking of Hammermen's tools was associated with the West Bow, while the cries of vendors selling merchandise would be associated with particular market areas. The smell of burning tallow would indicate proximity to Candlemaker Row. Although the noise must have been ferocious and smells strong, these sensory experiences were more than "noise pollution" or "stench." They were forms of information that helped residents to know and navigate their city. They had emotional connotations. Smells considered foul today, such as burning fish oil, might have suggested comfort in an era when fish oil lamps lit most homes. Old Edinburgh, then, was not merely a dirty and inconvenient city. The urban environment was experienced differently by different kinds of people.
We teach about issues of equity and knowledge, by pairing a classroom exercise that involves reading the historical diaries of travelers who described the city, with experiential learning, by asking students to keep a sensory experience diary over a period of one week. Through this activity, they notice the complex nature of the sensory environment and all of its meanings. Though we live in a predominantly visual culture today, students are often surprised to notice that sounds and smells continue to communicate meaning, as they did in the past. Smell was not only a feature of air quality, but a form of useful information, and smell is not the same as stink.
Walking the city provides further evidence of issues of equity. Edinburgh's eighteenth-century improvements had a knock-on effect in terms of the distribution of amenities and dis-amenities to urban residents, and we consider who stood to benefit and who stood to lose from the changes that were imposed to ensure sustainability. The building of the New Town is an early historical example of middle class flight from the inner city. As wealthier individuals fled to the New Town, the poor were left behind and the Old Town eventually became a slum. Furthermore, the public green spaces of the New Town were in fact not truly public, but were strictly off limits to non-residents (as they remain today), accessible only to local residents who paid to have a key. While walking around the city, students notice the social divisions built into the fabric of this early "modern" development, the separate staircases that were built for servants, and the carefully designed street spaces built for carriages. We peer over the fences into the gardens, and notice the amenities provided for those who could afford to flee the inner city.
4.2. Part II: Walking through a Landscape That Doesn't Yet Exist
5. Student Response
In addition to expressing a high degree of satisfaction with the program in general, student evaluation data collected over the period 2011 to 2019 convey three key points. First, the experiential learning activities we have offered over the years have proved popular and effective.
Students are especially pleased to be able to "see" what they are studying. Second, Edinburgh's sustainability practices—as revealed in the program evaluations, but also in the sustainability diaries, green spaces surveys, and sustainability visioning exercise on the final exam—capture the attention of our students. This is particularly true when it comes to public transportation, but it surfaces in other important ways as well. Third, studying sustainability as part of an "away" experience opens students' eyes to new ideas and possibilities. Moreover, students—especially urban planning and sustainability majors—appear motivated to continue new behaviors upon returning to the US.
5.1. Experiential Learning
With respect to our walking tours and "hands-on" activities (e.g., sustainability diaries, green space surveys, and sensory experience diaries), students made it abundantly clear that these served as valuable complements to classroom learning and that they enjoyed "doing new things every day." Several students mentioned the walking tours to Old Town, New Town, and Craigmillar, specifically. One student in 2011 wrote: "I really enjoyed the walking tours because it allowed me to see what we were learning about in class." Another participant, this one from 2012, stated: "It was such a hands-on experience. It allowed me to see things we talked about visually and understand easier." Being able to "see" what was being learned in the classroom was a familiar refrain repeated across all years. A student from 2014 remarked that the "on-the-ground experience" of field trips and outside-the-classroom activities "took the theory from class [e.g., rent gap and gentrification, suburbanization, and middle class flight] and made it a reality." A student from 2016 opined that rather than being "lectured to" she "got to do more field work and experience things first hand." These evaluations, which stretch across the years that the program has run, has meant that the format of teaching—with limited time in the classroom and assignments that require fieldwork—has remained remarkably consistent.
5.2. Sustainability Practices
Easily the most frequent comment we received across all years referred to Edinburgh's bus system. Students agreed that the bus pass was "an excellent idea," that buses were "convenient" and "very easy" to use, and that the passes were used often, sometimes several times a day. Even students who rarely if ever used public transportation at home were supportive of the system as this entry from a sustainability diary in 2019 indicates: "Growing up, I never used the bus to get anywhere. At home, I have to drive half an hour to get to the closest bus stop. This bus does not have many stops and is mainly used to get downtown. However, in Edinburgh, the bus system is efficient and easy to use." One student evaluation from 2015 noted that the bus system was "great" and that her experience with "public transportation in general" was a "very valuable" part of her trip.
With respect to mobility, another student from 2015 remarked: "I fully experienced a well utilized and designed public transportation system and planning designed around walkable streets." As the previous comment suggests, students not only notice the efficient bus, tram, and train system, they experience a built environment conducive to walking, and increasingly, biking. Designated bike lanes, bike counters, and the presence of bicycle commuters on city streets never fail to draw comparisons to cities in the US Midwest, where such infrastructure is less well developed (
Figure 5
). Students also take note of the advantages of mixed land-use zoning, the availability and varying quality of green spaces in the city, and the ever-present reminders on display at the residence halls where they live to reduce water and energy consumption and solid waste generation.
5.3. Sustainability in Scotland and Beyond
Students were effusive in their praise of a mode of learning that combined study abroad with an urban sustainability theme. According to one student in 2017: "I got to see how Edinburgh was making moves to be more sustainable and focus on the positives. Whereas at Ohio [University] I feel as if we would be focusing on the negatives." Others note that it is "easy to study a city that you're in" and that being abroad "makes you more motivated and interested." The following testimonial from a geography major in 2015 supports this idea: "With our specific program being on urban planning, being in a host country was perfect. We were able to identify and apply our knowledge to the city, versus looking through a text-book/computer screen and imagining it. It was fascinating!" In a clear reference to equity, one participant in 2017 said that the many different neighborhoods we visited allowed them to "more fully understand how urban planning affected different residents of the city." Another member of the 2017 group stated: "Being in Scotland I experienced a different kind of planning while learning about more sustainable ways of thinking."
Perhaps most encouragingly, program evaluations indicate that students will not soon forget what they learned while studying away. In reference to Edinburgh's historically "evolving sustainability practices," a student on the 2019 trip said she was "truly inspired by Scotland's capital." Another student from 2012 mentioned that, "The course material really changed my perspective," adding later, "I don't think I will EVER look at a city the same way ever again." Living a "greener lifestyle" also resonated with many of our students, with one person stating: "I will be able to be more critical and progressive about my surroundings and how to incorporate sustainability into my daily life and the life of others." Another volunteered: "I was actually using what I learned and it felt great!"
6. Conclusions
As
Tarrant et al.
(
2014
,
2015
) and
Reilly et al.
(
2016
) assert, combining a focus on sustainability with a location abroad, offers students a singular opportunity to learn and grow that cannot be replicated on their home campus. Our experience with the Edinburgh: City and Environment program supports this assertion. Walking tours, field activities, sustainability diaries, green spaces surveys, and other forms of experiential learning afford students the opportunity to learn about urban planning and sustainability outside the traditional classroom setting. And as
Christiansen and Fischer
(
2010
) discovered—and we validate—infusing study abroad with a "green living" component reinforces the concepts students learn while enrolled in the program, and hopefully, extends those behaviors indefinitely into the future. By incorporating a historical component and devoting special attention to issues of equity—an aspect of sustainability too often neglected in our opinion—we hope students come to appreciate that the urban landscape they are interacting with is more than a collection of buildings and streets. It is the product of myriad decisions made in the past. Understanding the forces that produce the landscapes we see today is the first step in a process that will allow us to plan for a future that is truly more sustainable and just.
Author Contributions
Conceptualization, G.B. and H.C.; writing—original draft preparation, G.B., T.P., and H.K.; writing—review and editing, G.B., T.P., and H.C.
Funding
This research received no external funding.
Acknowledgments
We would like to thank all the individuals who have contributed to the Edinburgh: City and Environment program since its inception in 2011, including: Aaron Allen, Megan Avellana, Andrew Bright, Tom Clemens, Lorinda Collins, Joe Curran, Kirsten Dabelko, Keely Davin, Emily Englehart, Eisa Esfanjary, Anna Feintuck, Anna Groundwater, Cliff Hague, Anna Hudson, Jane Jones, Cherita King, Lori Lammert, Rebecca Madgin, Catherine Marshall, Stephenie McGuckin, Bob Morris, Niamh Shortt, David Somervell, Laurence Tuccori, Marion Williams, and Charles W.J. Withers. We are especially indebted to Richard Rodger without whom the program would not have been possible.
Conflicts of Interest
The authors declare no conflict of interest.
1

McKee et al.

(

2017

) point out the importance of spatial nuance when talking about "UK housing policy," for the Scottish Parliament has had devolved control of housing policy, since its reconstitution at the turn of the millennium. Despite this, the dominant ideals and policies in Scottish housing policy at the time when the Craigmillar regeneration project was formulated were virtually synonymous with policy across the rest of the UK.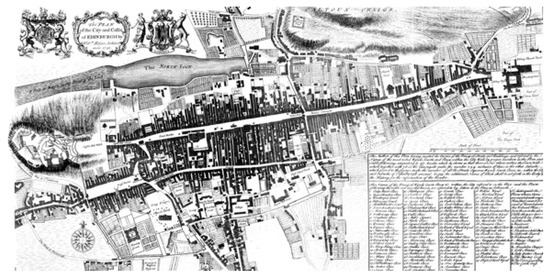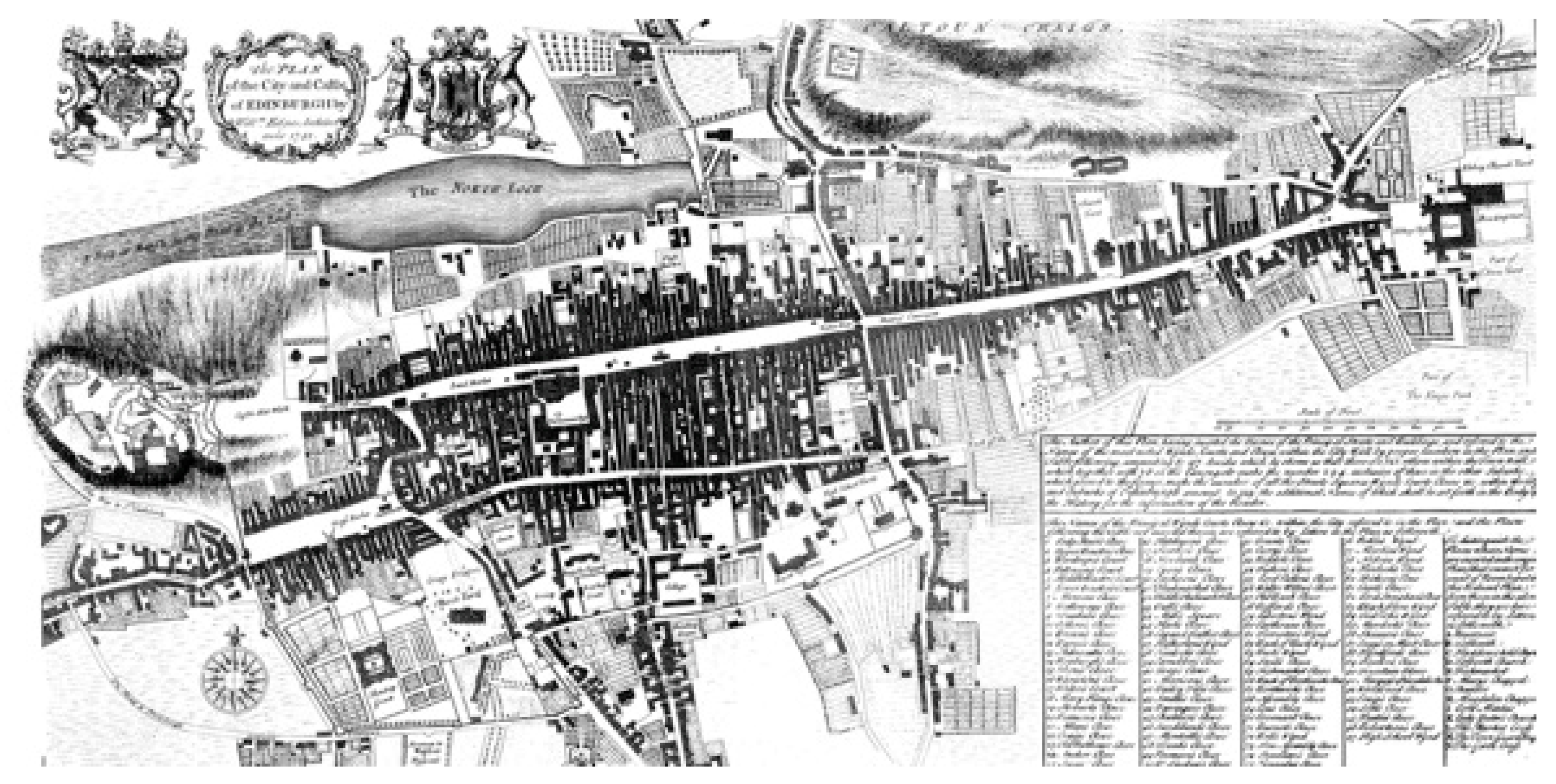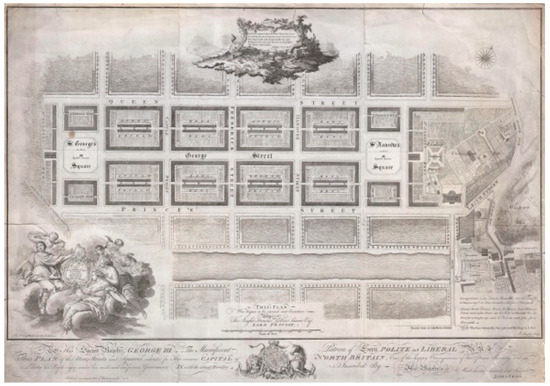 Figure 2.
James Craig: Plan of the new streets and squares, intended for his ancient capital of North-Britain, 1768. Source: National Library of Scotland.
https://maps.nls.uk/towns/rec/1025
.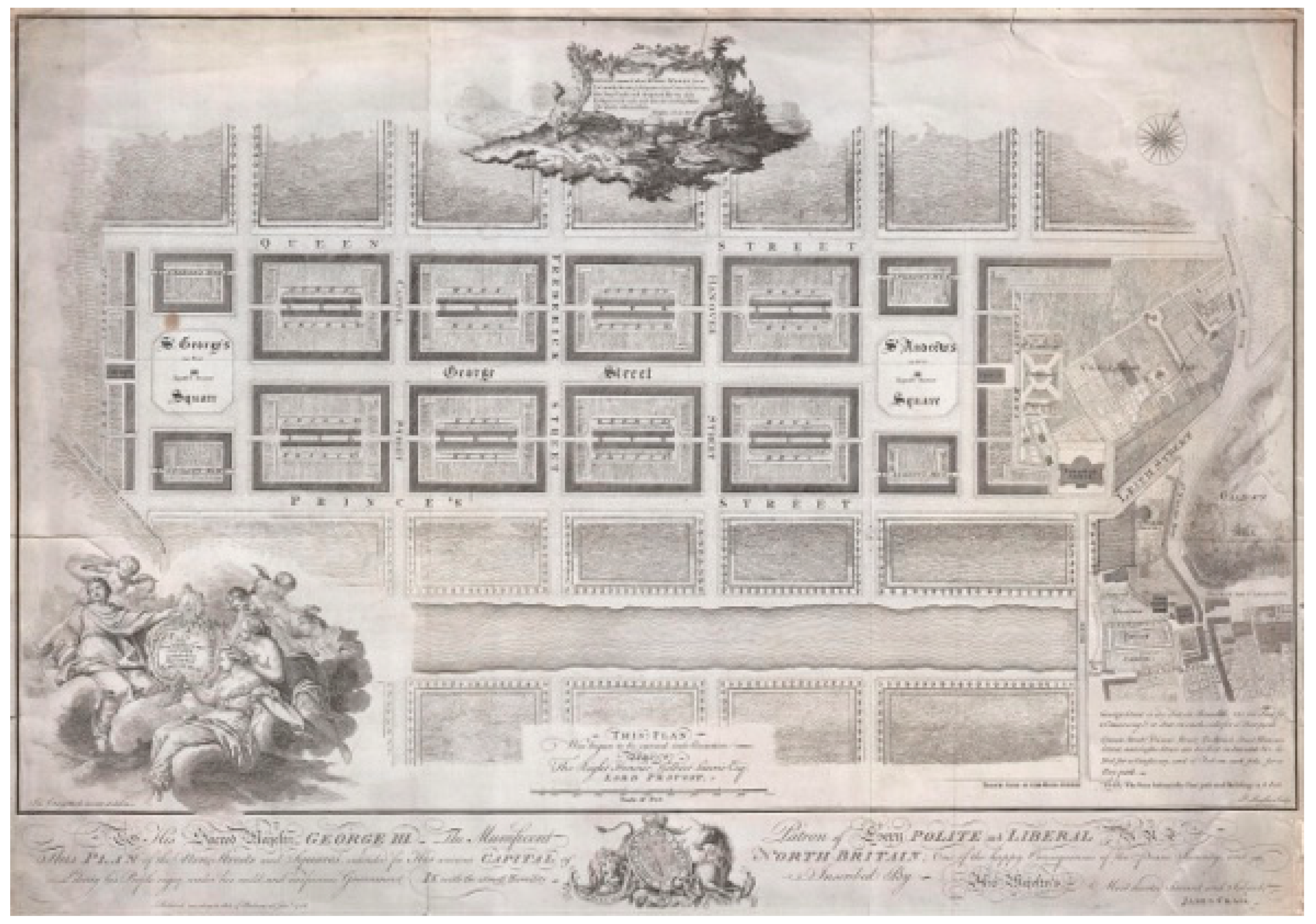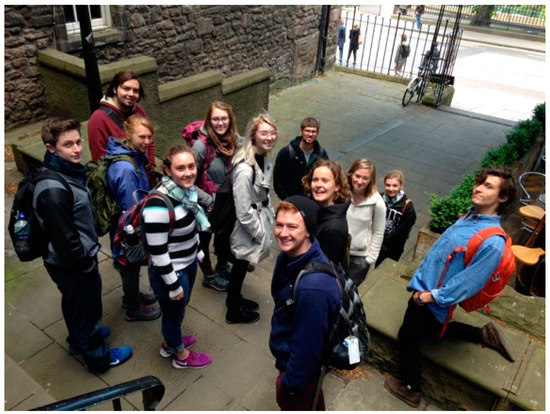 Figure 3. Dr. Tawny Paul, University of Exeter, leads Ohio University students on a tour of Edinburgh's Old and New Towns (Photo by G.L. Buckley, June 2015).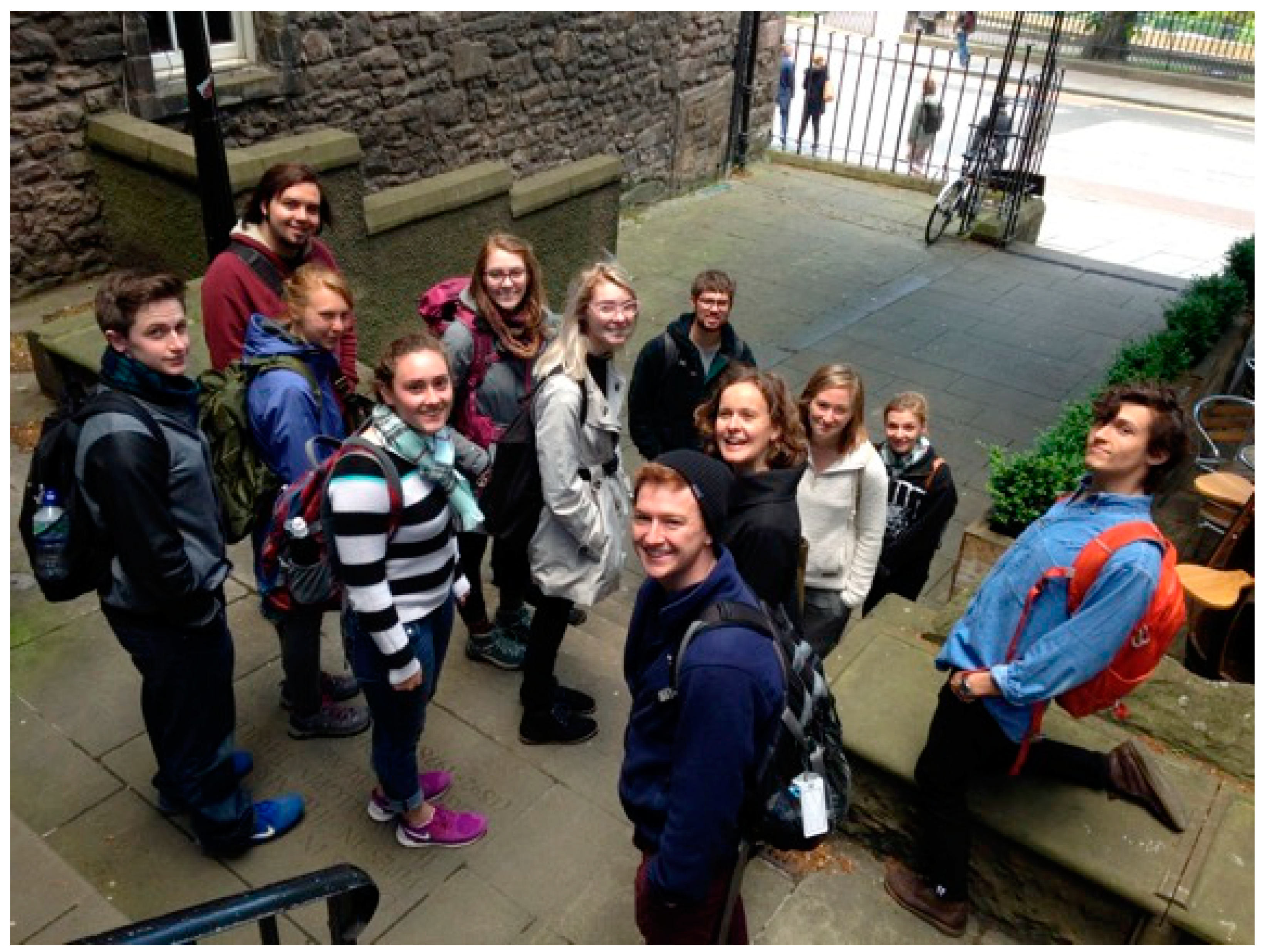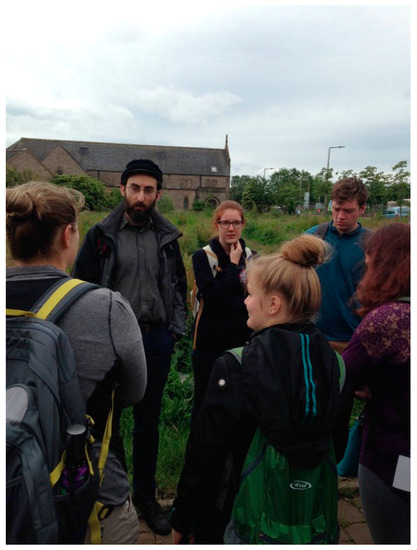 Figure 4. Dr. Hamish Kallin, University of Edinburgh, discussing the history of Craigmillar with students enrolled in the Edinburgh: City and Environment program (Photo by G.L. Buckley, June 2017).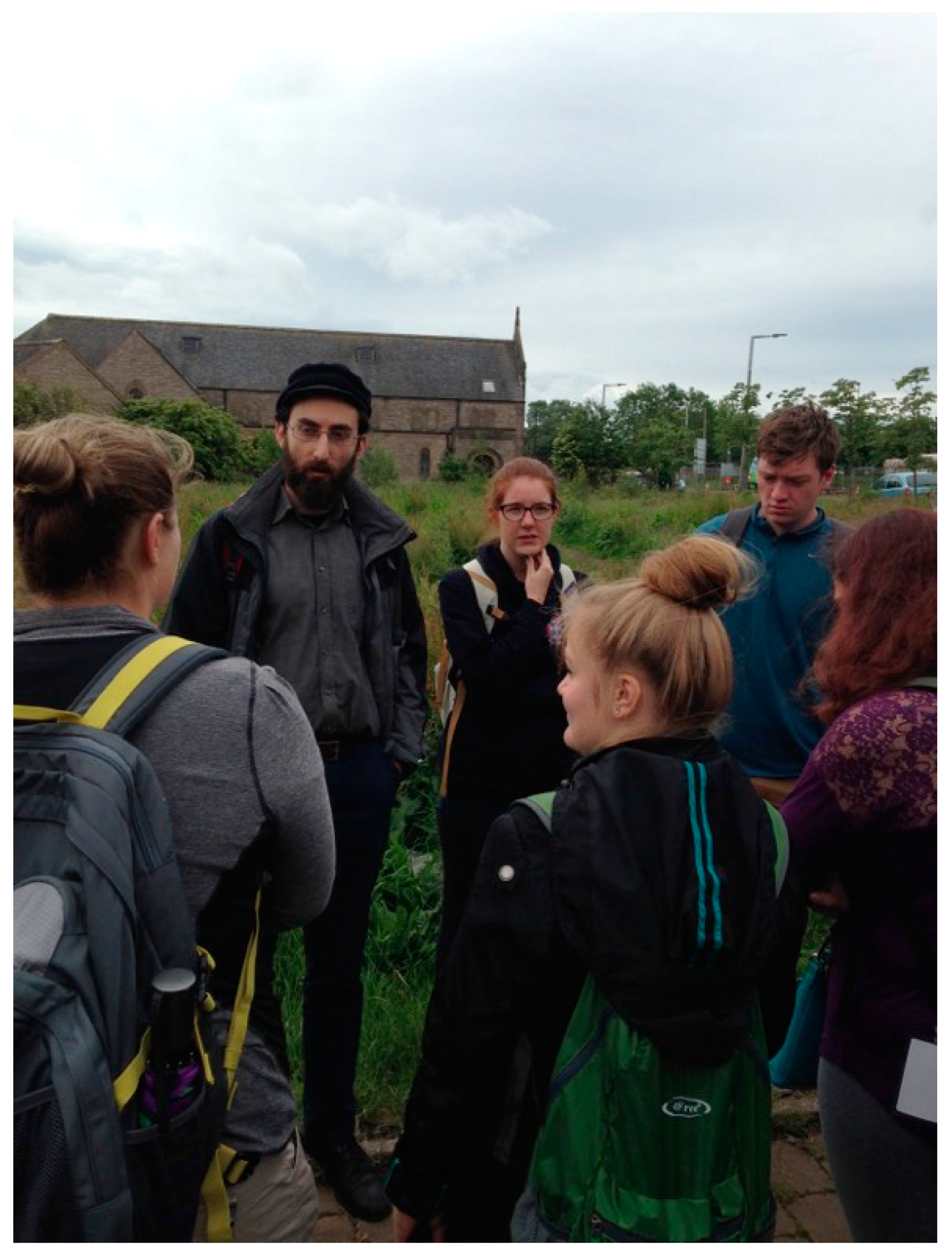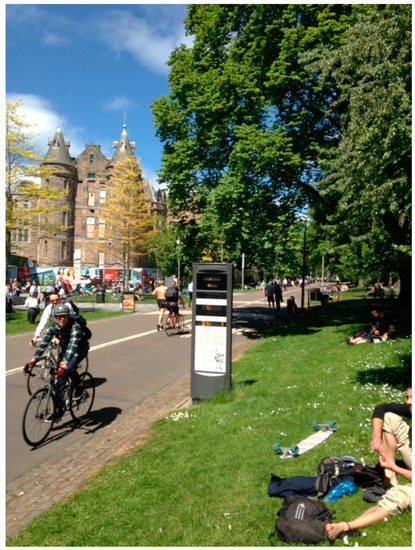 Figure 5. Cyclists and pedestrians utilizing the Middle Meadows Walk. Note the designated cycle lane and bicycle counter (Photo by G.L. Buckley, June 2016).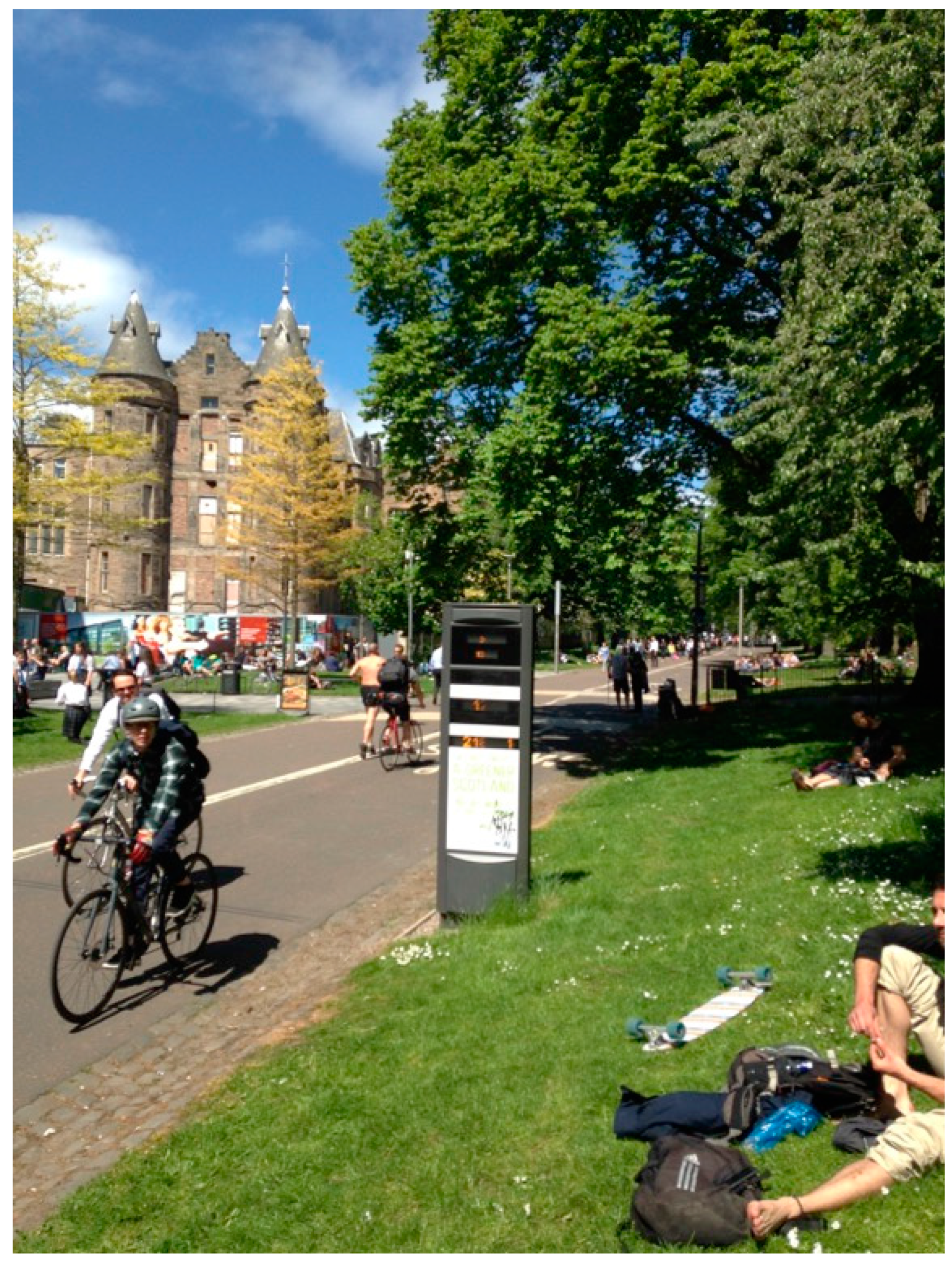 © 2019 by the authors. Licensee MDPI, Basel, Switzerland. This article is an open access article distributed under the terms and conditions of the Creative Commons Attribution (CC BY) license (http://creativecommons.org/licenses/by/4.0/).