Open Access This article is
freely available
re-usable
Article
Incremental Dynamic Analysis for Estimating Seismic Performance of Multi-Story Buildings with Butterfly-Shaped Structural Dampers
1
Department of Civil and Environmental Engineering, Virginia Tech, Blacksburg, VA 24061, USA
2
Department of Civil Engineering, Birjand University of Technology, Birjand 97175-569, Iran
3
Department of Civil Engineering, Higher Education Complex of Bam, Bam 14477-76613, Iran
*
Author to whom correspondence should be addressed.
Received: 1 March 2019 / Accepted: 30 March 2019 / Published: 8 April 2019
Abstract
:
Structural strength and stiffness were previously investigated to sufficiently improve the lateral load resistance against major events. Many buildings require appropriate design to effectively withstand the lateral seismic loads and reduce the corresponding damages. Design methodologies and structural elements were recently introduced to improve the energy dissipation capability and limit the high force demands under seismic loadings. The new systems are designed to protect the structural integrity and concentrate the inelasticity in a specific area, while the remaining parts are kept undamaged and intact. This study introduces a new structural system with dampers having strategic cutouts, leaving butterfly-shaped shear dampers for dominating the yielding mechanism over other brittle limit states. The new system is designed for re-establishing the conventional eccentrically braced frame system with simple linking beams. The system with strategic cutouts is subsequently used and compared with the eccentrically braced frames (EBF) system for seismic performance investigation and incremental dynamic analysis (IDA), using the OpenSees program, which is used to indicate the collapse behavior under forty-four selected ground motions. Results show that the butterfly-shaped multi-story buildings, compared to the corresponding conventional systems, are capable of enhancing the system resistance against lateral seismic loads by postponing the collapse state to the larger drift ratio values.
Keywords:
incremental dynamic analysis; eccentrically braced frame; butterfly-shaped shear damper; hysteretic behavior; shear link
2. Design and Verification of the Modeling Methodology
To verify the computational modeling methodology, two verification studies are conducted. The first verification study is related to an experimental test with an hourglass damper system, computationally modeled in the finite element ABAQUS package. In the second verification study, the OpenSees modeling methodology is verified under the EBF loading protocol condition.
The second verification is conducted for calibrating fuse behavior of the used reduced models in OpenSees, based on which the IDA is conducted. This verification indicates that computational models in OpenSees are able to predict the results of the multistory EBF structures with sufficient accuracy.
3. Comparison of the Seismic Behavior of the EBF Conventional and Butterfly-Shaped Systems
For seismic investigations, in this study, incremental dynamic analysis (IDA) for earthquake engineering assessment is conducted to thoroughly investigate the seismic behavior of the EBF conventional and BF systems. The results of this study could be implemented in the risk analysis of the new fuse systems. IDA includes multiple nonlinear dynamic analyses of a specific prototype structure under a group of ground motion records, which are typically scaled to several seismic intensity levels. For this propose, the scale factors from 0.1 g up to 4.0 g are applied to both systems, with an accelerations interval of 0.1 g. The scaled ground motions are applied to the structure to capture seismic behavior from elastic regions to inelastic regions and, ultimately, collapse occurrence. The results are subsequently represented by intensity measure versus structural response.
4. Conclusions
The strategic removal of the material to shift from the brittle limit state occurrence to a ductile yielding mechanism would improve the hysteretic behavior and reduce the fracture possibility. In this research, two prototype buildings are investigated to compare the seismic performance of a conventional EBF system with a new system with butterfly-shaped shear dampers. The models are built in computational software, after verifying the modeling methodology and the reduced order models. The effect of having butterfly-shaped dampers for multi-story structures is seismically investigated. The incremental dynamic analysis is used as a powerful tool for understanding the seismic behavior of the multi-story structures. It is shown that multi-story buildings with butterfly-shaped dampers are able to effectively increase the critical ground motion scale level, in which 50% of the initial stiffness is eliminated, and enhance the system resistance against a lateral seismic load by postponing the collapse state to a larger drift ratio value. It is shown that, in general, the shear angles associated with forty-four prescribed ground motions, with different scales, would be significantly lower than the corresponding conventional system, which yields to more ductile performance and full hysteretic response at each story level.
Author Contributions
Conceptualization, A.F., I.M., H.D.; Methodology, A.F.; Software, A.F.; Validation A.F.; Formal Analysis A.F.; Investigation, A.F.; Resources, A.F.; Data Curation, A.F; Writing-Original Draft Preparation, A.F. and I.M.; Writing-Review & Editing, A.F. and I.M.; Visualization, A.F.; Supervision, A.F.; Project Administration, A.F.; Funding Acquisition, A.F.
Funding
This research received no external funding.
Conflicts of Interest
The authors declare no conflict of interest.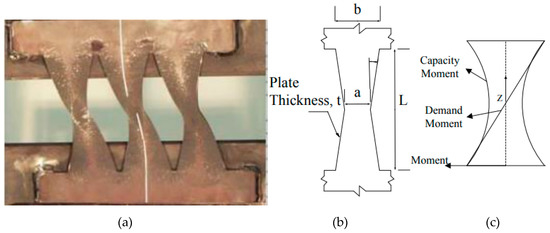 Figure 1.
The butterfly-shaped hysteretic damper. (
a
) Butterfly-shaped plate (from [
8
]); (
b
) Geometry; (
c
) Moment diagram.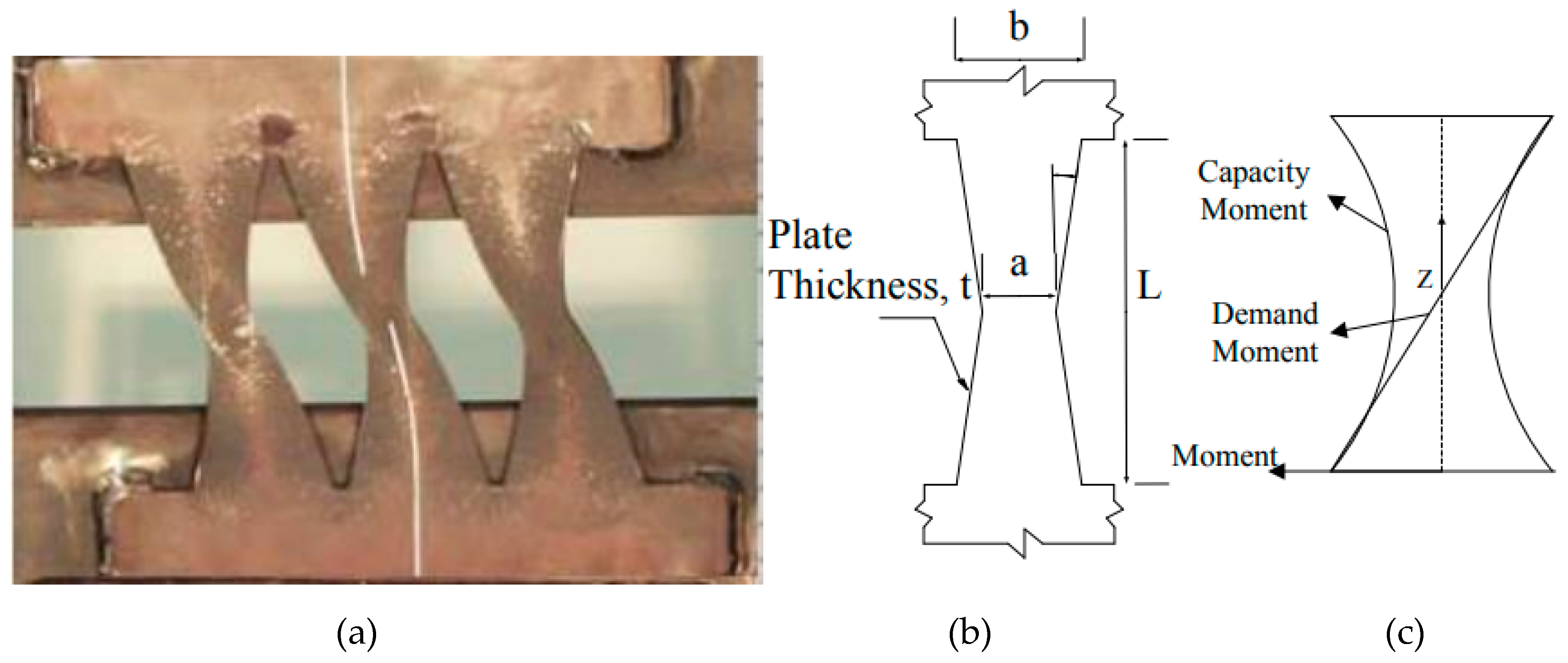 Figure 2.
Implementation of the butterfly-shaped hysteretic damper. (
a
) Butterfly-shaped fuses in multi-story buildings; (
b
) Butterfly-shaped fuses used to enhance energy dissipation (from [
8
]).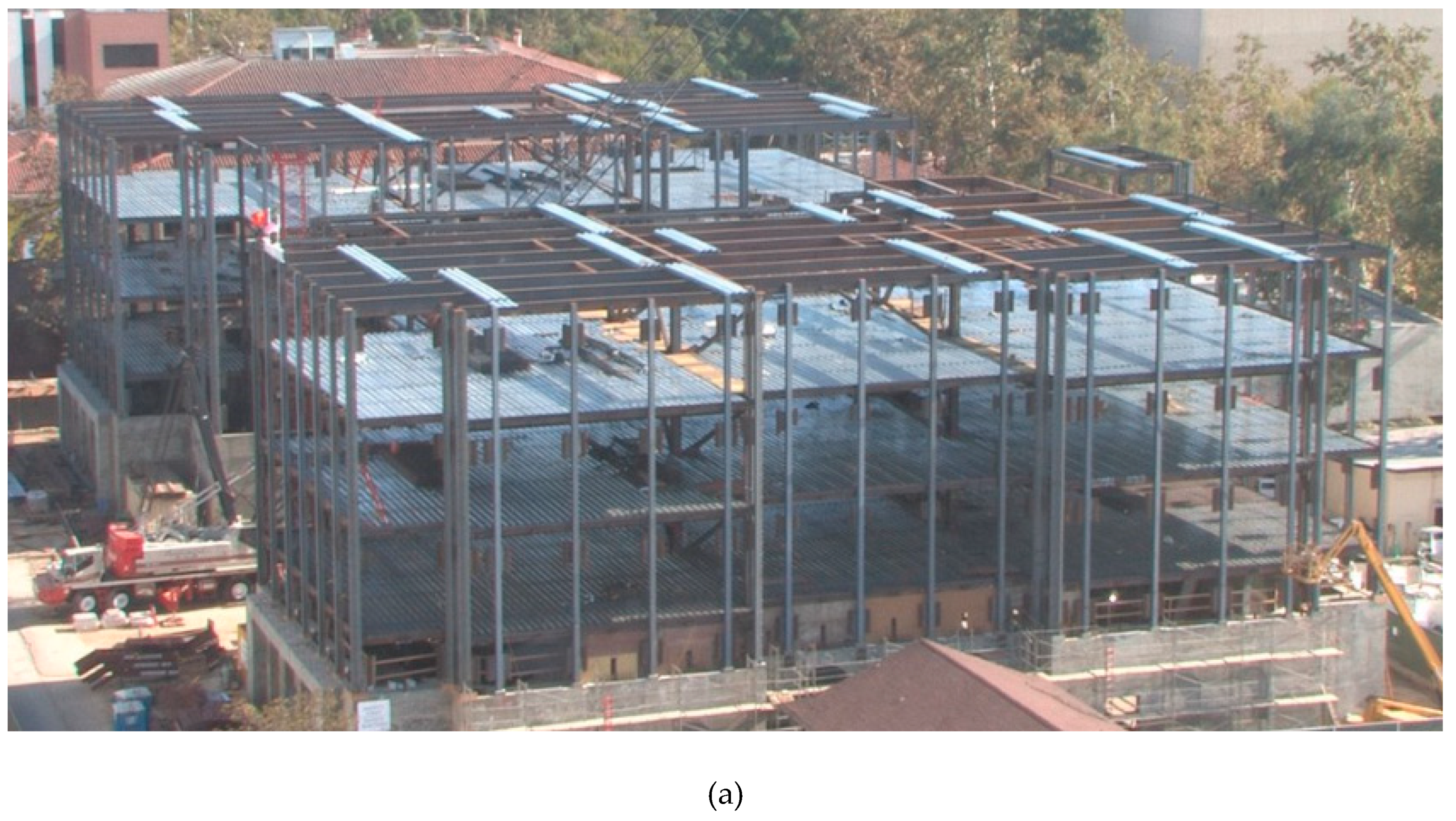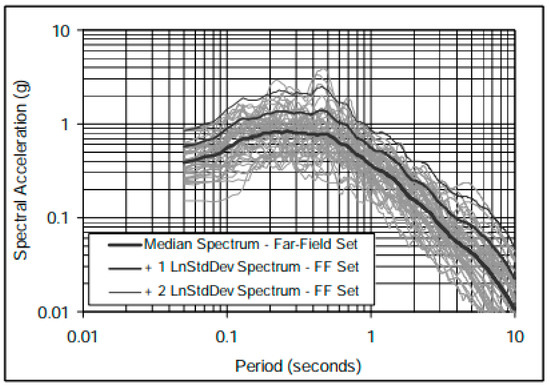 Figure 3.
Spectrum of all accelerograms used for incremental dynamic study [
20
].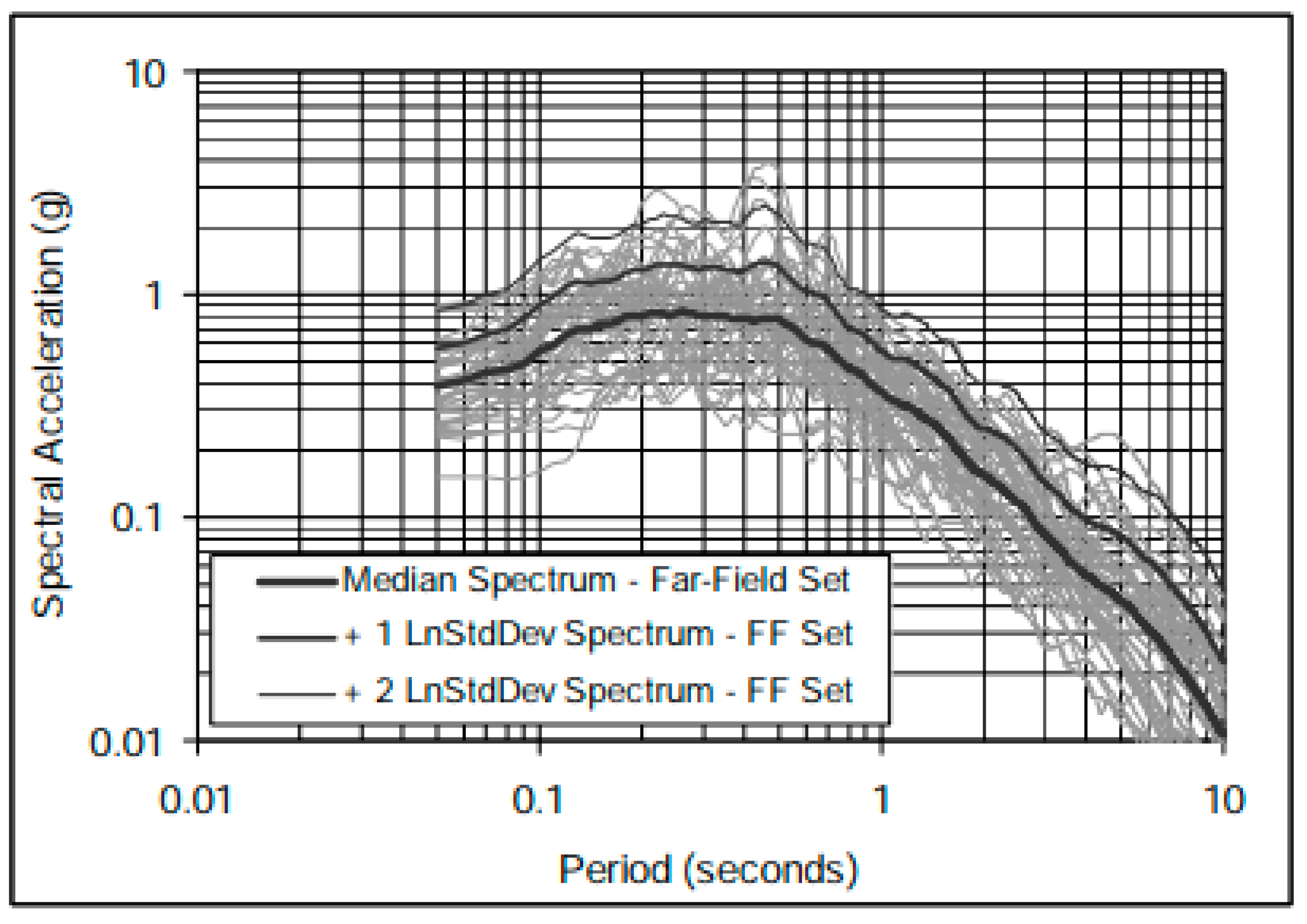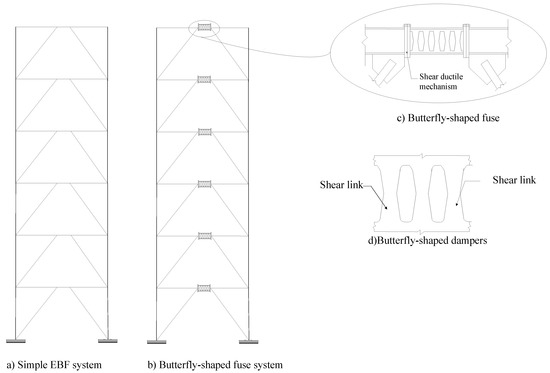 Figure 4. Schematic representation of a six-story building with and without butterfly-shaped fuses for IDA analysis. (a) Simple EBF system; (b) Butterfly-shaped fuse system; (c) Butterfly-shaped fuse; (d) Butterfly-shaped dampers.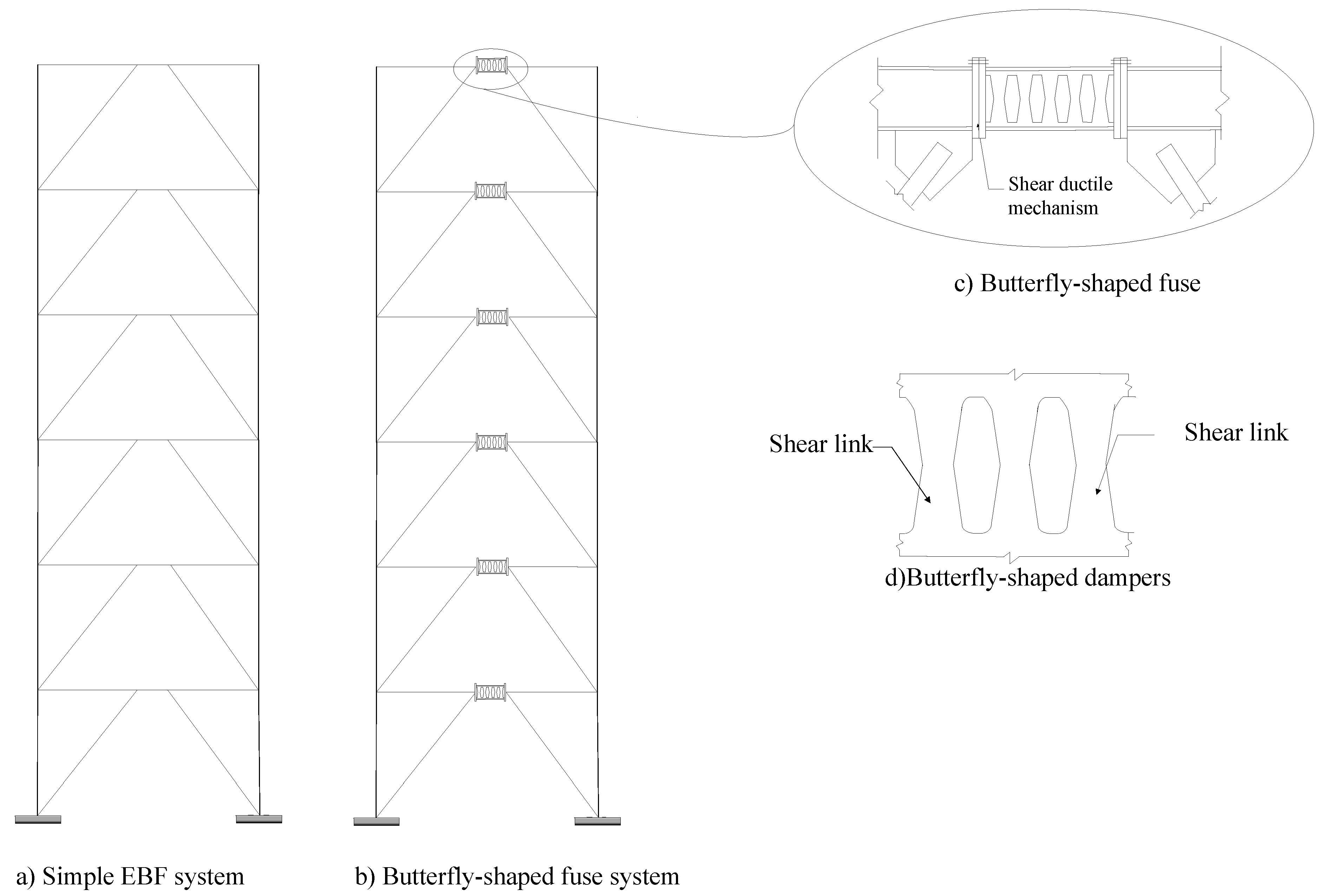 Figure 5. Three design groups used for incremental dynamic analysis (IDA) (thickness is in centimeters and the rest is in meters). (a) Category I, for lower story structural fuses based on W 10 × 68 beam dimensions; (b) Category II, for middle story structural fuses based on BU13 × 53 beam dimensions; (c) Category III, for upper story structural fuses based on BU 13 × 53 beam dimensions.


Figure 6.
Verification of the finite element modeling methodology against laboratory test [
17
]. (
a
) FEA model; (
b
) Comparison of FEA with test.

Figure 7. Verification of OpenSees modeling methodology with FEA results based on AISC 341 loading protocol for EBF. (a) Butterfly-shaped beam; (b) Verification study.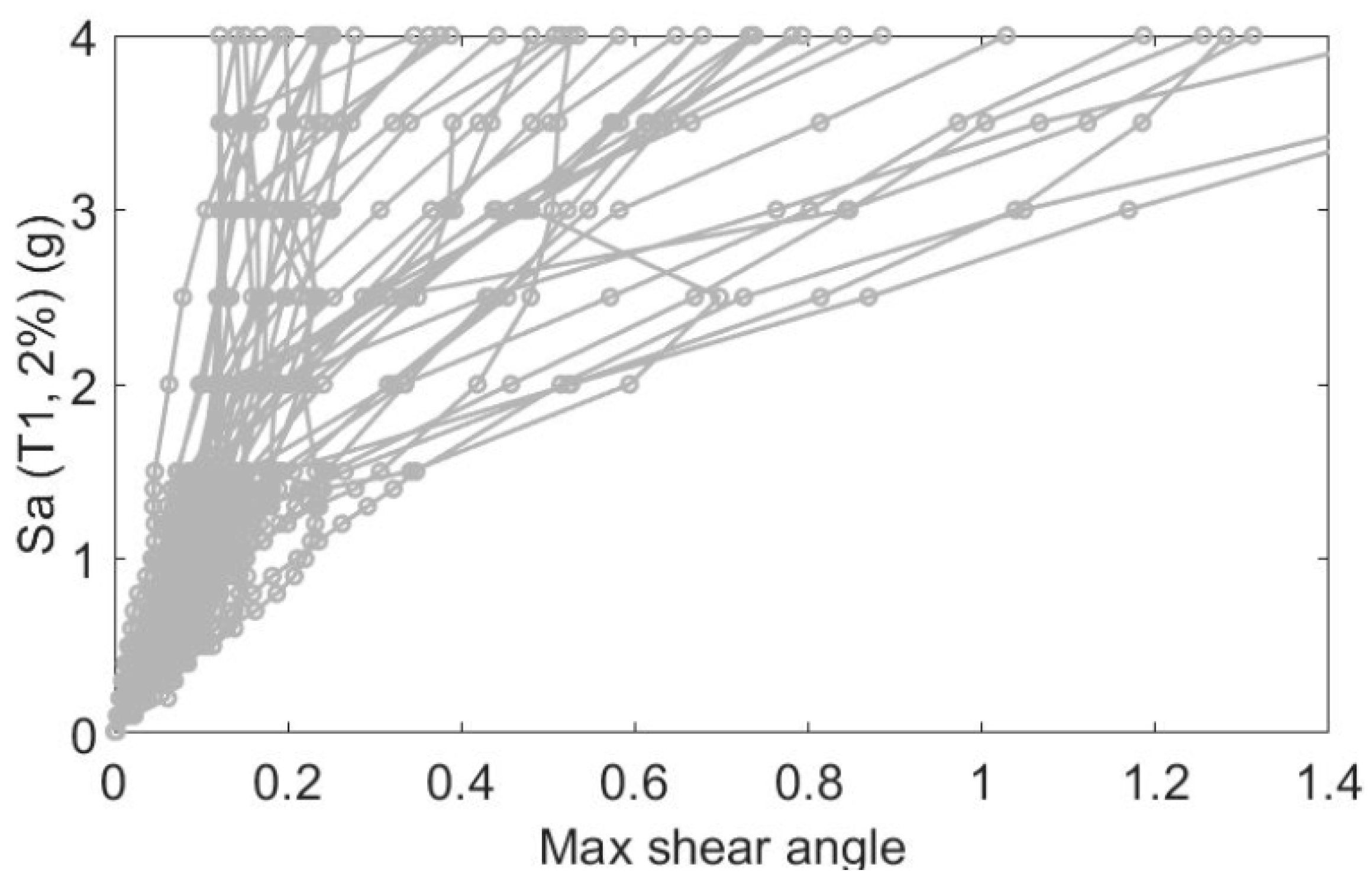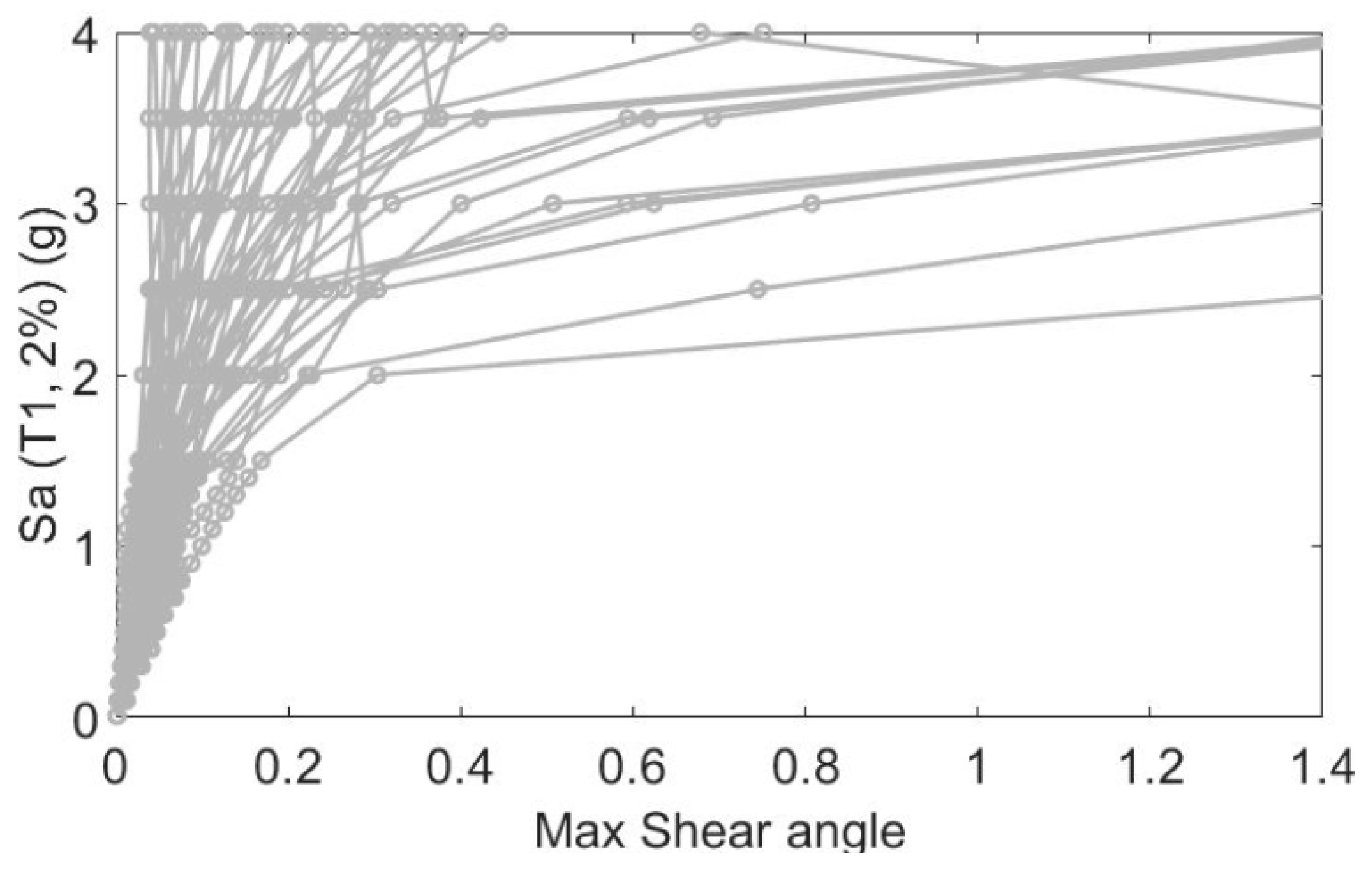 Level
Shear (kips)
Cumulative Force (kips)
Design Section for EBF
Design Force for the BF Links
Design Groups for BF System
Roof
60
60
BU 13 × 53
244
244
III
6th
60
120
BU 13 × 53
244
5th
88
208
BU13 × 53
358
358
II
4th
125
333
W 10 × 68
508
508
I
3rd
125
458
W 10 × 68
508
2nd
125
583
W 10 × 68
508
| Mode No. | BF Fuse System | Conventional System |
| --- | --- | --- |
| 1 | 1.332 | 1.283 |
| 2 | 0.518 | 0.482 |
| 3 | 0.299 | 0.289 |
| 4 | 0.243 | 0.227 |
| 5 | 0.192 | 0.18 |

© 2019 by the authors. Licensee MDPI, Basel, Switzerland. This article is an open access article distributed under the terms and conditions of the Creative Commons Attribution (CC BY) license (http://creativecommons.org/licenses/by/4.0/).