Recycling Chips of Stainless Steel Using a Full Factorial Design
1
Institute of Physics and Chemistry, Universidade Federal de Itajubá, Itajubá 37500-903, Brazil
2
Departamento de Engenharia de Manufatura e Materiais, Universidade Estadual de Campinas, FEM, Campinas 13083-860, Brazil
3
School of Mechanical and Manufacturing Engineering, Supmeca/Paris, 93407St Ouen, France
*
Author to whom correspondence should be addressed.
Received: 3 July 2019 / Revised: 17 July 2019 / Accepted: 26 July 2019 / Published: 30 July 2019
Abstract
The aim of this study was to provide an experimental investigation on the novel method for recycling chips of duplex stainless steel, with the addition of vanadium carbide, in order to produce metal/carbide composites from a high-energy mechanical milling process. Powders of duplex stainless steel with the addition of vanadium carbide were prepared by high-energy mechanical ball milling utilizing a planetary ball mill. For this proposal, experiments following a full factorial design with two replicates were planned, performed, and then analyzed. The four factors investigated in this study were rotation speed, milling time, powder to ball weight ratio and carbide percentage. For each factor, the experiments were conducted into two levels so that the internal behavior among them could be statistically estimated: 250 to 350 rpm for rotation speed, 10 to 50 h for milling time, 10:1 to 22:1 for powder to ball weight ratio, and 0 to 3% carbide percentage. In order to measure and characterize particle size, we utilized the analysis of particle size and a scanning electron microscopy. The results showed with the addition of carbide in the milling process cause an average of reduction in particle size when compared with the material without carbide added. All the four factors investigated in this study presented significant influence on the milling process of duplex stainless steel chips and the reduction of particle size. The statistical analysis showed that the addition of carbide in the process is the most influential factor, followed by the milling time, rotation speed and powder to ball weight ratio. Significant interaction effects among these factors were also identified.
View Full-Text
►

▼

Figures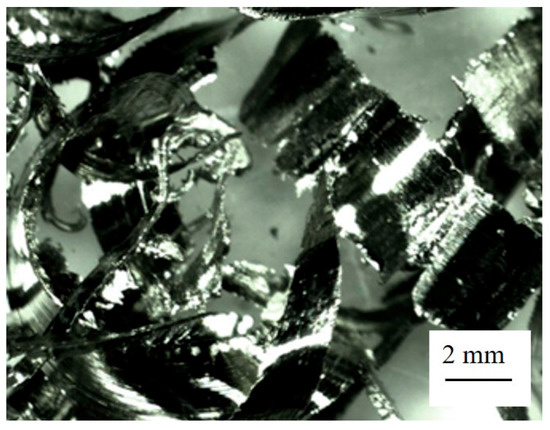 Figure 1
This is an open access article distributed under the
Creative Commons Attribution License
which permits unrestricted use, distribution, and reproduction in any medium, provided the original work is properly cited (CC BY 4.0).

Share & Cite This Article
MDPI and ACS Style
Mendonça, C.; Capellato, P.; Bayraktar, E.; Gatamorta, F.; Gomes, J.; Oliveira, A.; Sachs, D.; Melo, M.; Silva, G. Recycling Chips of Stainless Steel Using a Full Factorial Design. Metals 2019, 9, 842.
Note that from the first issue of 2016, MDPI journals use article numbers instead of page numbers. See further details here.
Related Articles
Comments
[Return to top]