Research on AZ80 + 0.4%Ce (wt %) Ultra-Thin-Walled Tubes of Magnesium Alloys: The Forming Process, Microstructure Evolution and Mechanical Properties
1
School of Material Science and Engineering, North University of China, Taiyuan 030051, China
2
College of Mechatronics Engineering, North University of China, Taiyuan 030051, China
3
State Key Laboratory of Solidification Processing, Northwestern Polytechnical University, Xi'an 710072, China
*
Authors to whom correspondence should be addressed.
Received: 18 April 2019 / Revised: 5 May 2019 / Accepted: 10 May 2019 / Published: 14 May 2019
Abstract
Ultra-thin-walled tubes of magnesium alloys have received more and more attention in producing precision components for medical devices. Therefore, thin-walled tubes with high quality are desperately needed. In this study, the process of multi-pass variable wall thickness extrusion was carried out on an AZ80 + 0.4%Ce Mg alloy with up to five passes—one-pass backward extrusion and four-pass extension—to fabricate the seamless thin-walled tube with an inside diameter of 6.0 mm and a wall thickness of 0.6 mm. The average grain size decreased from 46.3 μm to 8.9 μm at the appropriate deformation temperature of 350 °C with the punch speed of 0.1 mm/s. X-ray diffraction (XRD), optical microscope (OM), scanning electron microscopy (SEM), and the Vickers hardness (HV) tester were utilized to study the phases, microstructure, and hardness evolution. It can be observed that low deformation temperatures (240 °C and 270 °C) and low strain (1 pass extrusion and 1 pass extension) lead to twins that occupy the grains to coordinate deformation, and a slip system was activated with the accumulation of strain. The results of the Vickers hardness test showed that twinning, precipitation of second phases, twinning dynamic recrystallization (TDRX), and work hardening were combined to change the hardness of tubes at 240 °C and 270 °C. The hardness reached 93 HV after the third pass extension without annealing at 350 °C.
View Full-Text
►

▼

Figures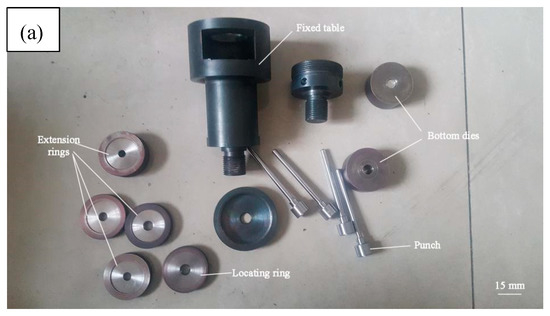 Figure 1
This is an open access article distributed under the
Creative Commons Attribution License
which permits unrestricted use, distribution, and reproduction in any medium, provided the original work is properly cited (CC BY 4.0).

Share & Cite This Article
MDPI and ACS Style
Yan, Z.; Fang, M.; Lian, Z.; Zhang, Z.; Zhu, J.; Zhang, G.; Wang, Y. Research on AZ80 + 0.4%Ce (wt %) Ultra-Thin-Walled Tubes of Magnesium Alloys: The Forming Process, Microstructure Evolution and Mechanical Properties. Metals 2019, 9, 563.
Note that from the first issue of 2016, MDPI journals use article numbers instead of page numbers. See further details here.
Related Articles
Comments
[Return to top]