Recovery of Platinum from Spent Petroleum Catalysts: Optimization Using Response Surface Methodology
1
Institute for Advanced Materials and Technology, University of Science and Technology Beijing, Beijing 100083, China
2
Nuclear Chemistry and Industrial Material Recycling, Department of Chemistry and Chemical Engineering, Chalmers University of Technology, 41296 Gothenburg, Sweden
3
Yunlong Country Platinum Cui Precious Metals Technology Co., Ltd., Dali 672711, China
*
Author to whom correspondence should be addressed.
Received: 14 February 2019 / Revised: 14 March 2019 / Accepted: 14 March 2019 / Published: 20 March 2019
Abstract
The global yield of platinum (Pt) recovery from spent catalysts is about 30%. Pt recovery from spent catalysts is one of the most significant methods to reduce its supply risk and meet future demand. The current hydro-leaching processes always involve extremely high acidity (c(H
+
) > 6.0 mol/L), causing serious environmental issues and consuming large amounts of reagents. This paper studied the recovery of Pt from spent petroleum catalysts in a mild leaching solution (c(H
+
) = 1.0−2.0 mol/L). The HCl and NaCl were used as leaching agents, while H
2
O
2
was used for oxidation of Pt. The leaching factors, including solid/liquid ratio (S/L), acidity, leaching temperature, and H
2
O
2
usage, were studied. The leaching efficiency of Pt was 95.7% under the conditions of S/L of 1:5 g/mL, HCl of 1.0 mol/L, NaCl of 5.0 mol/L, 10% H
2
O
2
/spent catalysts of 0.6 mL/g, and temperature of 90 °C for 2 h. The leaching kinetic of platinum fits best to the Avrami equation. The apparent activation energy for leaching platinum was 114.9 kJ/mol. Furthermore, the effects of the operating variables were assessed and optimized by employing a response surface methodology based on Box-Behnken Design. The result shows that HCl concentration had the greatest impact on the leaching efficiency as compared to the H
2
O
2
concentration and S/L ratio. Pt leaching efficiency was increased to 98.1% at the optimized conditions of HCl of 1.45 mol/L, NaCl of 4.55 mol/L, 10% H
2
O
2
/spent catalysts of 0.66 mL/g, and S/L of 1:4.85. The purity of Pt is over 90% by the reduction of iron powder.
View Full-Text
►

▼

Figures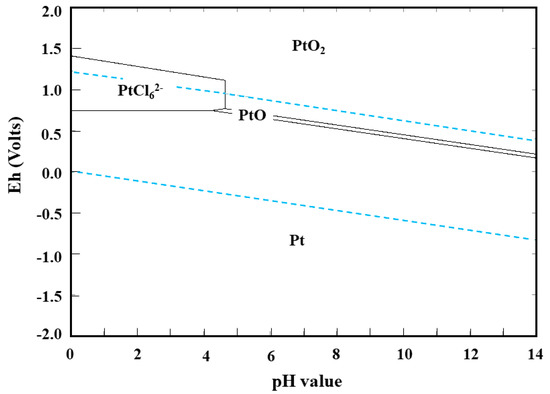 Figure 1
This is an open access article distributed under the
Creative Commons Attribution License
which permits unrestricted use, distribution, and reproduction in any medium, provided the original work is properly cited (CC BY 4.0).

Share & Cite This Article
MDPI and ACS Style
Ding, Y.; Zheng, H.; Li, J.; Zhang, S.; Liu, B.; Ekberg, C.; Jian, Z. Recovery of Platinum from Spent Petroleum Catalysts: Optimization Using Response Surface Methodology. Metals 2019, 9, 354.
Note that from the first issue of 2016, MDPI journals use article numbers instead of page numbers. See further details here.
Related Articles
Comments
[Return to top]