Covellite (CuS) Production from a Real Acid Mine Drainage Treated with Biogenic H2S
1
SENAI Innovation Institute for Mineral Technologies, National Service for Industrial Training (SENAI), Belém/PA 66035-405, Brazil
2
Instituto Tecnológico Vale, Belém/PA 66055-090, Brazil
3
Facultad de Ingeniería y Tecnología, Universidad San Sebastián, Concepción 4080871, Chile
*
Authors to whom correspondence should be addressed.
Received: 6 December 2018 / Revised: 31 January 2019 / Accepted: 1 February 2019 / Published: 9 February 2019
Abstract
Acid Mine Drainage (AMD) is an environmental problem associated with mining activities, which resulted from the exposure of sulfur bearing materials to oxygen and water. AMD is a pollution source due to its extreme acidity, high concentration of sulfate, and soluble metals. Biological AMD treatment is one alternative to couple environmental amelioration for valuable dissolved metals recovery, as a new source of raw materials. Covellite (CuS) particles were synthetized from an AMD sample collected in a Brazilian copper mine, after 48 and 96 h of exposure to hydrogen sulfide (H
2
S) produced in a bioreactor containing acidophilic sulfate reducing bacteria (SRB). The time of exposure affected the morphology, nucleation, and size of CuS crystals. CuS crystals synthetized after 96 h of H
2
S exposure showed better ordination as indicated by sharp and intense diffractograms obtained by X-ray diffraction (XRD), and the predominance of placoid sheets with hexagonal habit structure as observed by scanning electrons microscopy (SEM). Energy dispersive X-ray fluorescence (EDXRF) spectrometry indicated a Cu:S molar ratio in agreement with CuS. Granulometric analysis demonstrated that 90% of CuS particles were less than 22 µm size. AMD biological treatment is a potential economical CuS recovery option for metallurgical process chain incorporation, or new industrial applications, since the alteration of synthesis conditions can produce different crystal forms with specific characteristics.
View Full-Text
►

▼

Figures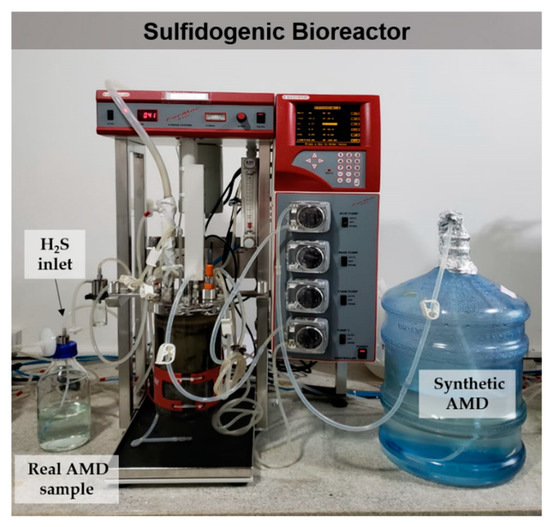 Figure 1
This is an open access article distributed under the
Creative Commons Attribution License
which permits unrestricted use, distribution, and reproduction in any medium, provided the original work is properly cited (CC BY 4.0).

Share & Cite This Article
MDPI and ACS Style
Silva, P.M.P.; Lucheta, A.R.; Bitencourt, J.A.P.; Carmo, A.L.V.; Cuevas, I.P.Ñ.; Siqueira, J.O.; Oliveira, G.C.; Alves, J.O. Covellite (CuS) Production from a Real Acid Mine Drainage Treated with Biogenic H2S. Metals 2019, 9, 206.
Note that from the first issue of 2016, MDPI journals use article numbers instead of page numbers. See further details here.
Related Articles
Comments
[Return to top]