Effect of Ultra-Fast Heat Treatment on the Subsequent Formation of Mixed Martensitic/Bainitic Microstructure with Carbides in a CrMo Medium Carbon Steel
1
Laboratory of Physical Metallurgy, Division of Metallurgy and Materials, School of Mining & Metallurgical Engineering, National Technical University of Athens, 9, Her. Polytechniou str., Zografos, 15780 Athens, Greece
2
Department of Physical Metallurgy and Forming, Hellenic Research Centre for Metals S.A.—ELKEME S.A., 61st km Athens-Lamia Nat. Road, 32011 Oinofyta, Viotia, Greece
3
Department of Electrical Energy, Metals, Mechanical constructions & Systems, Ghent University, Technologiepark 46, 9052 Ghent, Belgium
4
Department of Materials Science and Engineering, Delft University of Technology, Mekelweg 2, 2628CD Delft, The Netherlands
*
Author to whom correspondence should be addressed.
Received: 5 February 2019 / Revised: 22 February 2019 / Accepted: 4 March 2019 / Published: 10 March 2019
Abstract
The current work focuses on complex multiphase microstructures gained in CrMo medium carbon steel after ultra-fast heat treatment, consisting of heating with heating rate of 300 °C/s, 2 s soaking at peak temperature and subsequent quenching. In order to better understand the microstructure evolution and the phenomena that take place during rapid heating, an ultra-fast heated sample was analyzed and compared with a conventionally treated sample with a heating rate of 10 °C/s and 360 s soaking. The initial microstructure of both samples consisted of ferrite and spheroidized cementite. The conventional heat treatment results in a fully martensitic microstructure as expected. On the other hand, the ultra-fast heated sample shows significant heterogeneity in the final microstructure. This is a result of insufficient time for cementite dissolution, carbon diffusion and chemical composition homogenization at the austenitization temperature. Its final microstructure consists of undissolved spheroidized cementite, nano-carbides and martensite laths in a ferritic matrix. Based on EBSD and TEM analysis, traces of bainitic ferrite are indicated. The grains and laths sizes observed offer proof that a diffusionless, massive transformation takes place for the austenite formation and growth instead of a diffusion-controlled transformation that occurs on a conventional heat treatment.
View Full-Text
►

▼

Figures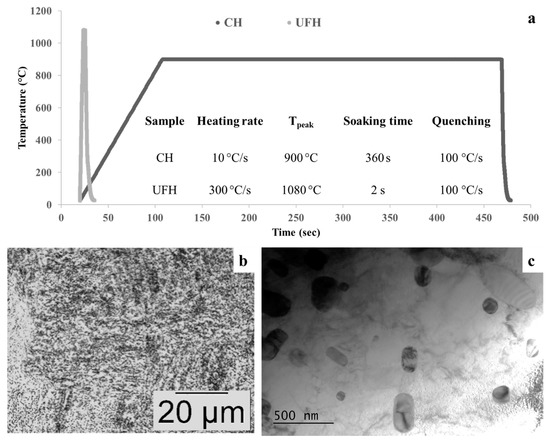 Figure 1
This is an open access article distributed under the
Creative Commons Attribution License
which permits unrestricted use, distribution, and reproduction in any medium, provided the original work is properly cited (CC BY 4.0).

Share & Cite This Article
MDPI and ACS Style
Papaefthymiou, S.; Banis, A.; Bouzouni, M.; Petrov, R.H. Effect of Ultra-Fast Heat Treatment on the Subsequent Formation of Mixed Martensitic/Bainitic Microstructure with Carbides in a CrMo Medium Carbon Steel. Metals 2019, 9, 312.
Note that from the first issue of 2016, MDPI journals use article numbers instead of page numbers. See further details here.
Related Articles
Comments
[Return to top]