Open Access This article is
freely available
re-usable
Article
Uranium Removal from Groundwater by Permeable Reactive Barrier with Zero-Valent Iron and Organic Carbon Mixtures: Laboratory and Field Studies
1
National Technical University of Ukraine "Igor Sikorsky Kyiv Polytechnic Institute", 37 Peremogy Av., 03056 Kyiv, Ukraine
2
US Environmental Protection Agency—Granite Ridge Groundwater, Boulder, CO 80305, USA
3
Istituto di Geologia Ambientale e Geoingegneria, CNR, Area della Ricerca di Roma RM 1—Montelibretti-Via Salaria Km 29,300—Monterotondo Stazione, 00015 Roma, Italy
4
Ukrainian Scientific Research and Design Institute for Industrial Technology, Ministry of Energy and Coal Industry of Ukraine, 37 Petrovsky Str., 52220 Zhovty Vody, Dnipropetrovsk Region, Ukraine
5
US Environmental Protection Agency: Currently US Fish and Wildlife Service, Department of the Interior, 134 Union Blvd, Lakewood, CO 80228, USA
6
Institute for Sorption and Problems of Endoecology, National Academy of Science of Ukraine, 13 General Naumov Str., 03164 Kyiv, Ukraine
*
Author to whom correspondence should be addressed.
Received: 31 March 2018 / Accepted: 24 May 2018 / Published: 1 June 2018
Abstract
:
Zhovty Vody city, located in south-central Ukraine, has long been an important center for the Ukrainian uranium and iron industries. Uranium and iron mining and processing activities during the Cold War resulted in poorly managed sources of radionuclides and heavy metals. Widespread groundwater and surface water contamination has occurred, which creates a significant risk to drinking water supplies. Hydrogeologic and geochemical conditions near large uranium mine tailings storage facility (TSF) were characterized to provide data to locate, design and install a permeable reactive barrier (PRB) to treat groundwater contaminated by leachate infiltrating from the TSF. The effectiveness of three different permeable reactive materials was investigated: zero-valent iron (ZVI) for reduction, sorption, and precipitation of redox-sensitive oxyanions; phosphate material to transform dissolved metals to less soluble phases; and organic carbon substrates to promote bioremediation processes. Batch and column experiments with Zhovty Vody site groundwater were conducted to evaluate reactivity of the materials. Reaction rates, residence time and comparison with site-specific clean-up standards were determined. Results of the study demonstrate the effectiveness of the use of the PRB for ground water protection near uranium mine TSF. The greatest decrease was obtained using ZVI-based reactive media and the combined media of ZVI/phosphate/organic carbon combinations.
Keywords:
uranium; contaminated groundwater; permeable reactive barrier; zero-valent iron
1. Introduction
The main objectives of this work were (1) to characterize the site at Ukrainian Uranium Center (Zhovty Vody city, Ukraine) with respect to the design and installation of a PRB to treat contaminated groundwater and (2) to study the effectiveness of different zero-valent iron and organic carbon fillings for uranium removal by PRB technology.
3. Results and Discussion
3.2. Field Tests
As stated previously, all (93.8%) groundwater flow to the Zhovta River occurs in the aquifer comprised of residual soil of crystalline rocks.
4. Conclusions
The results of laboratory tests of the U(VI) removal by different types of ZVI show that the greatest efficiency occurred using samples of the most dispersed iron material (zero-valent iron with very fine particle size—ZVI1). Uranium removal diminished with the addition of all most significant ligands presented in ground water.
A pilot-scale PRB was installed near the uranium tailing storage facility located in Ukrainian Uranium Center (Zhovty Vody city, Ukraine). The initial concentrations of uranium, , and total dissolved solids in groundwater at that site significantly exceed international standards. A new design for a PRB is used. Instead of a conventional continuous barrier or a funnel-and-gate, this design consists of rows of cylinders with iron-reactive materials. Such PRB construction with non-continuous reactive media typically reduces allows considerable reduction of the installation costs.
After two years of monitoring a pilot-scale PRB, utilizing zero-valent iron and organic carbon treatment media, results indicate that uranium concentrations in groundwater at the PRB site were reduced from 0.38 mg/L to 0.07–0.15 mg/L. The greatest decrease was obtained using a treatment media of powder zero-valent iron and sand, and a treatment media of sewage sludge, bone meal, sawdust, water (with components of activator) and gravel.
Smaller decreases were observed using pure organic carbon treatment media because of the clayey and sandy character of the soil near the uranium mine TSF and the low content of microorganisms from the indigenous mine consortium. Probably the higher content of microorganisms (as in silt or black earth soil) stipulate the increasing of the level of groundwater purification.
Even in a complex groundwater flow system at the PRB site and the mine tailing storage facility the positive effect of PRB is significant, reducing the uranium content in groundwater at PRB site by 50%.
Author Contributions
Conceptualization, B.K., M.W. and B.C.; Methodology, B.K., M.W. and B.C.; Sampling and Analysis, Y.K. and D.G.; Field Tests, B.K. and Y.K.; Experiments, I.K. and D.G.; Data Analysis and Discussion, B.K., S.U. and I.K.; Writing-Original Draft Preparation, B.K., I.K. and S.U.
Funding
Funding for this research was supported by the U.S. Environmental Protection Agency, under projects P-322 "Regional evaluation of mining-related metals contamination, risks, and innovative remediation technologies in Ukraine and Georgia" and P-454 "Development of innovative environmental technology for remediation of contaminated groundwater in Ukraine" with the Science and Technology Center in Ukraine.
Conflicts of Interest
The authors declare no conflict of interest.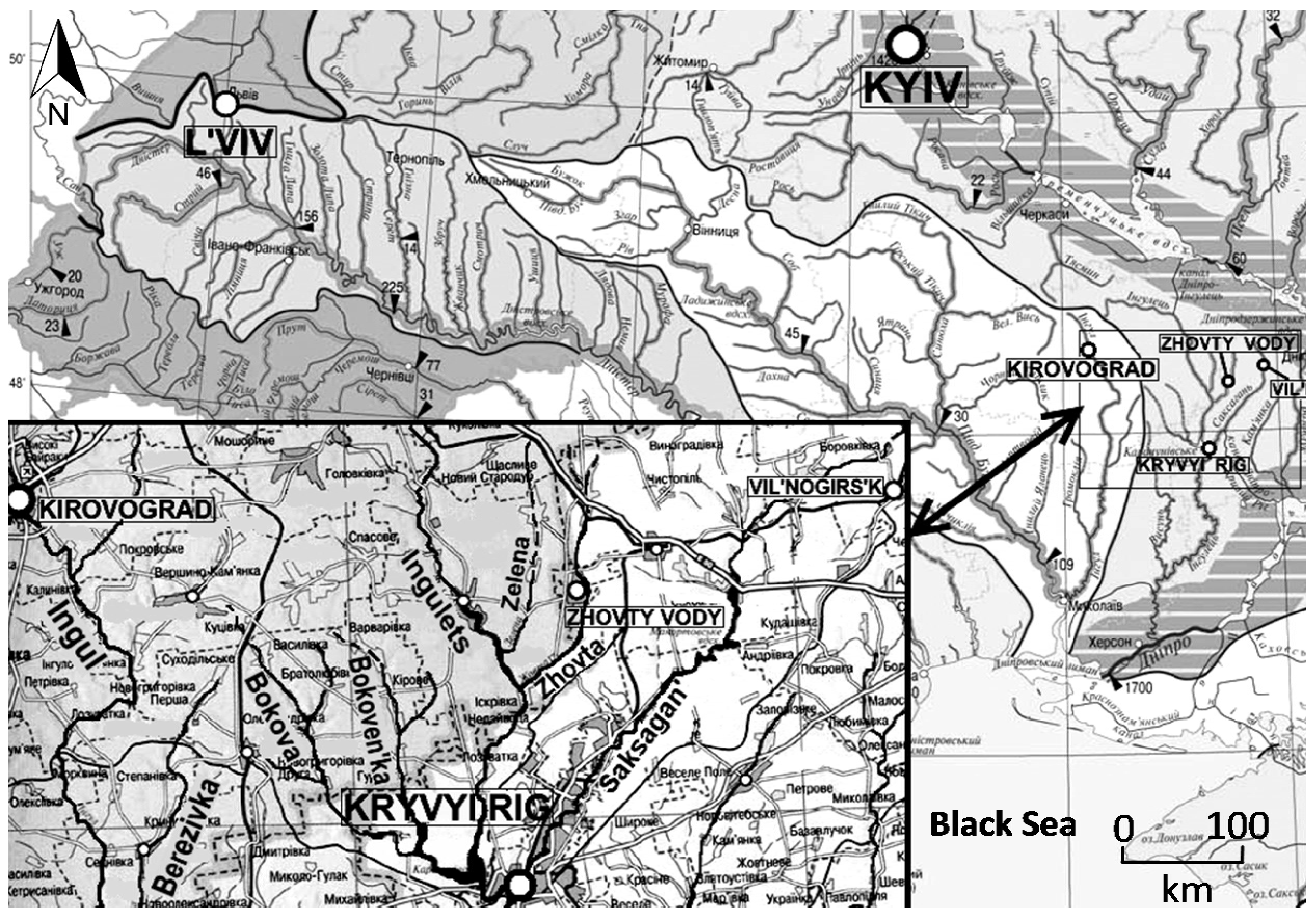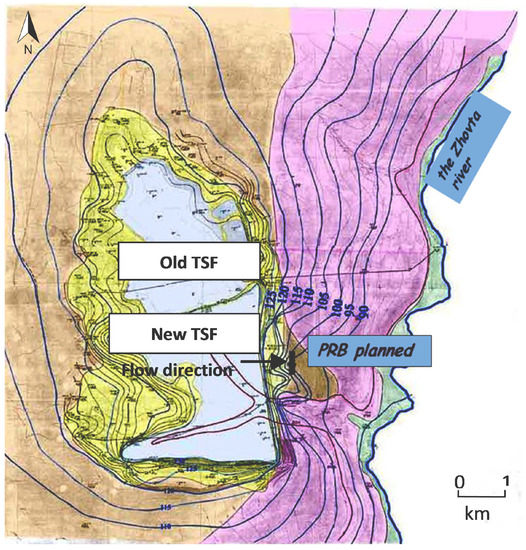 Figure 2. Hydrogeological map of the tailings storage facility site with hydroisohypses of the aquifer.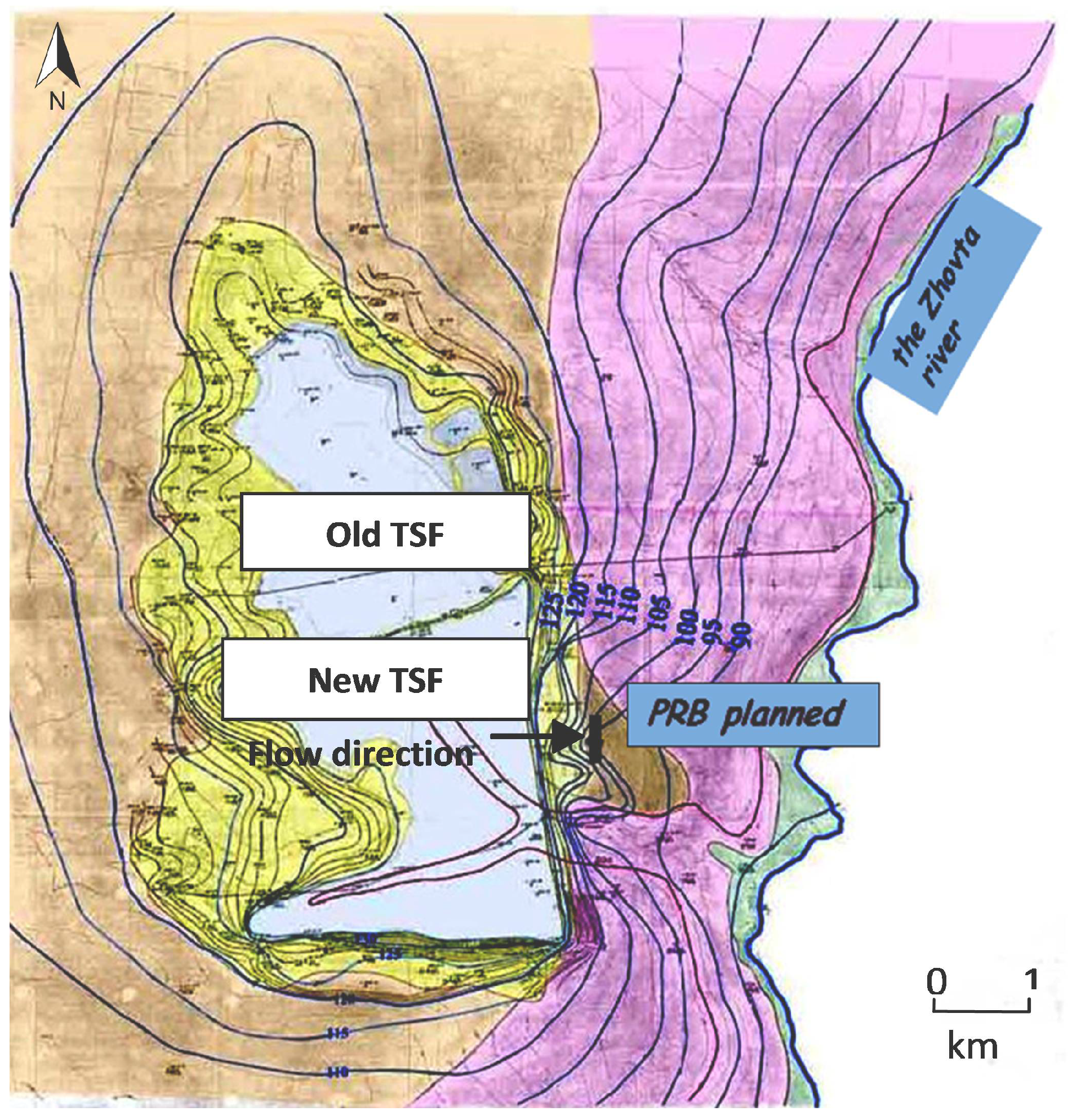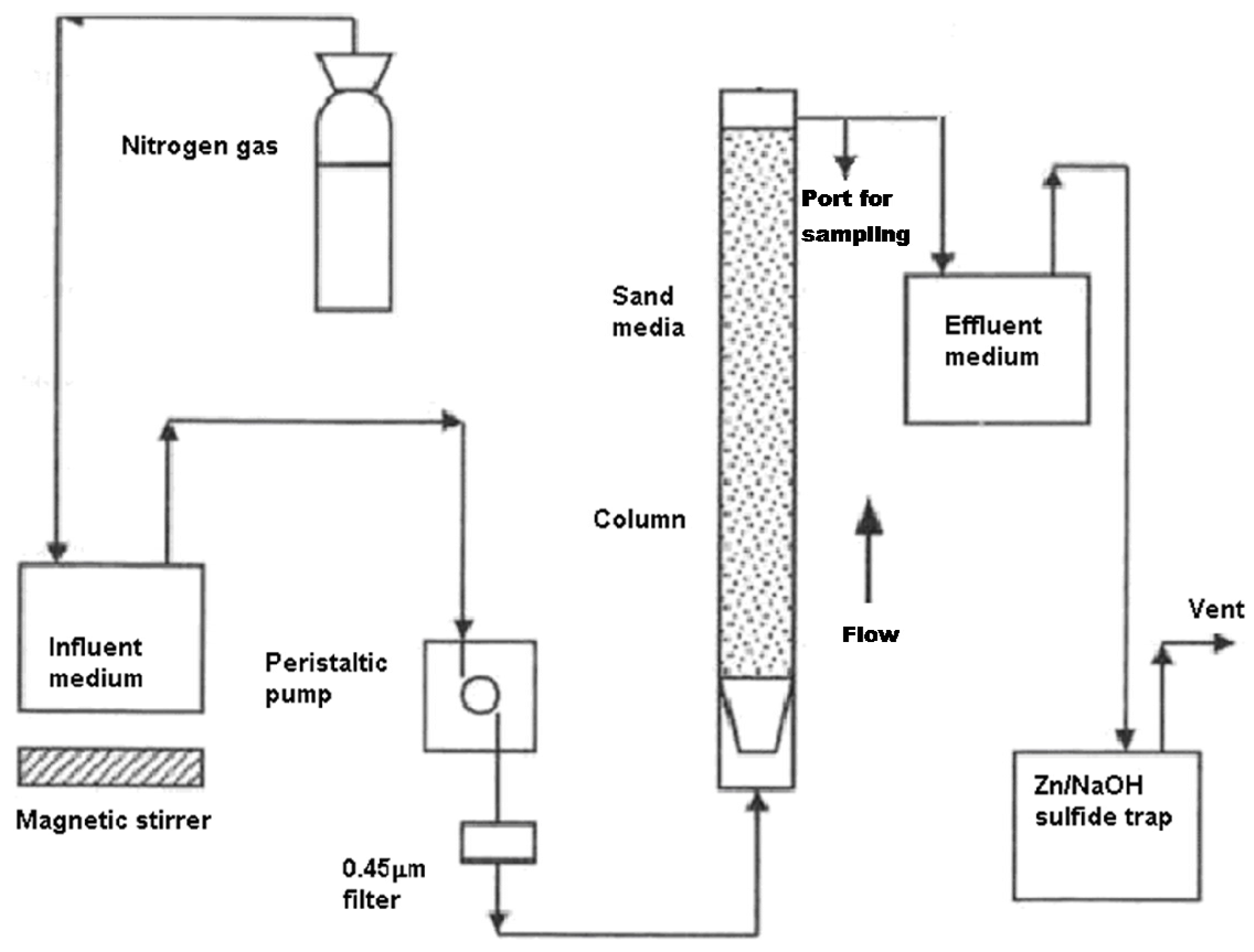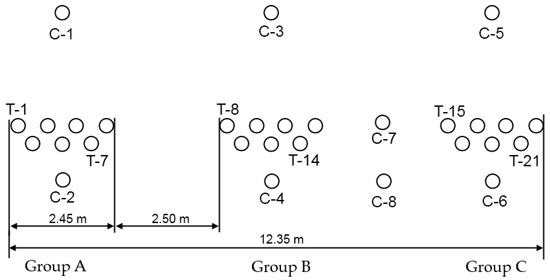 Figure 4. Scheme of PRB holes. Group A—cylinders filled with inorganic active filling; Group B—with organic-inorganic active filling; Group C—with organic active filling.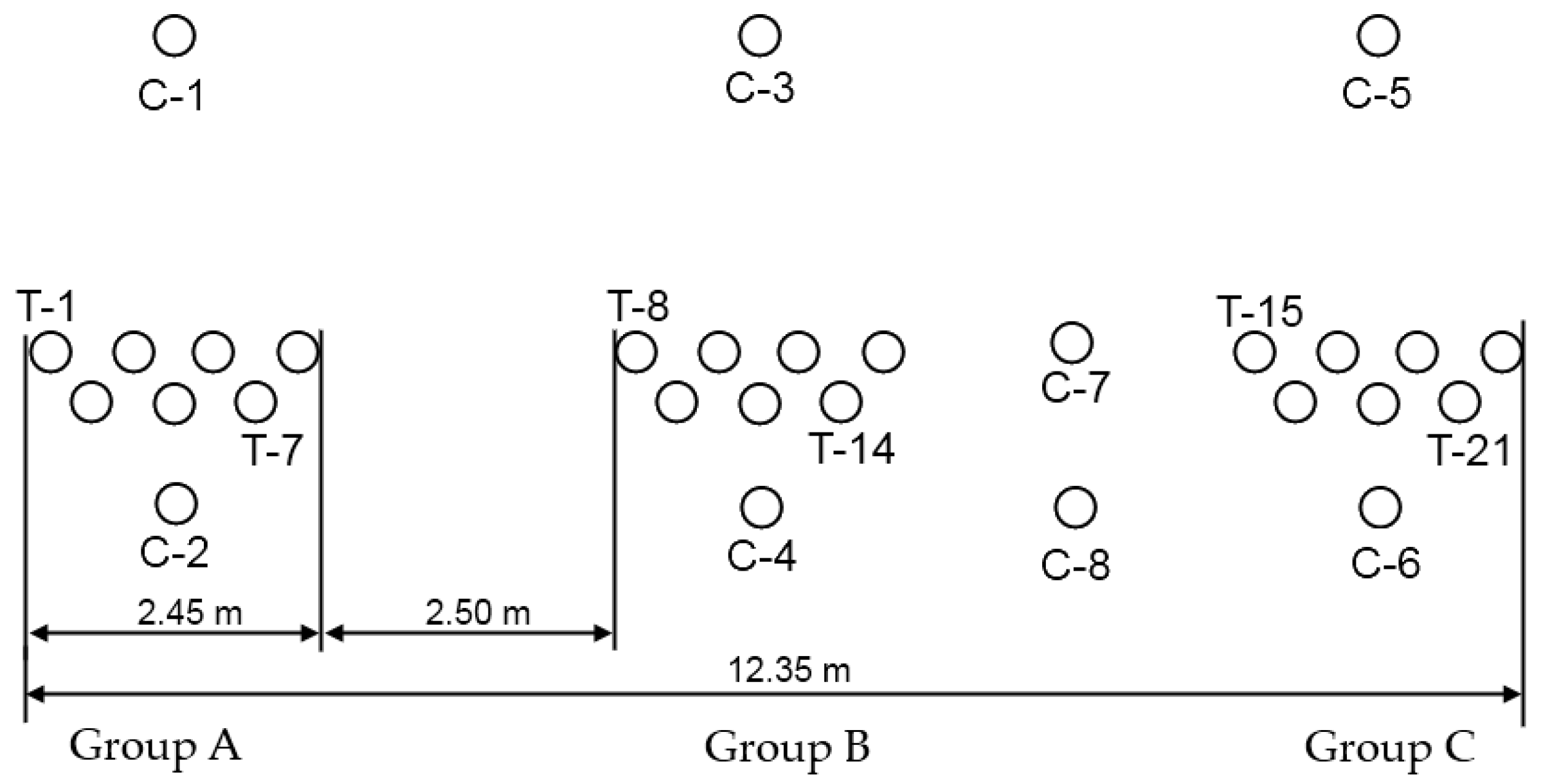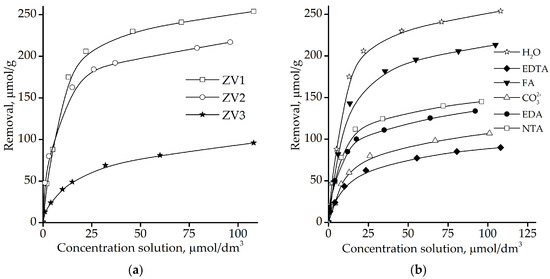 Figure 5. (a) Removal of U(VI) by different types of Fe0; (b) Effect of selected ligands (FA, EDTA, NTA, EDA, and Na2CO3) on the U(VI) removal by ZVI1.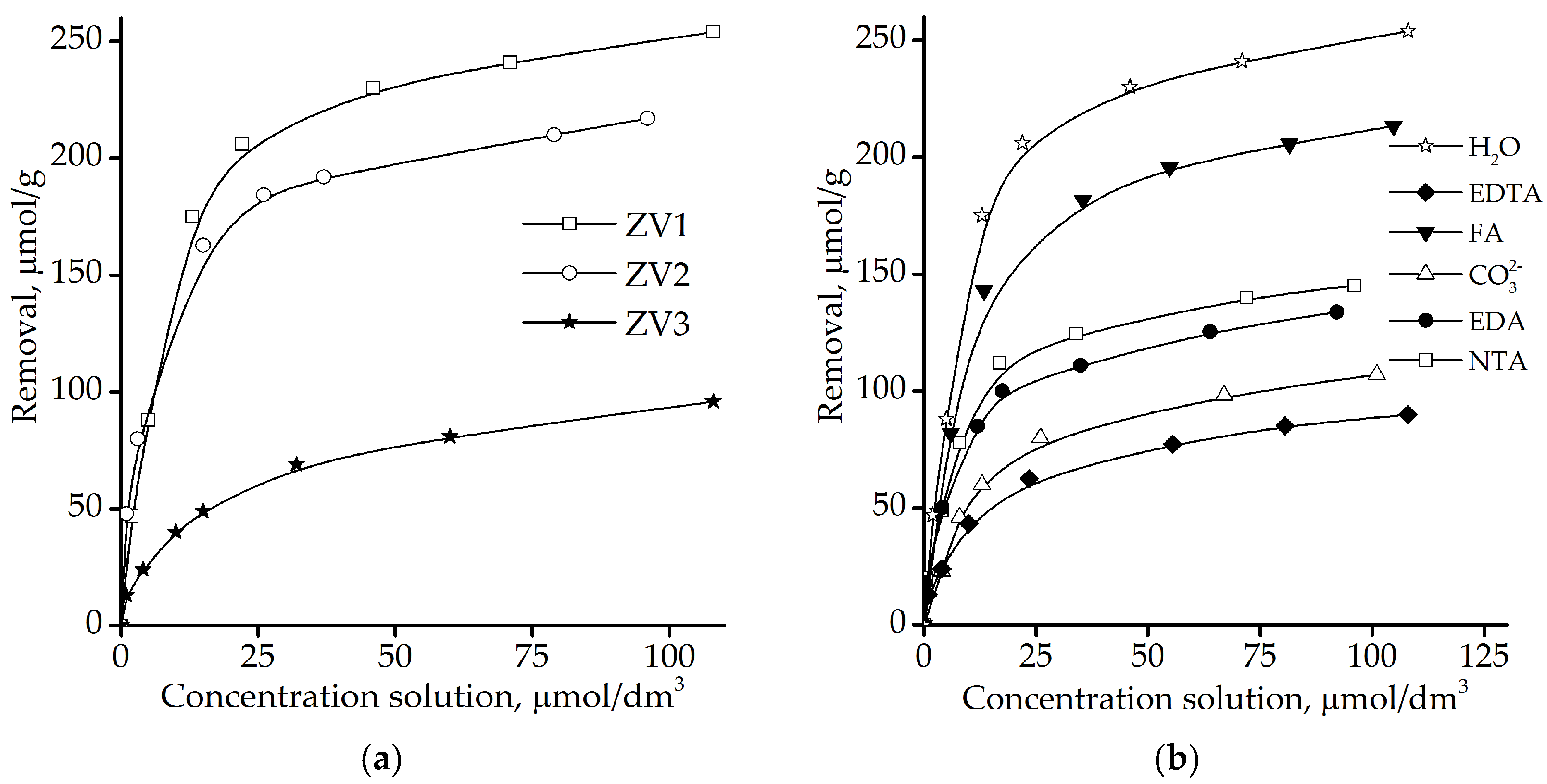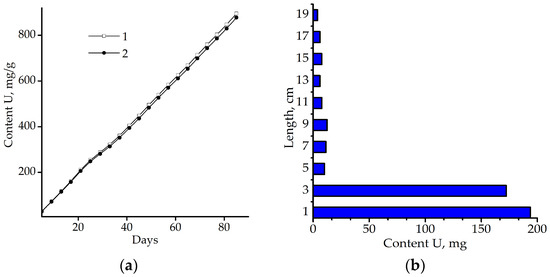 Figure 6. (a) Uranium released from contaminated water in column with ZVI2 and sand: 1—total uranium in the influent; 2—total released uranium; (b) Distribution of uranium in the reactive media in the column.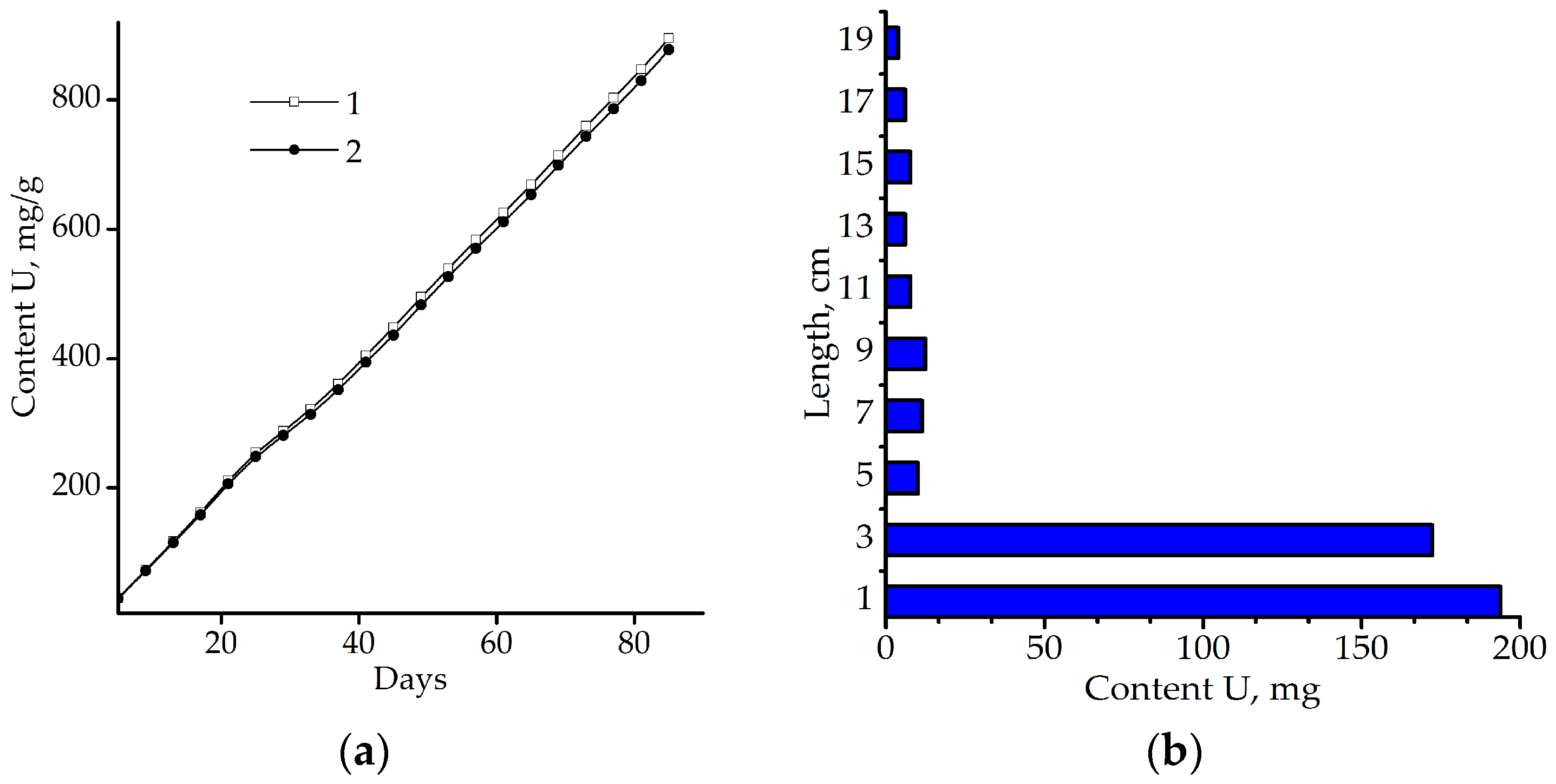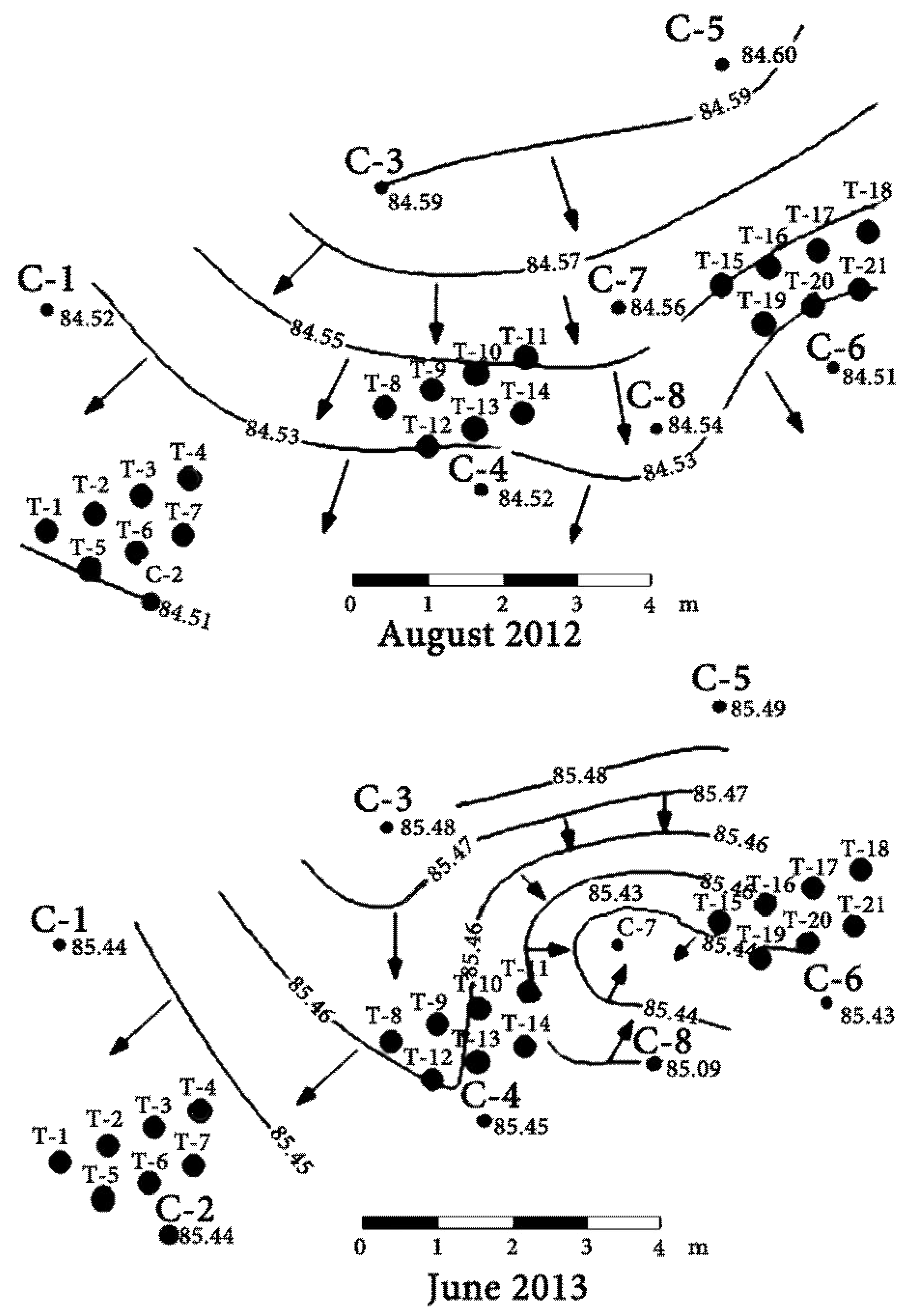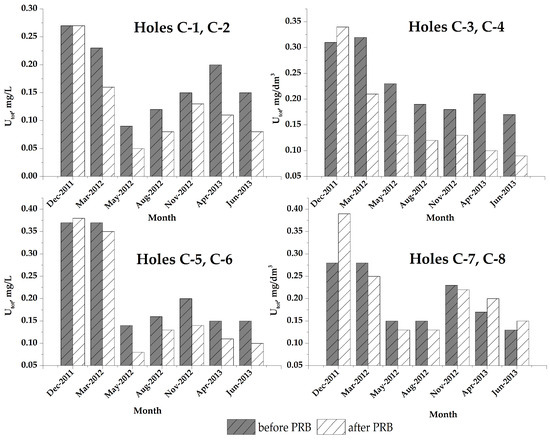 Figure 8.
Uranium content in groundwater at PRB site: before PRB (monitoring hole C-1, C-3, C-5, C-7); after PRB (monitoring hole C-2, C-4, C-6, C-8) (
Figure 7
).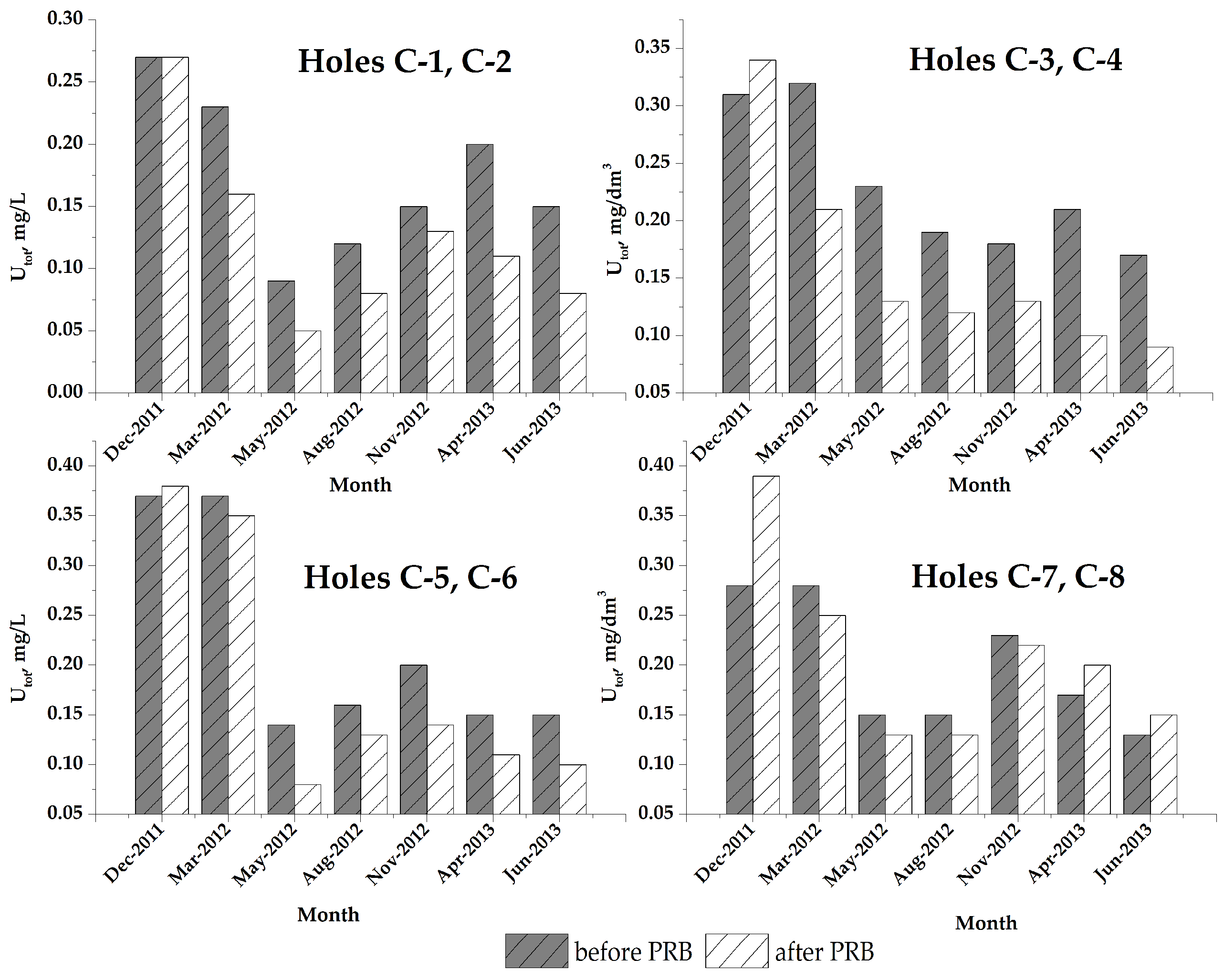 Table 1. Chemical composition of contaminated groundwater from locations near planned PRB (mg/L, pH 7.2).
| | | | | | | | | |
| --- | --- | --- | --- | --- | --- | --- | --- | --- |
| Ca2+ | Mg2+ | Na+ + K+ | | | Cl− | | | TDS |
| 576 | 209 | 391 | 0.92 | 448 | 182 | 2832 | 125 | 4007 |
| Usum | Ni2+ | Cu2+ | Co2+ | Mnsum | Zn2+ | Pb2+ | Cd2+ | Fesum |
| 0.42 | <0.05 | <0.03 | <0.06 | 0.10 | <0.01 | <0.19 | <0.01 | 0.05 |

© 2018 by the authors. Licensee MDPI, Basel, Switzerland. This article is an open access article distributed under the terms and conditions of the Creative Commons Attribution (CC BY) license (http://creativecommons.org/licenses/by/4.0/).