Open Access This article is
freely available
re-usable
Article
Exothermic Reaction Kinetics in High Energy Density Al-Ni with Nanoscale Multilayers Synthesized by Cryomilling
1
Department of Energy Systems Research, Ajou University, Suwon 16499, Korea
2
Advanced Materials & Processing Center, Institute for Advanced Engineering, Yongin 17180, Korea
3
The 4th Research and Development, Agency for Defense Development, Daejeon 34060, Korea
4
Department of Materials Science and Engineering, Ajou University, Suwon 16499, Korea
*
Author to whom correspondence should be addressed.
Received: 31 December 2017 / Accepted: 7 February 2018 / Published: 9 February 2018
Abstract
:
The Al-Ni system is known as a high energy density materials (HEDM) because of its highly exothermic nature during intermetallic compound (IMC) formation. In this study, elemental Al and Ni powder were milled to explore the effect of cryomilling atmosphere on the microstructure and exothermic behavior. Scanning electron microscope (SEM) observations show continuous structural refinement up to 8 h of cryomilling. No IMC phase was detected in the X-ray diffraction (XRD) spectrum. Differential thermal analyzer (DTA) results show two exothermic peaks for 8 h cryomilled powder as compared to that of powder milled for 1 h. The ignition temperature of prepared powder mixture also decreased due to gradual structural refinement. The activation energy was also calculated and correlated with the DTA and SEM results. The cryomilled Al-Ni powder is composed of fine Al-Ni metastable junctions which improve the reactivity at a lower exothermic reaction temperature.
Keywords:
high energy density materials; Al-Ni; cryomilling; exothermic reaction; activation energy
1. Introduction
High energy density materials (HEDM) are a class of energetic materials that react when exposed to extreme conditions such as high temperature, electric shock, or physical impact, releasing a lot of chemical energy as heat [
1
,
2
,
3
]. Due to these reactive properties, HEDMs are widely used in the fields where an enormous amount of energy needs to be emitted in a short period of time. They are applied to explosives, propellants, fossil fuels, and thermite materials [
3
,
4
,
5
]. The metal + metal bonded HEDMs are also referred to as solid flame materials or gasless exothermic materials. The most popular reactive material system is Al-Ni [
1
,
2
,
3
,
4
,
5
]. In the Al-Ni system, when intermetallic compounds (IMC) are formed, a large amount of heat reaching 59.53 kJ/mol can be generated. Similarly, when Al-Ni mixture forms a certain microstructure, Al-Ni bulk mixture can be reacted and exploded which make this material applicable to various energetic fields [
6
,
7
]. However, the Al-Ni system has its limitations as utilizing the energy of impact because of its ambiguous reactivity. The thermodynamic modification is therefore necessary to improve its usability and reliability. Several reactive Al-Ni systems have been produced by methods like combustion synthesis [
8
], mixing and pressing of powders [
9
,
10
], welding [
11
,
12
], forging [
13
], rolling [
14
,
15
], vacuum deposition [
11
,
15
], cladding [
16
], and high energy ball milling [
17
,
18
,
19
]. It is well-known fact that the reactivity of these composites depends strongly on their corresponding microstructures. Among various methods as mentioned above, most commonly used approach is to refine the Al and Ni powder particles to nano-size, and increase the contact area of Al and Ni particles to accelerate the reaction kinetics considerably. High-energy ball milling at room temperature is the most popular one to prepare Al-Ni composites [
17
,
18
,
19
]. However, despite of the high reactivity, nano-sized pure Al is hazardous to handle at room temperature. This exothermic tendency is particularly sensitive to Al, as the disruption of the inherent Al
2
O
3
layer causes its vigorous reaction oxygen at the atmosphere. Moreover, the local temperature increase in milling process creates Al-Ni IMCs more readily and affects the interface shape and milling efficiency. Therefore, in order to control the reactivity of Al to concentration on the reaction with Ni, it is necessary to reduce the exposed surface of pure Al to the surrounding atmosphere for avoiding oxidation. Therefore, in this work, the authors have attempted to prepare Al-Ni composite powder by cryomilling technique which can suppress the extra local heat generated during the milling. Cryomilling, can thus avoid the crystal recovery and maximize the shear stress suggesting a better and unique microstructure [
20
]. There were a limited information on the effect of milling at cryogenic temperatures (<−160 °C) on microstructure and reactivity of the Al-Ni system [
21
]. Especially at low temperatures, in addition to fine particle size, the cryogenic atmosphere could suppress the extent of reaction of Al-Ni resulting in a more reactive material controlling the Al-Ni reaction temperature. This is a great advantage of cryomilling when compared with the high energy ball milling.
In this study, the effect of cryomilling on the microstructure, reactivity of Al-Ni alloy prepared from elemental Al and Ni powder mixtures. The effect of structure on thermal properties was investigated by differential thermal analysis, and the reaction kinetics was studied by calculating activation energy of the Al-Ni reaction through Kissinger analysis.
2. Experimental Procedures
2.1. Materials and Processes
The Ni powder in this experiment, was prepared by a bottom-up method with an average size of 4.5 μm. Additionally, Al powder was gas atomized powder with an average size of 6 μm. For the cryomilling process, Al and Ni powder were mixed in a molar ratio of 50:50, resulting in the final composition of Ni 68 wt. % and Al 32 wt. %. The powder mixture was put into a 1 L stainless steel vessel having stainless steel balls (diameter 4.35 mm) for attrition milling. The milling temperature was set at −160 ± 5 °C by flowing the liquid nitrogen around the vials for 8 h. The ball to powder weight ratio was 30:1 and the impeller rotation speed was 180 rpm. To control the lubrication and coarsening of the powder, 2 wt. % of stearic acid powder as a process control agent (PCA) was also added in the powder mixture.
2.2. Characterization
The phase evolution of the Al-Ni powder mixture after cryomilling was analyzed by a tabletop X-ray diffraction (XRD) instruments (Miniflex2, Rigaku, Tokyo, Japan) operating at 30 mA and 15 kV with a Cu target (wavelength is 0.154 nm). The surface morphology and the cold-welding behavior of powder particles were examined in a field emission scanning electron microscope (FE-SEM) (JSM-6700F, JEOL, Tokyo, Japan) operating at 20 kV. For analyzing alloying behavior, the backscattered electron (BSE) detector was used in this research. The sample preparation was accomplished by cold mounting, grinding, and polishing up to 1 µm diamond paste following standard metallographic procedures. The compositional analysis of the samples was estimated by energy-dispersive spectroscopy (EDS) techniques. The cryomilled powder mixtures were analyzed using a differential thermal analyzer (DTA) (STZ 409PC, Netzsch, Selb, Germany). The samples were annealed in alumina pans from 400 to 800 °C at a heating rate of 10 °C/min under an argon atmosphere. The onset reaction temperature was observed, and the activation energy of the reaction was calculated following the Kissinger method [
22
]. In order to minimize the effect of particle shape and size, the material was molded into a circular specimen having a thickness and diameter of 50 mm at a load of seven tons (to have 85% relative density after molding).
3. Results and Discussion
4. Conclusions
In this paper, a method of increasing the reactivity of Al-Ni mixed powder through cryomilling was studied. As the attrition milling process was carried out at the cryogenic temperature, it was found that the two materials (Al-Ni) were bonded to each other, almost similar to the conventional mechanical alloying but with a more homogeneous alloying free of Al-Ni reaction products. Thus, the reactive milling can be activated at a lower reaction temperature around 100 °C. The activation energy analysis shows that these two Al-Ni phases bond substantially and contribute to the reduction of the activation energy of Al-Ni reaction. The decrease in activation energy is thought to be due to the fact that Al and Ni bond to each other due to cryogenic milling to reduce the reaction distance and combine the two powders in a state in which no chemical reaction occurs with quasi-alloying of the bonding surface. Moreover, the destruction of the strong oxide during milling assists in lowering the activation energy significantly, although it was not observed in this experiment. If the subsequent cryogenic milling time is prolonged, Al and Ni powder particles are alternately arranged, and the metastable interface is formed of an Al-Ni powder having a repeated layered structure composed of a quasi-alloy phase free of oxides so that the reactivity can be further increased, as well as the reaction temperature can be lowered significantly.
Acknowledgments
This research was supported by Basic Science Research Program through the National Research Foundation of Korea (NRF) funded by the Ministry of Science and ICT (NRF-2015R1A2A2A01002387). This work was also supported by the Agency for Defense Development (ADD).
Author Contributions
Minseok Oh and Min Chul Oh performed all materials processing, characterizations, and measurements. Sang-Hyun Jung and Byungmin Ahn formulated the idea. Minseok Oh and Byungmin Ahn wrote the manuscript. All co-authors participated in scientific discussion and manuscript preparation.
Conflicts of Interest
There is no conflict of interest to declare.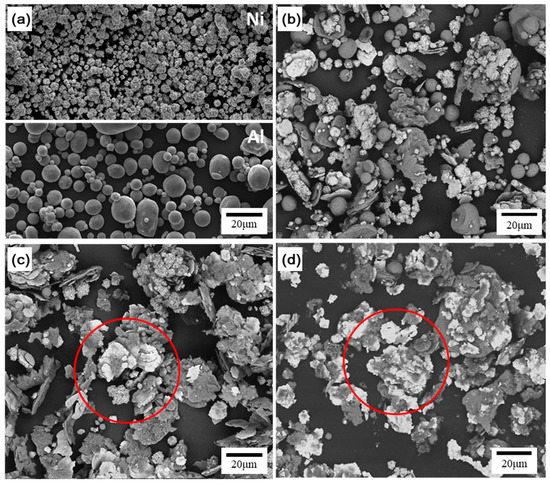 Figure 1. SEM (scanning electron microscope) and BSE (backscattered electron) micrographs showing the morphology of cryomilled Al-Ni powder for different milling times (darker is Al, brighter is Ni): (a) 0 h; (b) 1 h; (c) 4 h; and (d) 8 h.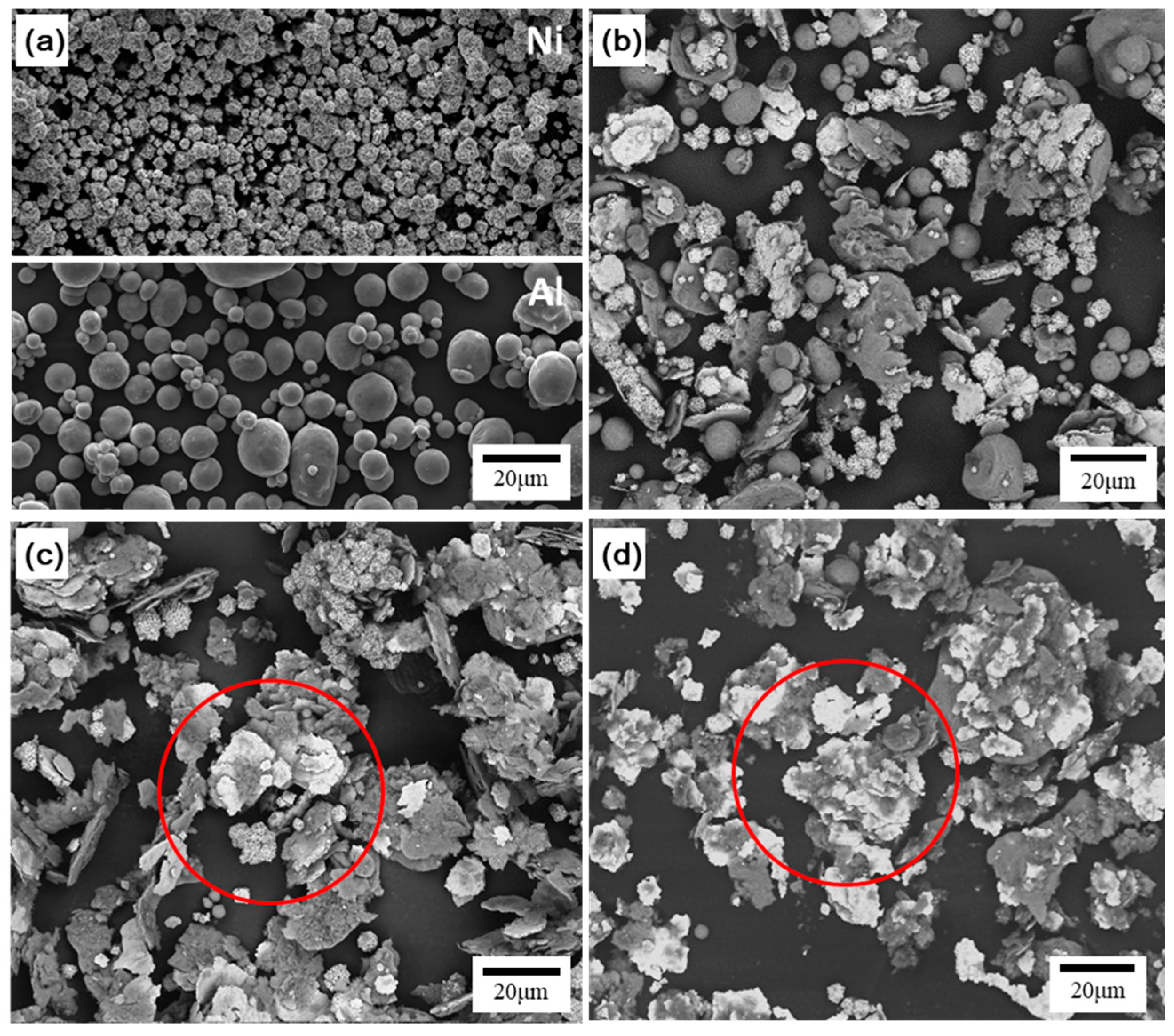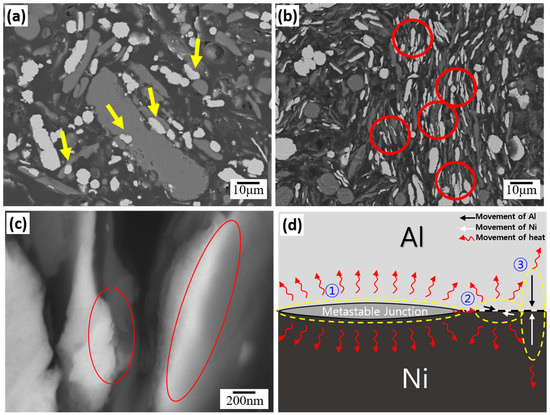 Figure 2. BSE micrographs showing the cross-sectional morphology of cryomilled powder for different milling times (darker is Al, brighter is Ni) (a) 1 h; (b) 8 h; (c) high-resolution image of (b); and (d) the diagram of exothermic reaction at surface of Al-Ni cryomilled mixture. ① is the reaction on the metastable junction with heat generation, and ② is the surface reaction caused by the diffusion of surface Al and Ni which is induced by generated heat of metastable junction; ③ is the bulk diffusion and reaction which is induced by the generated heat of other reactions.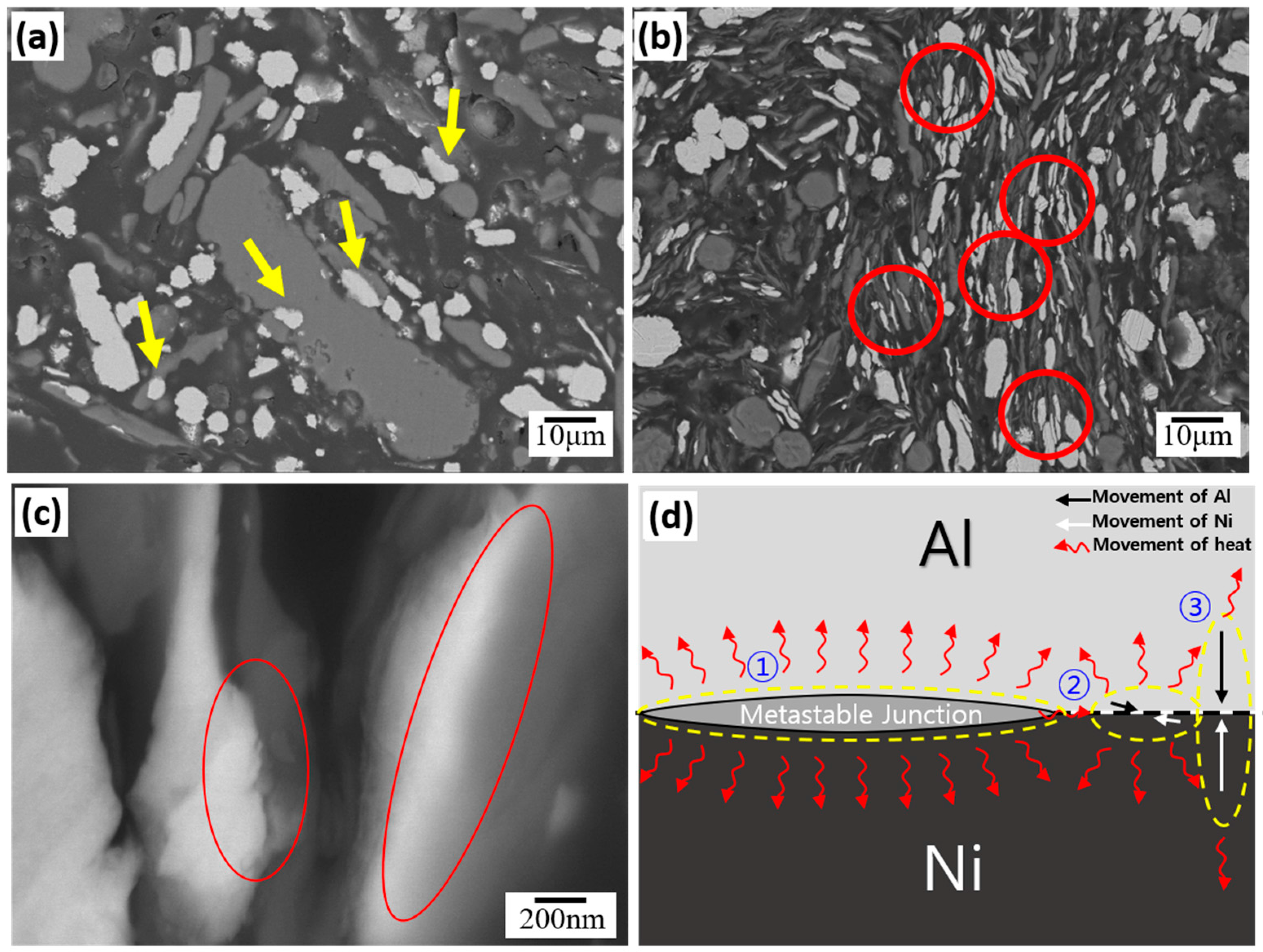 Figure 3. (a) BSE micrograph of 8 h cryomilled powder for EDS line scan, and (b) EDS line scan result of the yellow line in (a) showing metastable junctions of the Al-Ni mixture.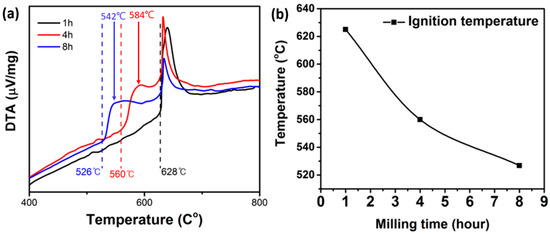 Figure 4. (a) DTA (differential thermal analyzer) curves of Al-Ni powder mixture cryomilled for different times (dashed temperature is first reaction starting point and arrowed temperature is heat treatment temperature for XRD data); and (b) the variation of ignition temperature as a function of cryomilling time.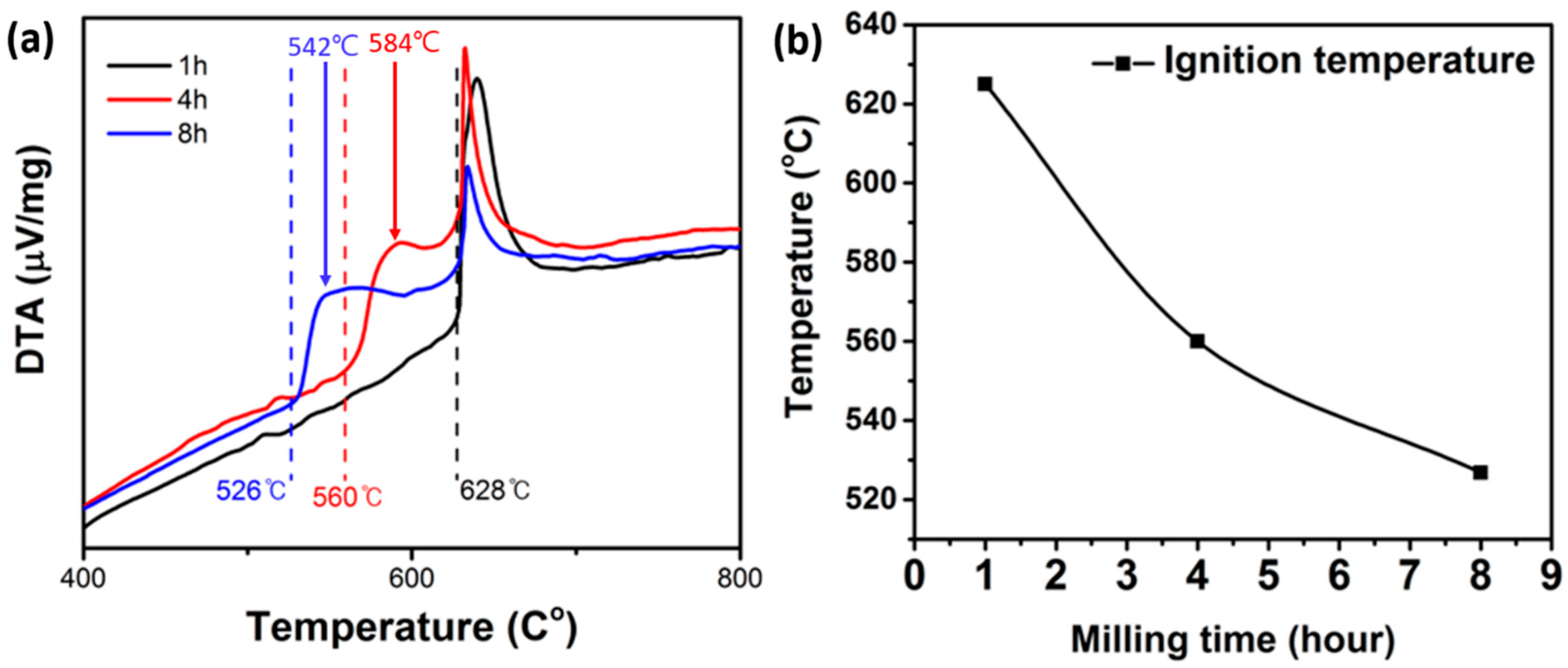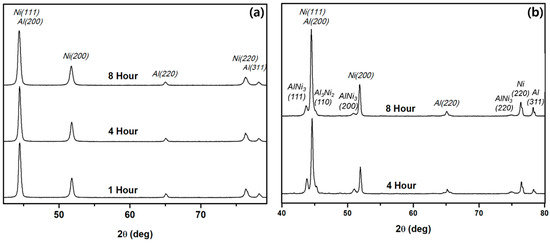 Figure 5. (a) XRD (X-ray diffraction) pattern of Al-Ni powder milled for different times and (b) XRD pattern after heat treatment at DTA first peak temperature.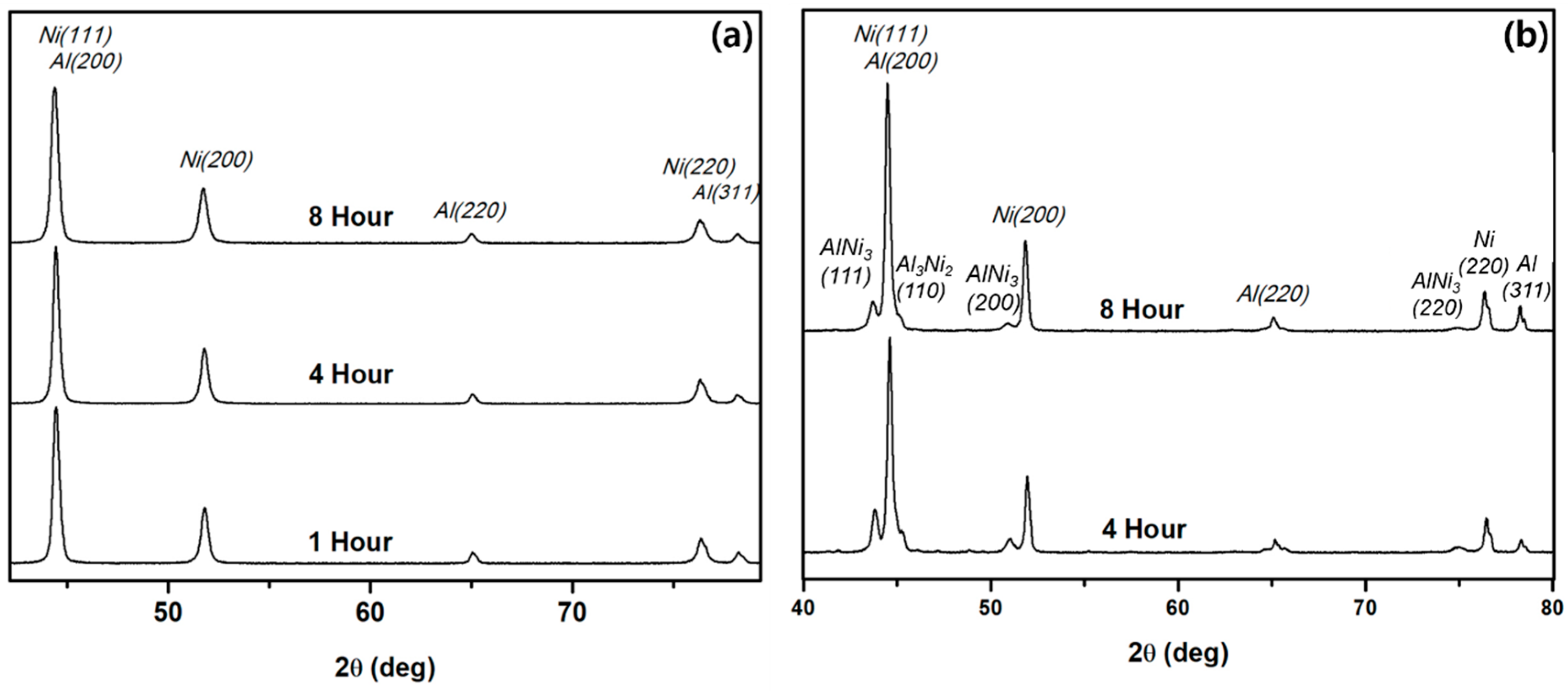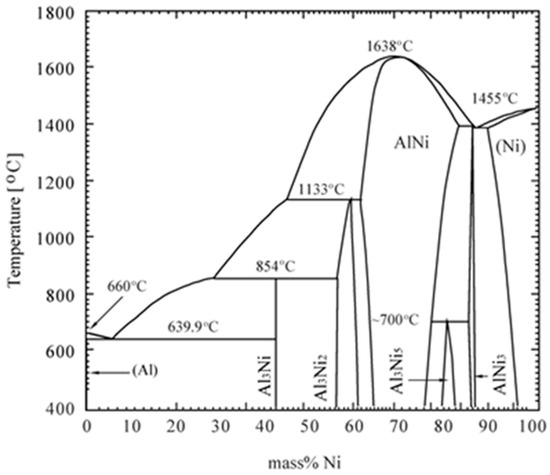 Figure 6.
Binary phase diagram of Al-Ni system [
8
].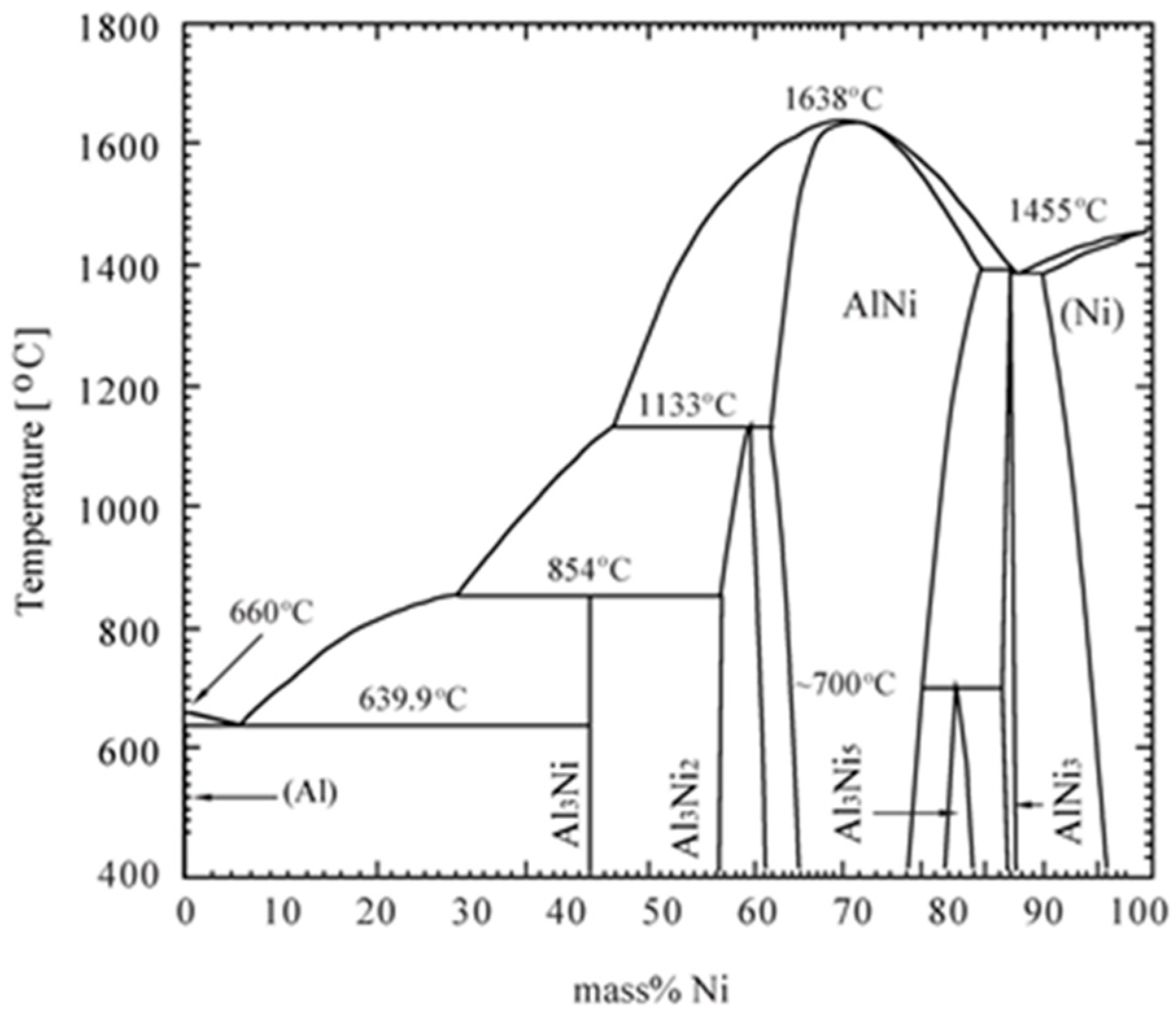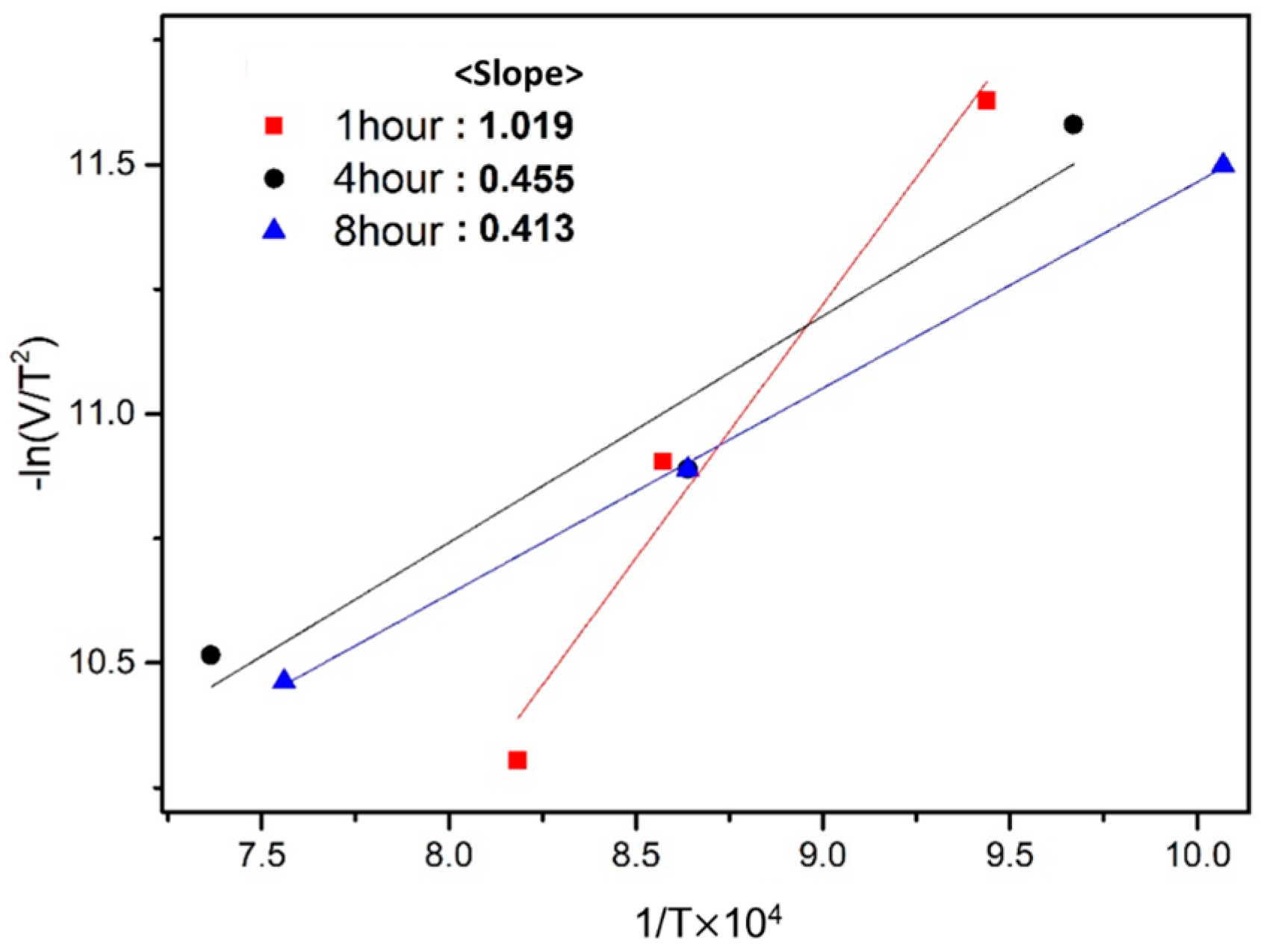 © 2018 by the authors. Licensee MDPI, Basel, Switzerland. This article is an open access article distributed under the terms and conditions of the Creative Commons Attribution (CC BY) license (http://creativecommons.org/licenses/by/4.0/).