Characterization of Porous Phosphate Coatings Enriched with Magnesium or Zinc on CP Titanium Grade 2 under DC Plasma Electrolytic Oxidation
1
Division of BioEngineering and Surface Electrochemistry, Department of Engineering and Informatics Systems, Faculty of Mechanical Engineering, Koszalin University of Technology, Racławicka 15-17, PL 75-620 Koszalin, Poland
2
HORIBA Société par Actions Simplifiée (S.A.S.), Avenue de la Vauve-Passage Jobin Yvon, 91120 Palaiseau, France
3
Department of Physics, Norwegian University of Science and Technology (NTNU), Realfagbygget E3-124 Høgskoleringen 5, NO 7491 Trondheim, Norway
4
Faculty of Engineering, Hochschule Wismar-University of Applied Sciences Technology, Business and Design, DE 23966 Wismar, Germany
5
Centro de Quimica Estrutural (CQE), Instituto Superior Técnico, University of Lisbon, Av. Rovisco Pais, P 1049-001 Lisboa, Portugal
*
Author to whom correspondence should be addressed.
Received: 27 December 2017 / Revised: 26 January 2018 / Accepted: 1 February 2018 / Published: 6 February 2018
Abstract
The aim of the paper is to study and determine the effect of voltage increasing from 500 up to 650 V
DC
on chemical and electrochemical properties of the obtained porous coatings with plasma electrolytic oxidation (PEO) processes, known also as micro arc oxidation (MAO). In the present paper, the chemical and electrochemical characterization of porous phosphate coatings enriched with magnesium or zinc on commercially pure (CP) Titanium Grade 2 under DC-PEO obtained in electrolytes based on concentrated 85% analytically pure H
3
PO
4
(98 g/mole) acid with additions of 500 g·L
−1
of zinc nitrate Zn(NO
3
)
2
∙6H
2
O or magnesium nitrate Mg(NO
3
)
2
∙6H
2
O, are described. These materials were characterized using scanning electron microscope (SEM) with energy-dispersive X-ray spectroscopy (EDS), X-ray photoelectron spectroscopy (XPS) and glow discharge optical emission spectroscopy (GDOES). It was found that the voltage of PEO process has influence on the chemical composition and thickness of the obtained porous coatings as well as on their electrochemical behavior. The higher the potential of PEO treatment, the higher the amount of zinc-to-phosphorus ratio for zinc enriched coatings was obtained, whereas in magnesium enriched coatings, the average amount of magnesium detected in PEO coating is approximately independent of the PEO voltages. Based on XPS studies, it was found out that most likely the top 10 nm of porous coatings is constructed of titanium (Ti
4+
), magnesium (Mg
2+
), zinc (Zn
2+
), and phosphates PO
4
3
−
and/or HPO
4
2−
and/or H
2
PO
4
−
and/or P
2
O
7
4−
. On the basis of GDOES studies, a four-sub-layer model of PEO coatings is proposed. Analysis of the potentiodynamic corrosion curves allowed to conclude that the best electrochemical repeatability was noted for magnesium and zinc enriched coatings obtained at 575 V
DC
.
View Full-Text
►

▼

Figures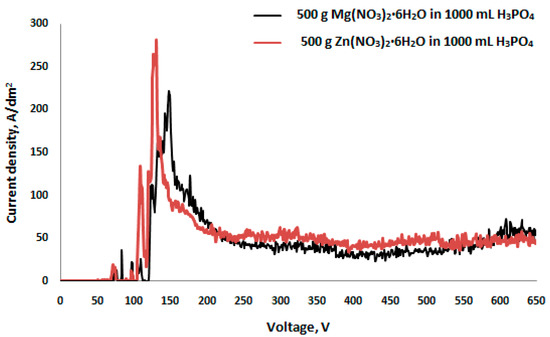 Figure 1
This is an open access article distributed under the
Creative Commons Attribution License
which permits unrestricted use, distribution, and reproduction in any medium, provided the original work is properly cited (CC BY 4.0).

Share & Cite This Article
MDPI and ACS Style
Rokosz, K.; Hryniewicz, T.; Gaiaschi, S.; Chapon, P.; Raaen, S.; Pietrzak, K.; Malorny, W.; Salvador Fernandes, J. Characterization of Porous Phosphate Coatings Enriched with Magnesium or Zinc on CP Titanium Grade 2 under DC Plasma Electrolytic Oxidation. Metals 2018, 8, 112.
Note that from the first issue of 2016, MDPI journals use article numbers instead of page numbers. See further details here.
Related Articles
Comments
[Return to top]