Open Access This article is
freely available
re-usable
Article
Epidemiology of Sports Related Concussion in Brazilian Jiu-Jitsu: A Cross-Sectional Study
1
Department of Undergraduate Medical Education, New York Medical College, Valhalla, New York, NY 10595, USA
2
Department of Undergraduate Medical Education & Department of Surgery, New York Medical College, Valhalla, New York, NY 10595, USA
3
Department of Neurology, New York Medical College, Valhalla, New York, NY 10595, USA
4
Department of Biochemistry & Molecular Biology, New York Medical College, Valhalla, New York, NY 10595, USA
*
Author to whom correspondence should be addressed.
Received: 1 January 2019 / Accepted: 21 February 2019 / Published: 25 February 2019
Abstract
:
Brazilian Jiu-Jitsu (BJJ) is a rapidly growing grappling sport with a wide spectrum of participants. This cross-sectional study examined the lifetime prevalence of concussion in adult BJJ practitioners in the United States using a 17-item survey. A total of 778 (11.4% female) BJJ practitioners with a median age of 31 years completed the survey. Overall, the lifetime prevalence of the self-reported BJJ-related concussion was 25.2%. However, the prevalence was higher among females than males (43.0% versus 22.9%; X
2
(1,740) = 15.129;
p
< 0.001). Factors independently associated with significantly increased odds of having sustained a BJJ-related concussion included a prior history of concussion (OR 1.76, 95% CI 1.14–2.74;
p
= 0.011) and female gender (OR 1.95, 95% CI 1.04–3.65;
p
= 0.037). The median return to sports time was three days, with 30.3% of participants returning on the same day as being concussed. The present study represents the first epidemiological research examining the concussions in BJJ. The results underscore the need for increased education on concussions and return to sports guidelines among BJJ coaches and practitioners.
Keywords:
Brazilian Jiu-Jitsu; BJJ; concussion; sport-related concussion; martial arts
1. Introduction
Brazilian Jiu-Jitsu (BJJ) is a rapidly growing grappling sport with a wide spectrum of participants. In contrast to combat sports, BJJ focuses on submissions such as joint locks, chokeholds, and control rather than punches and kicks. The goal is to control and submit the opponent as opposed to striking and inducing trauma. This lack of purposeful trauma distinguishes BJJ from combat sports such as boxing and mixed martial arts.
The present study aimed to quantify the lifetime prevalence of concussions among BJJ practitioners to identify factors associated with greater odds of having a concussion. We hypothesize that the lifetime prevalence of concussions will be similar to other grappling sports. We also expect the practitioners who participate in competitions and those who are older to have a greater prevalence of concussions and take longer to return to sports.
2. Materials and Methods
2.1. Study Population and Sampling
A web link to the survey was directly emailed to 42 BJJ coaches or school owners and directly posted on the social media websites of approximately 75 BJJ clubs and state groups located in the United States. Email contacts for school owners based in the United States were collected alphabetically by club name from the International Brazilian Jiu-Jitsu federation website [
14
]. The social media distribution focused on state-based BJJ Facebook groups. For example, the survey was posted publicly to the "Utah Jiu-Jitsu" Facebook page and members were invited to respond. This was repeated for each state's BJJ page, with the majority of states having such a forum. Some states had more than one page, and the survey was posted on all identified pages in such instances. Any practitioner over the age of 18 was invited to complete the survey. The number of people receiving the invitation to complete the survey was unknown and the response rate is, therefore, indeterminable. The survey was disseminated via a link to the SurveyMonkey collection platform, set to prevent multiple responses from the same IP address to avoid repeat responses. 791 practitioners sent back completed or partially completed surveys; 13 surveys were excluded because the practitioners identified themselves as under the age of 18.
2.2. Survey
The survey consisted of 17 questions, beginning with demographic data and previous concussion information. Three participants known to the author completed the questionnaire and provided feedback on any ambiguity; changes were made for clarification prior to distribution. Responses from these three participants to the revised survey were included in the data set. Reliability and Validity of the survey were not formally tested. We asked for the respondents' age, gender, number of previous concussions, and number of times being "knocked out or unconscious from a concussion." The next section included questions about the respondents' involvement in BJJ: length of time spent training, the number of practices attended per week, and the total number of lifetime competitions.
The third section of the survey asked whether each practitioner had experienced one or more concussions as a result of participating in BJJ. Within the survey, participants were given a broad definition of a concussion as "a blow to the head or body followed by a variety of symptoms that may include any of the following: a headache, dizziness, loss of balance, blurred vision, 'seeing stars,' feeling in a fog or slowed down, memory problems, poor concentration, irritability, emotional outbursts, slurred speech, disturbed sleep pattern, nausea, or throwing up." The survey explicitly stated that getting "knocked-out" or being unconscious does not always occur with a concussion. If the respondent reported having experienced a concussion, they were asked to identify which of the previously listed symptoms they had experienced. They were then asked how long after the concussion they returned to BJJ practices, how long they were asymptomatic before returning to BJJ, and whether they experienced a second BJJ-associated concussion at a later date. The full survey is available in the
Supplementary Materials
.
2.3. Data Processing
As the survey had both free-text and nominal fields, some data processing had to be done to consistently define participants' answers. Similar data processing has been performed in other studies using retrospective surveys [
9
].
If the participant listed a number as "20+" it was counted as 20. If a range of numbers was given, the median between the two numbers was used. If the participant stated "about 3 years" it was counted as 3 years. A response of "a few days" was counted as 4 days. However, if the participant stated "too many to count" or "many" they were considered non-responders. Since not every participant responded to every question, percentages were calculated based on the number of participants who responded to a given question.
2.4. Analysis
Statistical analysis was performed using the IBM developed Statistical Package for the Social Sciences (SPSS) (Armonk, NY, USA). Potential factors associated with report/non-report of a concussion were tested using separate Chi-Square (X2) tests for categorical variables and Student t-tests for continuous variables. Variables with associated p-values of less than or equal to 0.10 were included in multiple logistic regression analysis to identify those independently associated with a reported concussion. Variables were entered simultaneously into the regression model. Multicollinearity of variables in the equation was evaluated by examining Variance Inflation Factors (VIF) derived from sequential multiple linear regression analysis in which each variable was regressed on all others. A p-value of less than 0.05 was the marker for significance. Competition density was calculated for each respondent by dividing the number of reported lifetime BJJ competitions by the number of months training. Descriptive statistics will include reporting the median with interquartile range (IQR) for non-normally distributed variables.
3. Results
3.1. Demographics
Demographic information was collected from the 778 survey respondents. Females represented 11.4% of total respondents. Respondents had a median age of 31 (IQR: 13; Range 18–67) and reported practicing BJJ a median of 3 (IQR: 1.5; Range 1–7) days per week (
Table 1
). The median number of lifetime competitions per respondent was 2 (IQR: 6; Range: 0–100).
3.2. Concussions before BJJ
Before starting BJJ, 43.3% of respondents reported having at least one concussion. The lifetime prevalence of concussion was determined within both gender and age categories. While 43.7% of males reported a concussion prior to participating in BJJ, 39.3% of females reported a concussion prior to participating in BJJ (X
2
(2, n = 774) = 1.930,
p
= 0.381). Concussion prevalence before starting BJJ increased significantly as age increased (X
2
(5, n = 774) = 26.747,
p
< 0.001). Of those who reported having a concussion prior to participating in BJJ, 52.2% reported having at least one episode of LOC from head trauma.
3.3. Concussions While Engaged in BJJ
A total of 187 (25.2%) practitioners reported a concussion while engaging in BJJ. Females reported significantly more concussions than their male counterparts (43% versus 22.9%; X
2
(2, n = 187) = 19.222,
p
< 0.001). There were no differences in concussion prevalence across age groups (X
2
(5, n = 187) = 6.044,
p
= 0.302). Logistic Regression Analysis (
Table 2
) indicated that female gender, reporting at least one concussion prior to starting BJJ, total number of competitions, and competition density was independently associated with greater odds of suffering a concussion when participating in the sport. VIF for variables in the equation ranged from 1.009 to 1.21 suggesting an acceptable level of multicollinearity.
3.4. Concussion Symptoms
Among the participants who reported experiencing a concussion while engaged in BJJ, we analyzed the symptoms they reported qualitatively. Among participants who reported experiencing a BJJ-related concussion, the median number of signs and symptoms was 4 (IQR: 4; Range: 1–11). The most commonly reported signs or symptoms were a headache (75.7%) and dizziness (68.5%) (
Figure 1
). The median return to sports time irrespective of symptoms was three days, with 30.3% of participants returning on the same day as their reported concussion (
Figure 2
). Among practitioners who reported a concussion while engaging in BJJ, 26.7% reported a second concussion from BJJ.
4. Discussion
This study provides an initial investigation of concussions within BJJ. There is much research that needs to be done to better understand both concussions and practitioners within the sport. Future research could move in several directions, including a focus on female BJJ practitioners. Although it is difficult to make definitive conclusions without a larger sample size of female practitioners, this study suggests that females may be at an increased risk of concussions. In order to more accurately determine the risk of concussion in BJJ, a prospective injury surveillance study should be carried out using a representative cohort of BJJ practitioners. This will allow for tracking of athlete exposures in order to determine the rate of concussion while identifying risk factors and the mechanisms of concussions incurred while engaging in BJJ. BJJ includes takedowns, grappling while standing, and grappling on the ground. Determining which aspects of the sports may increase the risk of concussion could help determine the safest practices.
5. Conclusions
This study provides an initial examination of sports-related concussion in BJJ practitioners. Through retrospective surveys, we have shown that 25.2% of BJJ practitioners reported having a concussion while engaging in BJJ. Female gender was associated with increased odds of incurring a concussion when compared to male counterparts. Practitioners who reported experiencing a concussion before beginning BJJ were associated with increased odds of incurring a concussion while engaging in BJJ. Among practitioners who reported having a concussion while engaging in BJJ, those who competed more times per year were associated with increased odds of incurring a second concussion. With a median return to sports time of three days and 30.3% of participants returning one the same day as incurring a concussion, there is a clear need for increased education among coaches and practitioners. Education on both concussion symptoms and return to sports guidelines are critical in BJJ where there typically are no athletic trainers or medical professionals monitoring the practice sessions.
Author Contributions
M.S. and M.E. contributed to the conceptualization and the methodology. M.S. contributed to the data collection. M.S. and D.A.R. contributed to the data analysis. D.A.R. contributed to the data curation. M.S. contributed to drafting the manuscript. M.S., D.A.R., M.E. and K.H.P. contributed to editing, and reviewing of the manuscript. The study was reviewed and approved by the New York Medical College Institutional Review Board.
Funding
This research received no external funding.
Acknowledgments
We would like to acknowledge to contribution of Michael Slabinski for conceptualization and providing BJJ expertise.
Conflicts of Interest
The authors declare no conflict of interest.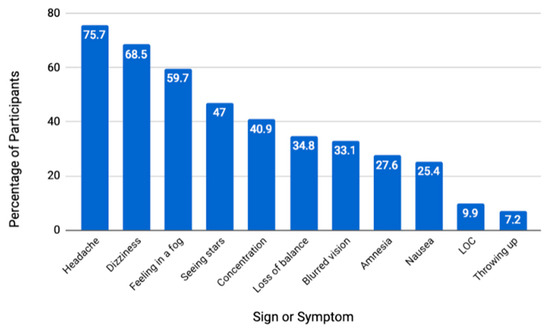 Figure 1. The Proportion of Respondents Experiencing BJJ-Related Concussion (n = 187) Reporting Specific Signs or Symptoms. LOC: Loss of Consciousness.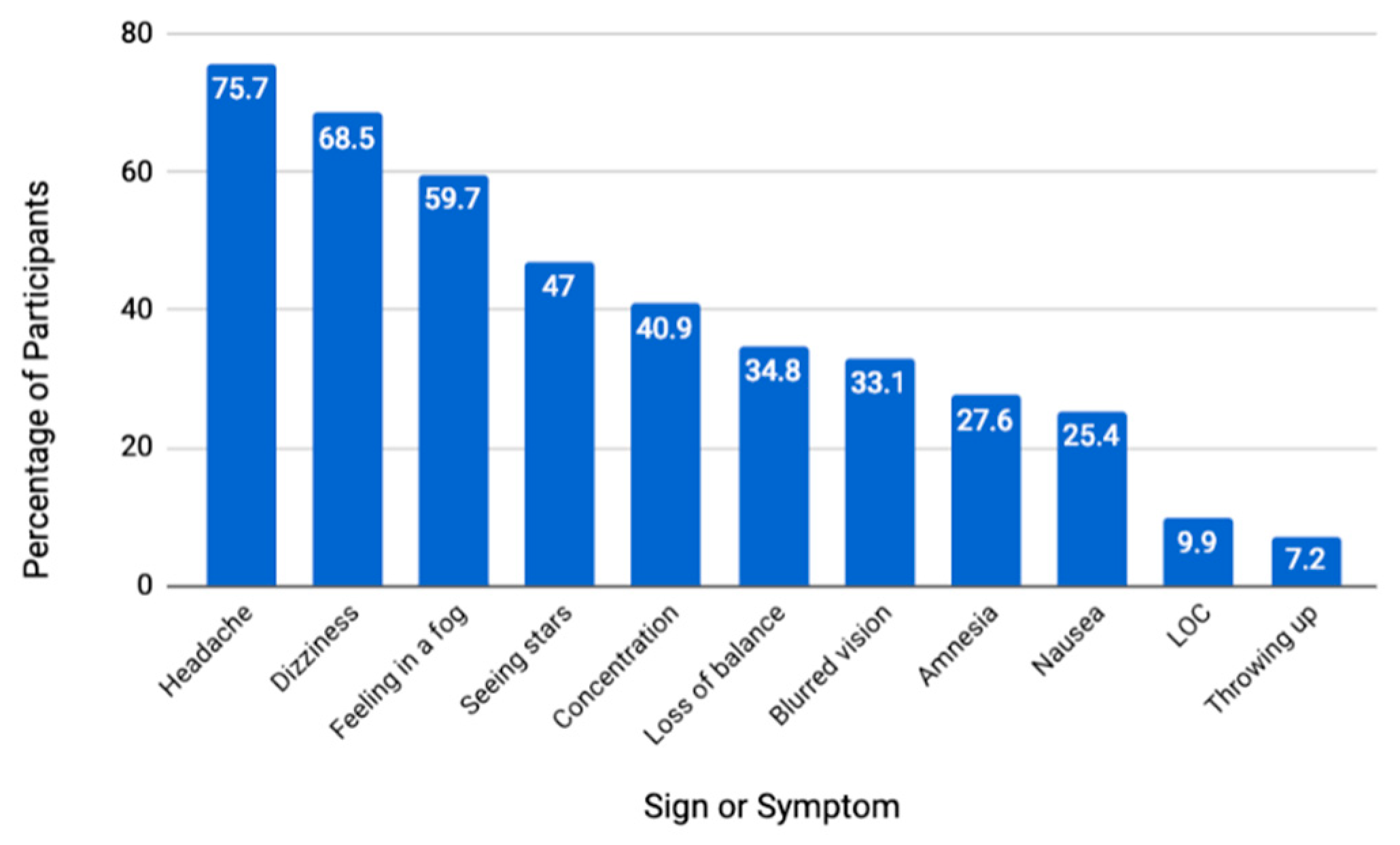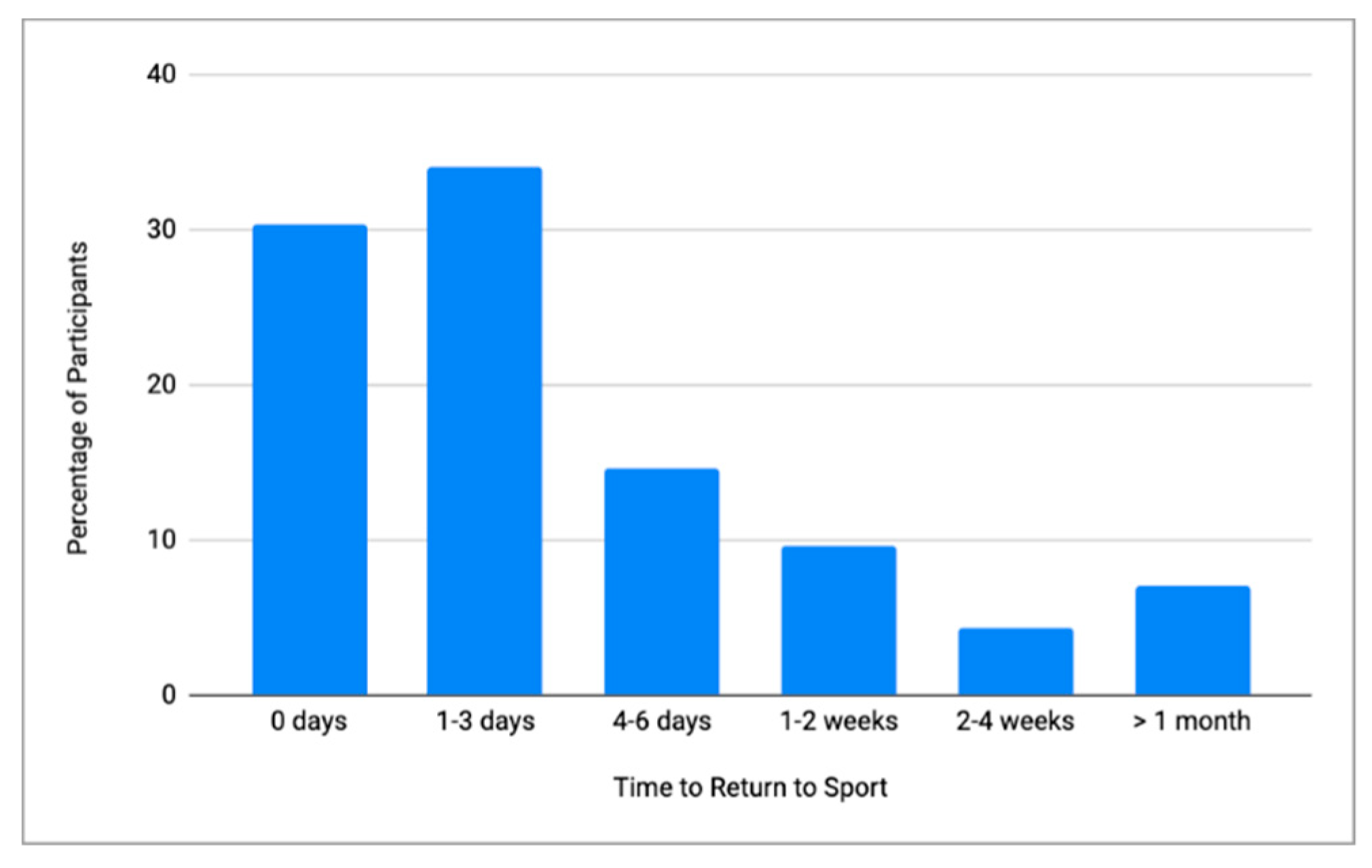 | Demographic Characteristics | Frequency (Percentage) |
| --- | --- |
| Gender | |
| Male | 689 (88.6) |
| Female | 89 (11.4) |
| Age Group | |
| 18-23 | 154 (19.8) |
| 24-28 | 163 (21.0) |
| 29-34 | 153 (19.7) |
| 35-41 | 157 (20.2) |
| 42-49 | 106 (13.6) |
| 50-67 | 46 (5.9) |
| Variables in Equation | Odds Ratio | 95% C.I. | p |
| --- | --- | --- | --- |
| Days per Week of Training | 1.12 | (0.94, 1.35) | 0.211 |
| Reported Concussion Before Starting BJJ | 1.76 | (1.14, 2.74) | 0.011 |
| Female Gender | 1.95 | (1.04, 3.65) | 0.037 |
| Lifetime Number of Competitions | 1.03 | (1.01, 1.04) | 0.011 |
| Competition Density | 1.02 | (1.00, 1.03) | 0.021 |

© 2019 by the authors. Licensee MDPI, Basel, Switzerland. This article is an open access article distributed under the terms and conditions of the Creative Commons Attribution (CC BY) license (http://creativecommons.org/licenses/by/4.0/).