Open Access This article is
freely available
re-usable
Review
Recent Advances in Chromatin Mechanisms Controlling Pancreatic Carcinogenesis
Department of Surgery and the Andrew L. Warshaw, MD, Institute for Pancreatic Cancer Research, Massachusetts General Hospital and Harvard Medical School, Boston, 02114 MA, USA
*
Author to whom correspondence should be addressed.
Received: 31 May 2018 / Accepted: 15 June 2018 / Published: 20 June 2018
Abstract
:
Pancreatic ductal adenocarcinoma has a heterogeneous genetic landscape, marked by frequent mutation of
KRAS
,
CDKN2A
,
TP53
, and
SMAD4
, resulting in poor responses to conventional therapeutic regimens. Over the past decade, increased understanding of the genetic underpinnings of this lethal cancer has yielded several different characterizations of pancreatic cancer subtypes. However, not all phenotypes and changes in pancreatic cancer can be explained by these findings. New insights on epigenetic modifications associated with pancreatic carcinogenesis have highlighted additional pathways, other than gene mutations, among which chromatin regulation plays a dominant role. Gene expression is highly regulated by subtle changes in chromatin configuration. The underlying mechanism is dominated by reversible post-translational histone modifications. In addition, there is growing evidence that different chromatin mechanisms interact with one another, contributing to the diversity of pancreatic carcinogenesis. This review highlights recent work characterizing chromatin regulatory mechanisms associated with pancreatic carcinogenesis as well as future directions of this emerging research.
Keywords:
pancreatic cancer; epigenetics; chromatin remodeling; histone modification; HAT; HDAC; KDM; BET; SWI/SNF
1. Tumor Biology and Epigenetics in PDAC
Pancreatic cancer is an aggressive malignancy associated with poor outcomes and an increasing risk profile [
1
]. According to current projections, by 2030 it will overtake breast and prostate cancer as the 2nd leading cause of cancer-related death in the Western Hemisphere [
2
]. Pancreatic ductal adenocarcinoma (PDAC), the most frequent form, is associated with particularly poor prognosis as a result of several factors. First, it is commonly detected in late-stage disease owing to a lack of specific symptoms coupled with aggressive local growth and early metastasis, and second, the clinical picture is accompanied by an extensive desmoplastic stromal reaction that promotes significant resistance to conventional therapeutic options [
3
]. There are two main precursor lesions which result in PDAC formation (
Figure 1
). Pancreatic intraepithelial neoplasia (PanIN), which derive from acinar cells undergoing acinar-to-ductal metaplasia (ADM), and larger intraductal papillary mucinous neoplasm (IPMN) of the pancreas [
4
,
5
]. Tumors resulting from these precursor lesions have distinct clinicopathological features that impacts tumor biology and prognosis [
6
]. More than 90% of all PDAC cases harbor
KRAS
mutations, which are already detectable in these precursor lesions [
7
]. Moreover, tumor suppressor genes, such as
SMAD4
,
TP53
(commonly referred to as
p53
), and
CDKN2A
, are inactivated in 50–70% of all patients [
7
]. Four different subtypes of pancreatic cancer were recently identified by whole-genome sequencing and copy number variation (CNV) analysis, reflecting the number and location of the gene alterations [
8
]. Differences in gene expression patterns have similarly been employed to define the transcriptional subtypes of PDAC (
Figure 1
) [
9
,
10
,
11
]. However, no correlation has been found between these genetic and transcriptional subtypes, suggesting epigenetic mechanisms contribute to these classifications.
Among the post-translational changes in the histone subunit, acetylation and methylation are crucially linked to the carcinogenesis of PDAC. These modifications are regulated by enzymes that add (writers) or remove (erasers) epigenetic marks. Modifications in the acetylation status of histones are accomplished by histone acetyltransferases (HATs) and deacetylases (HDACs) [
12
]. Common HATs include the CREB-binding protein (CBP), the transcriptional cofactor p300, as well as the p300/CBP-associated factor PCAF, and their activity is associated with active gene expression [
13
]. In contrast, HDACs generate a more condensed chromatin structure which is associated with gene suppression [
14
,
15
]. The balance of these two counterparts creates a finely adjusted balance of (de-) acetylation activity which can be lost during cancer development resulting in tumor enhancement and de-differentiation. Similarly, the methylation status of histone residues results in upregulation or suppression of gene expression through methyltransferases and demethylases [
16
,
17
]. In addition, specific "readers", such as the bromodomain and extraterminal (BET) family of proteins, recognize acetylated histones and recruit additional co-regulators to mediate transcriptional activity in PDAC [
18
]. Finally, chromatin remodelers, such as SWI/SNF, have ATPase activity that changes the position of the nucleosomes in order to recruit transcriptional machineries to the nucleosomal DNA to regulate gene expression [
19
]. This review summarizes recent discoveries about how these four broad mechanisms of chromatin regulation play an emerging role in our understanding of PDAC, especially in the development of carcinogenesis from PanIN or IPMN precursor lesions.
2. Histone Acetylation in Pancreatic Carcinogenesis
3. Histone Methylation in Pancreatic Carcinogenesis
4. BET Bromodomain Regulation in Pancreatic Carcinogenesis
5. Chromatin Remodelers (SWI/SNF) in Pancreatic Carcinogenesis
In past years, insights into chromatin remodelers highlighted their diverse context-dependent functions in pancreatic carcinogenesis. Research in this field has been predominantly performed on SWI/SNF enzymes which drive chromatin remodeling through their ATPase subunits BRG1 and BRM [
19
,
69
]. SWI/SNF proteins recognize specific histone marks, and through dynamic ATP-dependent modifications, allow the recruitment of transcriptional machineries to the nucleosomal DNA (
Figure 2
C). Mutations in SWI/SNF subunits, which are found in approximately 20% of human cancers, lead to cell cycle defects and the promotion of tumor formation [
70
]. In one of the first studies to characterize the SWI/SNF components in PDAC, Numata et al. found that high expression of BRM was correlated with poor survival [
71
]. Another study found that patients with a germ-line polymorphism in
BRM
(
BRM-741
,
BRM-1321
) exhibited worse survival compared to patients with wild-type
BRM
[
72
]. A recent study suggested that regulation of the JAK/STAT pathway is a major contribution of the BRG1/BRM subunits in PDAC [
73
]. The authors observed cell cycle arrest and suppression of tumor growth after
BRM
silencing in vivo. In addition, downstream targets of the JAK2/STAT3 pathway (
CCND1
,
Survivin
,
MMP7
, and
VEGF
) were decreased after silencing
BRM
. In line with these findings, levels of active pSTAT3 were downregulated and could be restored with exogenously supplied IL6 [
73
].
Taking a closer look at BRG1, Molin et al. discovered unique insights on the expression patterns in IPMNs [
74
]. More than 50% of all IPMN specimens exhibited reduced expression of BRG1 when compared to normal tissue. In addition, high-grade IPMNs more frequently had lower BRG1 levels, suggesting that loss of BRG1 drives de-differentiation. A subsequent study demonstrated additional context-dependent functions of BRG1 in the development of different PDAC subtypes or its precursor lesions [
75
]. First, it was shown that loss of
Brg1
in
KrasG12D
-driven mice resulted in formation of cystic neoplasms which resembled human IPMNs. In a time-dependent manner these precursor lesions were able to form invasive cancer. However, compared to mice with an ordinary
KrasG12D
-driven PanIN, these lesions were less proliferative and had a decreased gene expression signature for pathways regulating cellular motility, invasion, and metastasis. Further investigation of downstream pathways revealed that tumors from
Brg1
-negative mice almost completely lost the expression of tumor-suppressive (
p53
,
p21
, and
p16
) and tumor-promoting genes (
Hmga2
), when compared to ordinary PDACs. In line with these findings, the promoter of
Hmga2
showed an enrichment of BRG1 accompanied by the repressive histone mark H3K27me3. Interestingly, the authors demonstrated that loss of BRG1 has cell context specific effects in the formation of pre-neoplastic lesions. GEM models that allowed for pancreatic acinar or ductal cell-specific deletion of
Brg1
revealed BRG1 expression was required for
KrasG12D
-driven PanIN formation from adult acinar cells, whereas loss of
Brg1
was required for
KrasG12D
-driven IPMN formation from adult pancreatic duct cells [
75
]. In a follow-up study from the same group it was shown that BRG1 promotes tumorigenesis in PDAC through an EMT-like gene expression pattern; whereas it inhibits de-differentiation in adult pancreatic duct cells and blocks neoplastic transformation [
76
]. Taken together, these findings accentuate the importance of Brg1 as a stage-dependent chromatin remodeler with distinct functions during pancreatic carcinogenesis.
In addition to BRG1 and BRM, ARID1a contributes to SWI/SNF function by mediating promoter occupancy [
77
]. In addition to being frequently mutated in PDAC [
7
],
Arid1a
deletion leads to the formation of colon cancer in mice [
78
] and drives ovarian carcinogenesis through mTOR activation [
79
,
80
]. Kimura and colleagues investigated the role of ARID1a and BRG1 in pancreatic tumorigenesis [
81
]. Employing
KrasG12D
-driven mice lacking
Arid1a
they demonstrated that mice deficient in
Arid1a
developed IPMNs and PDAC more frequently when compared to ordinary
KrasG12D
or
Arid1afl/+
mice, thereby documenting the tumor suppressive abilities of
Arid1a
in PDAC. Tumors from
Arid1afl/fl
mice exhibited an upregulation of pSTAT3 and a similar suppression of
p53
,
p21
, and
p16
as described above for
Brg1
-deficient mice [
75
]. The authors investigated further key signaling pathways and found a correlation with an increase in mTOR activity in
Arid1afl/fl
mice. Interestingly, these effects were not detectable in
Brg1
-deficient mice, highlighting a unique role for IPMN-associated PDAC formation through mTOR signaling in the absence of
Arid1a
[
81
]. Taken together, histone remodelers reassemble a highly heterogeneous group that controls pancreatic carcinogenesis through their different subgroups. They play an important role in tumor progression from ordinary PanIN formations and IPMN-associated PDAC. Notably, SWI/SNF subunits act in a stage-dependent manner with different contributions on tumor formation in PDAC.
6. Outlook
Alterations in chromatin regulation and their contribution to key pathways in PDAC has become an important field of research. Along with recent studies on the acetylation or methylation status of histones, chromatin readers and remodelers implement context-specific functions in PDAC. In particular, stage-dependent activities of different chromatin regulators elucidate the complex regulatory machinery behind pancreatic carcinogenesis. Furthermore, recent findings emphasize the role of chromatin mechanisms in cancer–stroma crosstalk, opening multiple directions for future studies and therapeutic strategies.
Funding
Thomas Hank is funded by a Mildred-Scheel-Postdoctoral Fellowship from German Cancer Aid.
Conflicts of Interest
The authors declare no conflict of interest.

Figure 1.
Precursor lesions of pancreatic cancer. Pancreatic acinar cells can acquire a duct-like phenotype through a process termed acinar-to-ductal metaplasia (ADM). In the context of activating mutations in
KRAS,
these lesions can progress to pancreatic intraepithelial neoplasia (PanIN; top). Pancreatic ductal cells with activating mutations to
KRAS
and
GNAS
form a second class of precursor lesions, intraductal papillary mucinous neoplasms (IPMN, bottom). Subsequent acquisition of inactivating tumor suppressor genes in PanIN and IPMN lesions result in the progression to PDAC. Transcriptional analysis of tumors defined different PDAC subtypes (right) [
12
].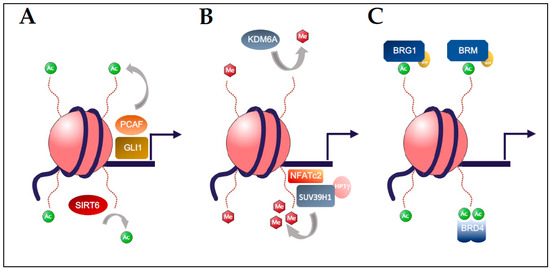 Figure 2. Post-translational modifications of chromatin regulate gene expression in pancreatic carcinogenesis. (A) Histone acetylation is mediated by the p300/CREB associated complex (PCAF) which is regulated by binding of GLI1 and results in acetylation of H3K14 to increase expression of a subset of TGF-β responsive genes. Similarly, recruitment of the HDAC SIRT6 to promoters results in deacetylation of H3K9 and H3K56 with suppression of pro-tumorigenic gene programs. (B) The histone methyltransferase SUV39H1 can bind to target promoters by forming a complex with DNA-bound NFATc2, leading to gene suppression through trimethylation of H3K9 and recruitment of the heterochromatin protein family member HP1γ. In contrast, loss of the H3K27 demethylase KDM6A promotes PDAC with a squamous differentiation. (C) SWI/SNF chromatin remodelers have distinct functions in PDAC that are mediated by their ATP-dependent subunits BRG1 and BRM, which contribute to IL6/STAT3 signaling in PDAC. Likewise, specific epigenetic readers, such as BRD4, recognize acetylation marks and regulate a variety of transcriptional programs in PDAC, including the IL6/STAT3 axis.

© 2018 by the authors. Licensee MDPI, Basel, Switzerland. This article is an open access article distributed under the terms and conditions of the Creative Commons Attribution (CC BY) license (http://creativecommons.org/licenses/by/4.0/).