Dynamics of H3K4me3 Chromatin Marks Prevails over H3K27me3 for Gene Regulation during Flower Morphogenesis in
Arabidopsis
thaliana
1
LPCV, CEA, CNRS, INRA, Université Grenoble-Alpes, BIG, 38000 Grenoble, France
2
Present address: School of Life Science, University of Warwick, Coventry CV4 7AL, UK
3
Optical Engineering Group, School of Engineering, University of Warwick, Coventry CV4 7AL, UK
4
MGX-Montpellier GenomiX, c/o Institut de Génomique Fonctionnelle, 141 rue de la Cardonille, 34094 Montpellier CEDEX 5, France
5
Department of Molecular Biology, Max Planck Institute for Developmental Biology, 72074 Tübingen, Germany
6
Present address: Instituto de Hortofruticultura Subtropical y Mediterránea, Universidad de Málaga–Consejo Superior de Investigaciones Científicas, Departamento de Biología Molecular y Bioquímica, Facultad de Ciencias, Universidad de Málaga, 29071 Málaga, Spain
7
Present address: Umeå Plant Science Centre, Department of Plant Physiology, Umeå University, S-901 87 Umeå, Sweden
*
Author to whom correspondence should be addressed.
Academic Editor: Etienne Bucher
Received: 15 April 2017 / Revised: 12 June 2017 / Accepted: 15 June 2017 / Published: 29 June 2017
Plant life-long organogenesis involves sequential, time and tissue specific expression of developmental genes. This requires activities of Polycomb Group (PcG) and trithorax Group complexes (trxG), respectively responsible for repressive Histone 3 trimethylation at lysine 27 (H3K27me3) and activation-related Histone 3 trimethylation at lysine 4 (H3K4me3). However, the genome-wide dynamics in histone modifications that occur during developmental processes have remained elusive. Here, we report the distributions of H3K27me3 and H3K4me3 along with expression changes, in a developmental series including
Arabidopsis
thaliana
leaf and three stages of flower development. We found that chromatin mark levels are highly dynamic over the time series on nearly half of all Arabidopsis genes. Moreover, during early flower morphogenesis, changes in H3K4me3 prevail over changes in H3K27me3 and quantitatively correlate with expression changes, while H3K27me3 changes occur later. Notably, we found that H3K4me3 increase during the early activation of PcG target genes while H3K27me3 level remain relatively constant at the locus. Our results reveal that H3K4me3 predicts changes in gene expression better than H3K27me3, unveil unexpected chromatin mechanisms at gene activation and underline the relevance of tissue-specific temporal epigenomics.
View Full-Text
►

▼

Show Figures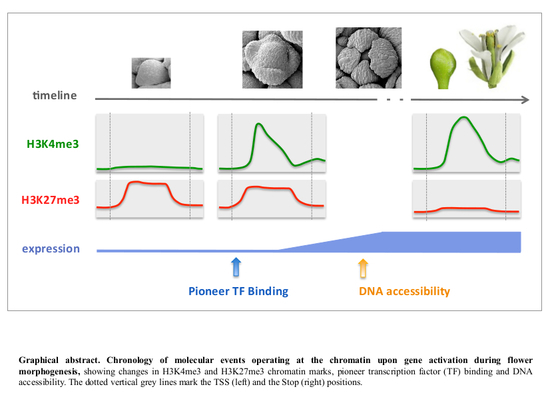 Graphical abstract
This is an open access article distributed under the
Creative Commons Attribution License
which permits unrestricted use, distribution, and reproduction in any medium, provided the original work is properly cited

MDPI and ACS Style
Engelhorn, J.; Blanvillain, R.; Kröner, C.; Parrinello, H.; Rohmer, M.; Posé, D.; Ott, F.; Schmid, M.; Carles, C.C. Dynamics of H3K4me3 Chromatin Marks Prevails over H3K27me3 for Gene Regulation during Flower Morphogenesis in Arabidopsis thaliana. Epigenomes 2017, 1, 8.
Show more citation formats
Show less citations formats
Note that from the first issue of 2016, MDPI journals use article numbers instead of page numbers. See further details
here
.