Open Access This article is
freely available
re-usable
Article
Creating the Urban Farmer's Almanac with Citizen Science Data
1
School of Natural Resources and the Environment, University of Arizona, Tucson, AZ 85721, USA
2
Volunteer Experience, Adventure Scientists, Bozeman, MT 59771, USA
3
National Coordinating Office, USA National Phenology Network, Tucson, AZ 85721, USA
4
Office of Digital Innovation and Stewardship, Libraries, University of Arizona, Tucson, AZ 85721, USA
*
Author to whom correspondence should be addressed.
Received: 31 July 2019 / Accepted: 4 September 2019 / Published: 11 September 2019
Abstract
:
Agriculture has long been a part of the urban landscape, from gardens to small scale farms. In recent decades, interest in producing food in cities has grown dramatically, with an estimated 30% of the global urban population engaged in some form of food production. Identifying and managing the insect biodiversity found on city farms is a complex task often requiring years of study and specialization, especially in urban landscapes which have a complicated tapestry of fragmentation, diversity, pollution, and introduced species. Supporting urban growers with relevant data informs insect management decision-making for both growers and their neighbors, yet this information can be difficult to come by. In this study, we introduced several web-based citizen science programs that can connect growers with useful data products and people to help with the who, what, where, and when of urban insects. Combining the power of citizen science volunteers with the efforts of urban farmers can result in a clearer picture of the diversity and ecosystem services in play, limited insecticide use, and enhanced non-chemical alternatives. Connecting urban farming practices with citizen science programs also demonstrates the ecosystem value of urban agriculture and engages more citizens with the topics of food production, security, and justice in their communities.
Keywords:
eButterfly; iNaturalist; insect management; urban insect diversity; USA National Phenology Network; Nature's Notebook
Author Contributions
The authors worked collaboratively on this paper: conceptualization K.L.P., J.K.W., M.C.T. and J.C.O.; writing—original draft preparation K.L.P., K.L.G. and A.R.; writing—review and editing K.L.P., J.K.W., M.C.T., K.L.G., A.R., T.M.C. and J.C.O.; visualization J.K.W. and J.C.O.; funding acquisition K.L.P.
Funding
Funding was provided by the University of Arizona Libraries and University of Arizona College of Agriculture and Life Sciences to K.L.P. and by the U.S. Geological Survey to the University of Arizona by Cooperative Agreement G18AC00135.
Acknowledgments
We would like to thank our reviewers and editors for helpful comments and suggestions, and all those relentless volunteers in various citizen science programs, past and present, who contributed data for the greater good.
Conflicts of Interest
The authors declare no conflict of interest.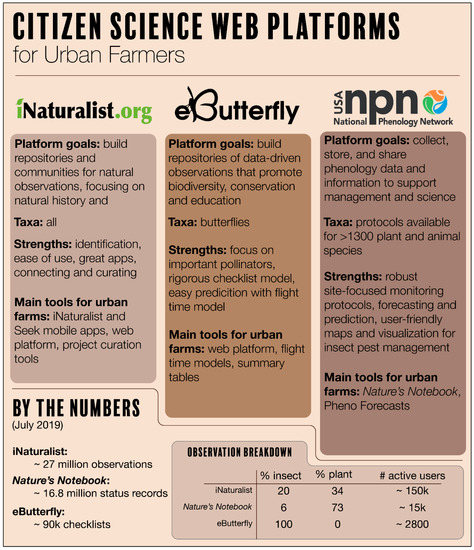 Figure 1. Comparison of iNaturalist, eButterfly, and USA National Phenology Network. Three citizen science platforms offer growers various tools, data, information, and social networks to improve the management of their farm insects, including beneficials, pests, and pollinators.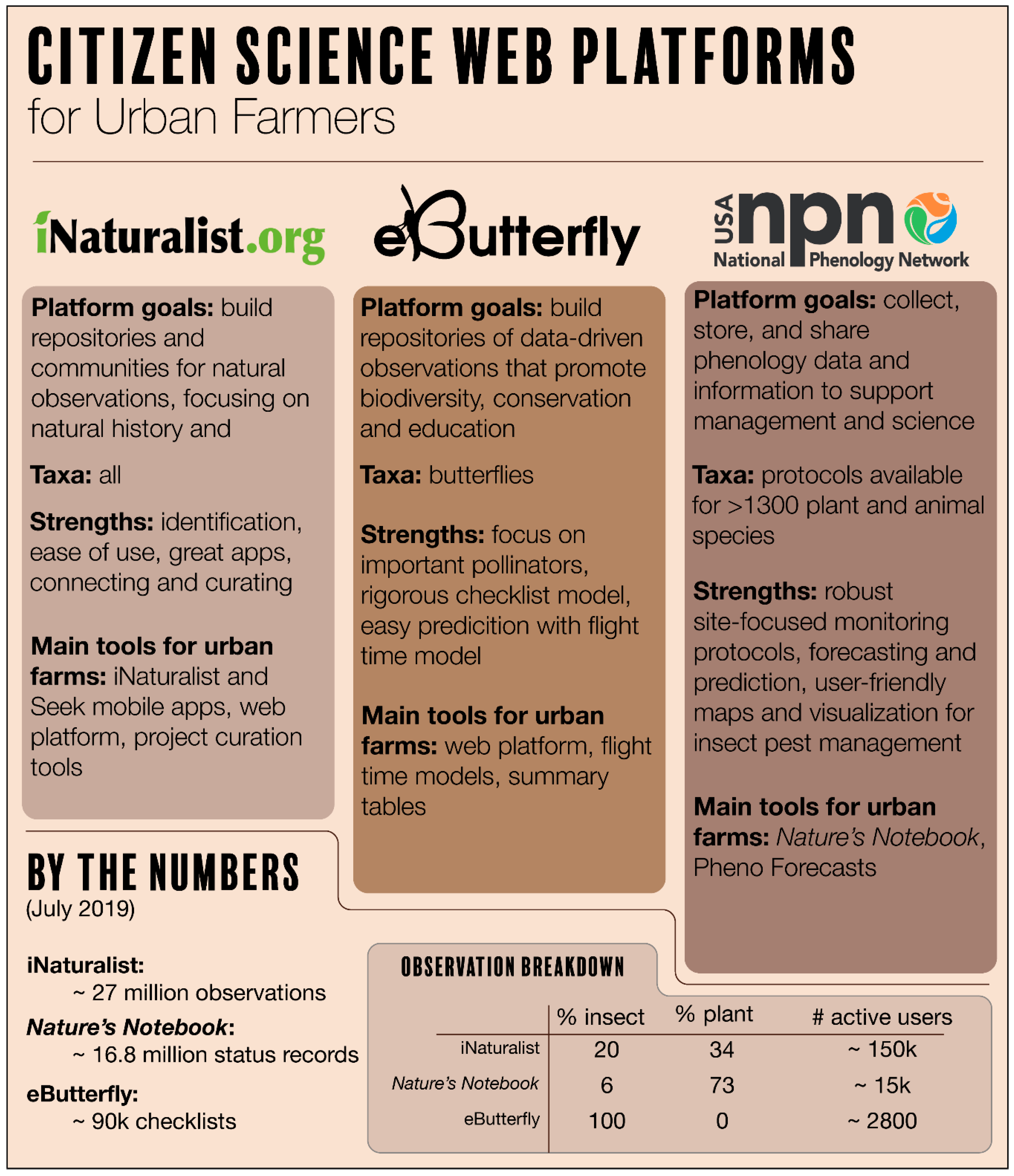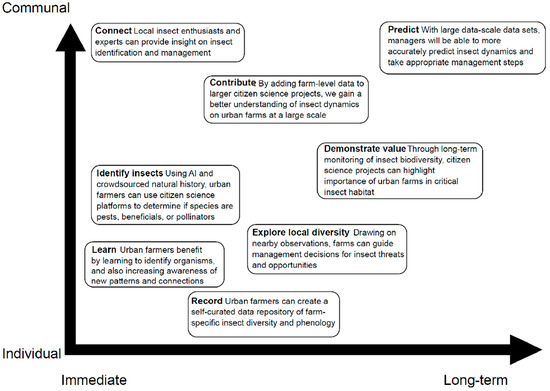 Figure 2. Value schematic of citizen science web-platforms for urban growers. Collaborative citizen science programs add value to urban farm mission and management by offering connection to experts, customers, and community members. Here, we outlined the main ways that urban farms can use citizen science platforms, across two axes: immediate and long-term usage (horizontal) and individual and communal actions among users (vertical).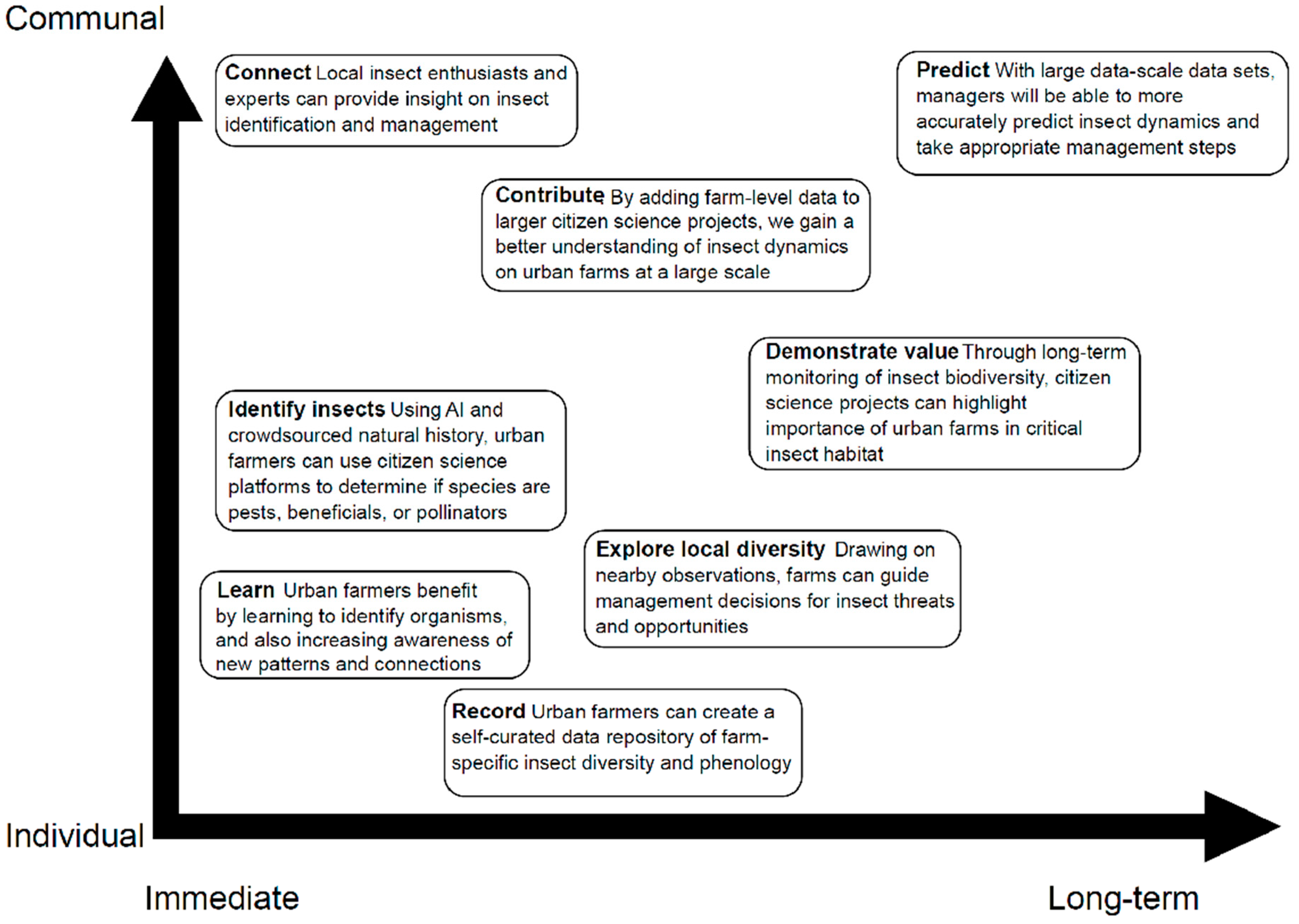 Figure 3.
Phenological forecasts. The National Phenology Network's Pheno Forecast tool (
www.usanpn.org/data/forecasts
) shows predicted emergence dates for common agricultural pests. This figure shows single-day forecasts for the apple maggot fly,
Rhagoletis pomonella
(Walsh) in the upper Great Lakes region of the United States of America. Source: USA National Phenology Network,
www.usanpn.org
.


© 2019 by the authors. Licensee MDPI, Basel, Switzerland. This article is an open access article distributed under the terms and conditions of the Creative Commons Attribution (CC BY) license (http://creativecommons.org/licenses/by/4.0/).