Diversity and Ecosystem Services of Trichoptera
1
Department of Plant & Environmental Sciences, Clemson University, E-143 Poole Agricultural Center, Clemson, SC 29634-0310, USA
2
Department of Plant & Wildlife Sciences, Brigham Young University, 701 E University Parkway Drive, Provo, UT 84602, USA
3
Data Science Lab, Smithsonian Institution, 600 Maryland Ave SW, Washington, DC 20024, USA
4
BOKU, Institute of Hydrobiology and Aquatic Ecology Management, University of Natural Resources and Life Sciences, Gregor Mendelstr. 33, A-1180 Vienna, Austria
5
Department of Biology, University of York, Wentworth Way, York Y010 5DD, UK
*
Author to whom correspondence should be addressed.
Received: 2 February 2019 / Revised: 28 March 2019 / Accepted: 12 April 2019 / Published: 1 May 2019
Abstract
The holometabolous insect order Trichoptera (caddisflies) includes more known species than all of the other primarily aquatic orders of insects combined. They are distributed unevenly; with the greatest number and density occurring in the Oriental Biogeographic Region and the smallest in the East Palearctic. Ecosystem services provided by Trichoptera are also very diverse and include their essential roles in food webs, in biological monitoring of water quality, as food for fish and other predators (many of which are of human concern), and as engineers that stabilize gravel bed sediment. They are especially important in capturing and using a wide variety of nutrients in many forms, transforming them for use by other organisms in freshwaters and surrounding riparian areas. The general pattern of evolution for trichopteran families is becoming clearer as more genes from more taxa are sequenced and as morphological characters are becoming understood in greater detail. This increasingly credible phylogeny provides a foundation for interpreting and hypothesizing the functional traits of this diverse order of freshwater organisms and for understanding the richness of the ecological services corresponding with those traits. Our research also is gaining insight into the timing of evolutionary diversification in the order. Correlations for the use of angiosperm plant material as food and case construction material by the earliest ancestors of infraorder Plenitentoria—by at least 175 Ma—may provide insight into the timing of the origin of angiosperms.
View Full-Text
►

▼

Figures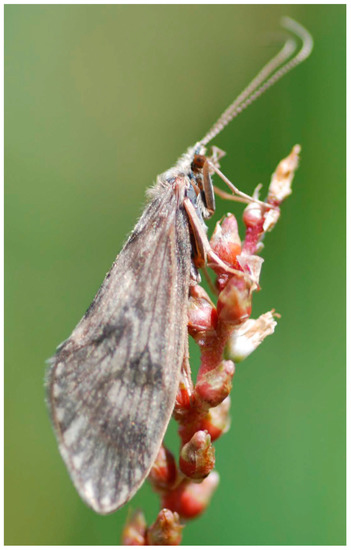 Figure 1
This is an open access article distributed under the
Creative Commons Attribution License
which permits unrestricted use, distribution, and reproduction in any medium, provided the original work is properly cited (CC BY 4.0).

Share & Cite This Article
MDPI and ACS Style
Morse, J.C.; Frandsen, P.B.; Graf, W.; Thomas, J.A. Diversity and Ecosystem Services of Trichoptera. Insects 2019, 10, 125.
Note that from the first issue of 2016, MDPI journals use article numbers instead of page numbers. See further details here.
Related Articles
Comments
[Return to top]