Bionomics and Ecological Services of Megaloptera Larvae (Dobsonflies, Fishflies, Alderflies)
1
Instituto de Biología, UNAM, Depto. de Zoología, 04510 Ciudad de México, Mexico
2
Posgrado en Ciencias Biológicas, UNAM, Sede Instituto de Biología, 04510 Ciudad de México, Mexico
*
Author to whom correspondence should be addressed.
Received: 11 February 2019 / Revised: 21 March 2019 / Accepted: 21 March 2019 / Published: 27 March 2019
Abstract
Megaloptera belong to a large monophyletic group, the Neuropteroidea, together with Coleoptera, Strepsiptera, Raphidioptera, and Neuroptera. With the latter two, this order constitutes the Neuropterida, a smaller monophyletic subset among which it is the only entirely aquatic group, with larvae of all species requiring submersion in freshwater. Megaloptera is arguably the oldest extant clade of Holometabola with aquatic representatives, having originated during the Permian before the fragmentation of Pangea, since about 230 Ma. It includes 54 genera (35 extant and 19 extinct genera), with 397 extant described species and subspecies. Recent Megaloptera are divided into two families: Corydalidae (with subfamilies Corydalinae—dobsonflies and Chauliodinae—fishflies) and Sialidae (alderflies), both widely yet disjunctively distributed among zoogeographical realms. All species of Megaloptera have aquatic larvae, whereas eggs, pupae, and adults are terrestrial. The anatomy, physiology, and behavior of megalopteran larvae are specialized for an aquatic predatory habit, yet their ecological significance might still be underappreciated, as their role in food webs of benthic communities of many temperate and tropical streams and rivers is still understudied and largely unquantified. In many freshwater ecosystems, Megaloptera larvae are a conspicuous benthic component, important in energy flow, recycling of materials, and food web dynamics.
View Full-Text
►

▼

Figures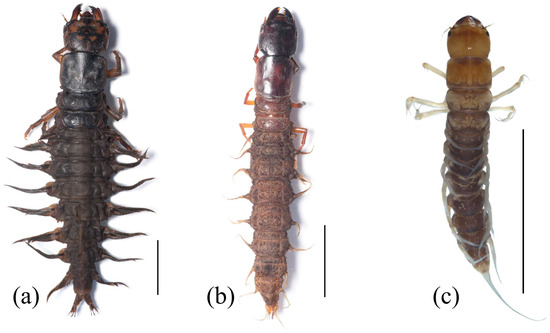 Figure 1
This is an open access article distributed under the
Creative Commons Attribution License
which permits unrestricted use, distribution, and reproduction in any medium, provided the original work is properly cited (CC BY 4.0).

Share & Cite This Article
MDPI and ACS Style
Rivera-Gasperín, S.L.; Ardila-Camacho, A.; Contreras-Ramos, A. Bionomics and Ecological Services of Megaloptera Larvae (Dobsonflies, Fishflies, Alderflies). Insects 2019, 10, 86.
Note that from the first issue of 2016, MDPI journals use article numbers instead of page numbers. See further details here.
Related Articles
Comments
[Return to top]