Open Access This article is
freely available
re-usable
Review
The History Goes On: Century Long Study of Romano's Star
†
1
Astronomical Institute of the Czech Academy of Sciences, Fričova 298, 25165 Ondřejov, Czech Republic
2
Sternberg Astronomical Institute, Lomonosov Moscow State University, Universitetsky pr. 13, 119234 Moscow, Russia
3
INAF-Istituto di Astrofisica e Planetologia Spaziali di Roma (IAPS-INAF), Via del Fosso del Cavaliere 100, 00133 Roma, Italy
4
Instituto de Ciencias Físicas, Universidad Nacional Autónoma de México, Ave. Universidad S/N, 62210 Cuernavaca, Mexico
5
Associazione Romana Astrofili, Via Carlo Emanuele I, n°12A, 00185 Roma, Italy
6
Physics Department, Università di Roma "La Sapienza", Piazza le Aldo Moro 5, 00185 Roma, Italy
7
INAF-Osservatorio Astronomico di Bologna, Via Ranzani 1, I-40127 Bologna, Italy
†
Based on observations made with the Gran Telescopio Canarias (GTC), installed at the Spanish Observatorio del Roque de los Muchachos of the Instituto de Astrofisica de Canarias, in the island of La Palma, and with the Cassini 1.52-m telescope of the Bologna Observatory (Italy), as well as data retrieved from the public archive of the Special Astrophysical observatory of Russian Academy of Sciences (SAO RAS).

Received: 31 July 2019 / Accepted: 13 September 2019 / Published: 18 September 2019
Abstract
:
GR 290 (M 33 V0532 = Romano's Star) is a unique variable star in the M33 galaxy, which simultaneously displays variability typical for luminous blue variable (LBV) stars and physical parameters typical for nitrogen-rich Wolf-Rayet (WR) stars (WN). As of now, GR 290 is the first object which is confidently classified as a post-LBV star. In this paper, we outline the main results achieved from extensive photometric and spectroscopic observations of the star: the structure and chemical composition of its wind and its evolution over time, the systematic increase of the bolometric luminosity during the light maxima, the circumstellar environment. These results show that the current state of Romano's Star constitutes a fundamental link in the evolutionary path of very massive stars.
Keywords:
galaxies: individual (M 33); stars: individual (GR 290, M 33 V0532); stars: variables: S Doradus; stars: Wolf-Rayet; stars: evolution; stars: winds, outflows
1. Introduction
GR 290 (M 33 V0532 = Romano's Star)
1
is a variable star in M 33 galaxy discovered by Giuliano Romano [
1
] who originally constructed its light curve and classified it as a Hubble-Sandage variable based on its photometric properties. Later, in 1984, Peter Conti [
2
] introduced a new class of objects which assimilated Hubble-Sandage variables—luminous blue variables (LBV), and thus GR 290 became an LBV candidate [
3
,
4
]. This classification has later been supported by the spectroscopic [
5
] and photometric [
6
] studies, as well as by its large bolometric luminosity [
7
]. However, some arguments suggest that the objects is rather on a post-LBV stage already [
8
,
9
,
10
].
Romano's star displays both strong spectral and photometric variability, with several significant (about 1.5–2 mag) increases of brightness detected during its long monitoring (Polcaro et al. [
10
] and references therein). Such variability is typical for LBV stars, while in the Hertzsprung-Russell (H-R) GR 290 lies in Wolf-Rayet (WR) stars region, beyond LBV instability strip [
10
]. GR 290 is presently in a short, and thus very rare, transition phase between the LBV evolutionary phase and the nitrogen rich WR stellar class (WN). It is an extremely important target for studies of massive star evolution, especially the evolutionary link between LBVs, WR stars and supernovae (SNe).
In this paper we summarise the main results achieved in the study of Romano's star. We combine new studies of GR 290's vicinity (
Section 2
) with its updated century-long photometric light curve (
Section 3
). Then, based on spectral data, numerical simulations of its stellar atmosphere (
Section 4
) and the nebula surrounding it (
Section 5
), we discuss the current evolutionary stage of the star in
Section 6
.
2. Stellar Vicinity of Romano's Star
4. Spectroscopy and Determination of Physical Parameters
5. Nebula
The presence of forbidden lines [N II] 6548, 6584; [O III] 4959, 5007; [Fe III] 4658, 4701, 5270 and [Ar III] 7136 in the spectrum of GR 290 indicates that it has a nebula, but it is not resolved in direct imaging because of the large distance to M33. In 2005, Fabrika et al. [
5
] first attempted to detect the nebula and study its spatial structure using the panoramic (3D) spectroscopic data acquired on Russian 6-m telescope, and reported the discovery of an extended structure in the velocity field of H line, with an angular extent of ( pc) in the NE-SW direction. An excess corresponding to the dust circumstellar envelope around the object has not been detected in the infrared (IR) emission [
9
].
Maryeva et al. [
22
] performed a modeling of circumstellar nebula using using CLOUDY photoionisation code [
55
,
56
] and the spectrum acquired on GTC/OSIRIS in order to reproduce the observed nebular emission lines that are clearly seen in the spectrum. GR 290 was found to be surrounded by an unresolved compact H II region with a most probable outer radius R = 0.8 pc and a hydrogen density = 160 cm, and having chemical abundances that are consistent with those derived from the stellar wind lines. Hence, this compact H II region appears to be largely composed of material ejected from the star.
In addition, the recent analysis of the 2D spectra obtained with GTC/OSIRIS in September 2018 perpendicular to the dispersion at H line indicates that the nebula has extended and asymmetric structure [
23
]. Its size is about 25–30 pc, similar to typical H II regions around O-stars. Based on the similarity of sizes and evolutionary status of GR 290, we speculate that this extended nebula consists of material ejected during O-supergiant phase.
6. Conclusions
GR 290 is is located in the outer spiral arm of the M 33 galaxy at a projected distance of about 4 kpc from the centre. Its spatial location, the proximity to the OB 88 and OB 89 associations, and the similarity of their ages (about 4–5 Myr) as well as a basic concept that a large fraction of all stars, including massive stars, forms in clusters suggest the common origin of GR 290 and OB 89. It is tempting to suggest that GR 290 may have escaped from the association.
The evolution of LBVs during the S Dor cycles seems to occur in most cases roughly at constant bolometric luminosity (see, e.g., [
3
,
57
]). However, a decrease of bolometric luminosity from minimum towards the light maximum of the S Dor cycle were observed for several LBVs (e.g., S Dor [
58
] and AG Car [
40
]). Lamers [
58
] interpreted it in terms of the radiative power being partially transformed into mechanical power in order to expand the outer layers of the star from minimum to maximum. In contrast, spectral monitoring of Romano's star during its recent peaks of activity, and the numerical simulation of its stellar atmosphere based on acquired spectra, demonstrated that its bolometric luminosity varies in correlation with its visual brightness, i.e., increases during its visual luminosity maxima [
10
]. Guzik and Lovekin [
59
] discussed several mechanisms that could trigger the large outburst activity and variations in bolometric magnitude as observed in GR 290. An interesting possibility is that the interplay between pulsations and rotational mixing lead to an unstable transport of H-rich material to the nuclear burning core. In this context, GR 290 may be the ideal object for testing such theories.
The star is hotter than most other LBVs (
Table 6
), and lays outside of the LBV instability strip in the H-R diagram. On the other hand, the hydrogen abundance of the envelope appears higher than in late type WN stars, and therefore, from the evolutionary and structural point of view, GR 290 is less evolved than WN8h stars [
10
]. This suggests that Romano's star may be a post-LBV object, the transition phase between LBVs and Wolf-Rayet stars.
The century long light curve of Romano's star shows that until the 1960s the object was in a long lasting quasi-stationary state, a state to which it has returned in 2013, and since then displaying a WN8h spectrum. While the spectral type during the early "low" state (pre-1960) is unknown, from the observed correlation between the visual magnitude and spectral type, we may suggest that it also was WN8h. The Galactic WN8 stars are known to be significantly more variable than the WRs with hotter spectral types [
60
]. Thus, it is tempting to speculate on the possibility that, in analogy with GR 290, other WN8s may have just recently passed through the LBV phase. Hence, a systematic investigation of archival data and constructing century long light curves for WN8-WN9 stars using archival photographic plates will probably be able to uncover more objects similar to Romano's star.
Author Contributions
R.F.V., spectral analysis; M.C., C.R. and R.G., photometric monitoring and reduction of photometry data; and O.M., numerical modeling of stellar atmosphere and reduced the spectroscopic material and manuscript preparation. G.K. was PI of the 2016 and 2018 GranTeCan observations and performed spectral analysis. All authors discussed the results and commented on the manuscript.
Funding
This research was funded by CONACYT grant 252499, UNAM/PAPIIT grant IN103619, Russian Foundation for Basic Research grant 19-02-00779 and Czech Science Foundation grant GA18-05665S. This project received funding from the European Union's Framework Programme for Research and Innovation Horizon 2020 (2014-2020) under the Marie Skłodowska-Curie Grant Agreement No. 823734.
Acknowledgments
We express our enormous gratitude to V.F. Polcaro, who recently passed away, for having stimulated our interest and studies of this unique object. We thank Roman Zhuchkov, Oleg Egorov and Olga Vozyakova for obtaining the photometric observations on 1.5 m Russian–Turkish telescope and 2.5 m telescope of the Caucasian Mountain Observatory. We thank Thomas Szeifert and Philip Massey for the spectra obtained with Calar Alto/TWIN spectrograph in 1992 and with WIYN 3.5 m telescope in September 2006. We thank the GTC observatory staff for obtaining the spectra and Antonio Cabrera-Lavers for guidance in processing the observations. We thank Guest Editor Prof. Roberta M. Humphreys and our anonymous referees for providing helpful comments and suggestions. In this paper, we use data taken from the public archive of the SAO RAS. The work is partially based on the observation at 2.5-m CMO telescope that is supported by M.V. Lomonosov Moscow State University Program of Development.
Conflicts of Interest
The authors declare no conflict of interest.
Abbreviations
The following abbreviations are used in this manuscript:
| | |
| --- | --- |
| CMO | 2.5 m telescope of the Caucasian Mountain Observatory of the Sternberg Astronomical Institute of Moscow State University |
| GTC | Gran Telescopio Canarias |
| LBV | Luminous blue variable |
| BSG | Blue supergiant |
| RSG | Red supergiant |
| SAO RAS | Special Astrophysical observatory of Russian Academy of Sciences |
| WR | Wolf-Rayet |
| WN | Nitrogen-rich Wolf-Rayet stars |
| WC | Carbon-rich Wolf-Rayet stars |
| YHG | Yellow hypergiant |
Appendix A. Spectra of Stars in Vicinity of GR 290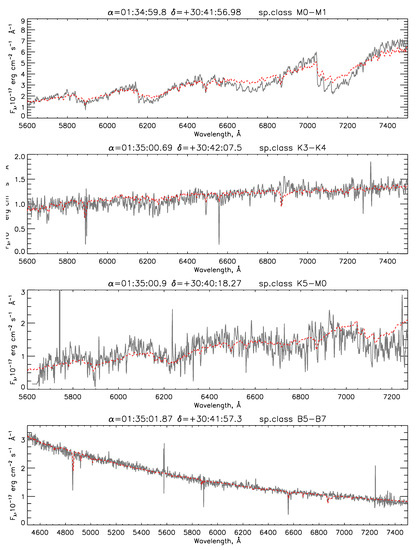 Figure A1. From the top panel downwards, spectra of the stars: J013459.8+304156.98, J013500.69+304207.5, J013500.9+304018.27 and J013501.87+304157.3. For comparison, the reddened spectra of HD 42543 (M1 Ia-ab), HD 154733 (K3 III), HD 146051 (M0.5 III) and HD 164353 (B5 Ib) are shown by red dashed lines.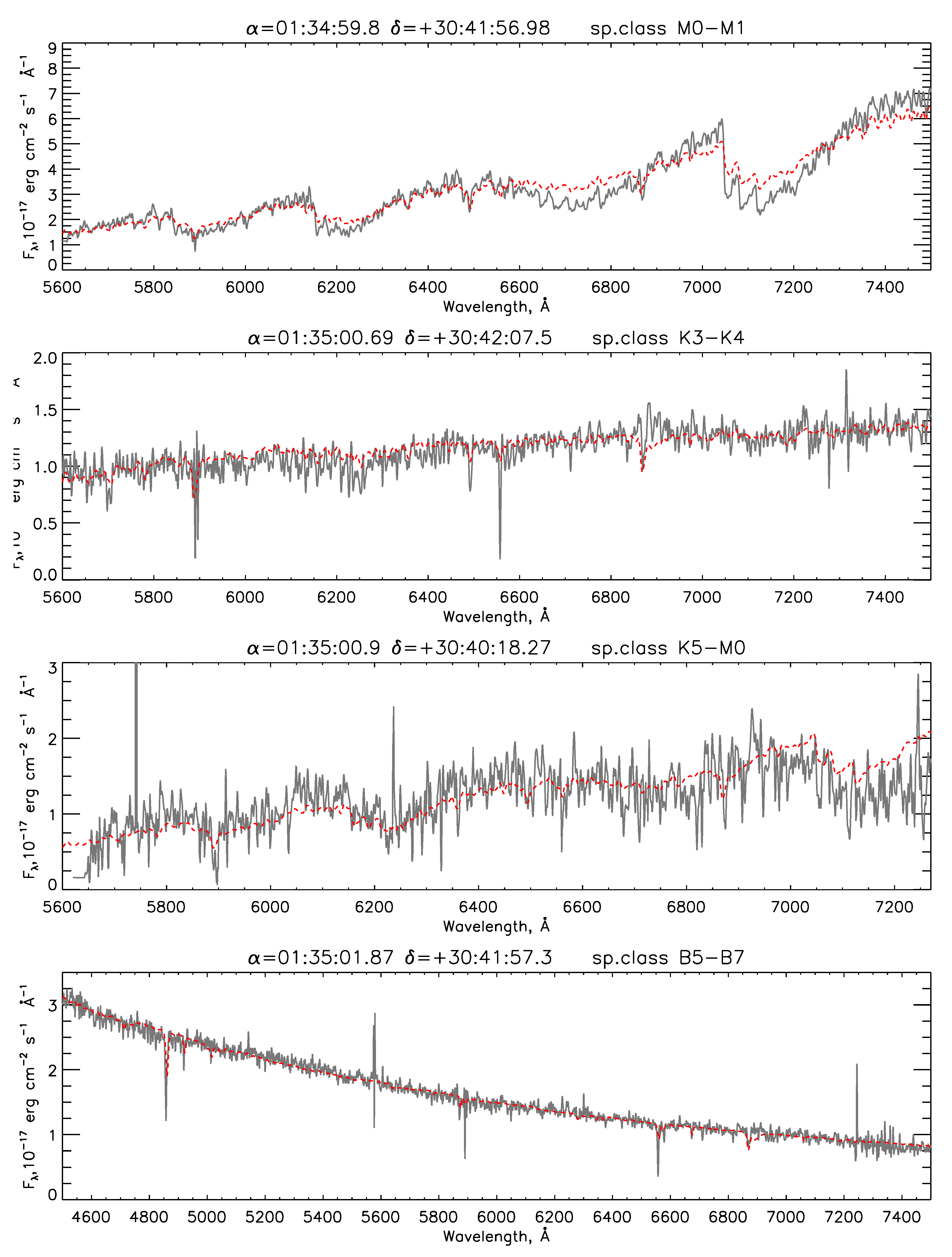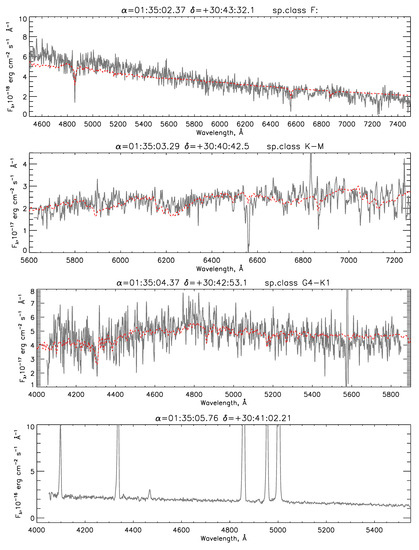 Figure A2. From the top panel downwards, spectra of the stars: J013502.37+304332.1, J013503.29+304042.5, J013504.37+304253.1 and J013505.76+304102.21. For comparison, the reddened spectra of HD 128167 (F2 V), HD 102212 (M1 III) and HD 135722 (G8 III) are shown by red dashed lines.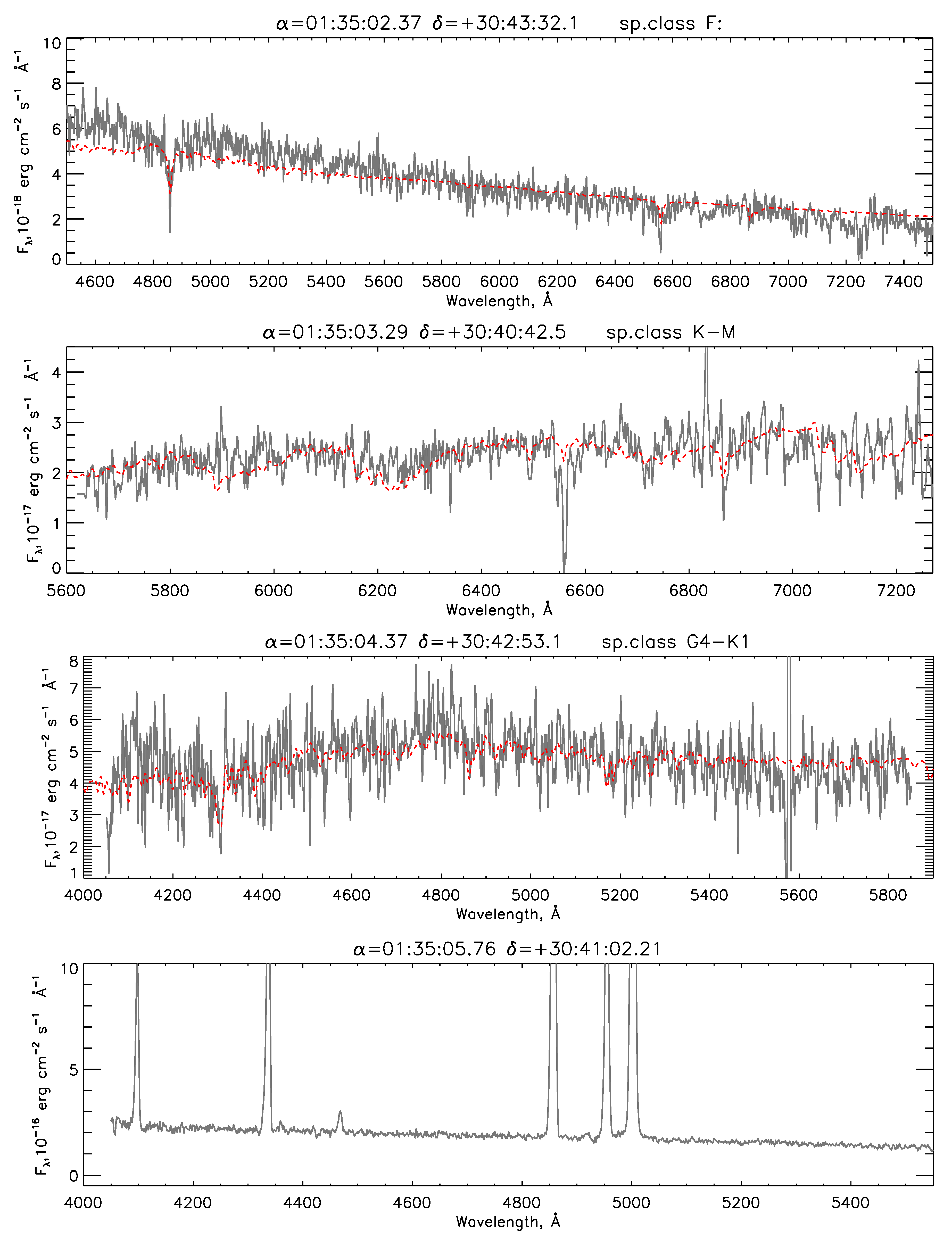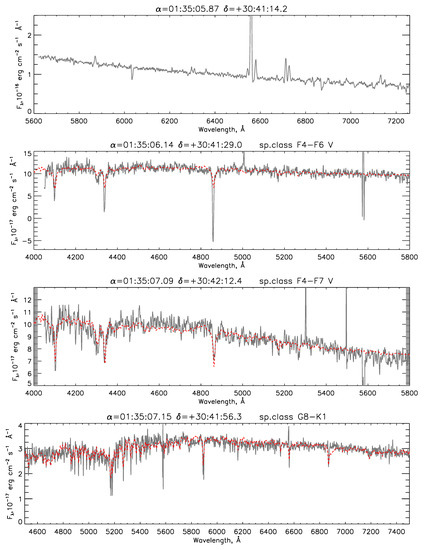 Figure A3. From the top panel downwards, spectra of the stars: J013505.87+304114.2, J013506.14+304129.0, J013507.09+304212.4 and J013507.15+304156.3. For comparison, the reddened spectra of HD 126141 (F5 V), HD 101606 (F4 V) and HD 75532 (G8 V) are shown by red dashed lines.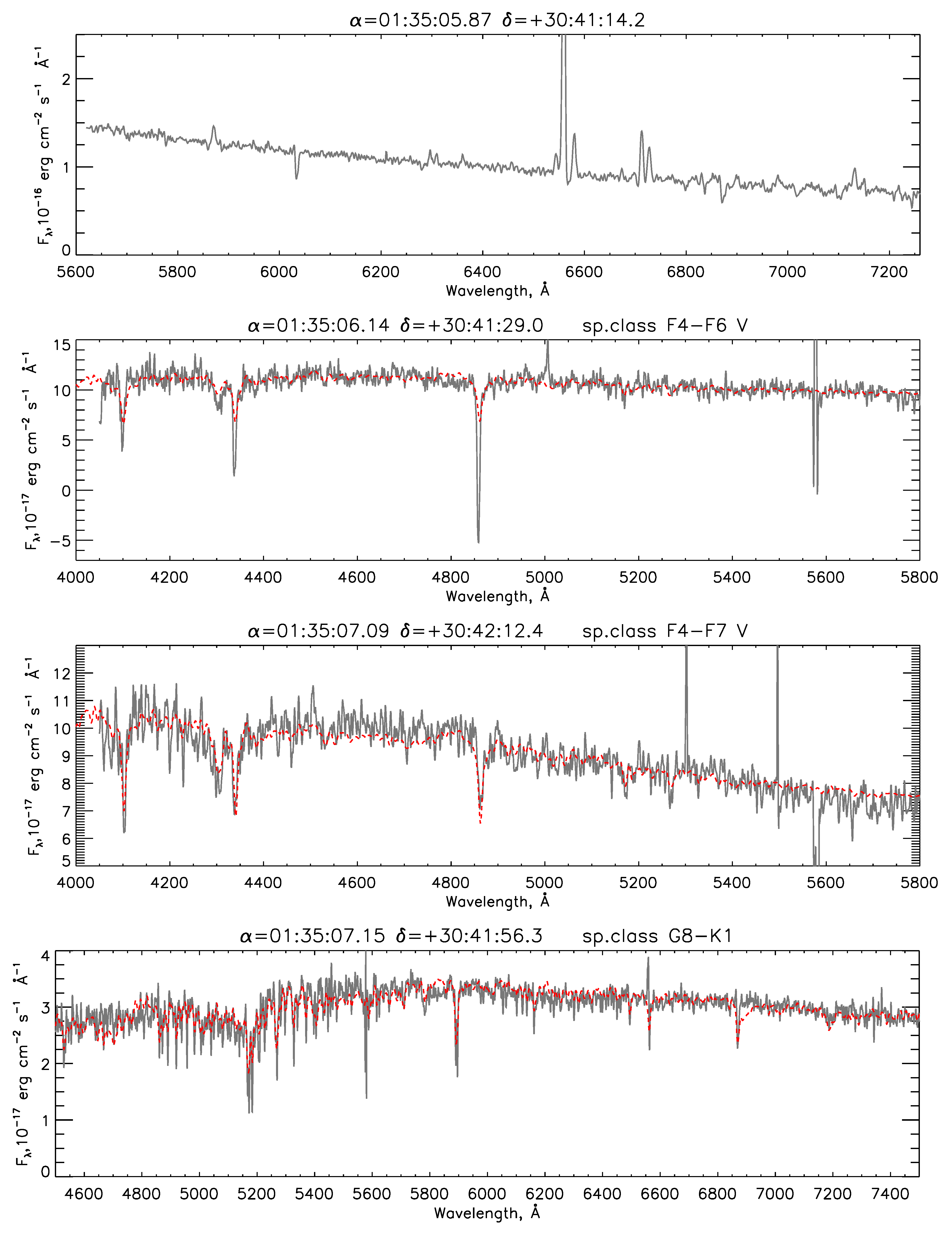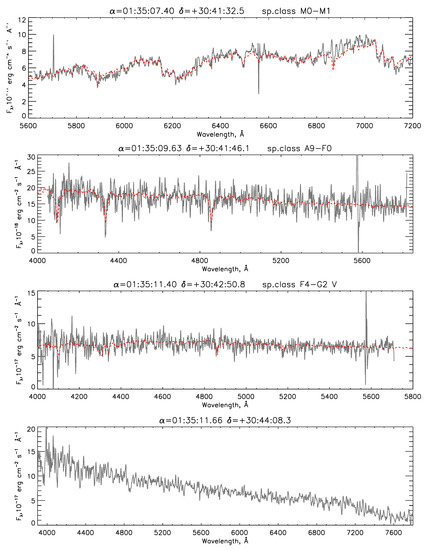 Figure A4. From the top panel downwards, spectra of the stars: J013507.40+304132.5, J013509.63+304146.1, J013511.40+304250.8 and J013511.66+304408.3. For comparison, the reddened spectra of HD 146051 (M0.5 III), HD 50420 (A9 III) and HD 134169 (G1 V) are shown by red dashed lines.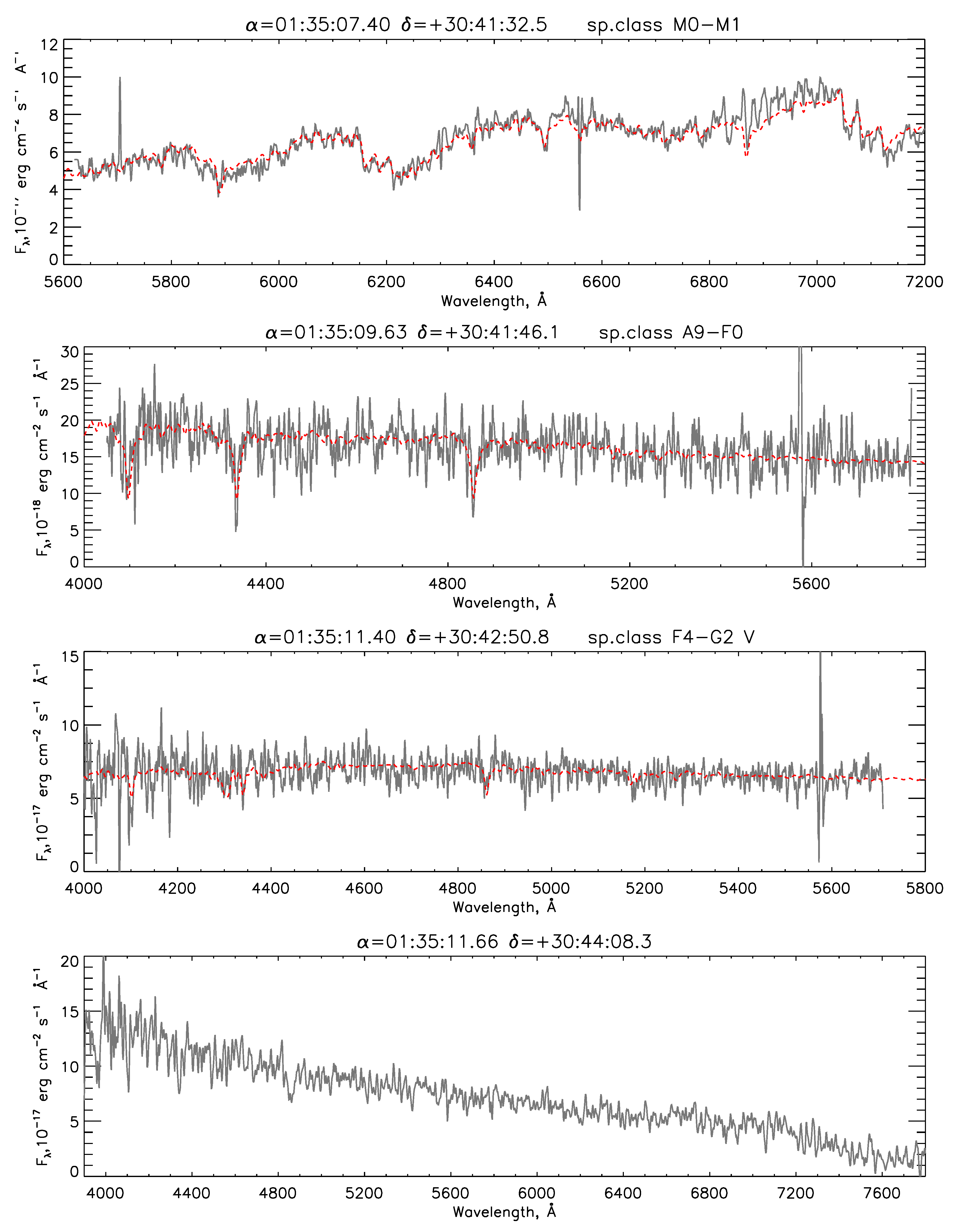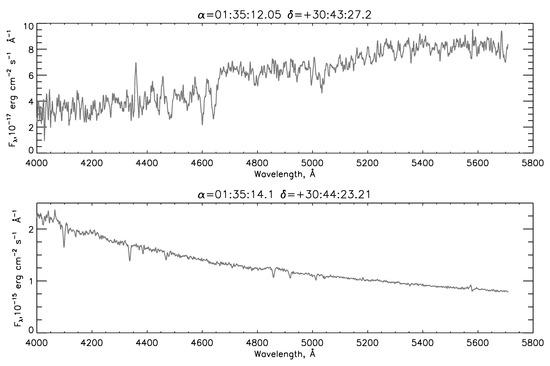 Figure A5. From the top panel downwards, spectra of the stars: J013512.05+304327.2 and J013514.1+304423.21.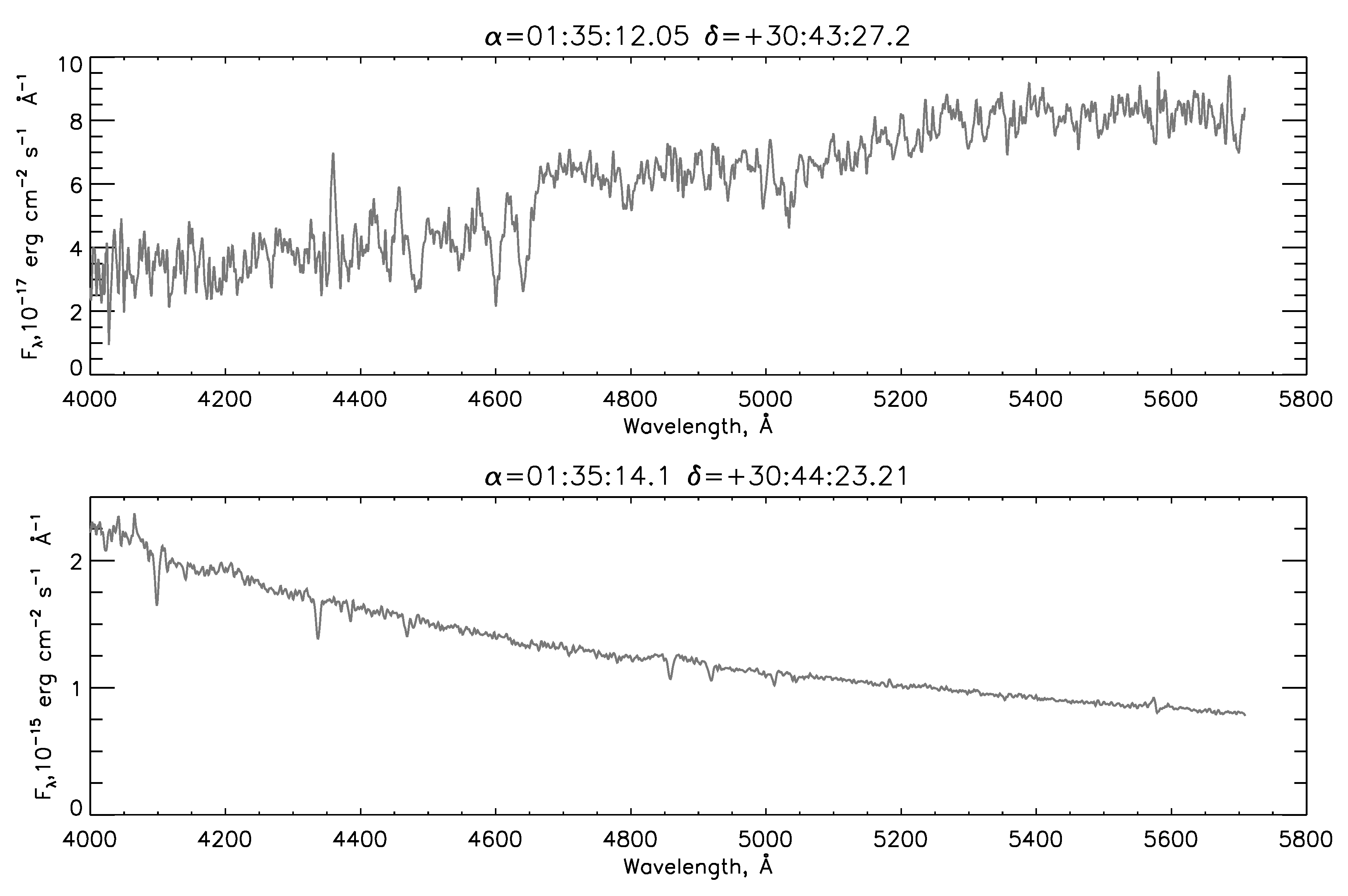 © 2019 by the authors. Licensee MDPI, Basel, Switzerland. This article is an open access article distributed under the terms and conditions of the Creative Commons Attribution (CC BY) license (http://creativecommons.org/licenses/by/4.0/).