Open Access This article is
freely available
re-usable
Review
Personalized Medicine and Molecular Interaction Networks in Amyotrophic Lateral Sclerosis (ALS): Current Knowledge
Northern Ireland Centre for Stratified Medicine, Altnagelvin Hospital Campus, Ulster University, Londonderry BT47 6SB, Northern Ireland, UK
*
Author to whom correspondence should be addressed.
Received: 31 October 2018 / Accepted: 5 December 2018 / Published: 13 December 2018
Abstract
:
Multiple genes and mechanisms of pathophysiology have been implicated in amyotrophic lateral sclerosis (ALS), suggesting it is a complex systemic disease. With this in mind, applying personalized medicine (PM) approaches to tailor treatment pipelines for ALS patients may be necessary. The modelling and analysis of molecular interaction networks could represent valuable resources in defining ALS-associated pathways and discovering novel therapeutic targets. Here we review existing omics datasets and analytical approaches, in order to consider how molecular interaction networks could improve our understanding of the molecular pathophysiology of this fatal neuromuscular disorder.
Keywords:
ALS; personalized medicine; molecular interaction networks
1. Introduction
In this review, we highlight the current applications of MINs in ALS and how further approaches might be applied toward personalized medicine in future analyses.
2. Omics Data in Amyotrophic Lateral Sclerosis
It would be impractical to review all of the many available omics datasets relevant to ALS, but here we examine a few key studies.
3. Molecular Data and Analyses Applied to the Study of Motor Neurons
4. Molecular Data and Analyses Applied to Other ALS-Related Tissues and Cellular Compartments
4.1. Muscle
Muscle loss of function in ALS leads to muscle atrophy and subsequent mortality, generally due to respiratory failure. Evidence of muscle involvement as an instigating role in pathology has emerged. Studies of an ALS mouse model containing the
SOD1
G93A
mutation, selectively expressed in skeletal muscle, exhibited muscle atrophy prior to any visible MN degradation [
119
,
120
]. Furthermore, Nogo-A, a protein encoded by the
RTN4
gene, is believed to inhibit neurite outgrowth and MN regeneration [
121
]. Studies have identified a correlation between Nogo-A levels expressed in skeletal muscle and neuromuscular junction (NMJ) denervation in early ALS disease [
122
,
123
]. The role of muscle in ALS may be more than a victim. Understanding mechanisms involved in muscle atrophy in ALS could provide biomarkers and new therapeutic targets.
Gene expression analysis of skeletal muscle in ALS has identified numerous DEGs between control and ALS groups. One study of DEGs in the muscle of ALS patients, healthy controls, and ALS mimic disease patients, suggested that Myosin Binding Protein H (MyBP-H) could be a useful biomarker [
124
]. Gene expression profiling of
G86R
mice was able to detect a significant change in muscle gene expression prior to any obvious signs of motor neuron degradation [
125
]. Gene coexpression analysis on muscle tissue in ALS has yet to be reported. A study investigating differential gene coexpression between healthy and Duchenne muscular dystrophy (DMD), utilizing gene expression data from muscle biopsies, highlighted a possible utility of gene coexpression in ALS. The study found that when comparing healthy gene coexpression modules to DMD gene coexpression modules, preservation analysis could identify dysregulated processes in DMD [
126
]. In particular, new genes linked to the known pathological DMD gene were identified, expanding knowledge of the known disease pathway. This approach could serve to identify dysregulated processes in ALS muscle compared to healthy controls.
Proteomic analysis of ALS skeletal muscle has identified dysregulated protein quantities between ALS muscle and healthy controls, for example in the wobbler mouse model, which identified 21 upregulated proteins and 3 downregulated proteins involved in contractile apparatus and cell stress response [
127
]. The proteome of an ALS muscle biopsy sample may be influenced by denervation of the muscles from the MNs. As mentioned above, PPI networks represent an important resource for MIN approaches to the analysis of proteomic data. These have not yet been applied to ALS proteomic datasets, but have been used in studies of muscle pathology. For example, one study created a PPI network from 13 proteins and closely related proteins known to be dysregulated in limb girdle muscular dystrophies (LGMDs). A PPI network was constructed based on yeast 2 hybrid screening for the identification of binary protein interactions [
128
]. The PPI network was able to detect four novel proteins, ACTN2, MYBPC1, MYOM1, and MYOM2, identified as hub proteins sharing the highest number of links with known LGMD proteins. These novel proteins are located in key locations in the sarcomere, suggesting a link between LGMD-associated proteins and sarcomere dysfunction. Building a PPI network focused on ALS-associated proteins in muscle could help identify novel proteins involved in dysregulated processes in ALS.
4.2. Astrocytes
Numerous tissues and processes have been implicated in ALS pathology. One of the more widely studied cell types is the astrocyte glial subtype. Astrocytes play a pivotal role in the function of the central nervous system (CNS), with integral roles in the formation, maintenance, and elimination of synapses [
129
]. ALS-associated misfolded proteins SOD1 and TDP-43 have been identified as aggregating in glial cells, disrupting normal physiological function [
43
,
130
]. Astrocytes are implicated in numerous other neurodegenerative diseases, indicating their significance in neuronal pathology [
131
]. In an Alzheimer's study, the astrocyte transcriptome was analysed in terms of the aging brain [
132
]. If a "healthy" control astrocyte transcriptome could be defined, identifying DEGs between control astrocytes and ALS astrocytes could aid in the understanding of the role of astrocytes in ALS. Astrocyte-specific datasets such as transcriptomic and proteomic profiling could be used in MIN approaches to ALS, and tissue-specific data on gene or protein expression could facilitate astrocyte-specific MIN analyses.
4.3. Mitochondria
Mitochondrial dysfunction has long been associated with ALS pathology, particularly in the
SOD1
mutation [
133
]. Many mechanisms of mitochondrial involvement in ALS have been identified, including clearance of dysfunctional organelles, calcium binding, and induction of mitochondrial death [
134
]. Gene expression profiling of iPSC-derived MNs from ALS fibroblasts has identified DEGs involving mitochondrial processes [
135
].
The transcriptome of the "healthy" mitochondria has previously been analysed [
136
]. Establishing DEGs between control and ALS mitochondria could provide an insight into their specific abnormalities in ALS. It would be desirable to test muscle and neuronal mitochondrial samples separately, due to tissue-specific mitochondrial gene expression. Previous studies have shown that it is possible to identify mitochondrial DEGs from blood samples [
137
,
138
,
139
]. Identifying DEGs can allow for the implementation of gene coexpression network analysis. This could elucidate mitochondrial and astrocyte processes specifically dysregulated in ALS. Furthermore, constructing a unique PPI network for known mitochondrial proteins, utilizing high throughput yeast 2 hybrid methods, could allow for dysregulated processes in ALS mitochondria to be predicted [
140
].
5. Conclusions
Personalized medicine provides the opportunity for improved treatment strategies in disease. Utilizing omics data is vital in establishing biomarkers for improved diagnosis, prognosis, and therapeutic targets. Molecular interaction networks represent a powerful aid in the analysis of omics data. ALS is a severe and fatal neuromuscular disease, and the lack of truly effective treatment underlines the need to incorporate cutting-edge approaches to discover improved therapeutics. Currently in ALS research, vast amounts of omics and other experimental data are being generated. However, the application of MINs is minimal. This review has highlighted MIN approaches in tissues involved in ALS that could provide greater insight into the pathological processes at play in ALS. The application of these approaches not only to motor neurons but also to other cell types such as muscle and astrocytes, or to specific subcellular structures such as mitochondria, should be a priority to help refine our understanding of underlying cellular molecular mechanisms in ALS.
Asides from approaches using MINs, which have been the subject of this review, several studies have applied mathematical modelling to attempt to understand the pathology in terms of relationships between high-order disease concepts such as "genetic damage", "necro-apoptosis", "calcium homeostasis", "cellular respiration", and other processes [
141
,
142
], whereas others have mathematically modelled clinical features in order to better predict disease progression in each patient [
143
,
144
]. MIN approaches may ultimately feed into higher order and clinical models, for example if they are used to better define molecular pathways or molecular biomarkers.
At the molecular level, the increasing availability of high-throughput data from experimental models and from large-population genomic and functional genomic studies, together with the growth of molecular interaction datasets and the optimization of network-clustering algorithms, may provide an opportunity to take a fresh look at the mechanistic processes underlying cellular pathology in ALS. Molecular changes at the level of network modules could be described per individual, lending itself to personalized medicine machine-learning approaches to model the relationships between dysregulated pathways. The clarification of pathological processes involved in ALS will guide the identification of biomarkers and potential drug targets in the future.
Author Contributions
Conceptualization, W.D. and S.D.; writing—original draft preparation, S.M.; writing—review and editing, S.M., W.D., and S.D.; supervision, W.D. and S.D.
Funding
S.M. was supported by a studentship from the Department for Employment and Learning Northern Ireland. The research was also supported by the Target-ALS Foundation and the Northern Ireland Center for Stratified Medicine center grant (InvestNI).
Acknowledgments
We thank members of the NICSM neuromuscular team for stimulating discussion.
Conflicts of Interest
The authors declare no conflicts of interest.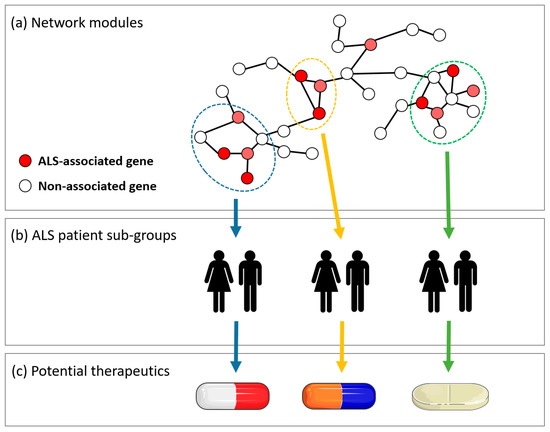 Figure 1. A central concept in the analysis of molecular interaction networks (MINs) is the identification of network modules, or clusters, of interactions that represent a process or pathway relevant to disease. The affected network module may differ between subgroups of a patient population, which could be used to develop personalized medicine approaches. (a) A miniature example of a MIN, with three network modules indicated in blue, green, and yellow. Within each module, specific genetic variants or biomolecules, indicated in red, are known to be associated with amyotrophic lateral sclerosis (ALS) pathology. (b) ALS subpopulations separated according to which module is affected or dysregulated. (c) Potential drug therapies can be tailored to target specific mechanisms within the ALS disease pathway, corresponding to specific patient subpopulations.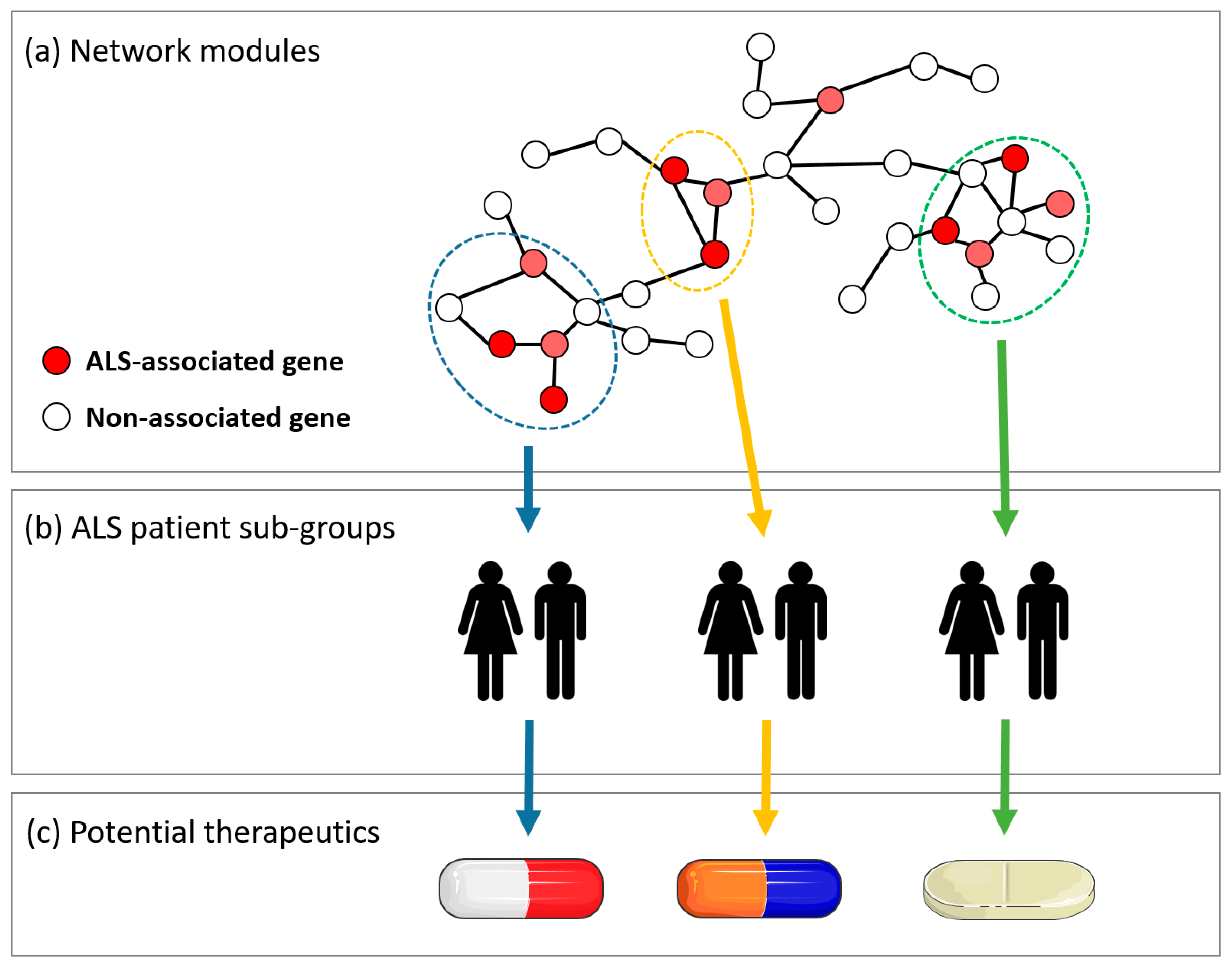 © 2018 by the authors. Licensee MDPI, Basel, Switzerland. This article is an open access article distributed under the terms and conditions of the Creative Commons Attribution (CC BY) license (http://creativecommons.org/licenses/by/4.0/).