Genetic Heterogeneity of SLC22 Family of Transporters in Drug Disposition
1
Experimental Hepatology and Drug Targeting (HEVEFARM), University of Salamanca, IBSAL, 37007 Salamanca, Spain
2
Center for the Study of Liver and Gastrointestinal Diseases (CIBERehd), Carlos III National Institute of Health, 28029 Madrid, Spain
*
Author to whom correspondence should be addressed.
Received: 28 February 2018 / Revised: 4 April 2018 / Accepted: 10 April 2018 / Published: 16 April 2018
Abstract
An important aspect of modern medicine is its orientation to achieve more personalized pharmacological treatments. In this context, transporters involved in drug disposition have gained well-justified attention. Owing to its broad spectrum of substrate specificity, including endogenous compounds and xenobiotics, and its strategical expression in organs accounting for drug disposition, such as intestine, liver and kidney, the SLC22 family of transporters plays an important role in physiology, pharmacology and toxicology. Among these carriers are plasma membrane transporters for organic cations (OCTs) and anions (OATs) with a marked overlap in substrate specificity. These two major clades of SLC22 proteins share a similar membrane topology but differ in their degree of genetic variability. Members of the OCT subfamily are highly polymorphic, whereas OATs have a lower number of genetic variants. Regarding drug disposition, changes in the activity of these variants affect intestinal absorption and target tissue uptake, but more frequently they modify plasma levels due to enhanced or reduced clearance by the liver and secretion by the kidney. The consequences of these changes in transport-associated function markedly affect the effectiveness and toxicity of the treatment in patients carrying the mutation. In solid tumors, changes in the expression of these transporters and the existence of genetic variants substantially determine the response to anticancer drugs. Moreover, chemoresistance usually evolves in response to pharmacological and radiological treatment. Future personalized medicine will require monitoring these changes in a dynamic way to adapt the treatment to the weaknesses shown by each tumor at each stage in each patient.
View Full-Text
►

▼

Figures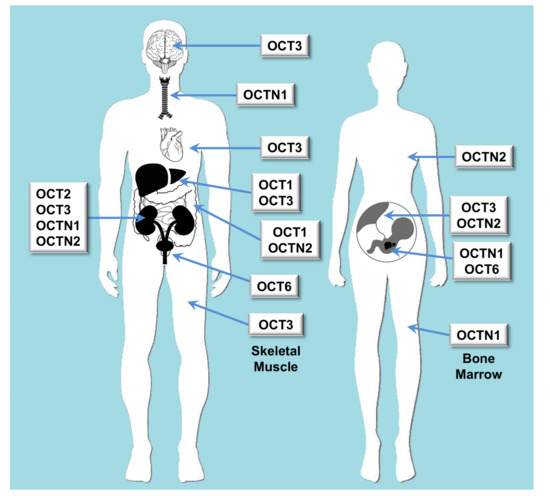 Figure 1
This is an open access article distributed under the
Creative Commons Attribution License
which permits unrestricted use, distribution, and reproduction in any medium, provided the original work is properly cited (CC BY 4.0).

Share & Cite This Article
MDPI and ACS Style
Lozano, E.; Briz, O.; Macias, R.I.R.; Serrano, M.A.; Marin, J.J.G.; Herraez, E. Genetic Heterogeneity of SLC22 Family of Transporters in Drug Disposition. J. Pers. Med. 2018, 8, 14.
Note that from the first issue of 2016, MDPI journals use article numbers instead of page numbers. See further details here.
Related Articles
Comments
[Return to top]