Open Access This article is
freely available
re-usable
Review
Lipid-Assisted Polymerization of Nucleotides
1
Microfluidics & BIOMICs Cluster, Department of Biochemistry and Molecular Biology, University of the Basque Country UPV/EHU, Farmazia Fakultatea, Unibertsitateko Ibilbidea 7, 01006 Gasteiz, Basque Country, Spain
2
Department of Biology, Indian Institute of Science Education and Research (IISER), Dr. Homi Bhabha Road, Pashan, Pune 411008, Maharashtra, India
*
Author to whom correspondence should be addressed.
Received: 30 September 2019 / Accepted: 1 November 2019 / Published: 5 November 2019
Abstract
:
In addition to being one of the proponents of the "Lipid World hypothesis", David Deamer, together with other colleagues, pioneered studies involving formation of RNA-like oligomers from their 'non-activated', prebiotically plausible monomeric moieties. In particular, the pioneering work in this regard was a publication from 2008 in
Origins of Life and Evolution of Biospheres
,
The Journal of the International Astrobiology Society
, wherein we described the formation of RNA-like oligomers from nucleoside 5'-monophosphates. In that study, we had simulated a terrestrial geothermal environment, a niche that is thought to have facilitated the prebiotic non-enzymatic synthesis of polynucleotides. We showed that a mixture of lipids and non-activated mononucleotides resulted in the formation of relatively long strands of RNA-like polymers when subjected to repeated cycles of dehydration and rehydration (DH-RH). Since 2008, terrestrial geothermal niches and DH-RH conditions have been explored in the context of several other prebiotic processes. In this article, we review the work that we and other researchers have carried out since then in this line of research, including the development of new apparatus to carry out the simulation of prebiotic terrestrial geothermal environments.
Keywords:
RNA-like polymers; lipid-catalyzed polymerization; self-assembly; prebiotic chemistry; prebiotic evolution; nucleic acid replication; origin of life; RNA world
1. Synthesis of Nucleic Acids in A Lipid Medium
2. Polymerization of Nucleotides in the Absence of Lipids
3. Environmental Conditions
In our 2008 paper we screened several environmental conditions in order to find the optimal reaction conditions for the condensation of nucleotides. Parameters such as temperature, pH, the nature of the gas atmosphere, and the number of DH-RH cycles were tested [
3
]. We followed earlier papers wherein researchers had also used heat as the energy source to drive the condensation reactions. In this approach, heat could either be provided by volcanoes or hydrothermal vents, or by the high daytime temperature that was thought to have been characteristic of the early Earth. Based on theoretical research, some authors have proposed that nucleotide polymerization could happen in lipid environments where oscillatory thermochemical reactions would provide periodic heating to drive the dehydration, and cooling to allow rehydration. These authors considered a reaction that resulted in H
2
O
2
. Although they did consider the possibility that RNA would oxidize under such conditions [
26
], we should also keep in mind the effect that H
2
O
2
could have on lipids. H
2
O
2
could oxidize unsaturated lipids, creating lipid peroxides [
27
]. Peroxidation is known to affect lipid structure and packing properties and it could affect nucleotide condensation reactions. These changes could also facilitate the transport of charge though putative prebiotic membranes [
28
] and result in evolutionary advantages for the protocells that contained them.
As stated in previous sections, different media can constrain polymerization reactions of nucleotides and amino acids. Surman et al. [
29
] tried to steer condensation reactions that happen in open media by changing environmental conditions. When they did this, they achieved different product ensembles with consistently different structural and functional properties. To test their hypothesis, these authors used glycine, alanine, and histidine as substrates, which all undergo homo- and cross oligomerization, with different degrees of reactivity. These researchers achieved their results by changing parameters such as order of reactant addition, and addition of salts or minerals. Furthermore, beyond the contribution of showing that relatively simple environmental factors proved to be able to steer the composition of the products, the analytical approach used by these authors was also an important contribution to how research could be pursued in prebiotic chemistry. It is apparent that the products from complex, prebiotically plausible systems and reactions, will indeed be a complex mixture of products. Faced with this difficulty, Surman et al. decided to use techniques common to the omics, mirroring those used in untargeted metabolomics, in order to learn about the compositional properties of the emerging chemical systems [
29
].
The studies described in these last two sections show that multiple environments could favor the formation of nucleic acids from mononucleotides. In view of these results, more research is needed to elucidate the specific conditions on the early Earth, as well as conditions that would allow the progression from abiotic polymerization of nucleotides towards more complex systems. Such systems would need to include a lipid membrane and metabolic elements, eventually culminating in the formation of the first living cells.
4. Transfer of Information
An open-ended Darwinian evolution requires transfer of information from one generation to the next one. Therefore, it is relevant to wonder whether a lipid medium could favor such transfer of information. The simulated prebiotic environment that we used for the formation of polynucleotides from non-activated monomers does allow the transfer of information from one strand of nucleic acid, to form its complementary strand. This has been shown with an RNA homopolymer [
30
] as well as with a mixed sequence of DNA [
8
]. In the first case, hyperchromicity, nanopore analysis, and ethidium bromide intercalation after gel electrophoresis were used to detect the existence of an RNA polymer that could anneal to the pre-existing template. In the latter case, the reaction medium included all four nucleotides. As a result, the product contained a large number of different sequences in the polynucleotide population, and the authors used next-generation sequencing to detect specifically the sequence of the strand that was complementary to the template from the complex product mixture. Even though these studies did prove the transfer of information from the template to the newly synthesized product, the yield obtained in these experiments was in the range of 0.1–0.5%. Although the yield in the transfer of sequence information was low, these experiments proved that information could indeed be transferred merely by the effect of polynucleotide complementarity, even in the absence of additional specific sequence-recognizing elements such as enzymes, be it protein enzymes or ribozymes.
Bapat et al. studied DH-RH cycles for the extension of RNA primers that were annealed to RNA templates [
31
]. Under DH-RH conditions, researchers heated the reaction mixtures up to 90–95 °C to simulate high temperatures of a geothermal pool. In these scenarios, base loss can also happen; in particular, the incoming 5′-NMP might lose its base [
32
]. The authors observed that even in the absence of a base (using 5′-ribose monophosphate), multiple monomers were readily added to a primer and they resulted in hybrid polymers. Such hybrid oligomers could have been important for exploring a vast chemical space of plausible alternate nucleobases, thus having important implications for the origin of primitive informational polymers [
31
]. The loss of nucleobase, as described by Bapat et al. and Mungi et al., may account at least partially for the low yield of replication observed in the previous studies. Further description of the abiotic nucleotide polymerization in the presence of lipids came from a theoretical paper by Hargreaves et al. whose computational model described qualitatively the evolution of reagents (monomers) and products (polymers) undergoing DH-RH cycling in hydrothermal pools [
33
]. The results obtained by these authors showed that dehydration synthesis of RNA polymers from ribonucleotides, in combination with the hydrolysis of RNA polymers back into ribonucleotides, produced a steady state yield of RNA polymers. A novel prediction that these authors brought forward concerned the reaction of depurination of mononucleotides and RNA polymers, which must be accompanied by repurination reactions to achieve a steady state of synthesis, balanced by hydrolysis. Given the experimental agreement with the results that these authors obtained, it is important to test whether such a repurination reaction could happen and under what circumstances, in order to fully understand how this reaction can reach a steady state.
Indeed, some researchers have found indications that nitrogen bases could be incorporated into abasic oligomers under DH-RH conditions. Fuller et al. [
34
] demonstrated several decades ago that such condensation was possible to some extent by evaporating acid solutions of D-ribose and purine nitrogen bases, but they could not detect any nucleoside in mixtures with pyrimidine nitrogen bases. More recently, Cafferty et al. [
35
] and Mungi et al. [
36
] also had some related results. These latter researchers studied the formation of nucleotides containing barbituric acid, which is based on a pyrimidine skeleton, instead of the canonical nitrogen bases and their results provided preliminary evidence that barbituric acid, and other compounds like melamine, could have been putative precursors of modern nucleobases. These studies suggest that alternative heterocycles could have been incorporated into primitive informational polymers that could have predated the molecules of an RNA world. An important corollary of their work is that given that the prebiotic soup would have contained an abundance of different heterocycles, a dynamic process of sampling and selection would have taken place. This prebiotic landscape would then allow for the emergence of primitive informational polymers of the pre-RNA world(s), prior to the emergence of a putative RNA world [
36
] and future work will need to address the mechanism and specific steps that allowed this evolution.
5. Apparatus to Simulate the Prebiotic Reactions
Both of these apparatuses are likely to be useful for future experiments on the non-enzymatic polymerization of nucleotides and they may even inspire the construction of others that include novels options, such as the real-time analysis of the content of the reaction vessels.
6. Conclusion
In the years since the publication of our first paper on the non-enzymatic polymerization of nucleotides under simulated geothermal conditions, we and other researchers have continued working on this line of research to demonstrate several interesting prebiotic processes and the phenomena that underlie these reactions. We hope that the results reviewed in this paper shed some light on the mechanism underlying the reaction and continue to help delineate the conditions required for the polymerization of nucleotides on the prebiotic Earth. Nonetheless, it is apparent that more work is still needed to discern how this, and related prebiotic reactions might have actually been facilitated under early Earth conditions. We would like to conclude by highlighting that a lot of exciting research currently being undertaken continues to further our understanding of how the transition from chemistry to biology would have occurred on the early Earth, eventually leading to the emergence and evolution of the first living cells on our planet.
Author Contributions
F.O. conceived the subject and structure of the review and collated the references with some help from S.R. F.O. and S.R. wrote the paper.
Funding
F.O. was funded by University of the Basque Country/Euskal Herriko Unibertsitatea grants NUPV11/10 and EHUA12/17. S.R. was funded by IISER Pune.
Acknowledgments
The authors wish to extend their heartfelt gratitude to their mentor David W. Deamer whose unbridled passion for Astrobiology continues to inspire and shape their own careers in this field.
Conflicts of Interest
The authors declare no conflict of interest. The funders had no role in the design of the study; in the collection, analyses, or interpretation of data; in the writing of the manuscript, or in the decision to publish the results.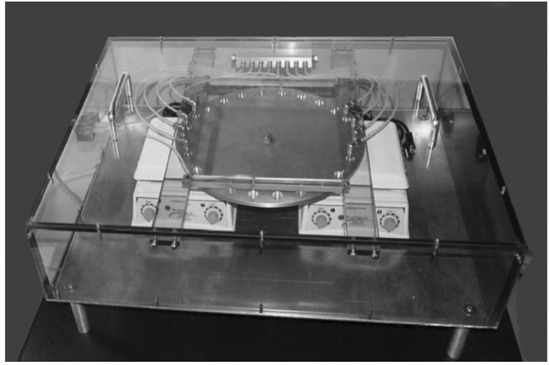 Figure 1.
Simulation chamber used by DeGuzman et al. for their dehydration–hydration (DH-RH) experiments. Reprinted by permission from Springer Nature Customer Service Centre GmbH: Springer Nature. Journal of Molecular Evolution. Generation of Oligonucleotides Under Hydrothermal Conditions by Non-enzymatic Polymerization © 2014 [
30
].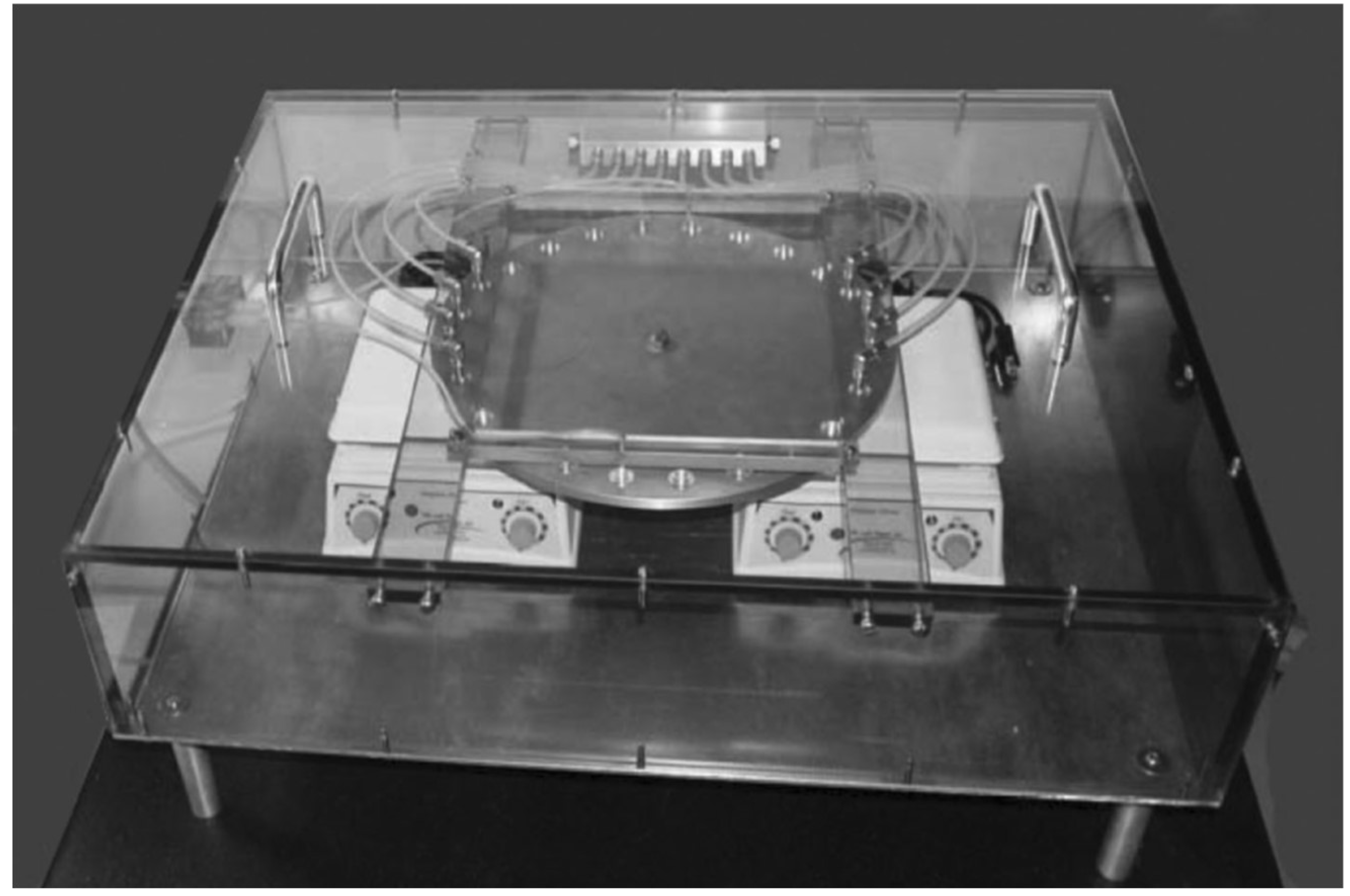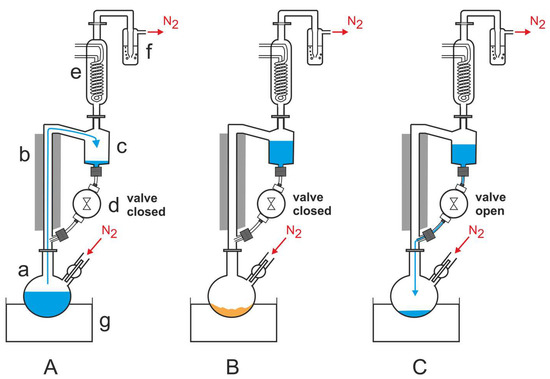 Figure 2.
Simulation chamber used by Fox et al. their DH-RH experiments. Fox, H. L. Pleyer, and H. Strasdeit, An automated apparatus for the simulation of prebiotic wet–dry cycles under strictly anaerobic conditions. Int J Astrobiol 2019, 18, 60–72 [
38
], reproduced with permission.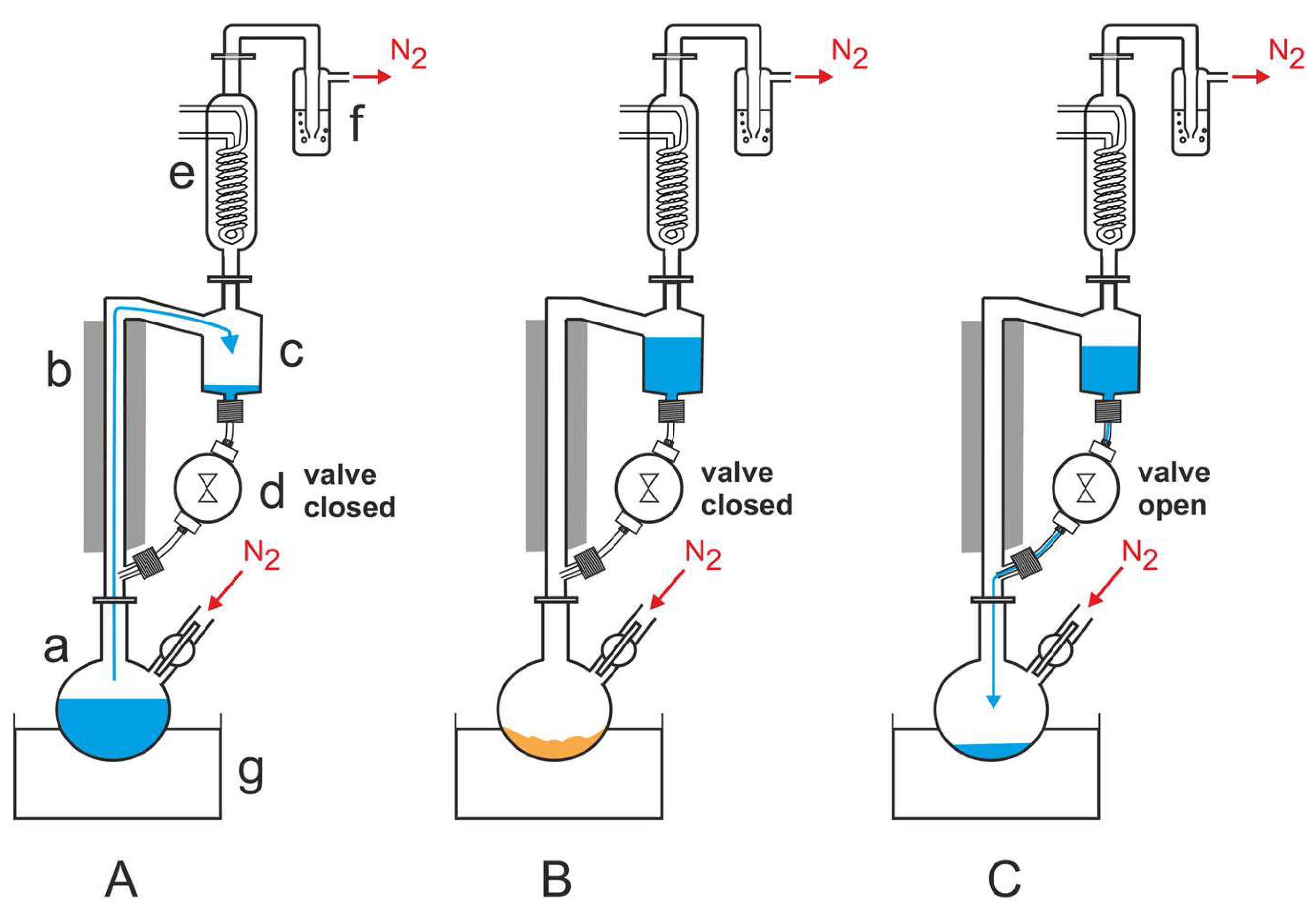 © 2019 by the authors. Licensee MDPI, Basel, Switzerland. This article is an open access article distributed under the terms and conditions of the Creative Commons Attribution (CC BY) license (http://creativecommons.org/licenses/by/4.0/).