Open Access This article is
freely available
re-usable
Article
Metatranscriptomic Analysis of the Bacterial Symbiont
Dactylopiibacterium carminicum
from the Carmine Cochineal
Dactylopius coccus
(Hemiptera: Coccoidea: Dactylopiidae)
1
Center for Genomic Sciences, Universidad Nacional Autónoma de México, UNAM, Cuernavaca, Morelos C.P. 62210, Mexico
2
Department of Ecology, Evolution and Organismal Biology, The Ohio State University, Columbus, OH 43210, USA
*
Author to whom correspondence should be addressed.
Received: 9 October 2018 / Accepted: 25 December 2018 / Published: 3 January 2019
Abstract
:
The scale insect
Dactylopius coccus
produces high amounts of carminic acid, which has historically been used as a pigment by pre-Hispanic American cultures. Nowadays carmine is found in food, cosmetics, and textiles. Metagenomic approaches revealed that
Dactylopius
spp. cochineals contain two
Wolbachia
strains, a betaproteobacterium named
Candidatus
Dactylopiibacterium carminicum and
Spiroplasma
, in addition to different fungi. We describe here a transcriptomic analysis indicating that
Dactylopiibacterium
is metabolically active inside the insect host, and estimate that there are over twice as many
Dactylopiibacterium
cells in the hemolymph than in the gut, with even fewer in the ovary. Albeit scarce, the transcripts in the ovaries support the presence of
Dactylopiibacterium
in this tissue and a vertical mode of transmission. In the cochineal,
Dactylopiibacterium
may catabolize plant polysaccharides, and be active in carbon and nitrogen provisioning through its degradative activity and by fixing nitrogen. In most insects, nitrogen-fixing bacteria are found in the gut, but in this study they are shown to occur in the hemolymph, probably delivering essential amino acids and riboflavin to the host from nitrogen substrates derived from nitrogen fixation.
Keywords:
scale insect;
Opuntia
; endosymbiont; betaproteobacteria; nitrogen-fixation: gut microbiota; polysaccharide catabolism
Supplementary Materials
The following are available online at
https://www.mdpi.com/2075-1729/9/1/4/s1
, Figure S1: Heatmap showing expression level of flagellar, pili or chemotaxis genes. Table S1 Expression levels of
Dactylopiibacterium
genes from different insect tissues. Table S2: Genes differentially expressed with NOISeq analysis. Table S3: Quantitative transcript analysis.
Author Contributions
R.B.-B. did tissue dissections and RNA extraction; R.B.-B. and A.V.-P.d.L. performed the core transcriptome analysis, expression level quantification, and D.E. analyses; J.C.M.-R. and E.M.-R. performed the quantitative analysis; E.M.-R. acquired the funding, assembled the paper, and coordinated the study; M.R. and all the authors discussed and wrote the manuscript.
Funding
Primary support for this research was provided by CONACyT 253116 and PAPIIT IN207718 from UNAM.
Acknowledgments
We thank Benjamin Jahnes, Mauro Degli-Esposti, and Violeta Matus-Acuña for valuable comments on the manuscript. To José Luis Marquina for providing
D. coccus
. To Alfredo Hernández, Víctor del Moral and Romualdo Zayas for computing support. All bioinformatic analyses were performed on CCG-UNAM servers. R.B.-B. was a Masters student from the Graduate Program in Biochemical Sciences, UNAM with CONACyT 783288 fellowship.
Conflicts of Interest
All the authors declare no conflict of interest associated with this study that might potentially bias this work.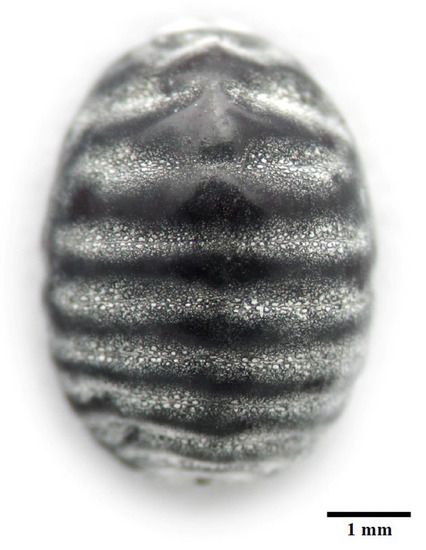 Figure 1.
Dorsal view of female second instar nymph of
Dactylopius coccus
with wax removed with 96% ethanol.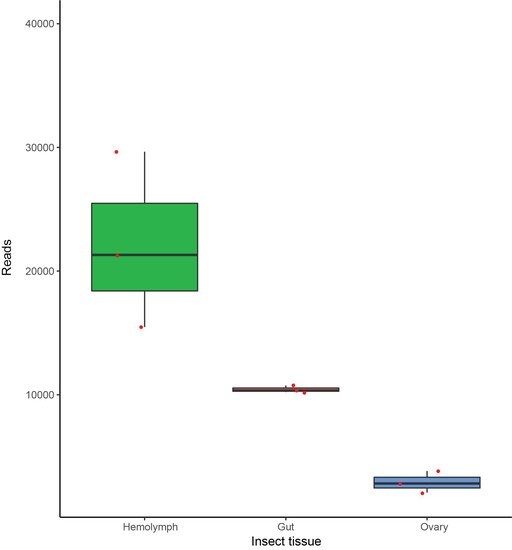 Figure 2.
Number of
Dactylopiibacterium
expressed transcripts in different
Dactylopius
tissues. Reads were mapped to
Dactylopiibacterium
NFE1 reference genome.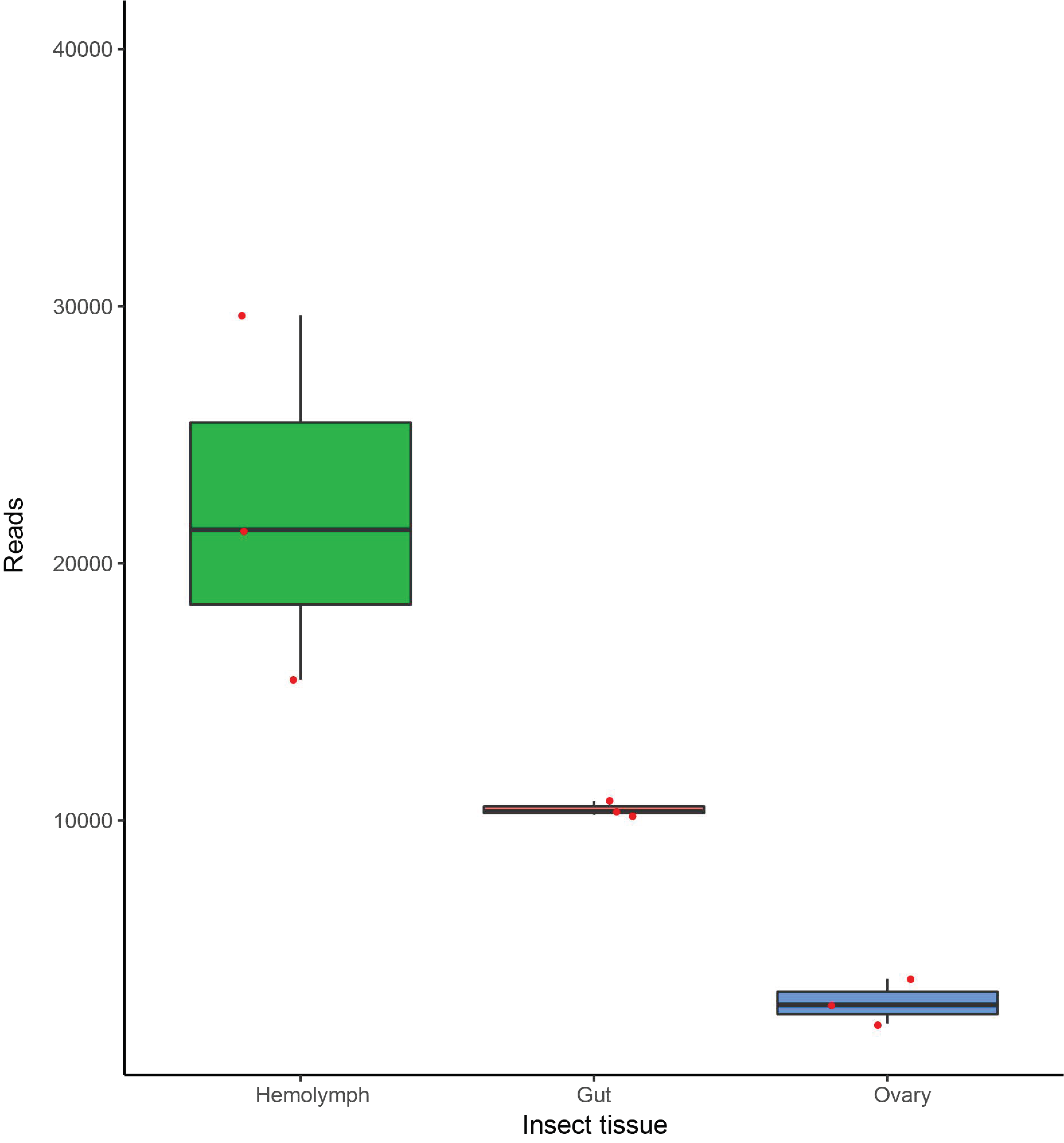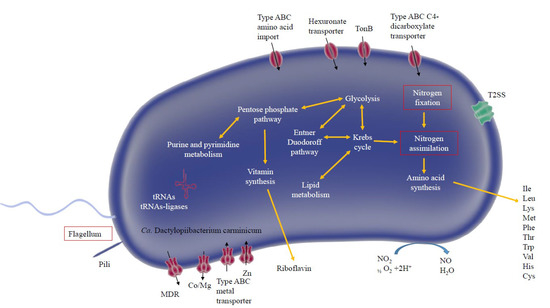 Figure 3.
Predicted metabolism and cellular features of
Dactylopiibacterium
in the insect host (
Dactylopius
). Red boxes represent expressed metabolism genes in the gut and hemolymph.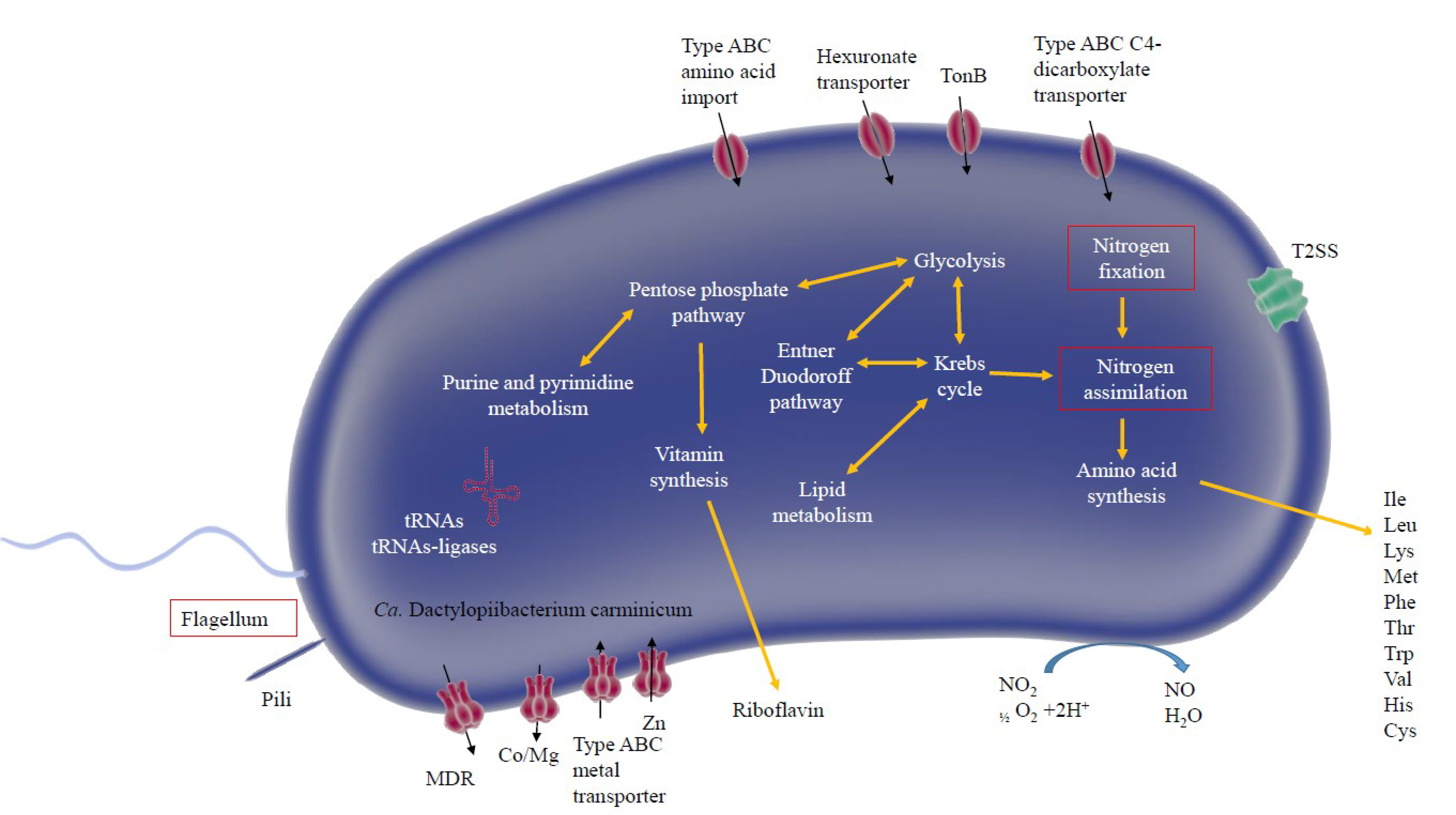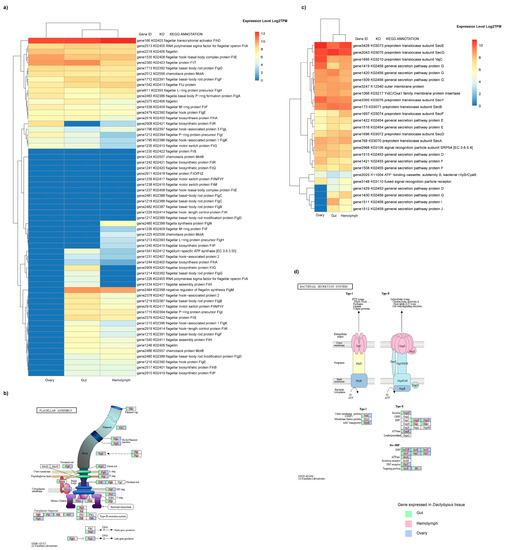 Figure 4.
Flagellar and secretion systems expressed by
Dactylopiibacterium
in their insect host. (
a
) Heat map showing the average expression level of
Dactylopiibacterium
genes for flagellar production and motility in
Dactylopius
. (
b
) Flagellar diagram showing the expression (highlighted) of different flagellar components by
Dactylopiibacterium
in different insect tissues. (
c
) Heat map showing the average expression level of
Dactylopiibacterium
genes for secretion systems 1 and 2 in
Dactylopius.
(
d
) Bacterial secretion system diagram showing the expression (highlighted) of different
Dactylopiibacterium
genes for SS1 and SS2 in different insect tissues.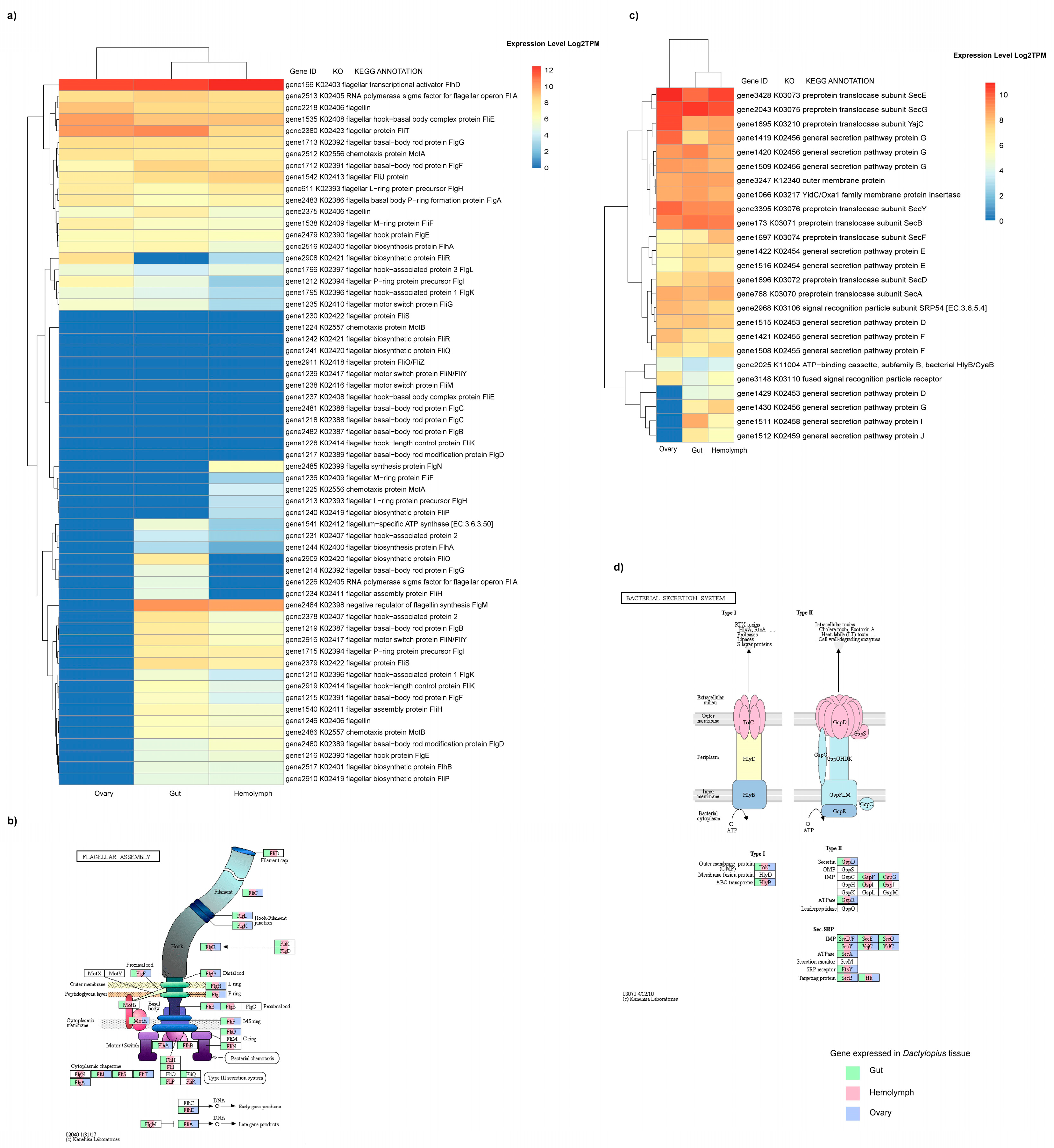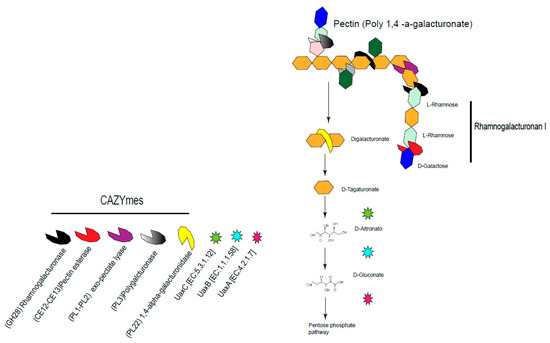 Figure 5.
Expressed CAZymes and metabolic genes involved in pectin and rhamnogalacturonan metabolism of
Dactylopiibacterium
in the insect gut.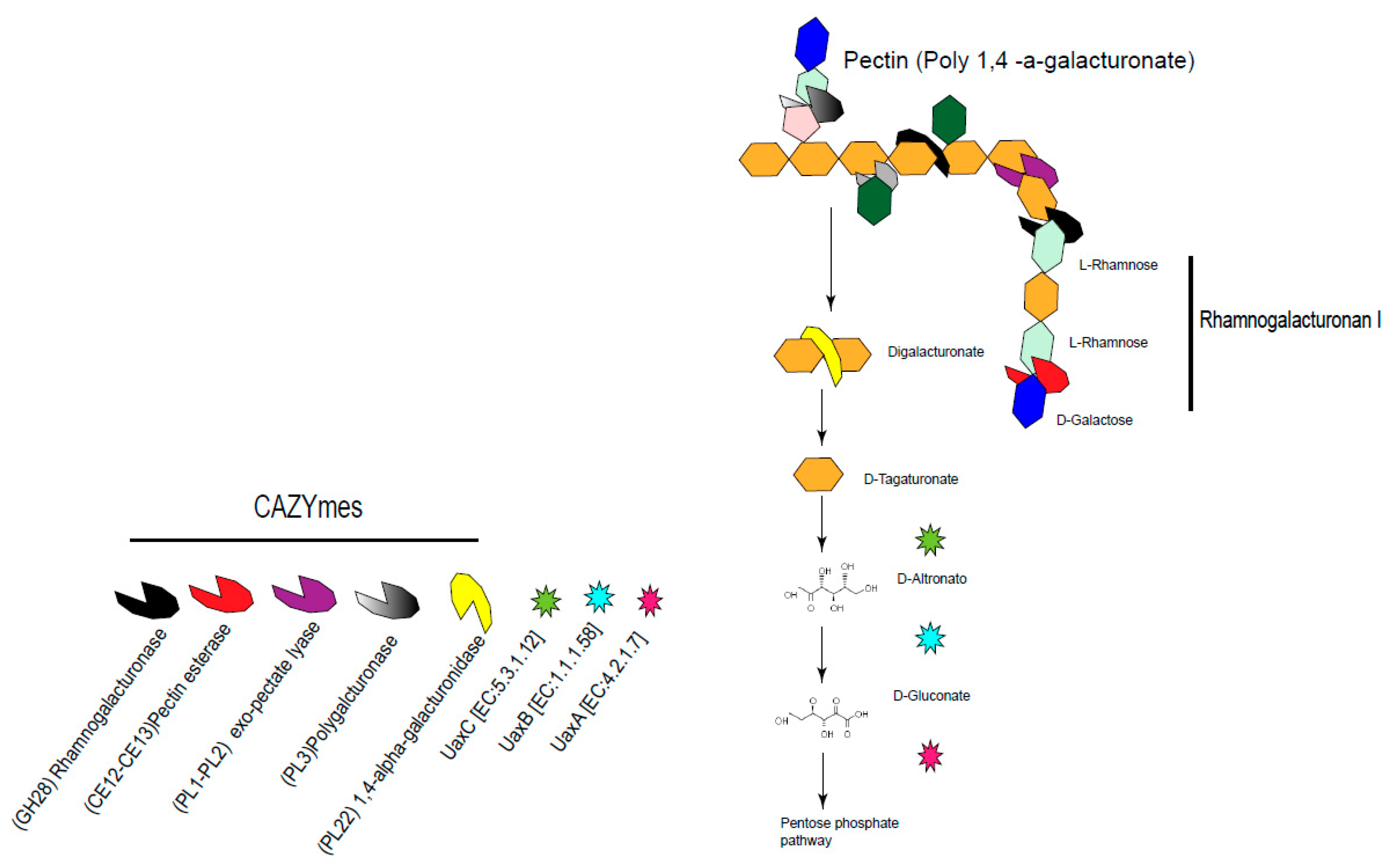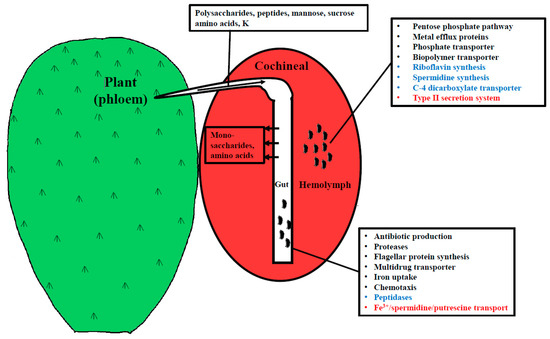 Figure 6.
Illustrative proposed functional markers depicting
Dactylopiibacterium
differentially expression in different tissues: in blue, from the quantitative analysis; in red, from NOISeq; and in black, from both analyses.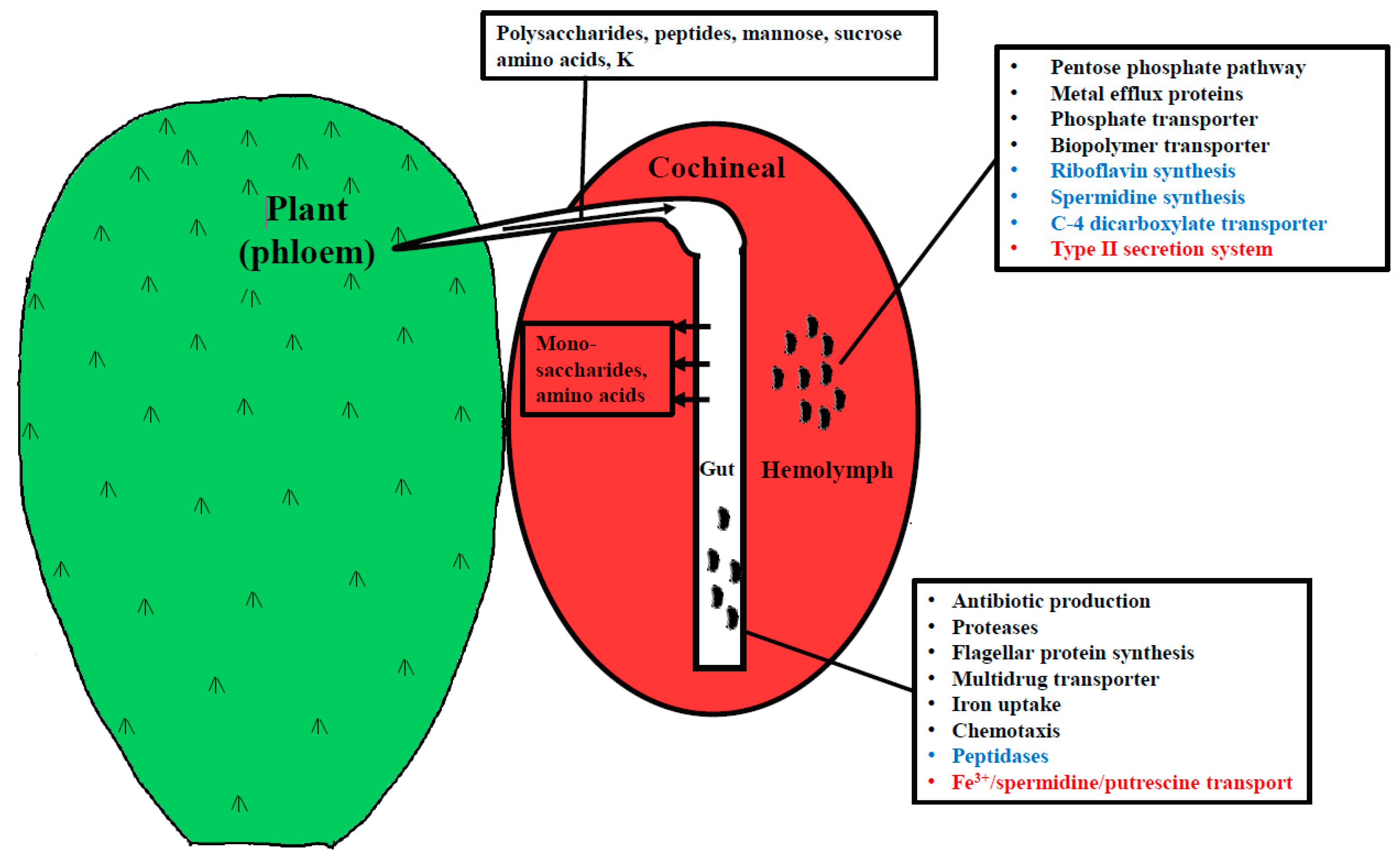 Protein ID
Log2FC
COG
Function
Up-regulated in Gut
WP_095525391.1
4.10
NA
Hypothetical protein
WP_095523710.1
3.51
COG2081
Aminoacetone oxidase family FAD-binding enzyme
WP_095525172.1
3.50
COG0300
Short-chain dehydrogenase
WP_095525875.
3.17
COG0583
LysR family transcriptional regulator
WP_095523466.1
3.04
COG2382
Hypothetical protein
WP_095525673.1
3.01
NA
Hypothetical protein
WP_095525264.1
2.98
COG0643
Chemotaxis protein CheA
WP_095524233.1
2.80
NA
Hypothetical protein
WP_095525304.1
2.76
COG2199
Hypothetical protein
WP_095523625.1
2.67
COG3419
Pilus assembly protein
WP_095524852.1
2.65
COG3895
Hypothetical protein
WP_095526008.1
2.60
COG3549
Exonuclease ABC subunit A
WP_095523085.1
2.58
COG0523
Cobalamin biosynthesis protein CobW
WP_095523064.1
2.57
COG0845
Multidrug transporter subunit MdtA
WP_095524897.1
2.56
COG2230
SAM-dependent methylytransferase
Up-regulated in Hemolymph
WP_095525565.1
3.18
NA
Hypothetical protein
WP_095525317.1
2.52
COG0120
Ribose 5-phosphate isomerase A
WP_095523550.1
2.47
COG1702
Phosphate starvation-inducible protein PhoH
WP_095525561.1
2.41
NA
Hypothetical protein
WP_095523253.1
2.39
COG0837
Glucokinase
WP_095525928.1
2.36
COG0171
NAD+ synthase
WP_095523935.1
2.31
COG1354
Segregation/condensation protein A
WP_095522941.
2.13
COG0424
Septum formation inhibitor Maf
WP_095523049.1
2.11
COG2200
Hypothetical protein
WP_095525579.1
2.11
COG0848
Biopolymer transporter ExbD
WP_095525717.
2.09
NA
Thioredoxin
WP_095526004.1
2.08
NA
Hypothetical protein
WP_095524367.1
2.08
COG1391
Bifunctional [glutamate-amonia ligase]-Adenylyl-

l

-tyrosine phosphorylase/[glutamate-ammonia-ligase] adenylyltransferase
WP_095523236.1
2.06
COG2010
Cytochrome C
WP_095524731.1
2.05
NA
GNAT family N-acetyltransferase
NA = No assignation recovered.

© 2019 by the authors. Licensee MDPI, Basel, Switzerland. This article is an open access article distributed under the terms and conditions of the Creative Commons Attribution (CC BY) license (http://creativecommons.org/licenses/by/4.0/).