Open Access This article is
freely available
re-usable
Article
Prebiotic RNA Network Formation: A Taxonomy of Molecular Cooperation
1
Beyond Center for Fundamental Concepts in Science, Arizona State University, Tempe, AZ 85287, USA
2
Department of Chemistry, Portland State University, P.O. Box 751, Portland, OR 97202, USA
3
School of Earth and Space Exploration, Arizona State University, Tempe, AZ 85287, USA
*
Author to whom correspondence should be addressed.
Received: 15 September 2017 / Accepted: 11 October 2017 / Published: 16 October 2017
Abstract
:
Cooperation is essential for evolution of biological complexity. Recent work has shown game theoretic arguments, commonly used to model biological cooperation, can also illuminate the dynamics of chemical systems. Here we investigate the types of cooperation possible in a real RNA system based on the
Azoarcus
ribozyme, by constructing a taxonomy of possible cooperative groups. We construct a computational model of this system to investigate the features of the real system promoting cooperation. We find triplet interactions among genotypes are intrinsically biased towards cooperation due to the particular distribution of catalytic rate constants measured empirically in the real system. For other distributions cooperation is less favored. We discuss implications for understanding cooperation as a driver of complexification in the origin of life.
Keywords:
cooperation; prebiotic chemistry; taxonomy; ribozymes; RNA; origin of life
Acknowledgments
We acknowledge funding from NASA (NNX14-AK21G to NL) for this work. C.M. and S.I.W. acknowledge support from the Templeton World Charity Foundation.
Author Contributions
C.M., S.I.W. and N.L. conceived and designed the experiments; C.M. performed the experiments; C.M., S.N.R., S.I.W. and N.L. analyzed the data; C.M. and N.L. wrote the paper. All authors have read and approved the final manuscript.
Conflicts of Interest
The authors declare no conflict of interest.
Abbreviations
The following abbreviations are used in this manuscript:
| | |
| --- | --- |
| RNA | Ribonucleic acid |
| IGS | Internal guide sequence |
| RPS | Rock-paper-scissors |
| G | guanosine |
| A | adenosine |
| C | cytidine |
| U | uridine |
| WC | Watson–Crick |
| WCW3 | Watson–Crick 3 Wobble Pairs |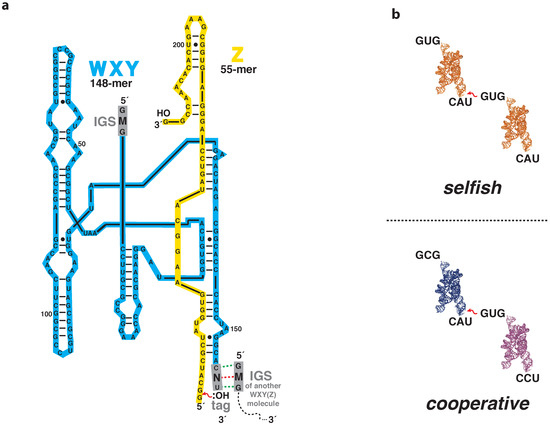 Figure 1.
The
Azoarcus
ribozyme self assembly system. (
a
) The reaction between the 148-nt
WXY
RNA fragment and the 55-nt
Z
RNA fragment. This reaction is catalyzed by the binding of the internal guide sequence (IGS) of another catalyst (either a covalently-contiguous
WXYZ
molecule that had been previously assembled or a non-covalent
WXY-Z
complex) to the tag sequence on the 3′ end of the substrate
WXY
molecule. The key hydrogen bonding interactions are shown in green (invariant) and red (variable) dotted lines; (
b
) A comparison of selfish and cooperative assembly reactions by the use of two example pairs. In selfish assembly, the IGS (upper left of each molecule) of the substrate and the catalyst RNAs match; in cooperative assembly they do not match.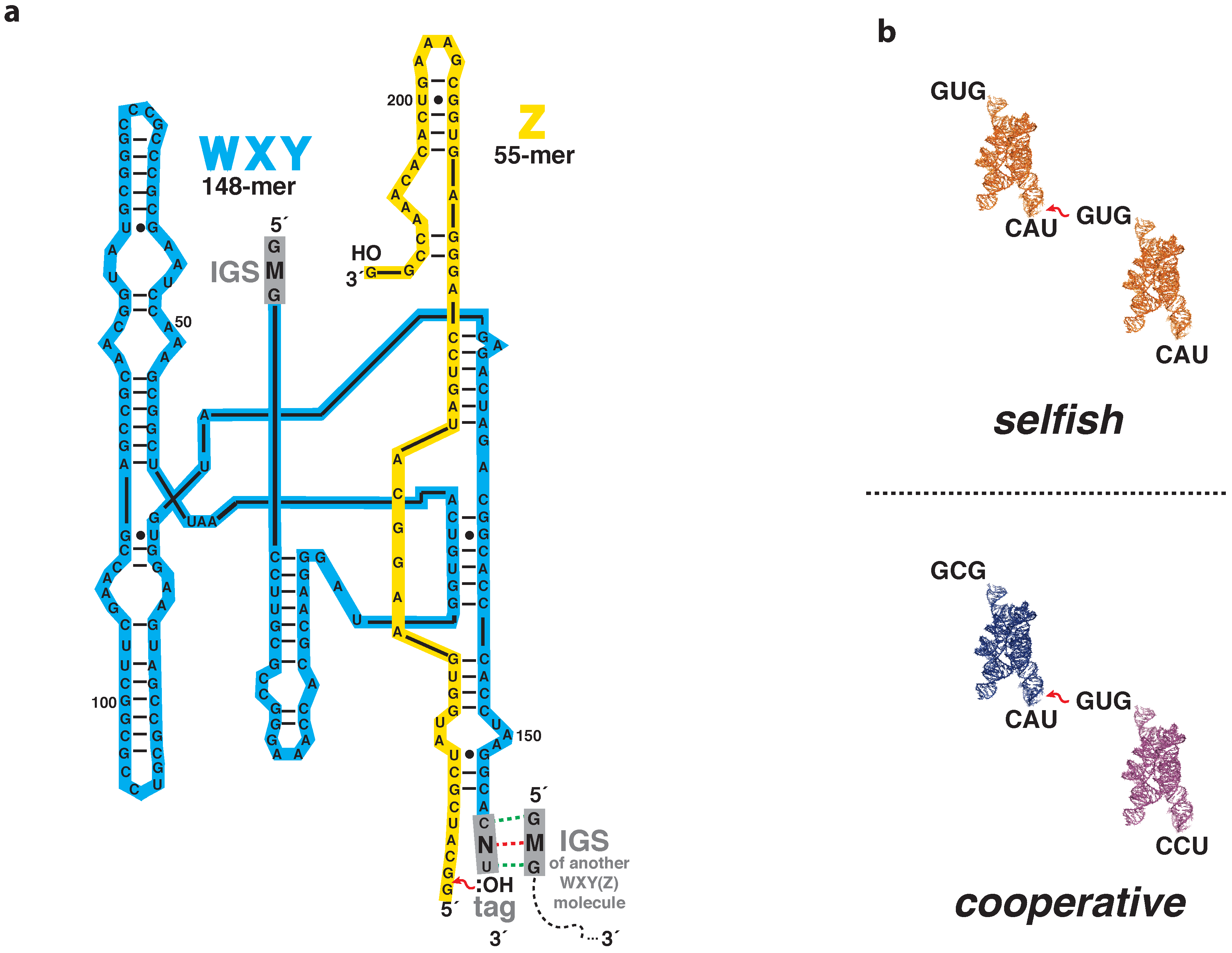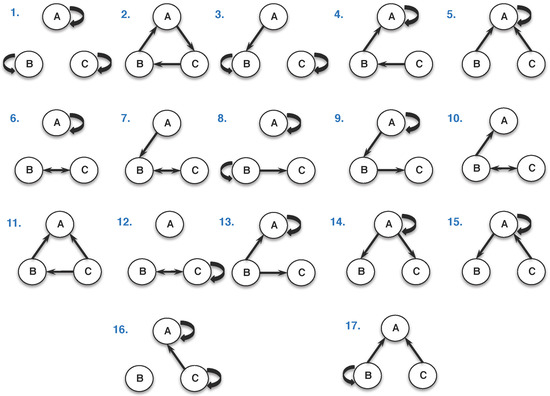 Figure 2.
The 17 possible non-trivial 3-node, 3-edge network topologies. Topology 2 is the "rock–paper–scissors" (RPS) scenario.
A
,
B
, and
C
denote distinct
WXY
RNA genotypes, while the arrows denote the ability of one genotype to covalently assemble another. For comparison, there are only four 2-node, 2-edge topologies, and we explored these in detail previously [
6
].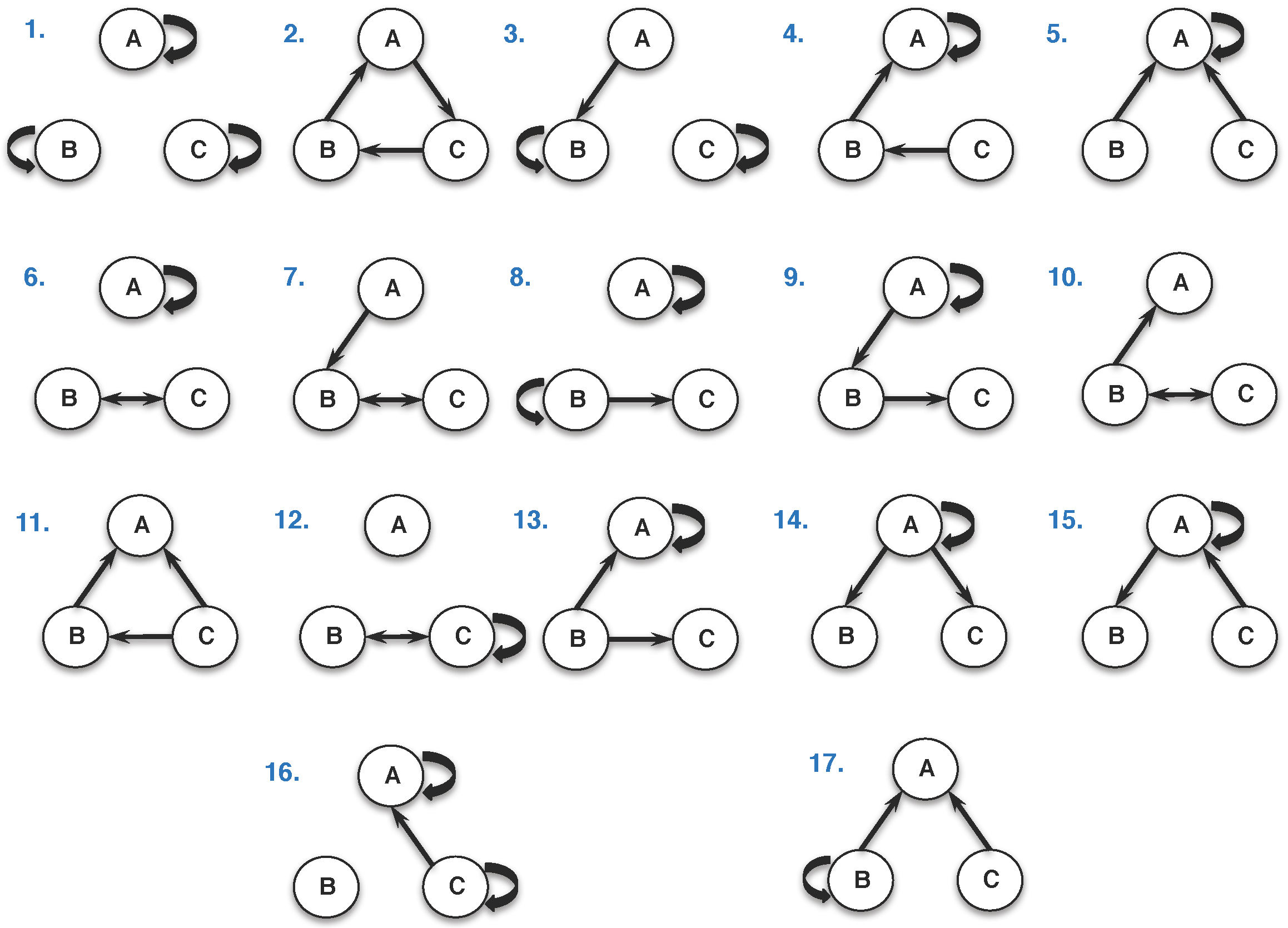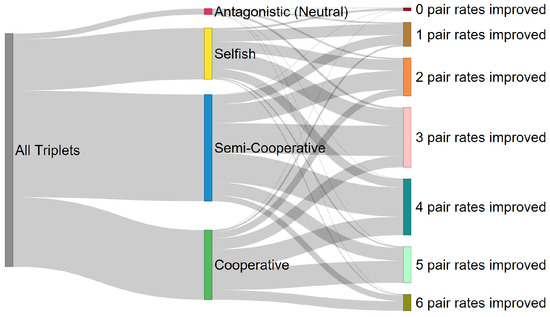 Figure 3. Taxonomy of molecular cooperation using the empirically derived rate constants. The left bar (gray) represents all possible 560 triplet genotype combinations. The bars in the center correspond to the first-level classifications, and the height of the bar indicates which fraction of all triplets fell into that category. The bars on the right show the second level classifications and the fraction of all triplets which fall into that category.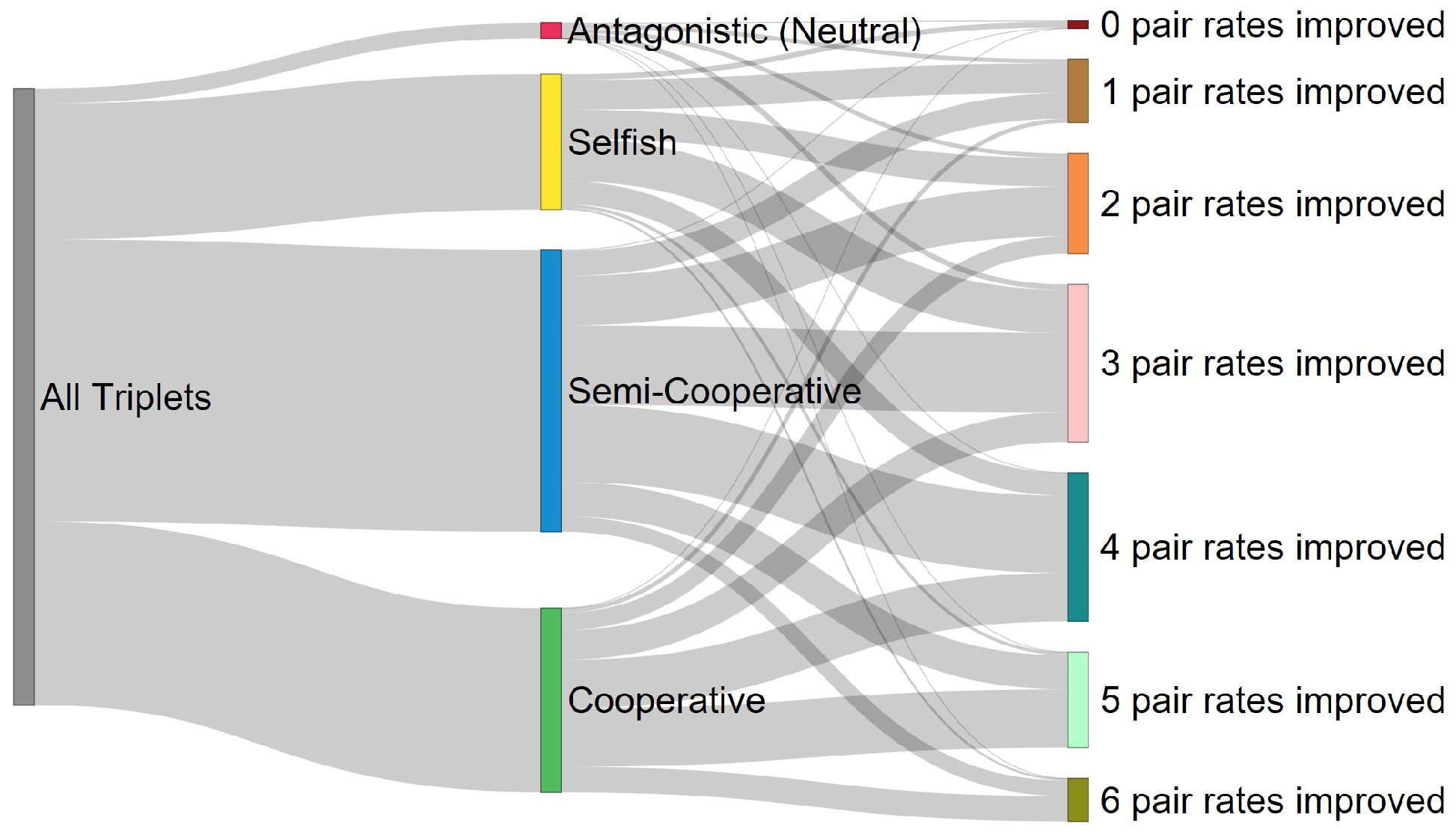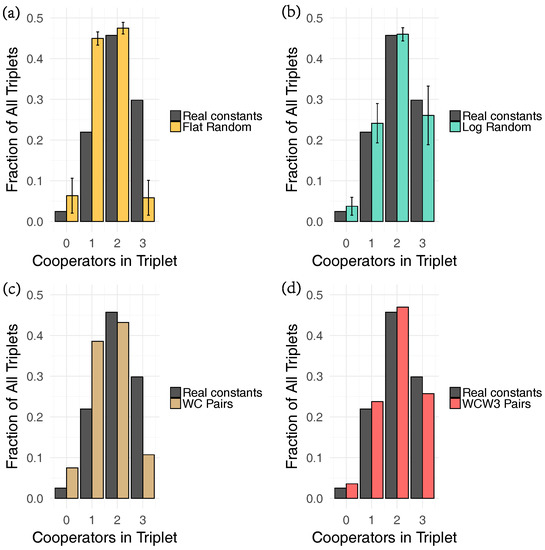 Figure 4. The effect of the distributions of ribozyme self-assembly rates on cooperation. (a) Flat random vs. real rate constants. The Empirically derived rate constants show an enhanced level of cooperative relative to a completely randomized control. (b) Log random vs. real rate constants. The empirically derived distribution of cooperation is well explained by a logarithmically distributed random distribution. (c) WC pairs vs. real. The empirically derived distribution of cooperation is not completely explained by including two values of rate constants. (d) WC with three wobble pairs vs. real. The empirically derived rate distribution of cooperation is well explained by including wobble pairs in a simplified set of rate constants.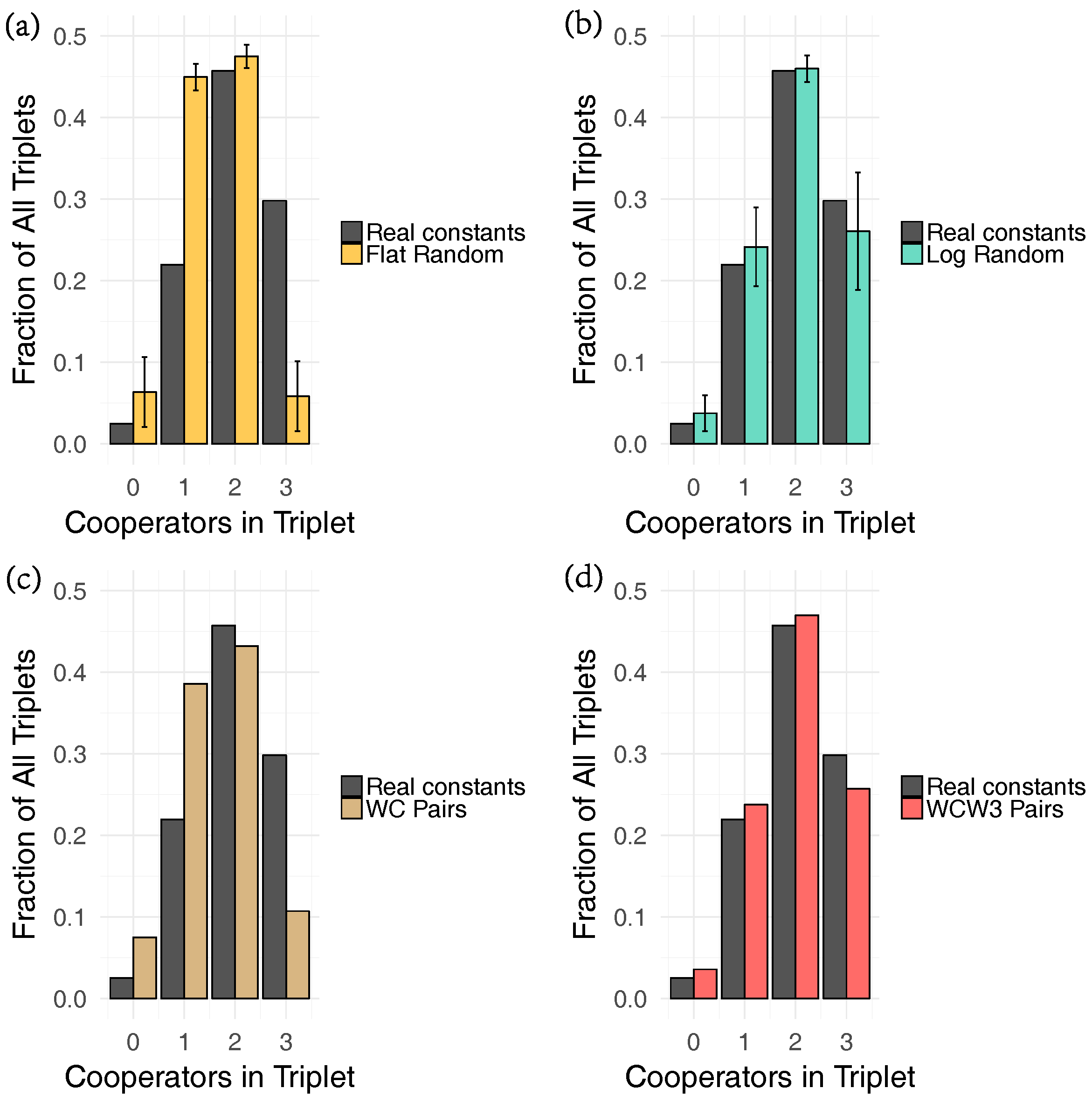 Table 1. Autocatalytic rate constants for

Azoarcus

RNA covalent self assembly.

| WXY Genotype | Self-Assembly Rates (); min−1 | Nucleotide Pair Type |
| --- | --- | --- |
| C•G | 0.0415 | |
| A•U | 0.0319 | strong (Watson–Crick) |
| U•A | 0.0197 | |
| G•C | 0.0125 | |
| G•U | 0.0091 | |
| A•C | 0.0069 | intermediate (wobble) |
| U•G | 0.0049 | |
| U•C | 0.0038 | |
| U•U | 0.0022 | |
| C•A | 0.0020 | |
| C•C | 0.0016 | |
| G•G | 0.0006 | weak |
| G•A | 0.0005 | |
| A•A | 0.0004 | |
| C•U | 0.0004 | |
| A•G | 0.0001 | |

© 2017 by the authors. Licensee MDPI, Basel, Switzerland. This article is an open access article distributed under the terms and conditions of the Creative Commons Attribution (CC BY) license (http://creativecommons.org/licenses/by/4.0/).