Mechanisms of High Temperature Resistance of
Synechocystis

sp. PCC 6803: An Impact of Histidine Kinase 34

1

Department of Adaptation Biotechnologies, Global Change Research Centre, Academy of Sciences of the Czech Republic, Drásov 470, CZ-66424 Drásov, Czech Republic

2

Institute of Plant Physiology, Russian Academy of Sciences, Botanicheskaya Street 35, 127276 Moscow, Russia

*

Author to whom correspondence should be addressed.

†

These authors contributed equally to this work.

Academic Editors: John C. Meeks and Robert Haselkorn

Received: 14 November 2014 / Revised: 6 February 2015 / Accepted: 10 February 2015 / Published: 2 March 2015
Abstract
Synechocystis
sp. PCC 6803 is a widely used model cyanobacterium for studying responses and acclimation to different abiotic stresses. Changes in transcriptome, proteome, lipidome, and photosynthesis in response to short term heat stress are well studied in this organism, and histidine kinase 34 (Hik34) is shown to play an important role in mediating such response. Corresponding data on long term responses, however, are fragmentary and vary depending on parameters of experiments and methods of data collection, and thus are hard to compare. In order to elucidate how the early stress responses help cells to sustain long-term heat stress, as well as the role of Hik34 in prolonged acclimation, we examined the resistance to long-term heat stress of wild-type and ΔHik34 mutant of
Synechocystis.
In this work, we were able to precisely control the long term experimental conditions by cultivating
Synechocystis
in automated photobioreactors, measuring selected physiological parameters within a time range of minutes. In addition, morphological and ultrastructural changes in cells were analyzed and western blotting of individual proteins was used to study the heat stress-affected protein expression. We have shown that the majority of wild type cell population was able to recover after 24 h of cultivation at 44 °C. In contrast, while ΔHik34 mutant cells were resistant to heat stress within its first hours, they could not recover after 24 h long high temperature treatment. We demonstrated that the early induction of HspA expression and maintenance of high amount of other HSPs throughout the heat incubation is critical for successful adaptation to long-term stress. In addition, it appears that histidine kinase Hik34 is an essential component for the long term high temperature resistance.
View Full-Text
►

▼

Figures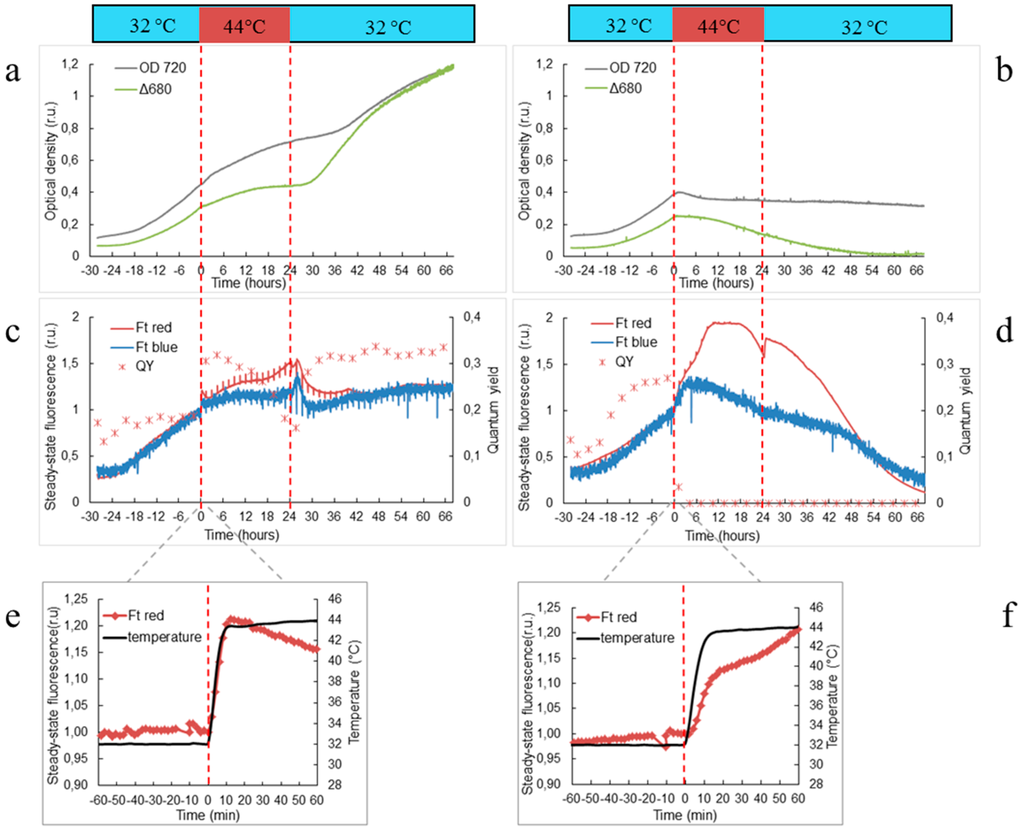 Figure 1
This is an open access article distributed under the
Creative Commons Attribution License
which permits unrestricted use, distribution, and reproduction in any medium, provided the original work is properly cited (CC BY 4.0).

Share & Cite This Article
MDPI and ACS Style
Červený, J.; Sinetova, M.A.; Zavřel, T.; Los, D.A. Mechanisms of High Temperature Resistance of Synechocystis sp. PCC 6803: An Impact of Histidine Kinase 34. Life 2015, 5, 676-699.
Related Articles
Comments
[Return to top]