Open Access This article is
freely available
re-usable
Article
Gem-Quality Zircon Megacrysts from Placer Deposits in the Central Highlands, Vietnam—Potential Source and Links to Cenozoic Alkali Basalts
1
Graduate School of Integrated Sciences for Global Society, Kyushu University, 744 Motooka, Nishi-ku, Fukuoka 819-0395, Japan
2
Division of Earth Sciences, Faculty of Social and Cultural Studies, Kyushu University, 744 Motooka, Nishi-ku, Fukuoka 819-0395, Japan
3
Institut für Mineralogie und Kristallographie, Universität Wien, 1090 Wien, Austria
4
Australian Research Council (ARC) Centre of Excellence for Core to Crust Fluid Systems (CCFS) and National Key Centre for Geochemical Evolution and Metallogeny of Continents (GEMOC), Department of Earth and Planetary Sciences, Macquarie University, Sydney, NSW 2109, Australia
*
Author to whom correspondence should be addressed.
Received: 30 December 2018 / Accepted: 29 January 2019 / Published: 1 February 2019
Abstract
:
Gem-quality zircon megacrysts occur in placer deposits in the Central Highlands, Vietnam, and have euhedral to anhedral crystal shapes with dimensions of ~3 cm in length. These zircons have primary inclusions of calcite, olivine, and corundum. Secondary quartz, baddeleyite, hematite, and CO2 fluid inclusions were found in close proximity to cracks and tubular channels. LA-ICP-MS U-Pb ages of analyzed zircon samples yielded two age populations of ca. 1.0 Ma and ca. 6.5 Ma, that were consistent with the ages of alkali basalt eruptions in the Central Highlands at Buon Ma Thuot (5.80–1.67 Ma), Pleiku (4.30–0.80 Ma), and Xuan Loc (0.83–0.44 Ma). The zircon geochemical signatures and primary inclusions suggested a genesis from carbonatite-dominant melts as a result of partial melting of a metasomatized lithospheric mantle source, but not from the host alkali basalt. Chondrite-normalized rare earth element patterns showed a pronounced positive Ce, but negligible Eu anomalies. Detailed hyperspectral Dy3+ photoluminescence images of zircon megacrysts revealed resorption and re-growth processes.
Keywords:
zircon megacrysts; placer deposits; rare earth elements (REE); carbonatite-dominant melts; Central Highlands; Vietnam; hyperspectral photoluminescence imaging; LA-ICP-MS
1. Introduction
Zircon (ZrSiO
4
, tetragonal,
I
4
1
/
amd
) is an accessory mineral in most types of igneous and metamorphic rocks [
1
]. Zircon megacrysts are often found in placer deposits derived from intraplate basaltic fields as xenocrysts or xenolith debris in alkali basaltic rocks [
2
]. Alkali basalt fields in South-East Asia commonly contain mantle xenoliths that include garnet lherzolites, spinel lherzolites, and harzburgite, as well as mantle- and/or crust-derived megacrysts of pyroxene, olivine, plagioclase, garnet, zircon, and corundum [
3
]. Therefore, zircon placers that are related to basaltic magmatism are often associated with megacrysts of other important gem materials (e.g., sapphire, garnet, and spinel), as reported from various localities, including Australia, Vietnam, Cambodia, Thailand, China, Myanmar, Sri Lanka, and Tanzania [
4
,
5
,
6
,
7
,
8
,
9
,
10
,
11
]. Zircon material from the Central Highlands, Vietnam, shows brownish-red colors and blue, upon heat-treatment under reducing conditions [
12
]. This color effect is similar to zircon found in placers in the Ratanakiri district, Cambodia [
13
]. The Vietnamese zircon deposits are known since the late 1980s, and sporadic mining activities are conducted by local people at numerous small sites. These deposits are exploited by digging to a depth of approximately 1–2 m, then picking the gems by hand after washing the alluvial material. The exploration of placer deposits of gem-quality zircons and other gem megacrysts is of high economic importance in many South-East Asian countries that supply the global gem market [
14
]. The source characteristics and forming processes of placer zircon play an important role for further exploration of this kind of gem deposits in geologically related regions.
The genesis of zircon megacrysts associated with alkali basalt has been addressed previously, but it is still vigorously debated [
2
,
15
,
16
,
17
,
18
]. Some authors agree that large zircon and corundum crystals represent xenocrysts that are transported by alkaline-basalt magmas and do not crystallize primarily from them (e.g., Hinton and Upton [
2
]), while others consider crystallization directly from basaltic magma [
19
,
20
]. Various hypotheses have been reported for the origin of zircon megacrysts from various sites in different geological contexts: (1) crystallization from melts derived from a metasomatized upper mantle, as supported by O-isotope studies [
15
,
17
,
18
,
21
]; (2) formation within a late-stage fractional crystallization process of oceanic island basalt magma [
16
,
19
]; and (3) crystallization from a primitive alkaline mafic magma, which later evolved to a less alkaline host magma [
20
]. According to Cong et al. [
10
], zircon megacrysts from Cenozoic basalts in northeastern Cambodia crystallized in the mantle during metasomatic events caused by phosphate-rich fluids and/or silicate melts enriched in zirconium. Piilonen et al. [
22
] recently reported findings of megacrystic zircons as single crystals enclosed in the alkali basalt from Ratanakiri, Cambodia, and suggested a single stage growth in a carbonate-influenced environment.
In the Central Highlands of Vietnam, gem quality zircon is commonly accompanied by corundum (sapphire) in alluvial deposits that are considered eroded from Cenozoic alkali basalt fields in close proximity (e.g., Garnier et al. [
17
]). In this study, zircon megacrysts from various alluvial deposits in the Central Highlands were systematically studied to investigate their origin and potential links to Cenozoic basalt eruptions. In addition to trace element data and U-Pb geochronological data, photoluminescence (PL) imaging methods were applied to reveal internal growth and potential secondary alteration textures. In this paper, we used mineral abbreviations as given by Whitney and Evans [
23
].
2. Geological Setting
South-East Asia was formed by an amalgamation of several crustal blocks, including South China, Indochina, Siumasu, Inthanon, the West Burma block, and the Trans Vietnam Orogenic Belt (TVOB) (
Figure 1
A) [
24
]. The TVOB was first proposed by Osanai et al. [
24
] as a zone of Permo-Triassic metamorphic rocks in Vietnam, which were formed by continent-continent collision between South China and Indochina blocks. This orogenic belt is characterized by numerous shear zones with strong deformation, such as the Red River shear zone, Song Ma suture zone, Tam Ky-Phuoc Son shear zone, and the Dak To Kan shear zone (Kontum Massif). The northern extension of these shear zones reaches the Yuan Nan Province through Ailaoshan in China. The Central Highlands lies entirely within the Indochina block and are located in the southern part of the TVOB, partly extending into eastern Vietnam and Laos (e.g., Hutchison [
25
]) (
Figure 1
A).
Miocene-Pliocene alkaline and subalkaline basalts are exposed over a vast region of Thailand, Laos, and Vietnam [
26
]. In southern and central Vietnam, this province stretches across an area of approximately 23,000 km² with a thickness up to several hundred meters [
3
] (
Figure 1
A). The basalt plateau is accompanied by pull-apart structures composed of short extensional rifts bounded by strike-slip faults [
27
]. At least two eruptive episodes ("early" and "late") have been reported by Hoang et al. [
28
]. Tholeiitic, and rarely, alkali basaltic flows represent the "early" episode at Dalat (17.60–7.90 Ma), whereas in the "late" episodes, olivine tholeiite, alkali basalt, basanite, and (rarely) nephelinite erupted at Phuoc Long (<8.00–3.40 Ma), Buon Ma Thuot (5.80–1.67 Ma), Pleiku (4.30–0.80 Ma), Xuan Loc (0.83–0.44 Ma), and the Re Island centers (0.80–0 Ma) [
27
] (
Figure 1
B). Hoang et al. [
28
] proposed that tholeiitic basalts are the most common basalt type in the region and build up much more volumetric mass in comparison to the alkali basalts and the rarely occurring nephelinites which erupted from small volcanoes.
Erosion of these Cenozoic (Neogene-Quaternary) basalts formed placer deposits that represent a major source of gem-quality corundum, zircon, olivine, garnet, pyroxene, and plagioclase [
4
,
14
,
26
]. In South-Central Vietnam, gem-quality zircons have been found in alluvial deposits from six provinces, including Kontum, Gia Lai, Dak Lak, Dak Nong, Lam Dong, and Binh Thuan [
12
] (
Figure 1
A,B).
3. Sample Description and Methods
6. Conclusions
Crystal morphology and internal texture of gem-quality, placer zircon megacrysts of the Central Highlands, Vietnam, are indicative of magmatic origin. The geochemical signatures and primary inclusions of calcite, olivine, and corundum indicate that zircon megacrysts might have crystallized from a carbonatite-dominant melt caused by the low-grade partial melting of metasomatized lithospheric mantle. Zircon resorption and re-growth textural features, observed with PL imaging, indicate an extended residence time in the sub-crustal magma chambers at variable REE-saturation levels, but at temperatures higher than closure of the U-Pb system (>900 °C). Zircon megacrysts were subsequently incorporated into ascending alkali basalts as xenocrysts. Two distinct populations with U-Pb ages at ca. 6.5 Ma and ca. 1.0 Ma that correlate with the eruption of alkali basalt fields in the Central Highlands, were identified. Recent reports of the direct findings of megacrystic zircon in the geographically and genetically related basalts of Ratanakiri, Cambodia [
22
] strongly supports this close relationship of placer zircon with Cenozoic alkali basalts as a potential host. The basalt magma and/or late stage circulation of carbonate-rich fluids must have resulted in the entrapment of further secondary inclusions like CO
2
-H
2
O fluids, baddeleyite, quartz, hematite, and feldspar along the cracks and tubular channels.
Supplementary Materials
The following are available online at
https://www.mdpi.com/2075-163X/9/2/89/s1
, Table S1: Results of LA-ICP-MS trace-element analyses of multiple measurement spots on zircon samples from Central Highlands, Vietnam (DL1, DL2, DL3, C05, C07, and C16) and from Ratanakiri, Cambodia (Rata), Table S2: U-Pb isotopic ratios and ages obtained from LA-ICP-MS analyses of zircon samples from Central Highlands, Vietnam, Table S3: U-Th-Pb isotopic ratios and ages obtained from LA-ICP-MS analyses of zircon samples from Dak Lak, Central Highlands, Vietnam.
Author Contributions
Concept of study, V.B.T.S.; methodology data acquisition and treatment, V.B.T.S., C.L., N.N., T.A. and E.B.; formal investigation, V.B.T.S., Y.O, C.L., N.N., and I.K.; compilation and writing of the manuscript, V.B.T.S.; review and editing of manuscript, C.L., Y.O., N.N., I.K., T.A., and E.B.
Funding
This study was funded by the Monbukagakusho/Ministry of Education, Culture, Sports, Science and a Technology-Japan (MEXT) scholarship at Kyushu University. Y.O. is funded by JSPS KAKENHI grants No. 16H02743, 22244063, and 21253008. C.L. and E.B. gratefully acknowledge the use of instrumentation funded through an honorary-associate agreement with the ARC CFSS/GEMOC at Macquarie University, Sydney. Financial support to C.L. was provided by the Austrian Science Fund (FWF), through project J3662-N19. N.N. is funded by JSPS KAKENHI grants No. 15K05345 and 18H01316.
Acknowledgments
The authors thank Le Thi Thu Huong from Senckenberg museum in Frankfurt, Germany, and Nguyen Thi Minh Thuyet from Hanoi University of Science, Vietnam for their help during fieldwork and sample collection in Vietnam. Special thanks to the local zircon miners in Central Highlands, Vietnam for providing insights into their mining operations. We are indebted to three anonymous reviewers for their critical comments on the manuscript.
Conflicts of Interest
The authors declare no conflict of interest. The funders had no role in the design of the study; in the collection, analyses, or interpretation of data; in the writing the manuscript; or in the decision to publish the results.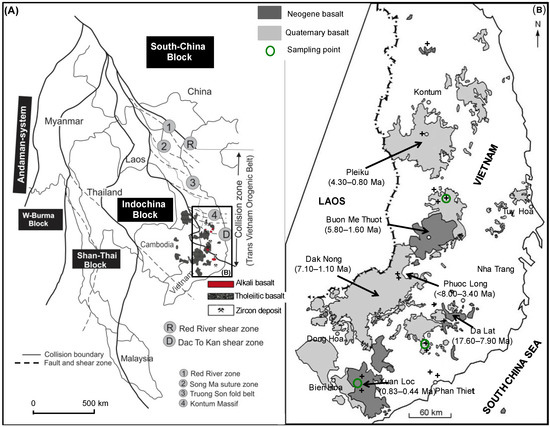 Figure 1.
(
A
) Location of various alluvial zircon deposits in Cambodia and Vietnam within South-East Asia [
12
,
24
]. (
B
) Distribution of Neogene and Quaternary basalts with their K-Ar and Ar-Ar ages (after [
4
,
6
]). Reproduced with permission from all authors. Green circles indicate the sampling localities.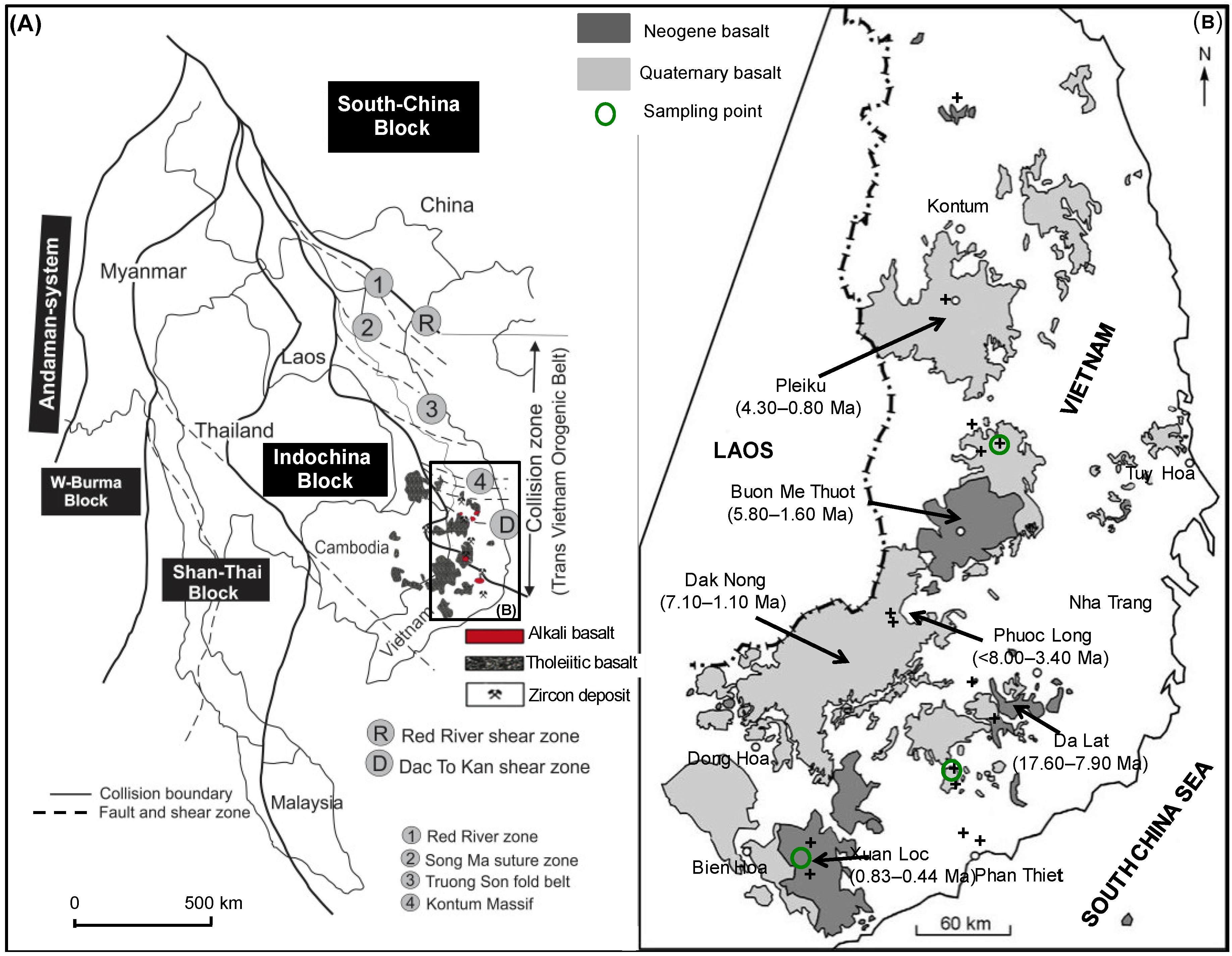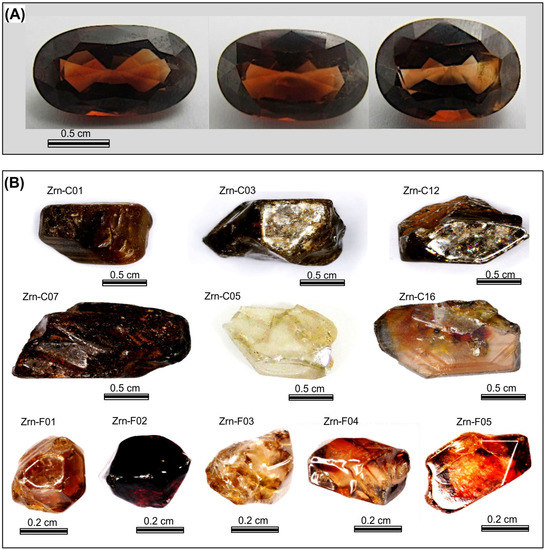 Figure 2.
(
A
) Typical large, gem-quality, cut zircon samples from the Central Highlands are available on the gem market. (
B
) Selected zircon megacrysts used in this study from the same region. Samples C05, C07, and C16 are from the Buon Ma Thuot and Xuan Loc alkali-basaltic field. Samples DL1, DL2, and DL3 (not shown) are from deposits in the Dak Lak alkali-basaltic field (
Figure 1
B).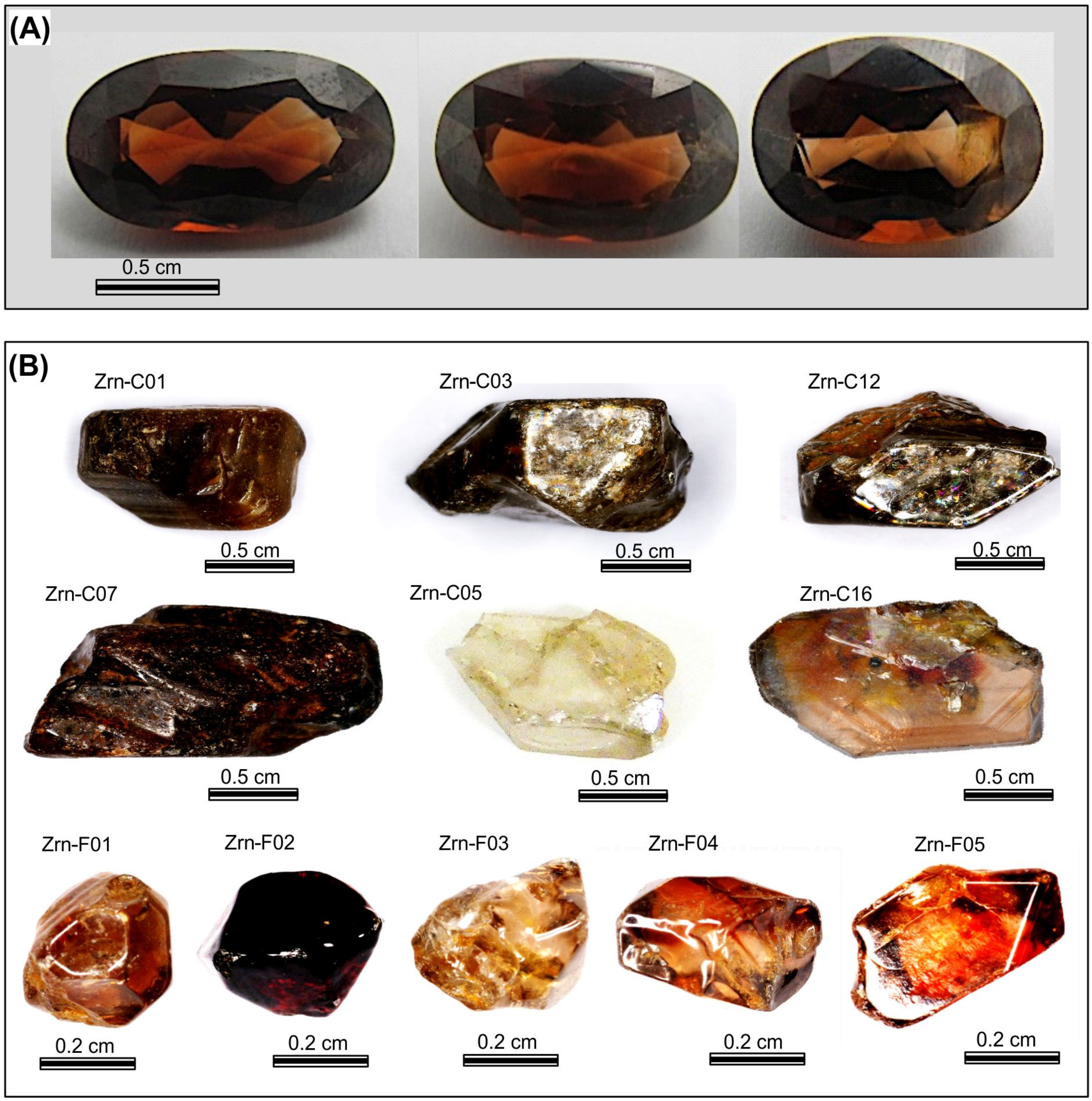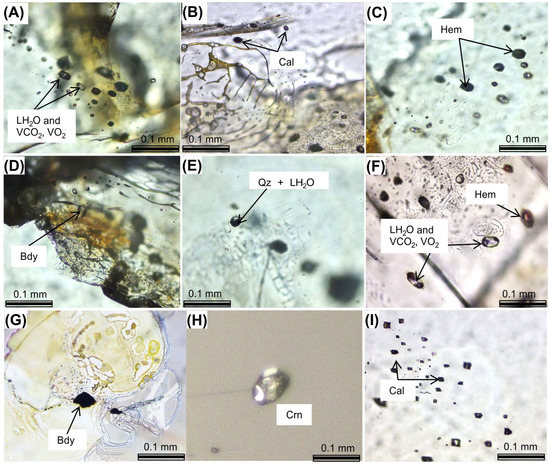 Figure 3. Representative inclusions found in placer zircon megacrysts: (A) fluid inclusions (LH2O: aqueous H2O VCO2 and VO2: vapor CO2 and O2, respectively); (B) Calcite (Cal); (C) hematite (Hem); (D) baddeleyite (Bdy) within tubular channels; (E) quartz (Qz) within tubular channels; (F) hematite and fluid (Hem + Fld) within bifurcating cavities and vesicles; (G) baddeleyite (Bdy) in tubular channels, bifurcating cavities, and vesicles; (H) corundum (Crn); and (I) calcite (cal) inclusion groups and along chains.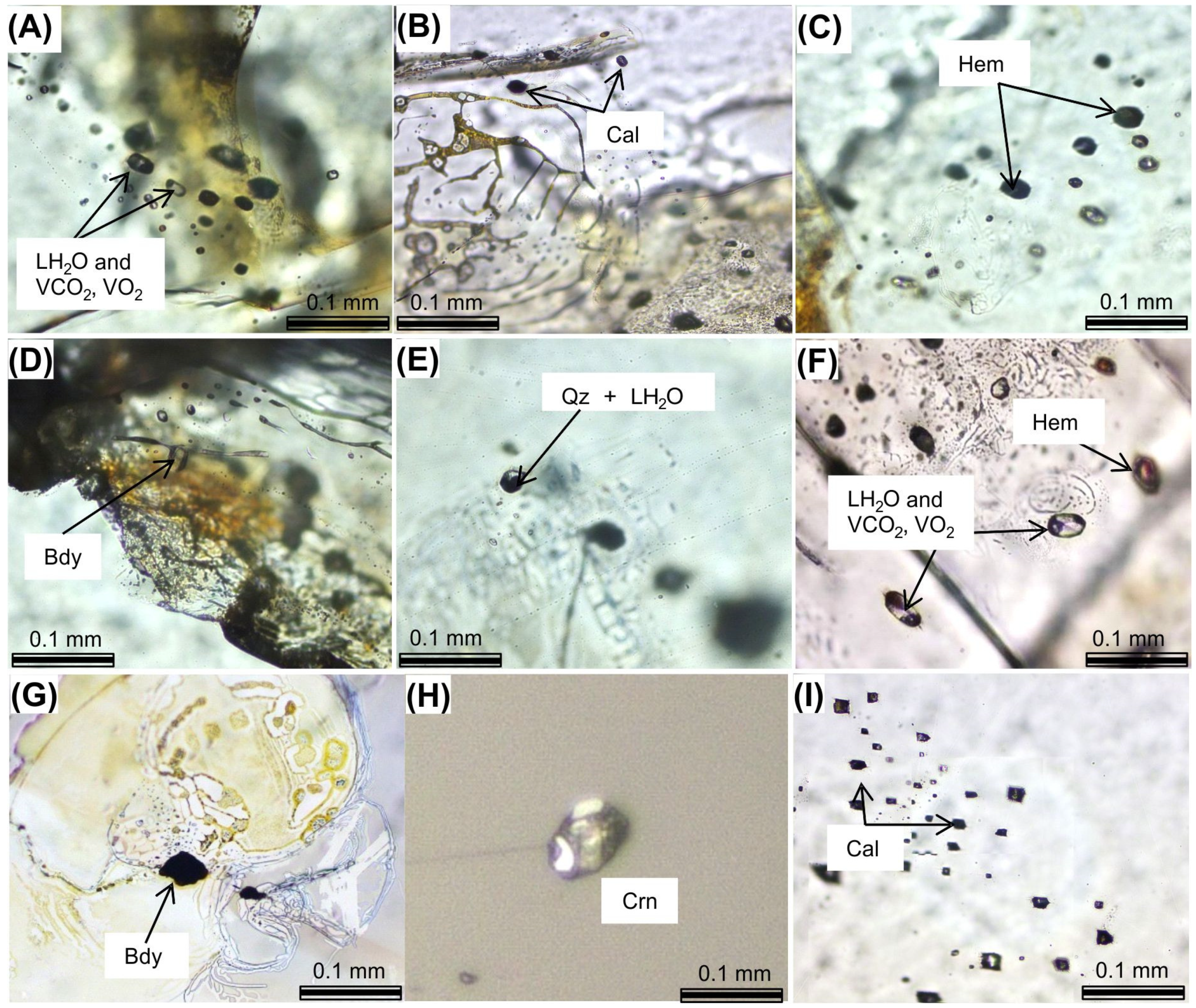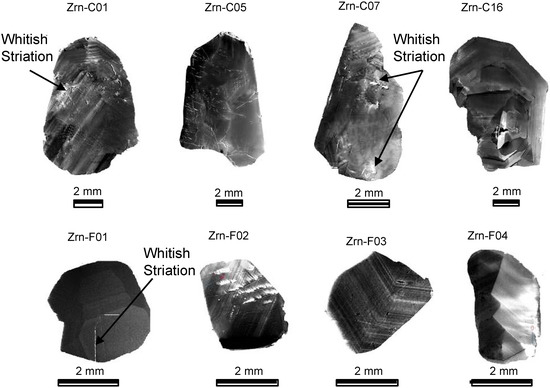 Figure 4. Cathodoluminescence images of the selected zircon samples from the Central Highlands, resemble zircon internal textural features that are typical for zircon of magmatic growth, e.g., oscillatory, sector, and growth zoning. Note, however, that whitish striations (indicated by black arrows) in CL contrasts obtained in the images of samples C01, C07, and F01 are due to mechanically-induced structural defect centers emanating from cracks and break-outs during polishing.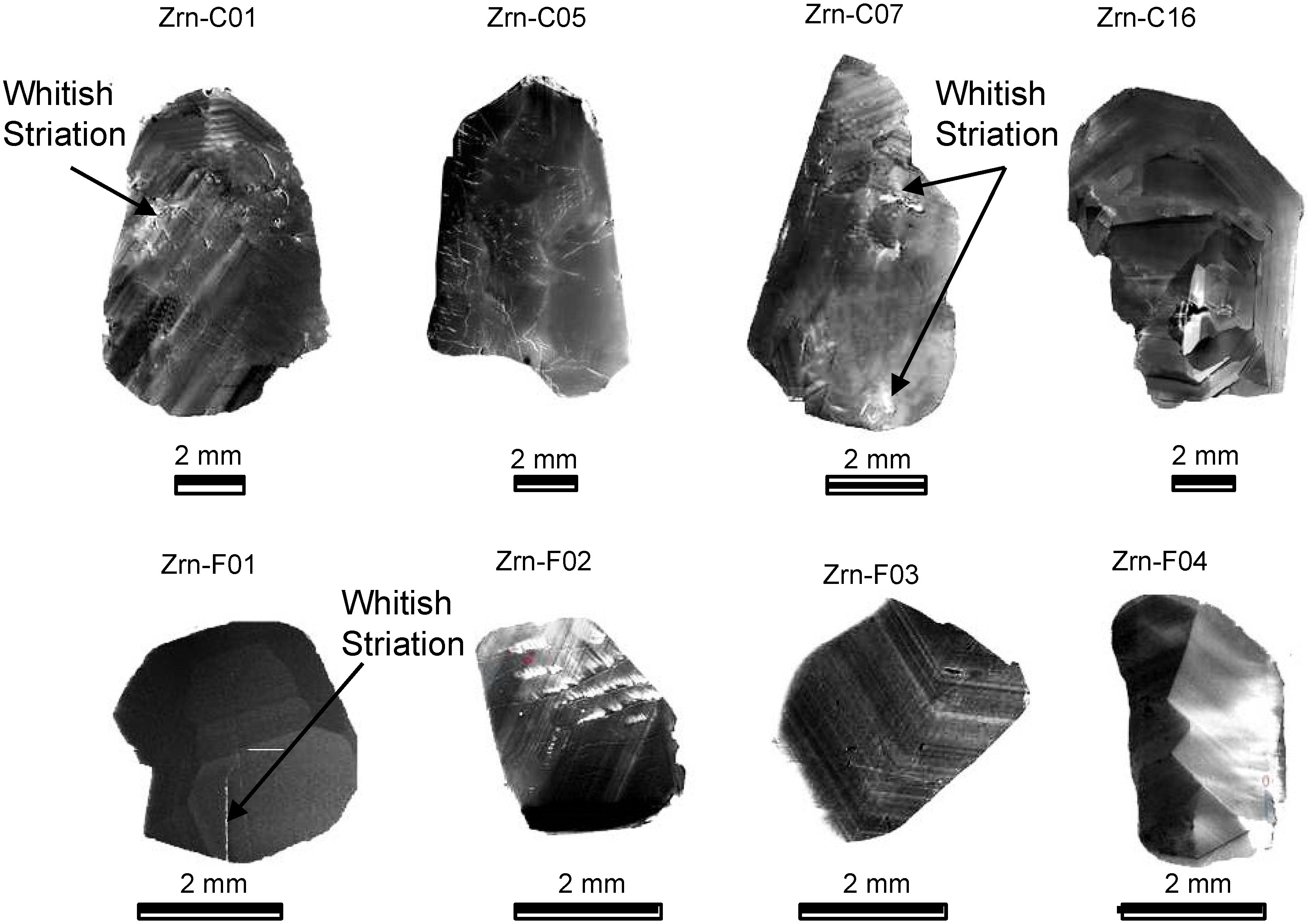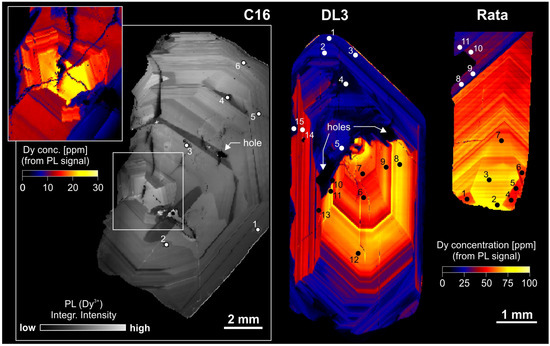 Figure 5.
Laser-induced photoluminescence hyperspectral images of zircon samples from the Central Highlands (C16 and DL3) and from Ratanakiri, Cambodia (Rata). The integrated intensity of the Dy
3+
(
4
F
9/2
→
6
H
13/2
) emission (compare
Figure 6
) is the plotted spectral parameter (grey-scale). Trace-element concentrations of Dy from multiple LA-ICP-MS spots on the grains, were used for external calibration to correlate the Dy concentrations with its PL response. Concentrations given color-coded were back-calculated using the latter correlation (see
Figure 6
) to extrapolate the Dy distribution in regions of unknown trace-element chemistry. Besides oscillatory and sector zoning, several growth zones may be distinguished that were interpreted to result from resorption and re-growth events, as indicated by the cross-cut zonation patterns, abruptly changing (decreasing) Dy concentrations, and the appearance of large holes and cavities (see arrows).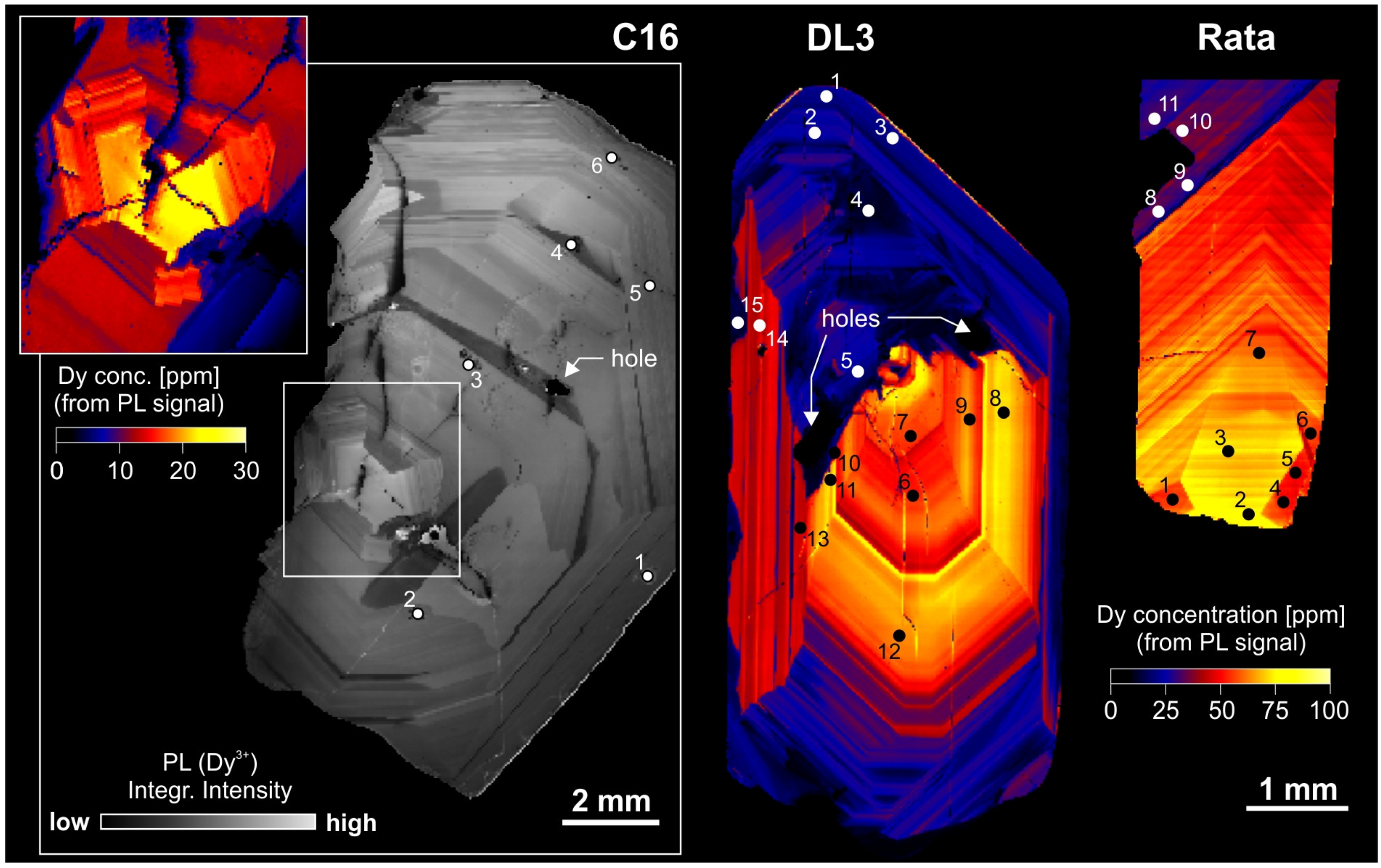 Figure 6.
(
A
) Laser-induced PL spectra (laser-excitation wavelength
λ
exc
= 473 nm) obtained from three different measurement spots on the zircon sample DL3 (spots 4, 5, and 7;
Figure 5
). (
B
) The integrated intensity of the most intensive emission of Dy
3+
in the spectral range 17,000–17,450 cm
−1
(see dotted lines in sub-image (
A
)) from multiple spots on samples DL3, C16, and Rata plotted against the Dy trace-element concentration as obtained from LA-ICP-MS (
Table S1
). Linear regression from the data pairs PL vs. Dy conc. (R
2
= 0.95) was used to calibrate hyperspectral maps presented in
Figure 5
.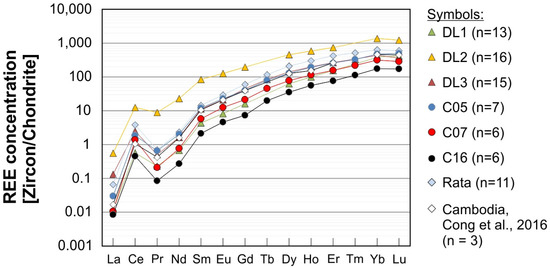 Figure 7.
Chondrite-normalized plot of REE concentrations of zircon samples from the Central Highlands compared to samples from Ratanakiri, Cambodia. REE composition of C1 chondrite is described by Sun and McDonough [
42
]. All samples showed a steep slope rise from La to Lu, towards heavy REEs. A positive pronounced Ce-anomaly, but no Eu-anomaly was detected.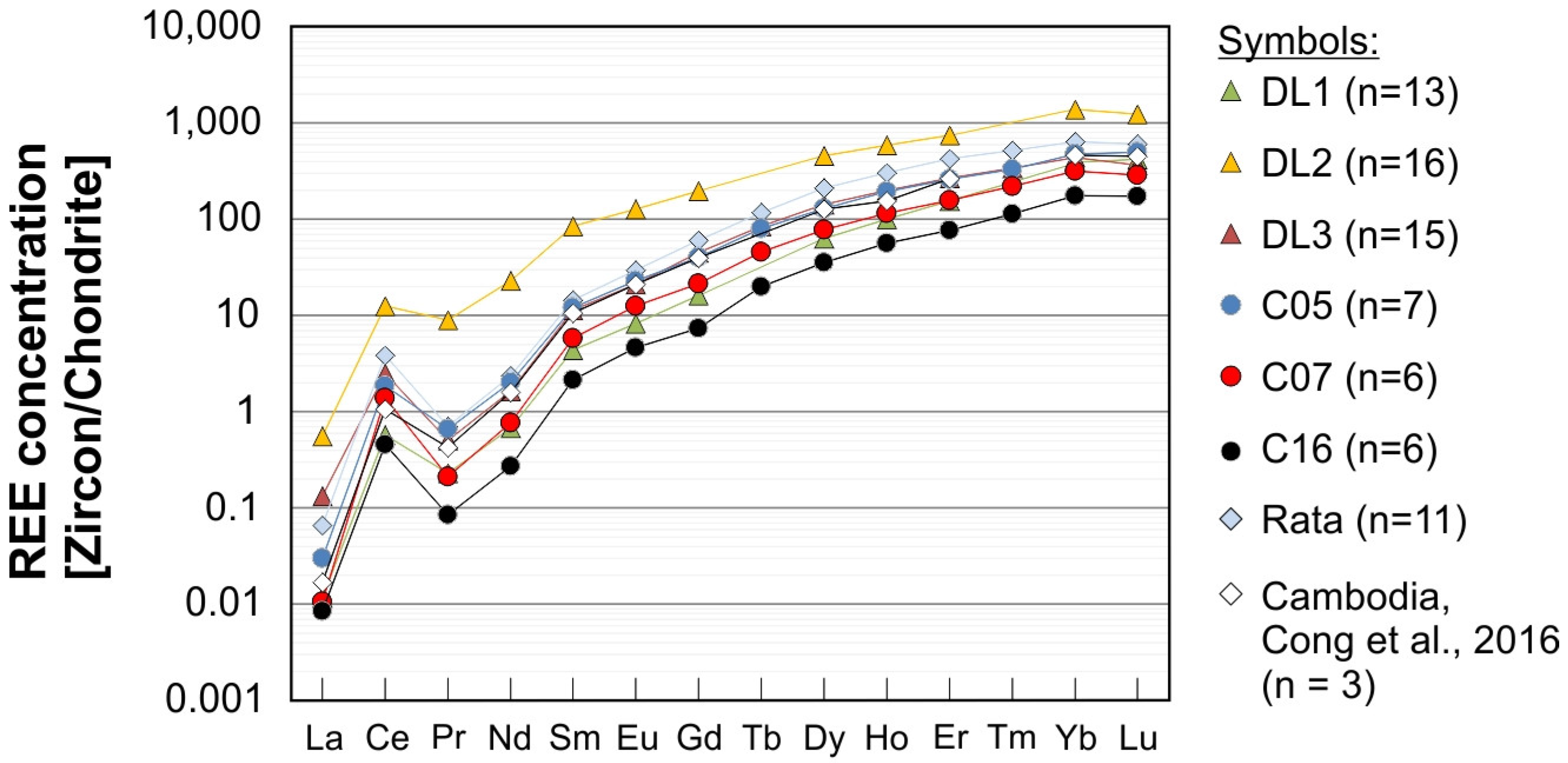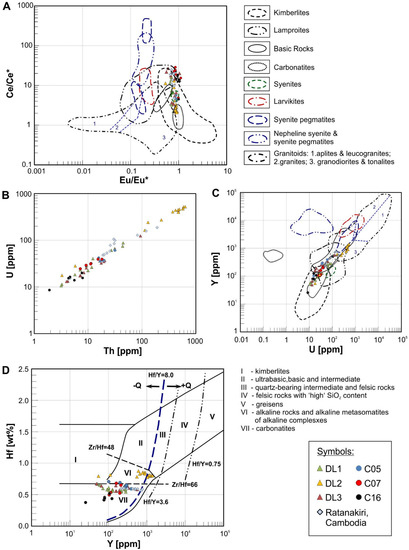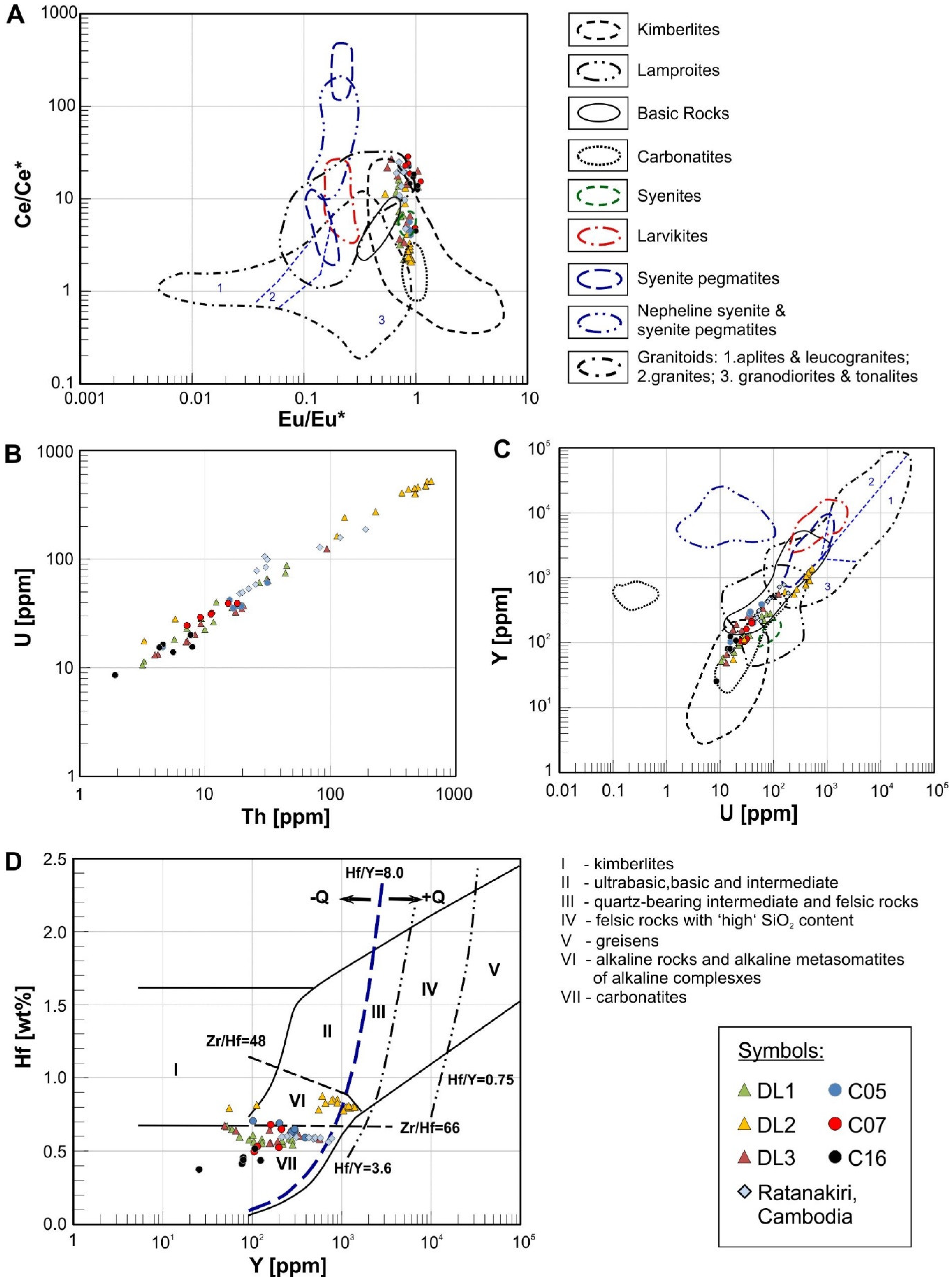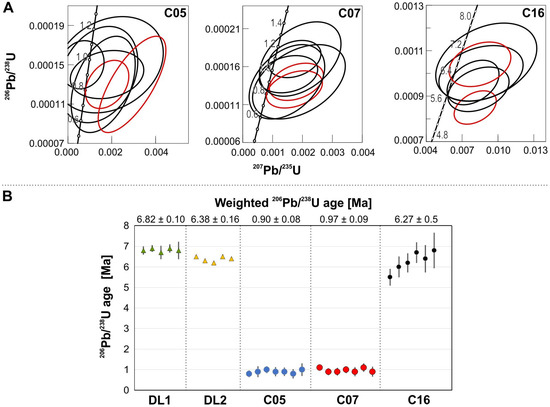 Figure 9.
Summary of U-Pb geochronology data obtained by LA-ICP-MS (see details in
Tables S2 and S3
). (
A
) Representative concordia plots of samples C05, C07, and C16. Ellipses give a 2σ error, and red ellipses correspond to measurement spots placed in the core region of single crystals. (
B
)
206
Pb/
238
U ages of the samples analyzed with the mean weighted age given for each sample. Error bars represent 2σ. Note that the ages obtained do not differ systematically amongst the measurement spots placed in the different growth zones within the individual samples. Two distinct sample populations were clearly differentiated (ca. 6.5 Ma and ca. 1 Ma).

© 2019 by the authors. Licensee MDPI, Basel, Switzerland. This article is an open access article distributed under the terms and conditions of the Creative Commons Attribution (CC BY) license (http://creativecommons.org/licenses/by/4.0/).