Geological and Geochemical Characteristics of the Archean Basement-Hosted Gold Deposit in Pinglidian, Jiaodong Peninsula, Eastern China: Constraints on Auriferous Quartz-Vein Exploration
1
State Key Laboratory of Geological Processes and Mineral Resources, China University of Geosciences, Beijing 100083, China
2
Institute of Geophysical and Geochemical Exploration, Chinese Academy of Geological Sciences, Langfang 065000, China
3
Sanshandao Gold Company, Shandong Gold Mining Stock Co., Ltd., Laizhou 261438, China
*
Author to whom correspondence should be addressed.
Received: 18 December 2018 / Revised: 15 January 2019 / Accepted: 16 January 2019 / Published: 21 January 2019
Abstract
The gold deposits that are hosted in the Archean metamorphic rock, have yet to be explored beyond Pinglidian gold deposit in the northwestern Jiaodong Peninsula, eastern China. This kind of gold deposit differs from those that are hosted in Mesozoic granitoids, showing good potential for the prospecting of auriferous quartz-vein gold deposits controlled by the structures in greenfield Archean metamorphic rock. Pinglidian gold deposit is located in the hanging wall of the Jiaojia fault and consists of eight separated orebodies that are enveloped by altered rock in Archean biotite plagiogneiss. These orebodies and wall-rock alterations are strongly controlled by local structures that formed during the Mesozoic rotation and kink folding of the foliated and fissile Archean basement host. The major wall-rock alterations comprise sericitization, silicification, pyritization, and carbonation, which is up to 18 m in width and progressively increases in intensity towards the auriferous quartz vein. The visible gold is present as discrete native gold and electrum grains, which have basically filled in all manner of fractures or are adjacent to galena. We recognize two types of gold bearing quartz veins that are associated with mineral paragenetic sequences during hydrothermal alteration in the Pinglidian gold deposit. The petrological features and geochemical compositions in the reaction fronts of the alteration zone suggest variations in the physicochemical conditions during ore formation. These minerals in the wall rock, such as plagioclase, biotite, zircon, titanite, and magnetite, have been broken down to hydrothermal albite, sericite, and quartz in a K–Na–Al–Si–O–H system, and sulfides in a Fe–S–O–H system. The major and trace elements were calculated by the mass-balance method, showing gains during early alteration and losses during late alteration. The contents of K
2
O, Na
2
O, CaO, and LOI varied within the K–Na–Al–Si–O–H system during alteration, while Fe
2
O
3
and MgO were relatively stable. Rare-earth elements (REE) changed from gains to losses alongside the breakdown of accessory minerals, such as large ion lithophile elements (LILE). The Sr and Ba contents exhibited high mobility during sericite-quartz alteration. Most of the low-mobility high-field strength elements (HFSE) were moderately depleted, except for Pb, which was extremely high in anomalous samples. The behavior of trans-transition elements (TRTE) was related to complicated sulfides in the Fe–S–O–H system and was constrained by the parameters of the mineral assemblages and geochemical compositions, temperature, pressure, pH, and
f
O
2
. These factors during ore formation that were associated with the extents and intensity of sulfide alteration and gold precipitation can be utilized to evaluate the potential size and scale of an ore-forming hydrothermal system, and is an effective exploration tool for widespread auriferous quartz veins in Archean metamorphic basements.
View Full-Text
►

▼

Figures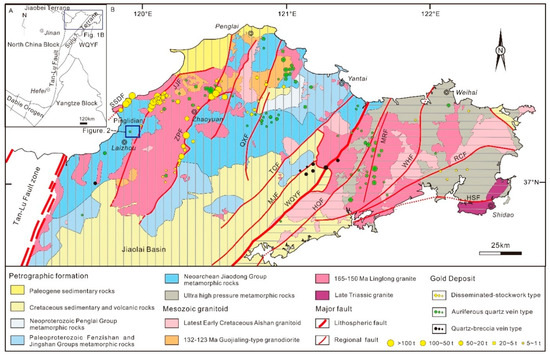 Figure 1
This is an open access article distributed under the
Creative Commons Attribution License
which permits unrestricted use, distribution, and reproduction in any medium, provided the original work is properly cited (CC BY 4.0).

Share & Cite This Article
MDPI and ACS Style
Li, R.; Albert, N.N.; Yun, M.; Meng, Y.; Du, H. Geological and Geochemical Characteristics of the Archean Basement-Hosted Gold Deposit in Pinglidian, Jiaodong Peninsula, Eastern China: Constraints on Auriferous Quartz-Vein Exploration. Minerals 2019, 9, 62.
Note that from the first issue of 2016, MDPI journals use article numbers instead of page numbers. See further details here.
Related Articles
Comments
[Return to top]