Open Access This article is
freely available
re-usable
Review
Structural Control of Ore Deposits: The Role of Pre-Existing Structures on the Formation of Mineralised Vein Systems
CNRS-UMR 5243, Géosciences Montpellier, University of Montpellier, cc 60, 34095 Montpellier CEDEX 5, France
Received: 29 October 2018 / Accepted: 15 January 2019 / Published: 17 January 2019
Abstract
:
The major role played by pre-existing structures in the formation of vein-style mineral deposits is demonstrated with several examples. The control of a pre-existing decollement level on the formation of a crustal extension-related (collapse) gold deposit is first illustrated in the Quadrilátero Ferrífero from Brazil. Shear zone and decollement structures were also examined and shown to control veins formation by three distinct processes: (i) re-aperture and re-using of wrench shear zones in the case of Shila gold mines (south Peru); (ii) remobilisation of metal in volcanic-hosted massive sulphide (VHMS) deposit by subsequent tectonic events and formation of a secondary stockwork controlled by structures created during this event (Iberian Pyrite Belt, Spain); (iii) formation of economic stockwork by contrasting deformation behaviours between ductile black schist versus brittle more competent dolomite (Cu-Ifri deposit, Morocco). Two examples involve changing of rheological competence within zones affected by deformation and/or alteration in order to receive the mineralisation (case studies of Achmmach, Morocco, and Mina Soriana, Spain). The last case underscores the significance of the magmatic–hydrothermal transition in the formation of mesothermal gold deposits (Bruès mine, Spain). All these examples clearly demonstrate the crucial role played by previously formed structures and/or texture in the development and formation of ore deposits.
Keywords:
vein; structure; textures; infilling; breccia; comb quartz; pull-apart; exploration; pre-existing structures; decollement
Funding
This research was partly funded by Projects CAPES-COFECUB and CNRS GDR Transmet.
Acknowledgments
The mining companies SEIMSA (Iberian Pyrite Belt, Spain), CVRD (Vale group, Brazil), CEDIMIN and BUENAVENTURA (Peru), MANAGEM (Morocco), SMS (Seksaoua, Morocco) and KASBAH RESSOURCES (Achmmach, Morocco) are gratefully acknowledged for their constant help, support and fruitful discussions. L. Badra, L. Bailly, L. Barbanson, Y. Branquet, P. Chaponnière, P. Couderc, M. Dardennes, A. Gaouzi, J.M. Georgel, E. Gloaguen, M. Majhoubi, M. Menezes, J. Onezime, J. Rosas, and J. Tuduri, are tanked for their contribution. Two anonymous reviewers and D. Aerden are kindly acknowledged for their fruitful and constructive review.
Conflicts of Interest
The authors declare no conflict of interest. The funders had no role in the design of the study; in the collection, analyses, or interpretation of data; in the writing of the manuscript, or in the decision to publish the results.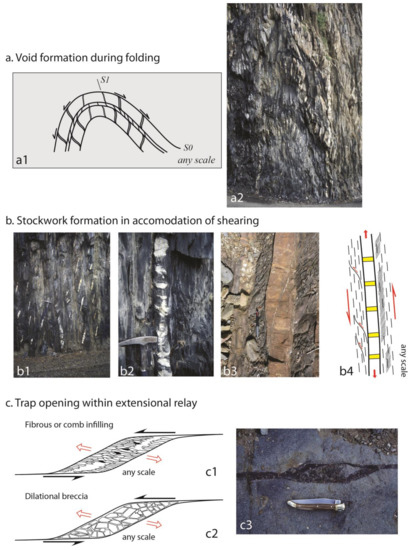 Figure 1. Three examples of traps and voids mode of formation. (a) Model of formation of sigmoidal veins by antithetic bedding-controlled gliding during fold development (a1). Example from the Bourg-d'Oisans area (a2). (b) Stockwork formation in accommodation of shearing affecting some multi-layers rocks with contrast of competence (b1, b2 and b3). Conceptual sketch (b4) in which yellow veins represent the stockwork formed in more competent layers. (c) Trap opening within left lateral pull-apart (c3). The two sketches c1 and c2 illustrate the process and show the two types of filling encountered within these structures. See text for explanation.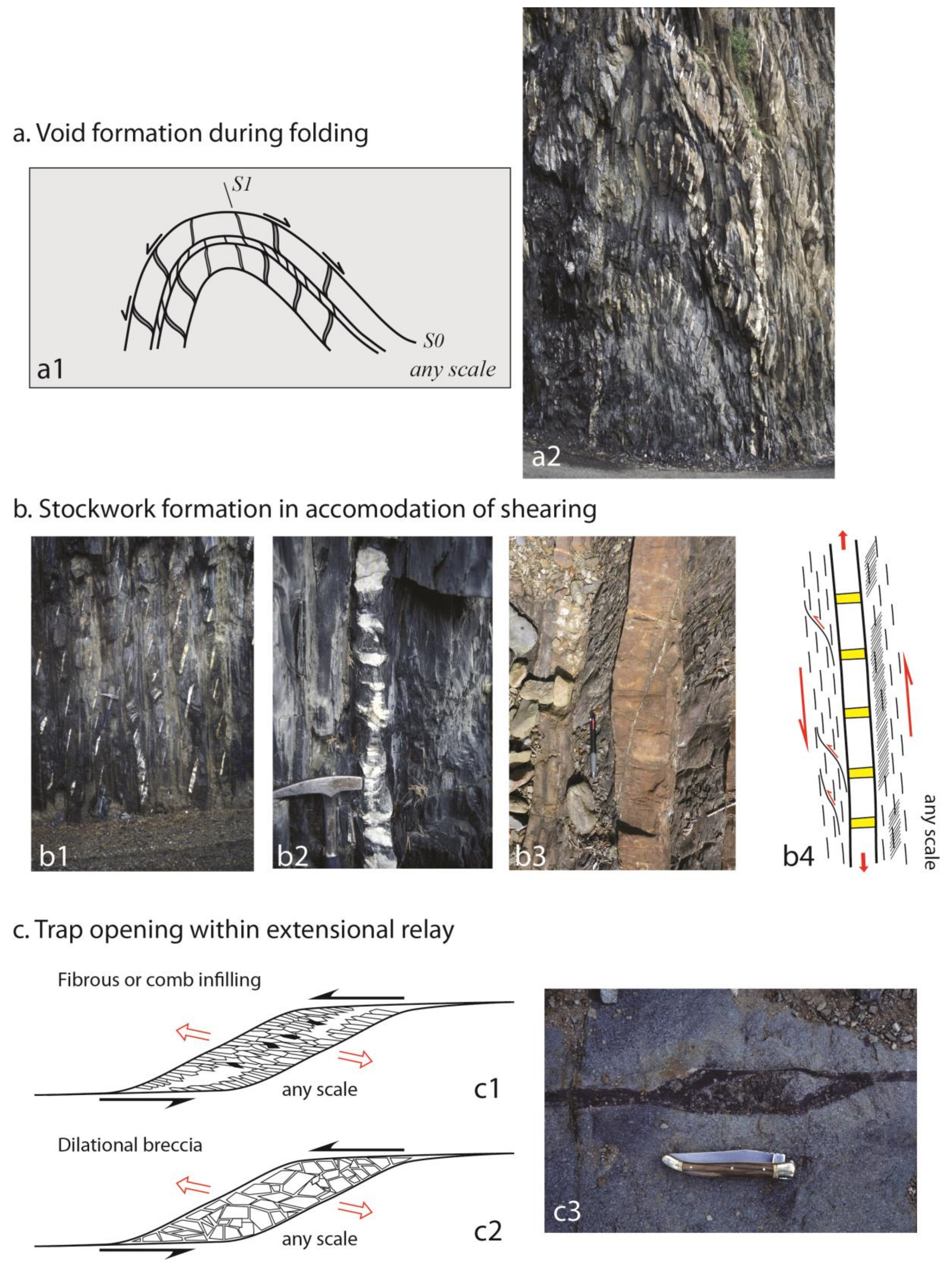 Figure 2. Example of re-using and re-opening of a previously formed left-lateral shear zone during two different states of stress. Red and green arrows correspond to the shortening direction of each stage. Note that main infilling is realised during stage 2.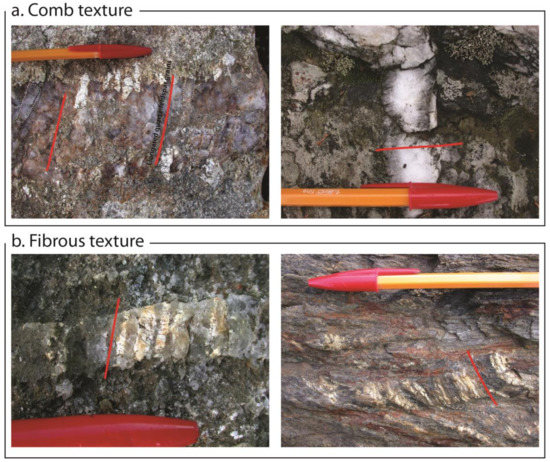 Figure 3. Examples of comb and fibrous textures from the Hercynian mining district of Tras-os-Montes, Galicia, Spain. Red lines illustrate the elongated quartz and feldspar grains indicate the opening direction. Note the difference between fibres that cross-cut the veins and comb grains that do not traverse the vein.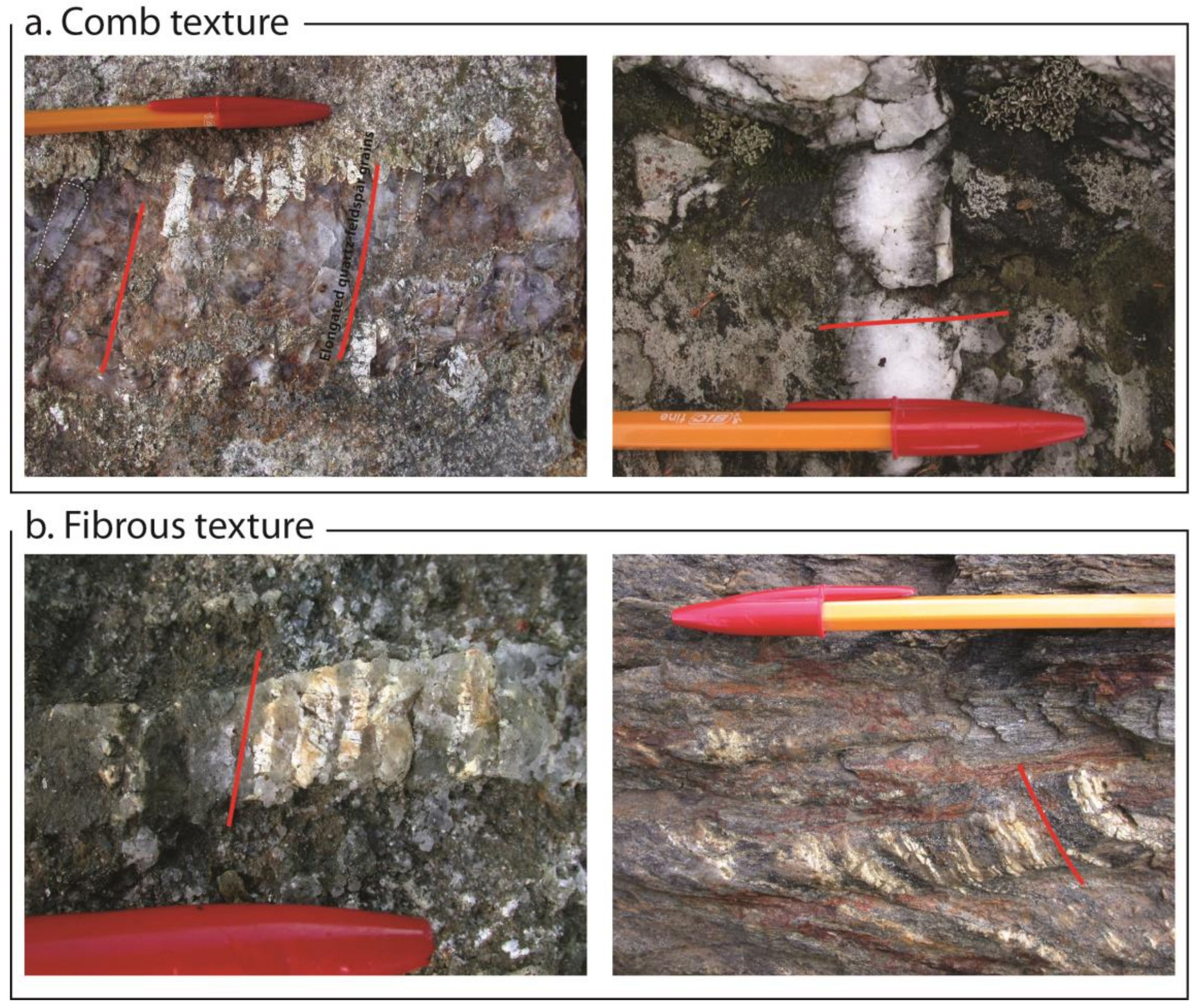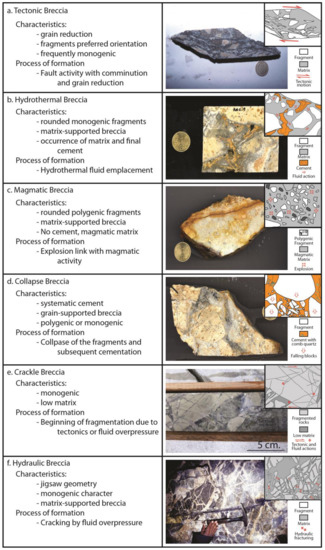 Figure 4. Breccia texture classification frequently used in ore geology. Each case is described in detail in the text. A conceptual sketch is indicated for each photograph in order to correctly interpret the image. The scale of these sketches is the same as the corresponding photograph. In red, some indications about the process responsible for breccia formation are provided.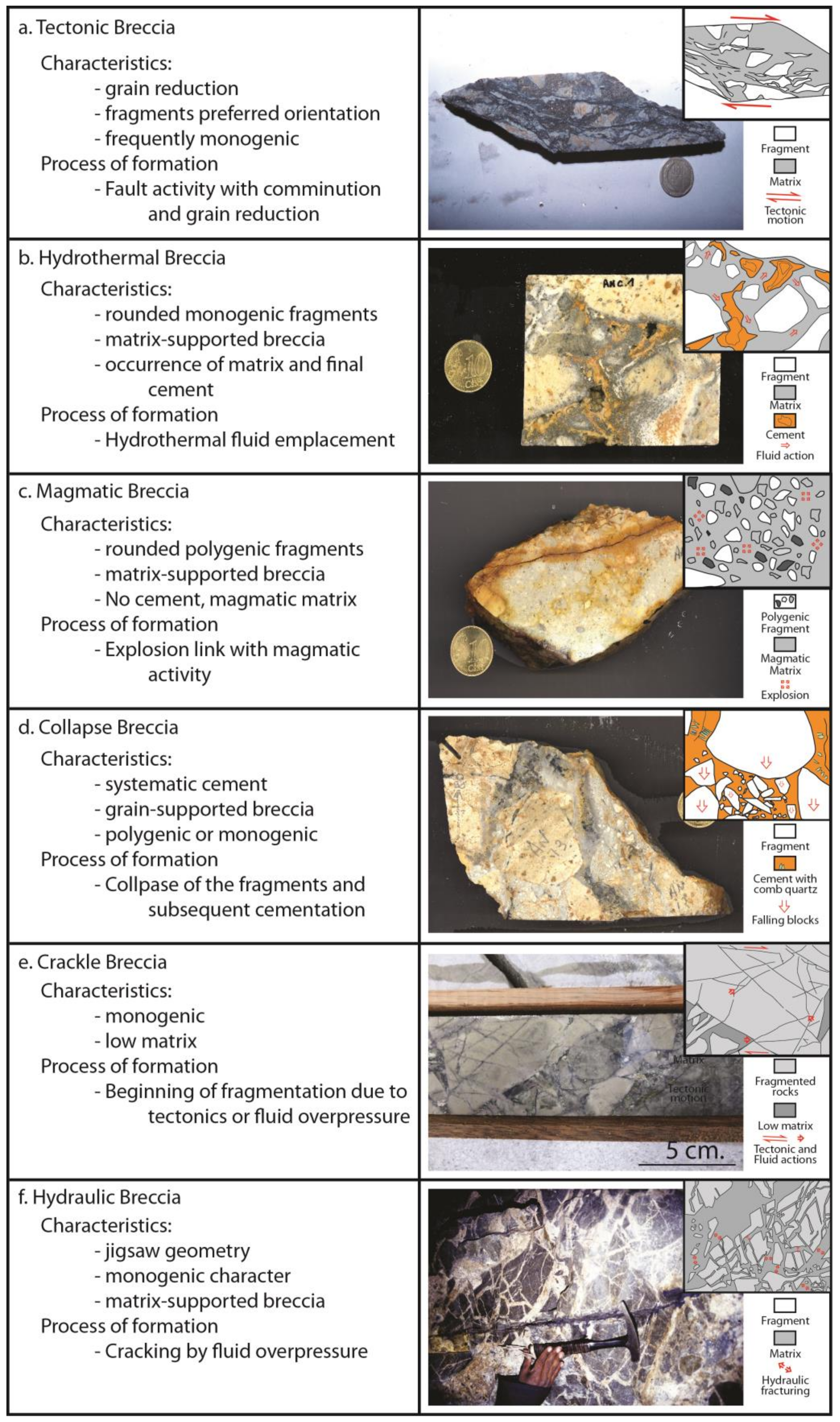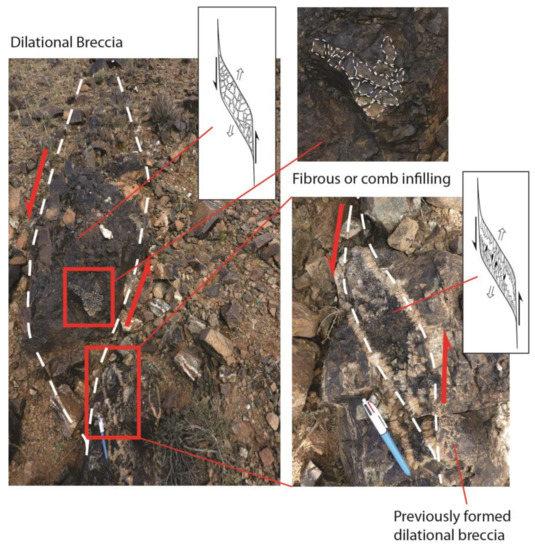 Figure 5. Superposition of dilational breccia texture and fibre/comb ones within similar left-lateral pull-apart structures (see text for explanation of the cause of occurrence of fibrous or breccia texture).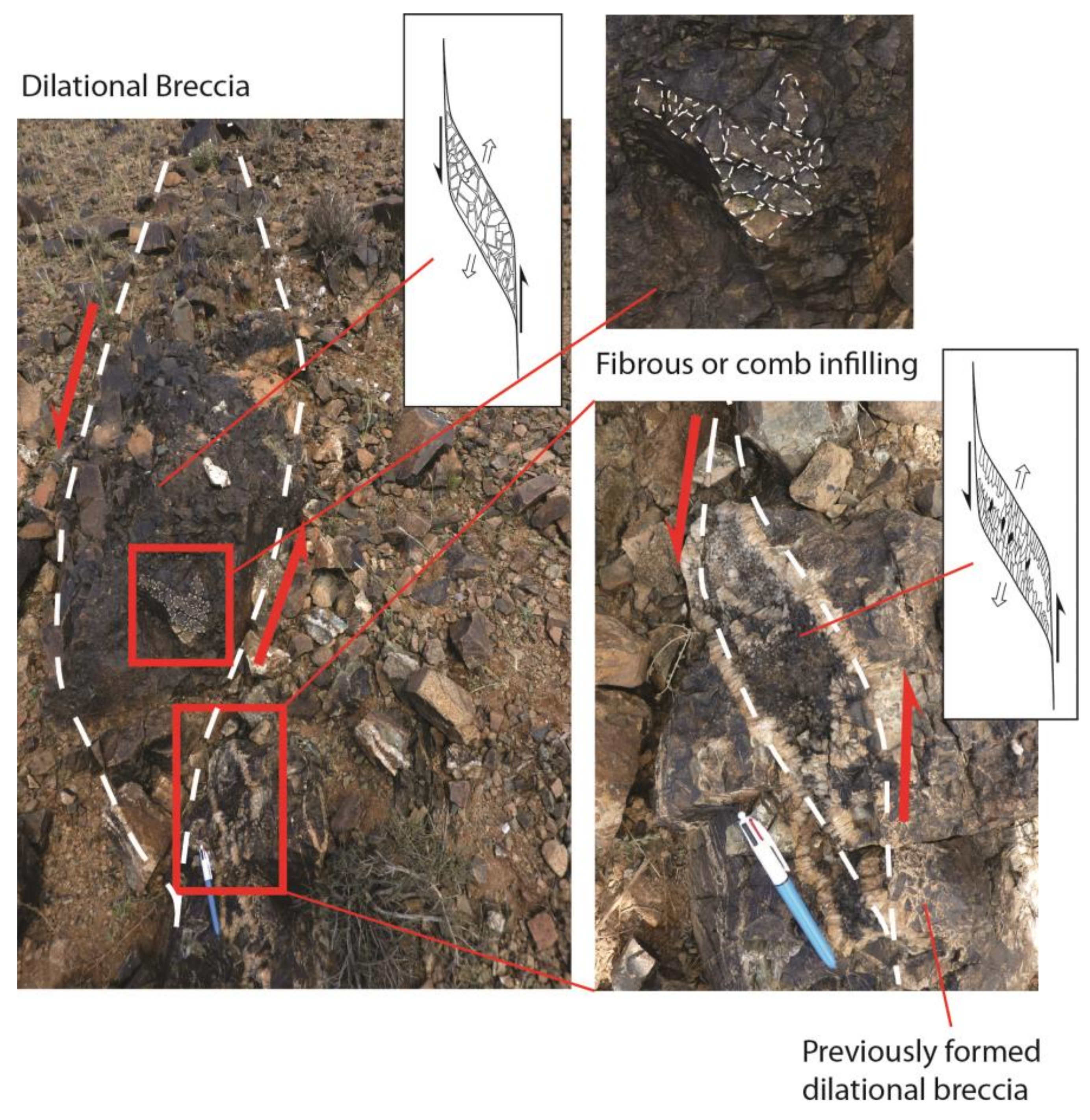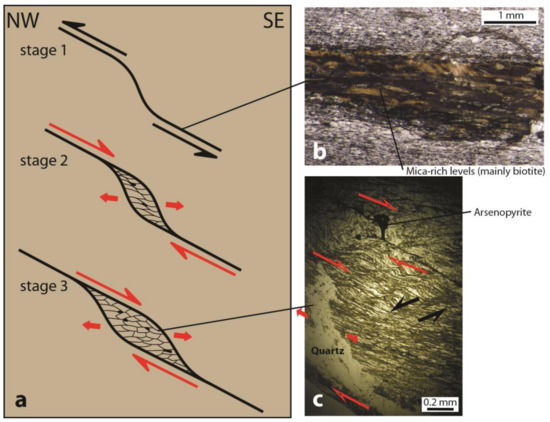 Figure 6. (a) Formation of sigmoid vein during late-orogenic collapse tectonics (red arrows) within the Quadrilátero Ferrífero (Minas Gerais, Brazil). Note that vein re-used an early level formed by mica alignment related to the nappe emplacement (b). The sigmoidal shape reflects thrust-related emplacement (black arrows). Extensional pull-apart post-dated thrust-related structures and controlled gold-bearing quartz-sulphide veins (c).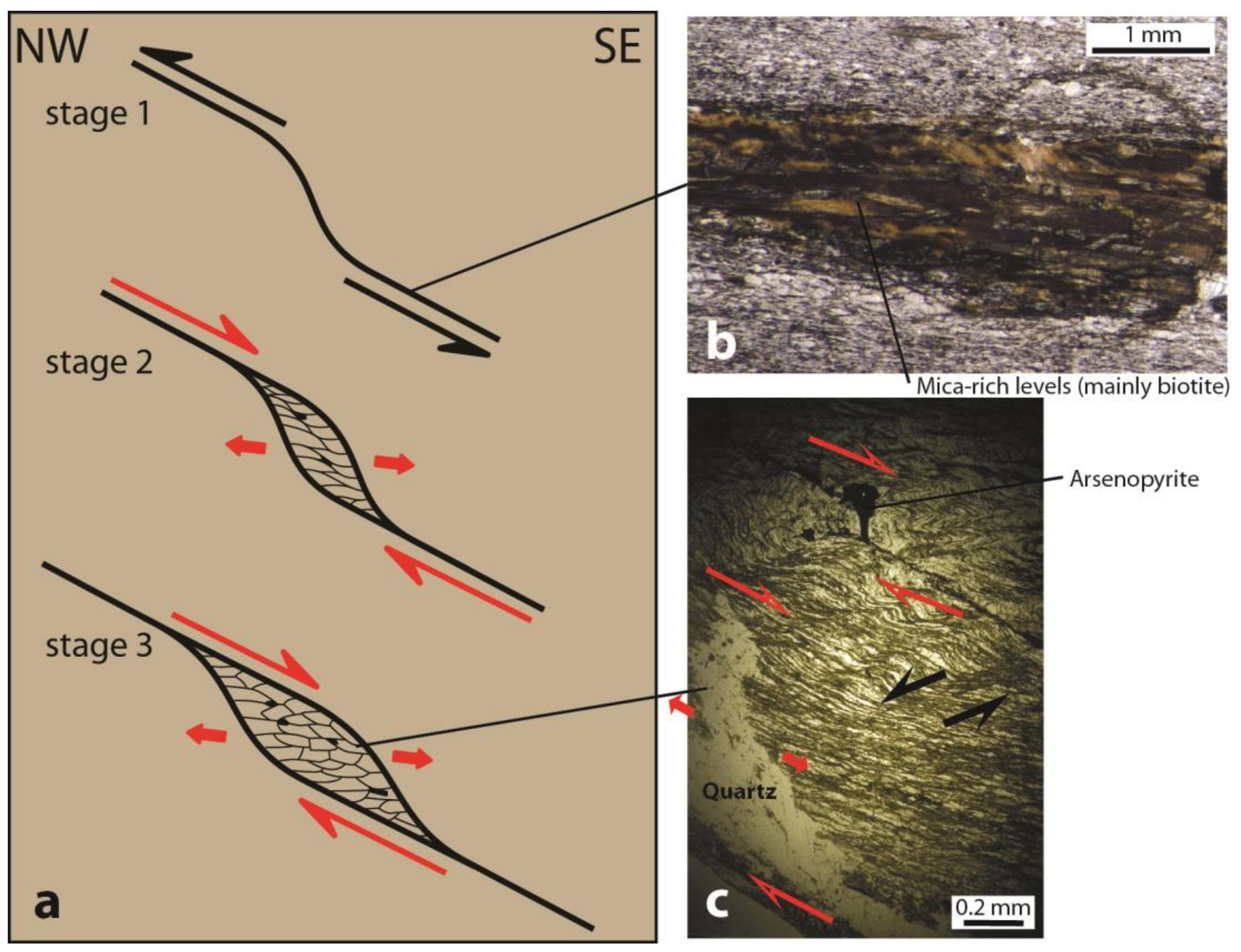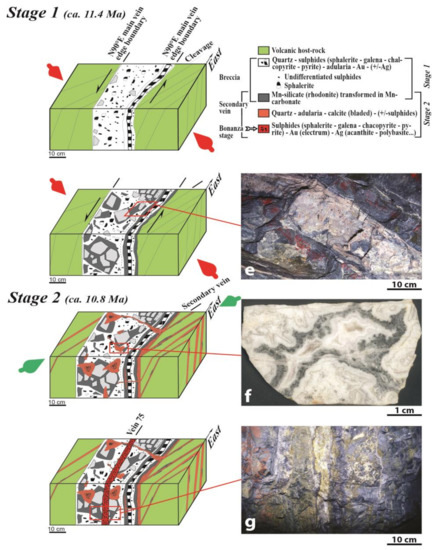 Figure 7. Example of vein formation by the re-using of pre-existing structures within the Volcanic domain of South Peru (see text for explanation). (a) Formation and filling of sinistral shear zone and creation of associated cleavage under the effect of NE–SW shortening direction (red arrows). (b) Formation of Mn-rich breccia under the same shortening direction. (c) Formation of secondary veins by re-opening of the cleavage by N120°E trending shortening direction (green arrows). Formation of geodic structures filled by stage 2-related paragenesis and subsequent "bonanza" stage and richer veins (Veta 75) (d).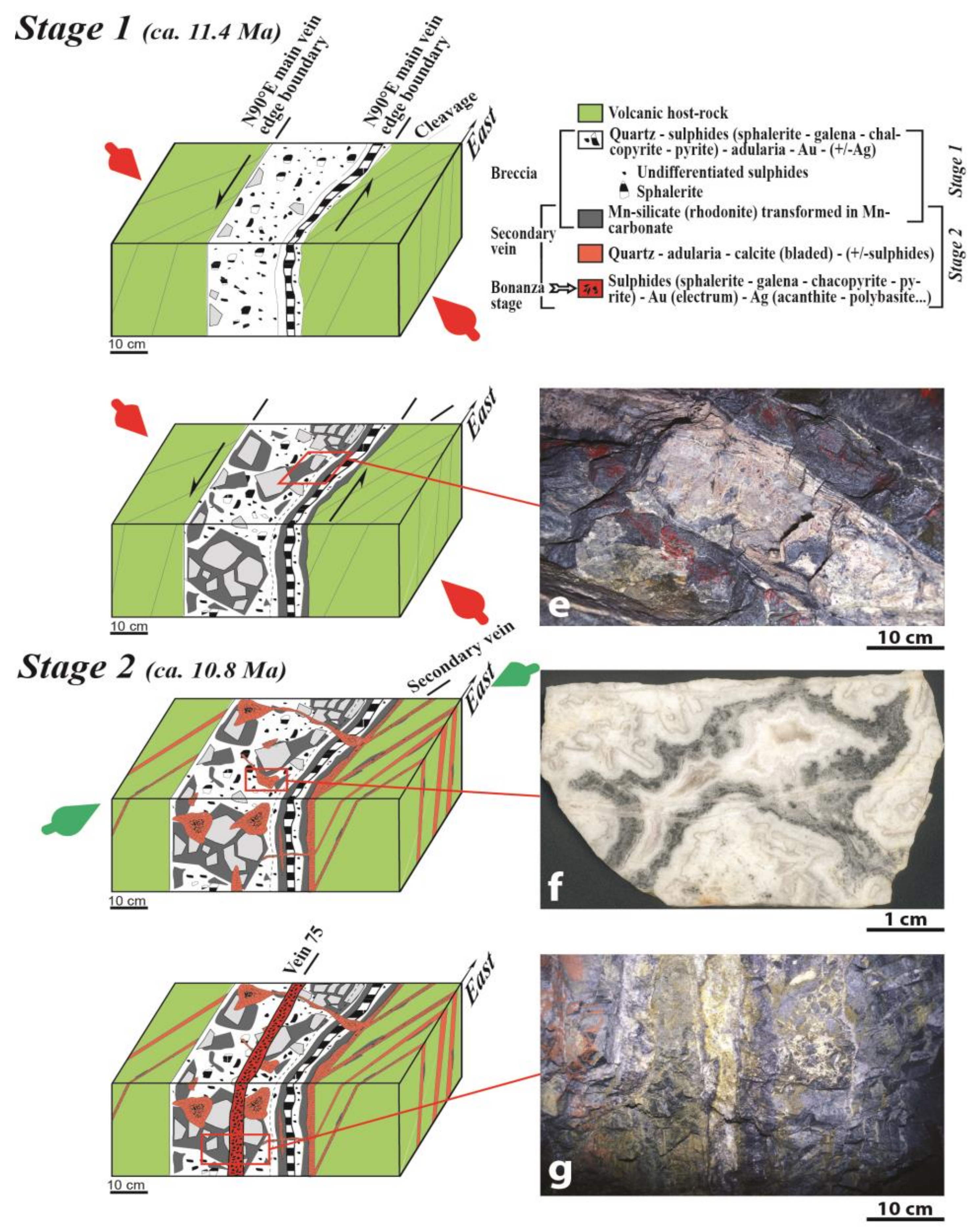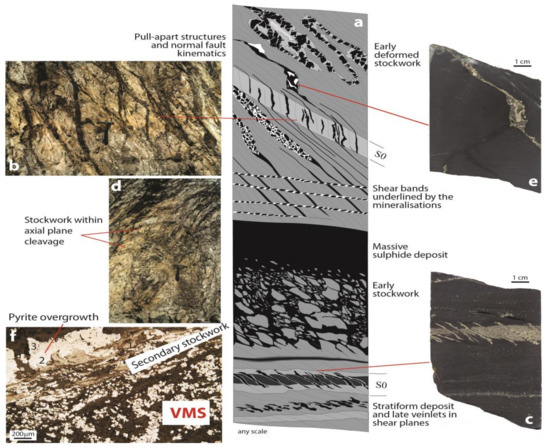 Figure 8. Schematic illustration showing the relationships between first stockwork and secondary one around the VHMS of the Iberian Pyrite Belt (south Spain). (a) Schematic distribution of the different stockwork and mineralised features close to a VHMS body. Occurrence of second stockwork within meter-scale shear bands (b) and within axial planar cleavage (d). (c) Stratiform pyrite-rich level cut by secondary pyrite-rich veins. (e) Small pull-apart filled by syntectonic quartz and pyrite. (f) Pyrite metablasts and overgrowths (2 and 3) formed close to a synkinematic second stockwork.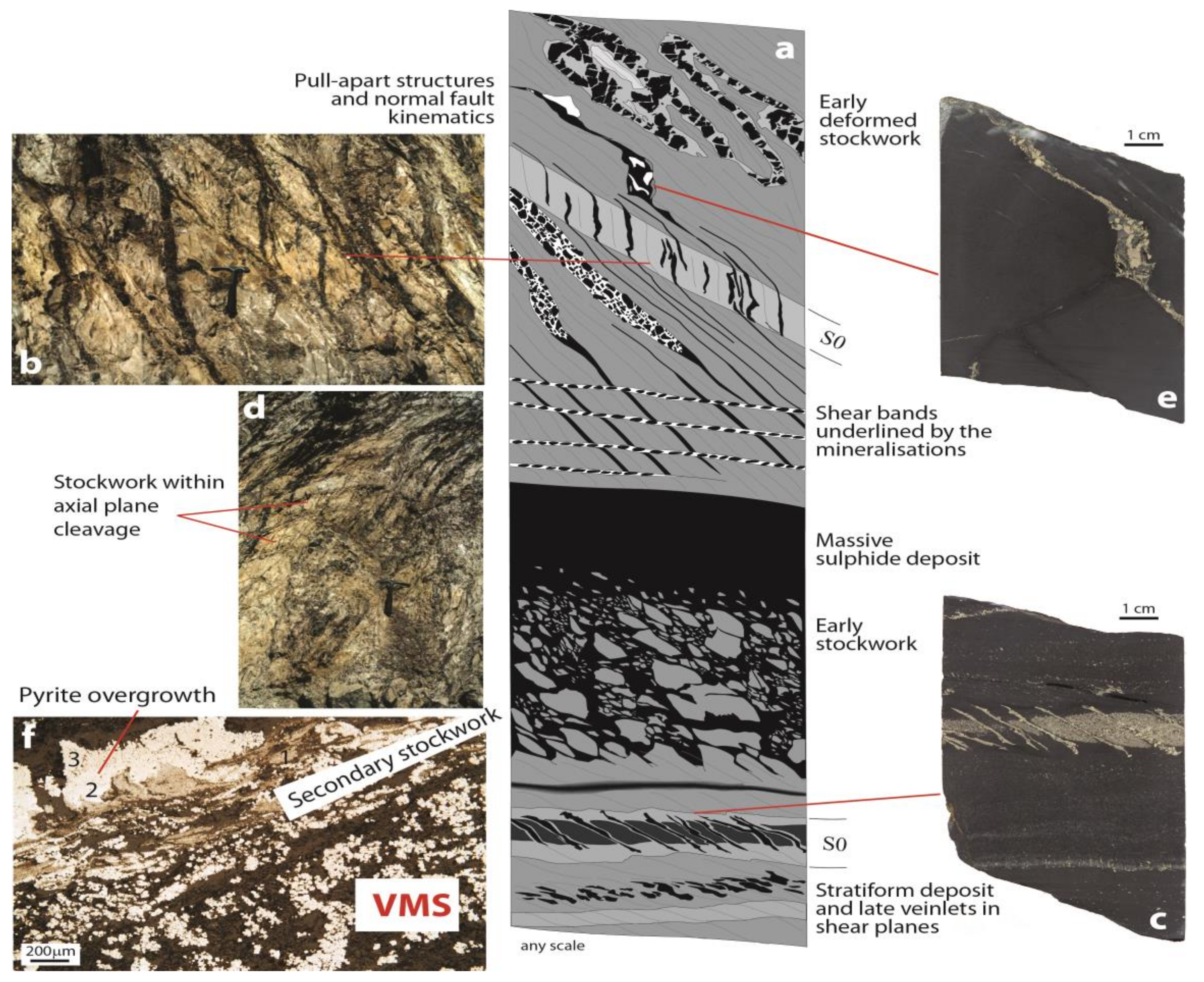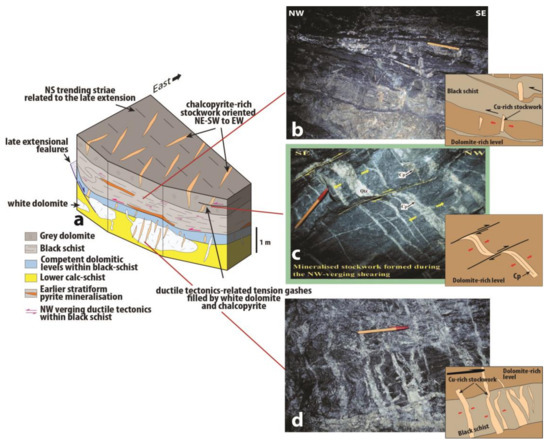 Figure 9. (a) Illustrations of the Ifri Cu mine model showing some images of the Cu-rich stockwork formed in response of ductile decollement within black schist. Each photograph is associated to a schematic cartoon in order to explain the geological process. (b) Example of vein formation within competent dolomite rich level in response of the ductilely deformed black schist. (c) Opening of chalcopyrite/quartz-rich veins due to NW-directed shearing. (d) Stockwork formation by contrasted behaviour of dolomite and black schist.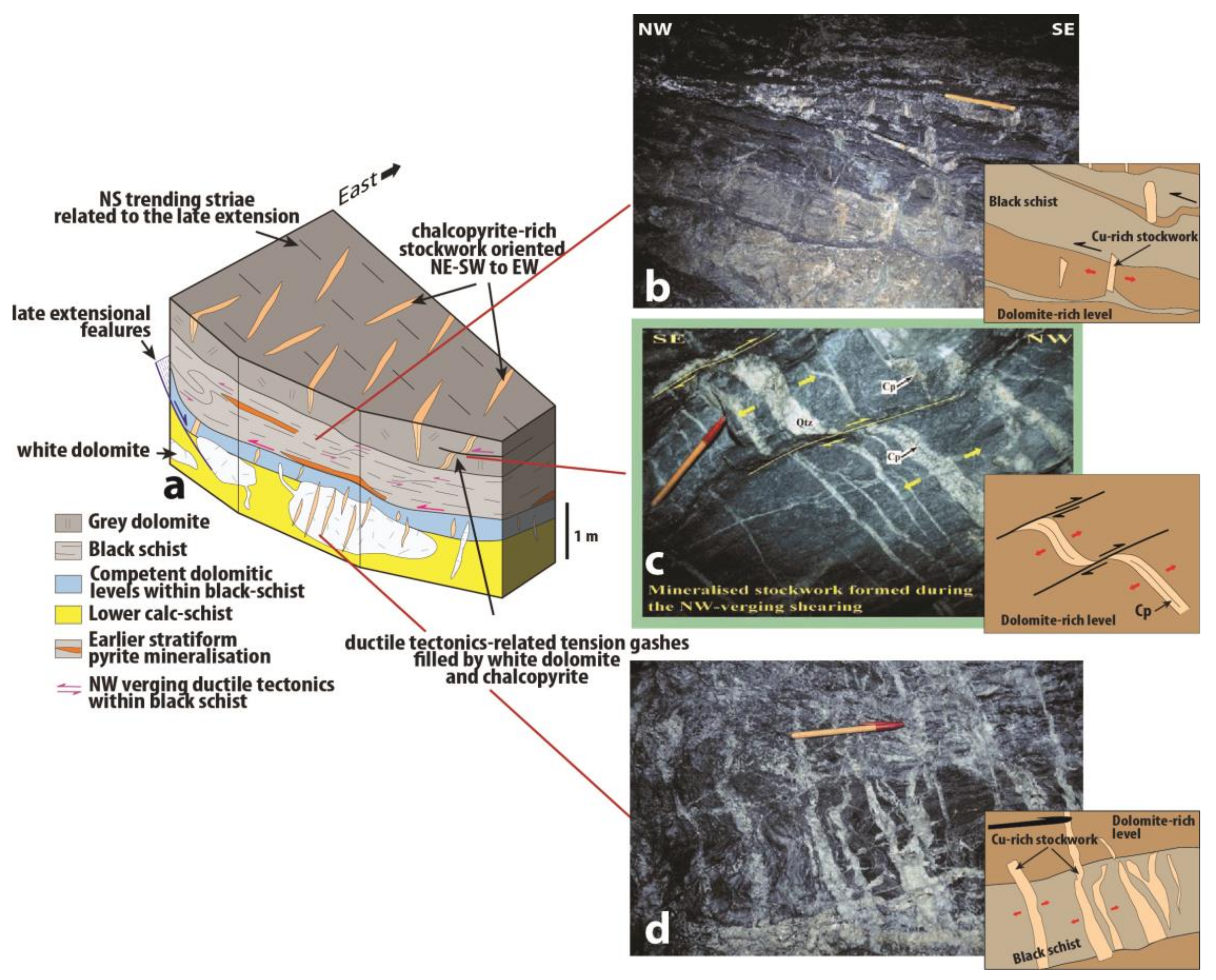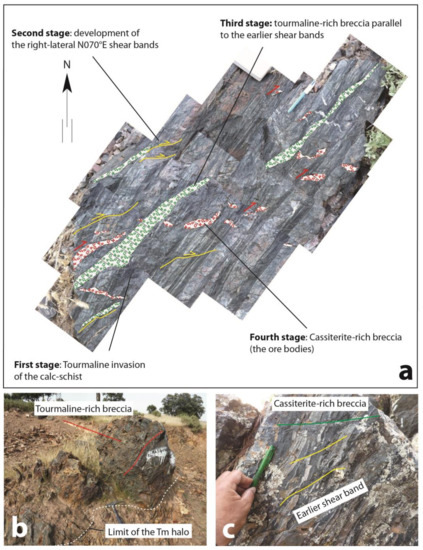 Figure 10. Deposit history and evolution of the four stages that explain the formation of the Achmmach tin deposit (Morocco) recognised in a unique block (a). (b) Image of the "North Zone" area in which the succession of structure can be observed. Note the limit of the tourmaline alteration halo that delimitate the zone where mineralisation developed. (c) Parallelism between ductile shear bands and mineralised breccia showing that breccia re-used the earlier plane of deformation to develop.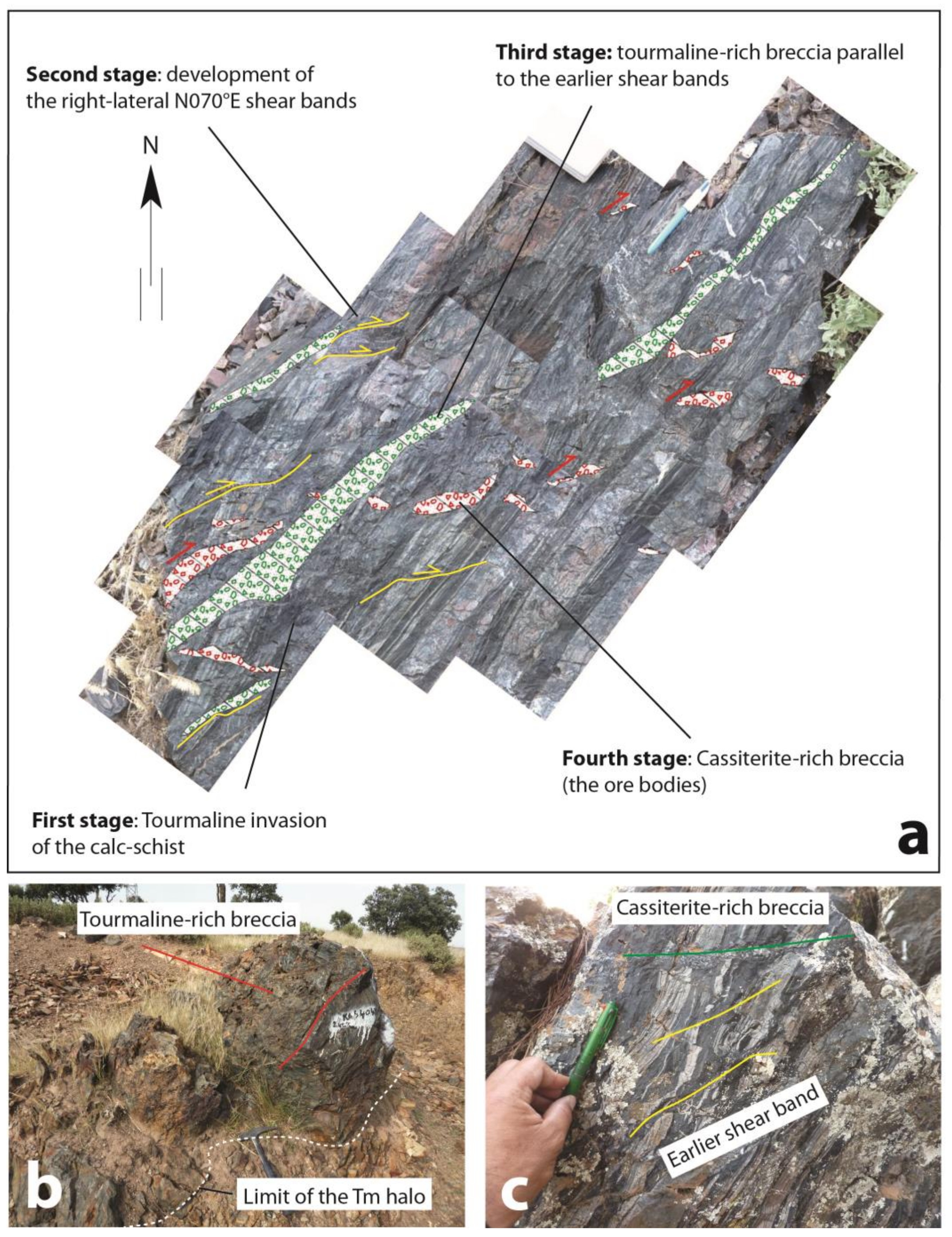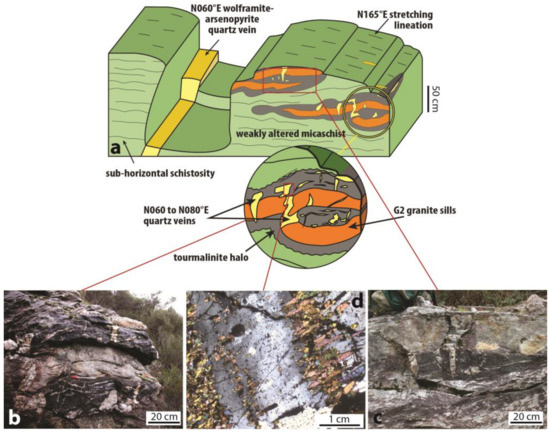 Figure 11.
(
a
) Mina Soriana outcrop, Galicia (Spain), showing the development of mineralised quartz veins thanks to tourmaline-rich alteration halos developed in response to granitic sill emplacement (modified from [
59
]). (
b
) Close view of the granitic sill, tourmaline halo and vertical quartz veins. (
c
) Microscopic view of quartz vein rim showing tourmaline syntectonic growing. (
d
) Development of vertical quartz mineralised veins limited to the tourmaline-rich alteration halo.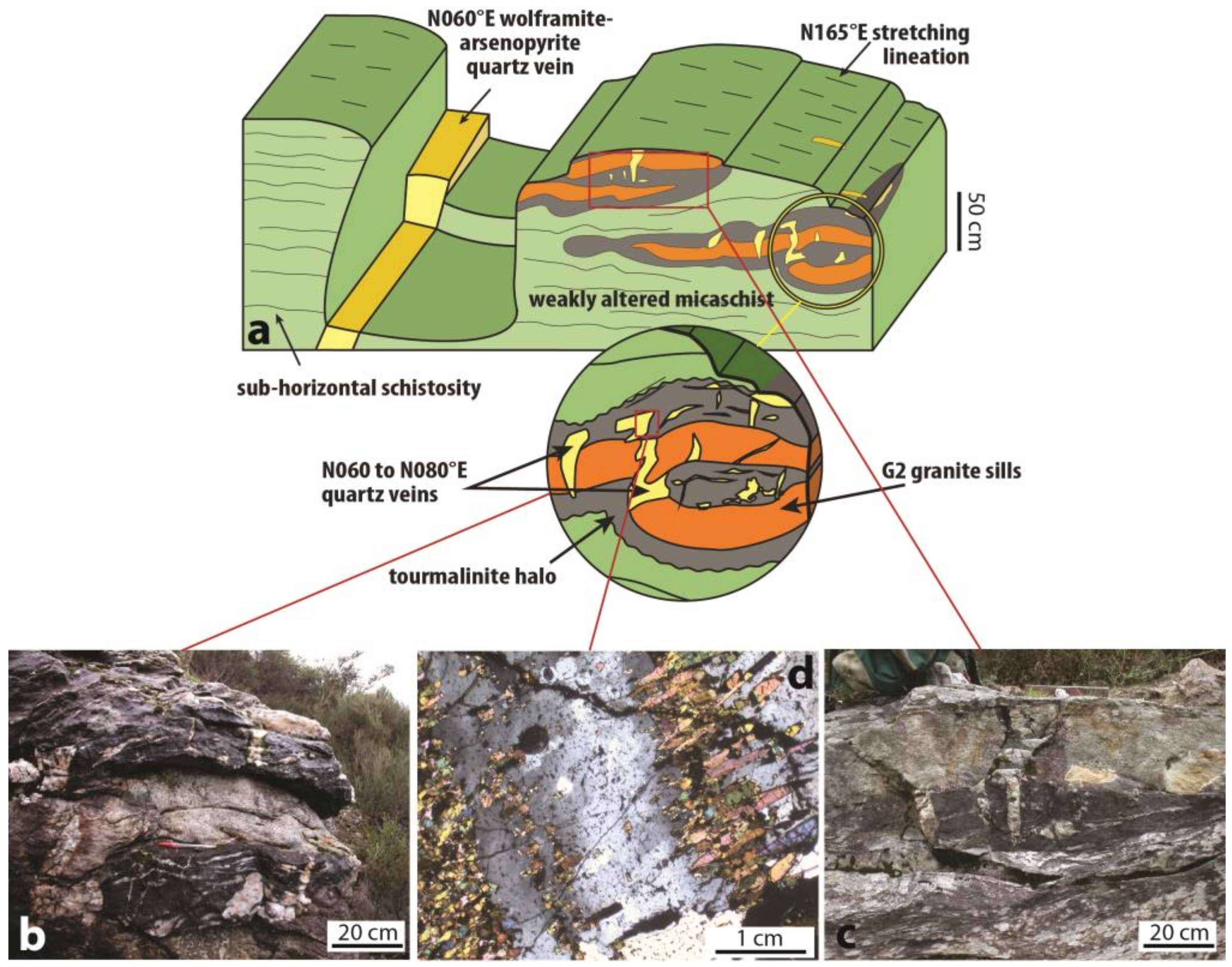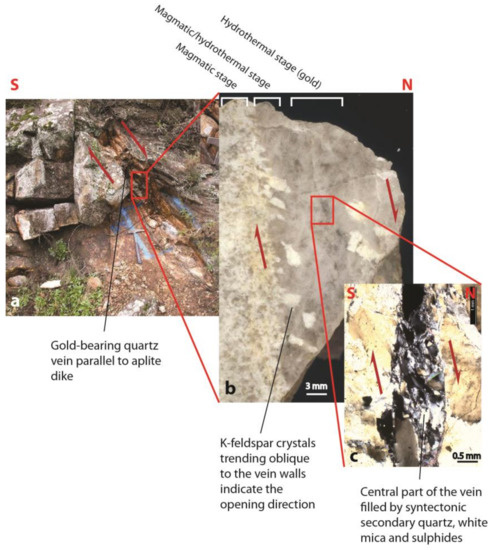 Figure 12. Relationships between gold-bearing quartz vein and granitic dike within the Bruès granite cupola, Galicia. (a) Outcrop view showing the close relationship between quartz vein and granitic dike. (b) Sample view showing the transitional contact between granite and quartz hydrothermal vein. (c) Thin section of the central part of the hydrothermal vein representative of the mineralised stage. Note the occurrence of dynamic recrystallised quartz and white mica indicating a normal sense of shearing. Red arrows indicate the sense of motion.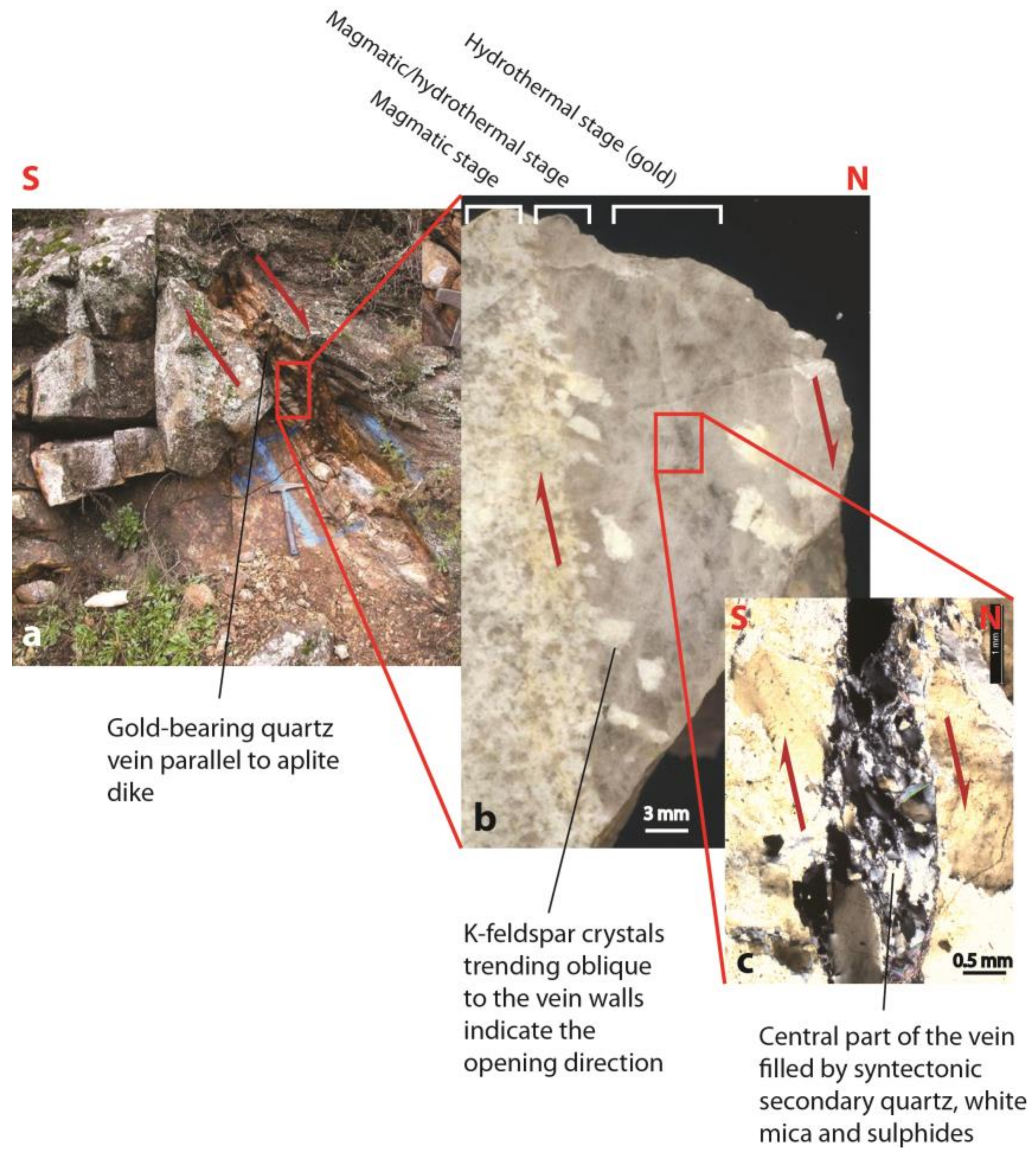 © 2019 by the author. Licensee MDPI, Basel, Switzerland. This article is an open access article distributed under the terms and conditions of the Creative Commons Attribution (CC BY) license (http://creativecommons.org/licenses/by/4.0/).