The Tocantinzinho Paleoproterozoic Porphyry-Style Gold Deposit, Tapajós Mineral Province (Brazil): Geology, Petrology and Fluid Inclusion Evidence for Ore-Forming Processes
1
Campus Universitário de Juruti, Universidade Federal do Oeste do Pará, Juruti 68170-000, Brazil
2
Instituto de Geociências, Universidade de Brasília, Campus Universitário Darcy Ribeiro, Brasília 70910-900, Brazil
*
Author to whom correspondence should be addressed.
Received: 2 November 2018 / Revised: 26 December 2018 / Accepted: 27 December 2018 / Published: 5 January 2019
Abstract
The Tocantinzinho gold deposit, located in the Tapajós Mineral Province, Amazonia, Brazil, is considered the largest gold deposit in the region. It is a stockwork-disseminated gold deposit, hosted in a 1982 ± 8 Ma hydrothermalized monzogranite of the Creporizão Intrusive Suite, with petrographic and geochemical characteristics of volcanic arc to post-collisional granites. Gold is mainly associated with phyllic alteration. Primary fluid inclusions trapped in the mineralization stages are H
2
O–NaCl and unsaturated and homogenize either to the vapor or to the liquid with Th
(t)
of 300–430 °C, salinity of 2–16 wt % NaCl eq. and density from 0.43 to 0.94 g/cm
3
. At these conditions, Au is expected to be transported as Au(HS)
2
−
complexes and ore is deposited as the result of boiling in the first mineralizing stages and of mixing between magmatic fluid and meteoric water during the phyllic alteration. Compared with other deposits, Tocantinzinho has similarities with magmatic-hydrothermal oxidized calc-alkaline granite-related gold deposits classified as porphyry gold deposits but we classify as a porphyry-style gold deposit, as it lacks some characteristics of the Phanerozoic porphyry-type deposits. The results from this study can be used to elaborate and guide prospection models in Amazonia and in similar Proterozoic terrains.
View Full-Text
►

▼

Figures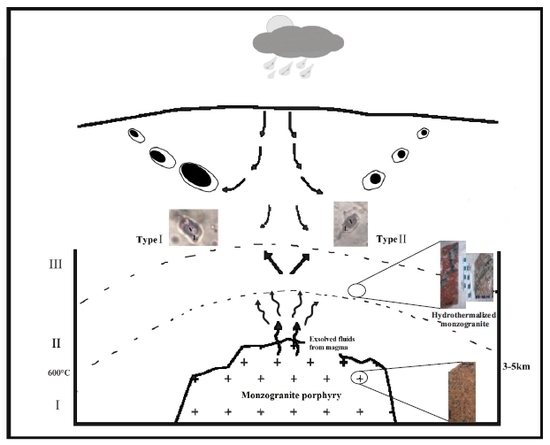 Graphical abstract
This is an open access article distributed under the
Creative Commons Attribution License
which permits unrestricted use, distribution, and reproduction in any medium, provided the original work is properly cited (CC BY 4.0).

Share & Cite This Article
MDPI and ACS Style
Lopes, A.A.C.; Moura, M.A. The Tocantinzinho Paleoproterozoic Porphyry-Style Gold Deposit, Tapajós Mineral Province (Brazil): Geology, Petrology and Fluid Inclusion Evidence for Ore-Forming Processes. Minerals 2019, 9, 29.
Note that from the first issue of 2016, MDPI journals use article numbers instead of page numbers. See further details here.
Related Articles
Comments
[Return to top]