Mineralogical and Geochemical Signatures of Metalliferous Sediments in Wocan-1 and Wocan-2 Hydrothermal Sites on the Carlsberg Ridge, Indian Ocean
1
Department of Marine Science, Ocean College, Zhejiang University, Zhoushan 316021, China
2
Key Laboratory of Submarine Geosciences, Second Institute of Oceanography, State Oceanic Administration, Hangzhou 310012, China
3
Nigerian Institute for Oceanography and Marine Research, Lagos, P.M.B 12729, Nigeria
*
Author to whom correspondence should be addressed.
Received: 28 November 2018 / Revised: 25 December 2018 / Accepted: 27 December 2018 / Published: 4 January 2019
Full-Text
|
PDF
[5887 KB, uploaded 4 January 2019]
|
|

Review Reports
Abstract
In this paper, we conduct a comparative study on the mineralogy and geochemistry of metalliferous sediment collected near the active hydrothermal site (Wocan-1) and inactive hydrothermal site (Wocan-2) from Wocan Hydrothermal Field, on the Carlsberg Ridge (CR), northwest Indian Ocean. We aim to understand the spatial variations in the primary and post-depositional conditions and the intensity of hydrothermal circulations in the Wocan hydrothermal systems. Sediment samples were collected from six stations which includes TVG-07, TVG-08 (Wocan-1), TVG-05, TVG-10 (Wocan-2), TVG-12 and TVG-13 (ridge flanks). The mineralogical investigations show that sediment samples from Wocan-1 and Wocan-2 are composed of chalcopyrite, pyrite, sphalerite, barite, gypsum, amorphous silica, altered volcanic glass, Fe-oxides, and hydroxides. The ridge flank sediments are dominated by biogenic calcite and foraminifera assemblages. The bulk sediment samples of Wocan-1 have an elevated Fe/Mn ratio (up to ~1545), with lower U contents (<7.4 ppm) and U/Fe ratio (<~1.8 × 10
−5
). The sulfide separates (chalcopyrite, pyrite, and sphalerite) are enriched in Se, Co, As, Sb, and Pb. The calculated sphalerite precipitation temperature (Sph.PT) yields ~278 °C. The sulfur isotope (δ
34
S) analysis returned a light value of 3.0–3.6‰. The bulk sediment samples of Wocan-2 have a lower Fe/Mn ratio (<~523), with high U contents (up to 19.6 ppm) and U/Fe ratio (up to ~6.2 × 10
−5
). The sulfide separates are enriched in Zn, Cu, Tl, and Sn. The calculated Sph.PT is ~233 °C. The δ
34
S returned significant values of 4.1–4.3‰ and 6.4–8.7‰ in stations TVG-10 and TVG-05, respectively. The geochemical signatures (e.g., Fe/Mn and U/Fe ratio, mineral chemistry of sulfides separates, and S-isotopes and Sph.PT) suggest that sediment samples from Wocan-1 are located near intermediate–high temperature hydrothermal discharge environments. Additionally, relatively low δ
34
S values exhibit a lower proportion (less than 20%) of seawater-derived components. The geochemical signatures suggest that sediment samples from Wocan-2 has undergone moderate–extensive oxidation and secondary alterations by seawater in a low–intermediate temperature hydrothermal environments. Additionally, the significant δ
34
S values of station TVG-05 exhibit a higher estimated proportion (up to 41%) of seawater-derived components. Our results showed pervasive hydrothermal contributions into station TVG-08 relative to TVG-07, it further showed the increased process of seafloor weathering at TVG-05 relative to TVG-10.
View Full-Text
►

▼

Figures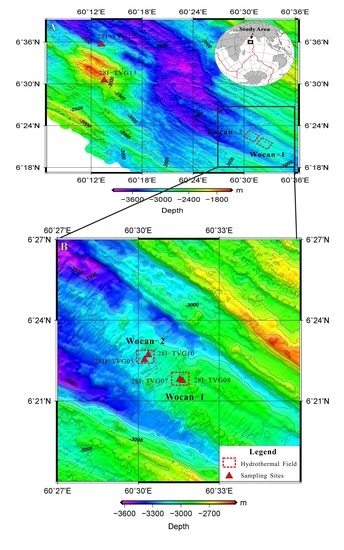 Graphical abstract
This is an open access article distributed under the
Creative Commons Attribution License
which permits unrestricted use, distribution, and reproduction in any medium, provided the original work is properly cited (CC BY 4.0).

Share & Cite This Article
MDPI and ACS Style
Popoola, S.O.; Han, X.; Wang, Y.; Qiu, Z.; Ye, Y.; Cai, Y. Mineralogical and Geochemical Signatures of Metalliferous Sediments in Wocan-1 and Wocan-2 Hydrothermal Sites on the Carlsberg Ridge, Indian Ocean. Minerals 2019, 9, 26.
Note that from the first issue of 2016, MDPI journals use article numbers instead of page numbers. See further details here.
Related Articles
Comments
[Return to top]