Metal Sources of World-Class Polymetallic W–Sn Skarns in the Nanling Range, South China: Granites versus Sedimentary Rocks?
1
Department of Resources Science and Engineering, Faculty of Earth Resources, China University of Geosciences, Wuhan 430074, China
2
Key Laboratory of Metallogenic Prediction of Nonferrous Metals and Geological Environment Monitoring, Ministry of Education, School of Geosciences and Info-Physics, Central South University, Changsha 410083, China
3
School of Earth and Planetary Science, John de Laeter Centre, TIGeR, Curtin University, Bentley, WA 6845, Australia
4
CAS Key Laboratory of Crust–Mantle Materials and Environments, School of Earth and Space Sciences, University of Science and Technology of China, Hefei 230026, China
*
Author to whom correspondence should be addressed.
Received: 25 May 2018 / Revised: 8 June 2018 / Accepted: 20 June 2018 / Published: 24 June 2018
Abstract
Widespread, large-scale polymetallic W–Sn mineralization occurs throughout the Nanling Range (South China) dated 160–150 Ma, and related to widely developed coeval granitic magmatism. Although intense research has been carried out on these deposits, the relative contribution of ore-forming elements either from granites or from surrounding strata is still debated. In addition, the factors controlling the primary metallogenic element in any given skarn deposit (e.g., W-dominated or Sn-dominated) are still unclear. Here, we select three of the most significant skarn-deposits (i.e., Huangshaping W–Mo–Sn, Shizhuyuan W–Sn–Mo–Bi and Xianghualing Sn), and compare their whole-rock geochemistry with the composition of associated granites and strata. The contents of Si, Al and most trace elements in skarns are controlled by the parent granite, whereas their Fe, Ca, Mg, Mn, Ti, Sr and REE patterns are strongly influenced by the wall rock. Samples from the Huangshaping skarn vary substantially in elemental composition, probably indicating their varied protoliths. Strata at the Shizhuyuan deposit exerted a strong control during metasomatism, whereas this occurred to a lesser degree at Huangshaping and Xianghualing. This correlates with increasing magma differentiation and increasing reduction state of granitic magmas, which along with the degree of stratigraphic fluid circulation, exert the primary control on dominant metallogenic species. We propose that wall rock sediments played an important role in the formation of W–Sn polymetallic mineralization in South China.
View Full-Text
►

▼

Figures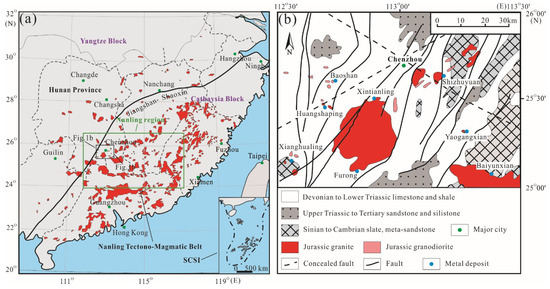 Figure 1
This is an open access article distributed under the
Creative Commons Attribution License
which permits unrestricted use, distribution, and reproduction in any medium, provided the original work is properly cited (CC BY 4.0).

Share & Cite This Article
MDPI and ACS Style
Jiang, W.; Li, H.; Evans, N.J.; Wu, J.; Cao, J. Metal Sources of World-Class Polymetallic W–Sn Skarns in the Nanling Range, South China: Granites versus Sedimentary Rocks? Minerals 2018, 8, 265.
Note that from the first issue of 2016, MDPI journals use article numbers instead of page numbers. See further details here.
Related Articles
Comments
[Return to top]