Open Access This article is
freely available
re-usable
Article
Correlation of Hydrocarbon Reservoir Sandstones Using Heavy Mineral Provenance Signatures: Examples from the North Sea and Adjacent Areas
1
HM Research Associates Ltd., Giddanmu, St Ishmaels, Pembrokeshire SA62 3TJ, UK
2
CASP, University of Cambridge, Madingley Rise, Cambridge CB3 0UD, UK
3
HM Research Norway A/S, Furuveien 7A, 4025 Stavanger, Norway
*
Author to whom correspondence should be addressed.
Received: 18 October 2018 / Accepted: 24 November 2018 / Published: 3 December 2018
Abstract
:
Correlation of hydrocarbon reservoir sandstones is one of the most important economic applications for heavy mineral analysis. In this paper, we review the fundamental principles required for establishing correlation frameworks using heavy mineral data, and illustrate the applications of a wide variety of heavy mineral techniques using a number of case studies from hydrocarbon reservoirs in the North Sea and adjacent areas. The examples cover Triassic red-bed successions in the central North Sea and west of Shetland, which have been subdivided and correlated using provenance-sensitive ratio data and mineral morphologies; Middle Jurassic paralic sandstones in the northern North Sea, correlated using garnet geochemistry; Upper Jurassic deep water sandstones in the northern North Sea, discriminated using rutile geochemistry and detrital zircon age data; and the "real-time" application of the technique at well site in Devonian-Carboniferous fluvio-lacustrine sandstones of the Clair Field, west of Shetland.
Keywords:
heavy minerals; correlation; North Sea; Jurassic; Triassic; Carboniferous; Devonian
1. Introduction
One of the most important practical economic applications of heavy mineral analysis is the correlation of sandstones that host reserves of oil and gas. Correlation is one of the key components required to build a petroleum reservoir model, because it places fundamental constraints on the understanding of the reservoir architecture. Correlation of reservoir sandstones is therefore crucial for optimising recovery of our ever-decreasing supply of hydrocarbons. Biostratigraphy, integrated with seismic and geophysical log interpretation, remains the principal tool for oilfield correlation [
1
]. However, there are many situations where biostratigraphic data lack sufficient resolution, for example due to unfavourable depositional conditions (such as non-marine or paralic settings or very rapid sedimentation in marine environments) or deep burial alteration causing degradation of the biostratigraphic signal.
In such cases, alternative methods are required [
2
,
3
]. In broad terms, three distinct approaches have been followed: sequence stratigraphic methods (such as core- and outcrop-based sedimentological criteria, geophysical log correlation, and seismic reflection data); direct or indirect dating (such as radiometric dating, magnetostratigraphy, and seawater
87
Sr/
86
Sr analysis), and provenance-based analytical techniques. Heavy mineral correlation belongs to the third of these categories. It is one of a family of provenance-based tools that also includes chemostratigraphy [
4
,
5
], Sm-Nd isotope stratigraphy [
6
,
7
] and clay mineral stratigraphy [
8
,
9
].
2. Background
The successful application of any provenance-based correlation method depends on the presence of changes in sediment provenance or transport history during deposition of the succession in question. These changes are reflected in the mineralogy and geochemistry of the sediment, and can therefore be detected by one or more of the various analytical techniques. The main problem with provenance-based methods is that a number of other processes capable of affecting bulk mineralogy and geochemistry operate during the sedimentary cycle ([
10
] and references therein). These processes are:
weathering at source, prior to incorporation in the transport system

mechanical breakdown during transport

weathering during periods of alluvial storage on the floodplain

hydraulic processes during transport and final deposition

diagenesis during deep burial

weathering at outcrop
These processes can partially or totally mask the variations caused by changes in provenance, and reliable provenance-based correlations therefore crucially depend on filtering out the effects of these overprinting factors. The most important factors that bias the provenance signal are hydrodynamic processes during transport and deposition and diagenesis during deep burial [
10
,
11
]. Weathering is also an important control in some instances, but mechanical abrasion is not believed to be of great importance in most circumstances [
10
,
12
].
Heavy mineral analysis is especially well-placed to identify changes in provenance in clastic successions. This is (i) because of the long history of research into the controls on assemblage compositions, and (ii) because the knowledge gained has enabled recognition of parameters that either minimise the effects, or are entirely independent of, these factors. In addition, the method is especially well suited to application in the hydrocarbon industry because it deals with individual particles that constitute the sample, rather than the attributes of bulk samples. Consequently, data can be generated equally well from ditch cuttings (by far the most common sample type available) as from cores and sidewall cores, because the effects of components added to the drilling mud system (such as mud-weighting agents) can be eliminated.
3. History of Application
Almost immediately after it was recognised that heavy mineral assemblages provide important constraints on the provenance of sand and sandstone, e.g., [
13
,
14
,
15
], applications to the petroleum industry became commonplace. Examples of this early work includes studies by Reed [
16
] and Reed and Bailey [
17
] on the Tertiary of California; by Hedberg [
18
] on the Tertiary of the Maracaibo Basin, Venezuela; by Edson [
19
] on the Paleozoic of the mid-continental US; and by Bornhauser [
20
] and Cogen [
21
] on the Tertiary of the US Gulf Coast. The work by Reed [
16
] and Reed and Bailey [
17
] showed that high-resolution correlation is possible using a variety of heavy minerals, principally amphibole, pyroxene, epidote, zircon, and titanite. Hedberg [
18
] showed that heavy mineral data accurately identified an unconformity surface on the basis of the distribution of andalusite, sillimanite, kyanite, staurolite, garnet, apatite, and chloritoid, and that this surface could be traced for at least 35 km. Edson [
19
], by contrast, considered that correlation is possible even using the relatively impoverished heavy mineral suites found in Ordovician and Carboniferous sandstones of the mid-continental US. Bornhauser [
20
] and Cogen [
21
] demonstrated the existence of variations in amphibole, epidote, kyanite, and staurolite in the Tertiary of the US Gulf Coast, and used these to construct a series of heavy mineral zones. Key observations from the work of Cogen [
21
] were that (i) heavy mineral assemblages become less diverse with increasing burial depth, and (ii) the boundaries between the heavy mineral zones cross-cut stratigraphic boundaries.
Even at this early stage, warning signs concerning the instability of several detrital heavy minerals had started appearing, e.g., [
22
,
23
]. A key period in the application of heavy minerals to correlation issues was the early 1940's, with the virtually simultaneous publication of four papers that all demonstrated the extensive nature of heavy mineral dissolution in the subsurface [
24
,
25
,
26
,
27
]. This coincided with the observation that heavy mineral zonal boundaries cross-cut stratigraphic boundaries in the Tertiary of the US Gulf Coast [
21
], implying that heavy mineral stratigraphy may be suspect. Consequently, from this point onwards, applications of heavy minerals for stratigraphic purposes declined markedly, and very few papers on this topic appeared in the literature for several decades, a significant exception being the work of Feo-Codecido [
28
].
Interest in the application of heavy mineral analysis for hydrocarbon reservoir stratigraphy was rekindled during the 1980's. This was partly because of the increased understanding of heavy mineral behaviour during diagenesis in the subsurface e.g., [
29
,
30
,
31
,
32
], which led to the recognition of which minerals, and which mineral parameters, could be regarded as reliable provenance indicators in highly diagenetically-modified sandstones [
33
,
34
]. Concurrently, developments in microbeam analytical techniques had started to enable major element geochemical characterisation of stable or ultrastable heavy mineral components, such as garnet [
35
] and tourmaline [
36
]. At the same time, textural studies of individual stable heavy mineral components, notably apatite, tourmaline, and zircon, showed that variations in these parameters could be used for correlation purposes in biostratigraphically-barren hydrocarbon-bearing reservoir successions of the UK, such as the Devonian [
37
] and the Triassic [
34
,
38
]. More recently, continued developments in analytical techniques have increased the scope for the application of single-grain geochemistry for evaluation of changes in provenance, including trace element data from diagenetically-stable phases such as apatite and rutile e.g., [
39
,
40
], and U-Pb isotopic data from ultrastable phases such as zircon [
41
,
42
]. As a result, there is now a wide range of heavy mineral analytical methods available for correlation purposes. In this paper, we demonstrate the application of a variety of heavy mineral approaches to a number of different hydrocarbon reservoir successions in the North Sea and adjacent areas (
Figure 1
).
4. Correlation Using Conventional Heavy Mineral Assemblages: Strathmore Field, West of Shetland
The heavy mineral assemblages in sandstones from 205/26a-3 and 205/26a-4 were characterised exclusively using core material. However, only three short cores were taken in 204/30a-2, and the heavy mineral stratigraphy for this well was mainly constructed using data from ditch cuttings.
The Strathmore Field correlation study enabled a comparison between data acquired from core and ditch cuttings. Core data can be regarded as reliable since their position within the well is accurately known and they are generally uncontaminated or otherwise altered during the drilling process. Ditch cuttings samples, however, represent material composited across a range of depths (dependent on the sampling frequency), are subject to contamination by downhole caving and drilling mud additives, and are also subject to modification owing to the mechanical action of the drill bit.
5. Correlation Using Heavy Mineral Morphology: Culzean Field Area, Central North Sea
6. Correlation Using Garnet Geochemistry: Oseberg Field, Northern North Sea
7. Correlation Using Rutile Geochemistry and Zircon Geochronology: Magnus Field, Northern North Sea
8. Application of Heavy Mineral Stratigraphy at the Well Site: Clair Field, West of Shetland
As discussed earlier in this paper, the basic prerequisite for all successful heavy mineral correlation schemes is that there were variations in provenance and transport history during deposition of the reservoir succession. For application at the well site, it is also crucial that the parameters used in the scheme can be determined from ditch cuttings, since production wells are rarely cored. Furthermore, the variations must be laterally extensive across the area under development, and finally, it must be possible to acquire the data in a timely fashion in order to be able to influence drilling decisions.
9. Concluding Remarks
Correlation of hydrocarbon reservoir sandstones is one of the most important practical applications for heavy mineral analysis. Successful correlation schemes depend on recognition of changes in sediment provenance and transport history in the interval under investigation. Heavy mineral assemblages are uniquely placed to identify such changes since they are highly sensitive indicators of provenance, but care must be taken to ensure that heavy mineral variations are not related to differences in hydrodynamic conditions at the time of deposition, or to deep burial diagenesis. A wide variety of parameters are available to identify changes in provenance and to create correlation frameworks, including provenance-sensitive heavy mineral ratio data, mineral morphologies, major element mineral chemistry, trace element mineral chemistry, and single-grain dating, notably of zircon. This paper illustrates the application of all these techniques in the North Sea and adjacent areas, where the majority of such work has been undertaken. Nevertheless, the potential for applications elsewhere is obvious, as demonstrated by work on such disparate areas as the Middle East [
76
,
77
], Myanmar [
78
], Papua New Guinea [
79
], and Trinidad [
80
,
81
].
Although the technique is most widely applied in reservoirs with poor biostratigraphic control, it has important applications in all clastic reservoirs because it provides information on the actual reservoir, rather than the bounding mudstones: in this sense, it effectively correlates reservoir volumes [
11
]. Furthermore, although not the primary aim of heavy mineral correlation studies, continued applications within sedimentary basins generate a large data base that can be used to constrain sediment provenance, transport, and dispersal patterns and entry points [
11
].
Author Contributions
Writing-original draft preparation by A.M., revision by P.M., and editing by A.M. and P.M. Figures—A.M. and P.M.
Funding
This review article received no external funding.
Acknowledgments
We are grateful to GdF Suez E&P Ltd. for allowing release of the rutile and zircon data information discussed herein, and to the reviewers for their helpful comments on a previous version of this paper.
Conflicts of Interest
The authors declare no conflicts of interest.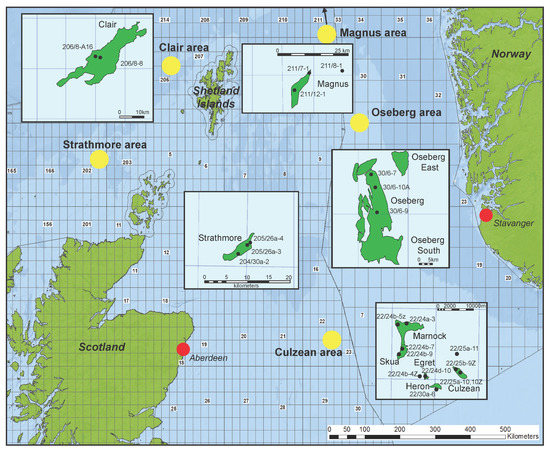 Figure 1. Location map of the North Sea and west of Shetland areas showing the oil and gas fields discussed in this paper. Numbers are the UK and Norwegian quadrants.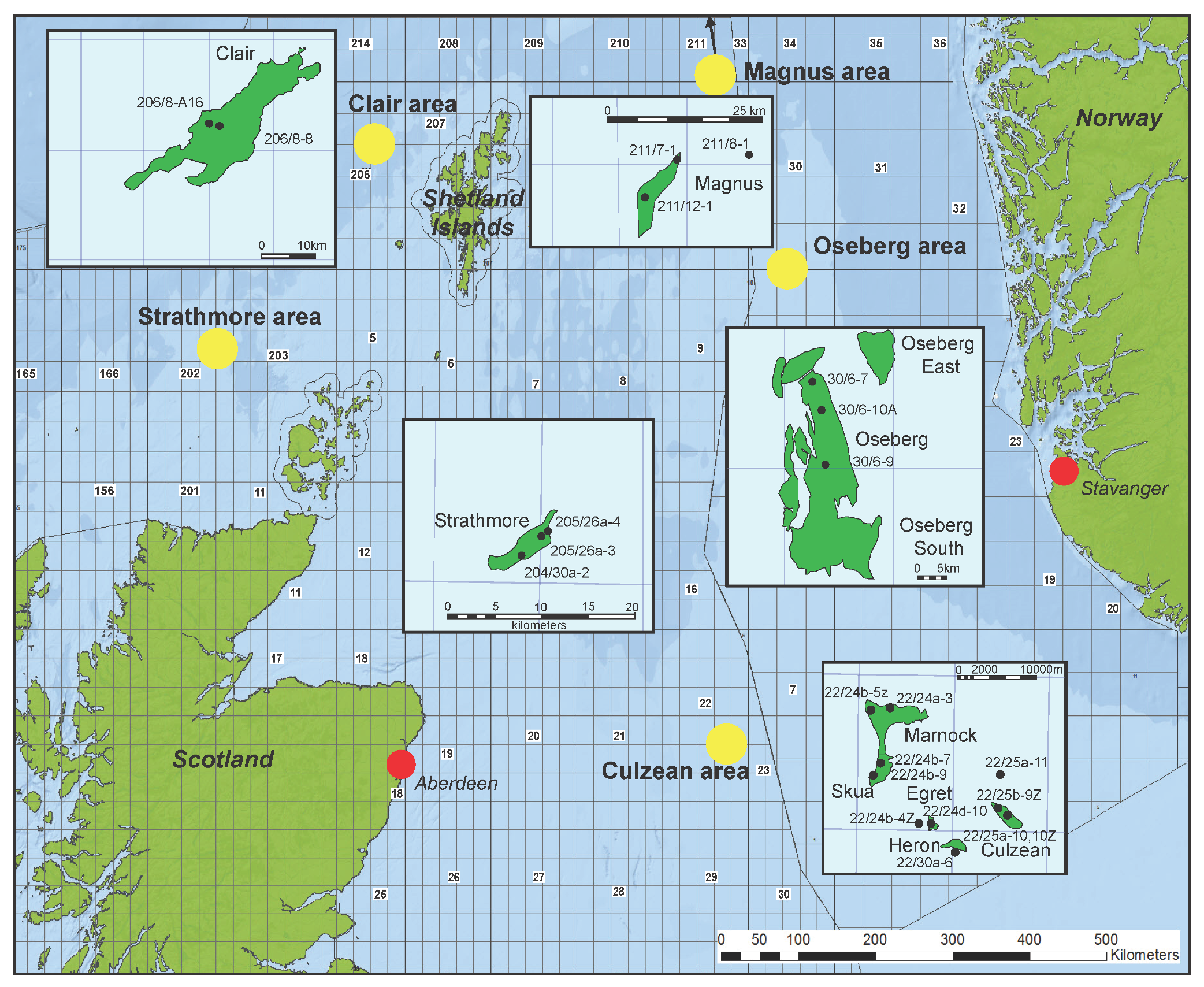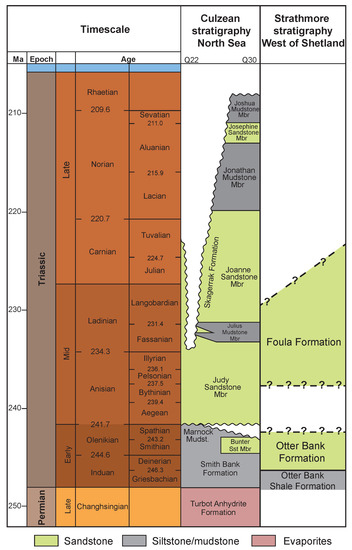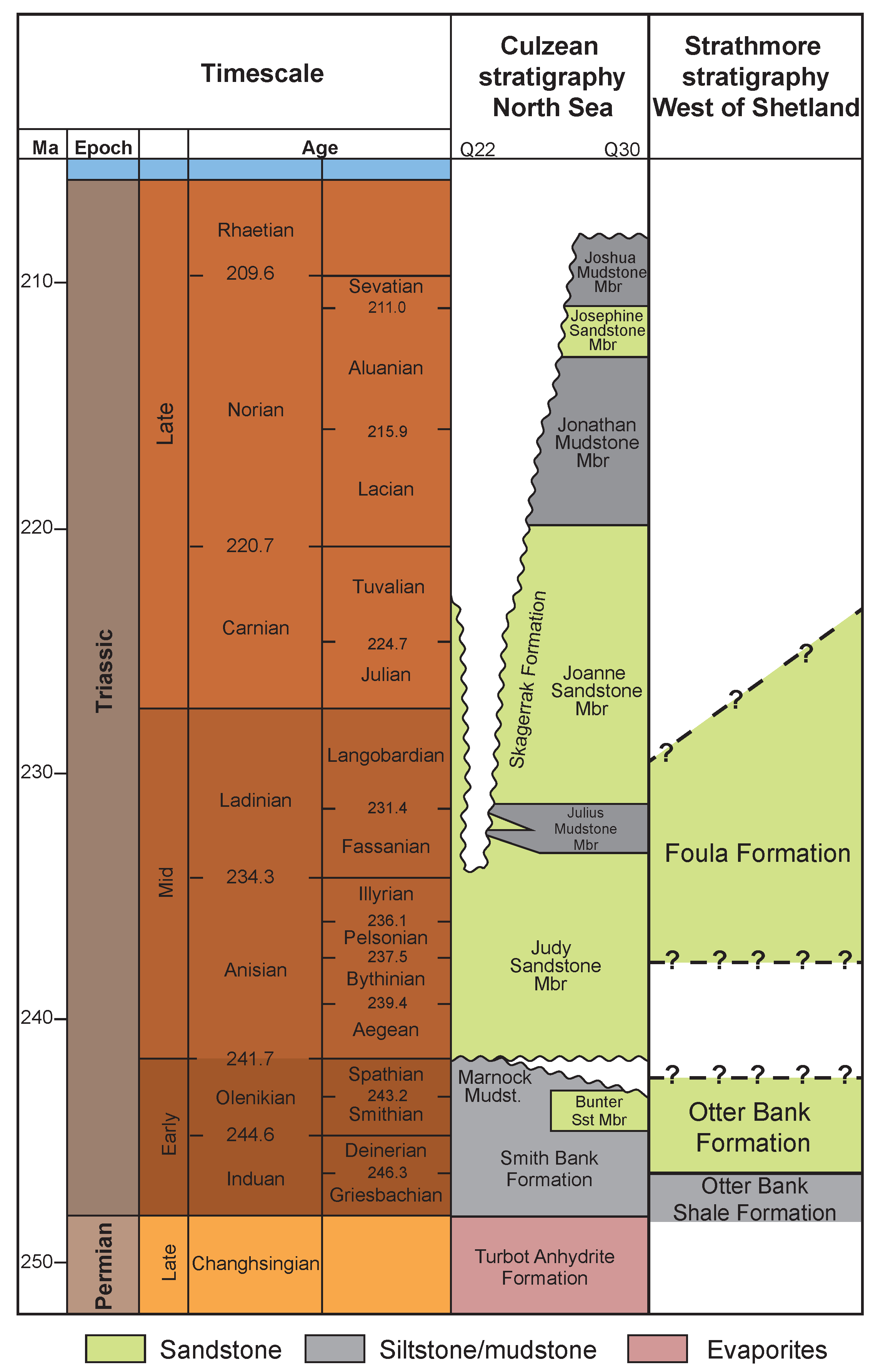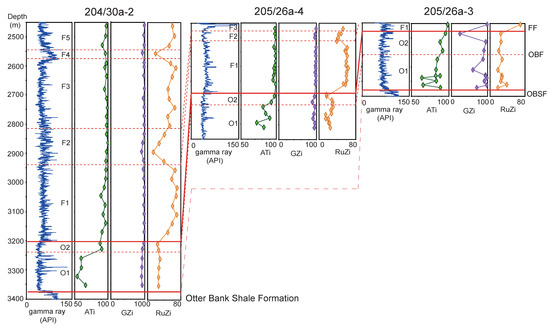 Figure 3.
Correlation of the Triassic in Strathmore Fields wells 204/30a-2, 205/26a-3, and 205/26a-4 using heavy mineral provenance-sensitive ratio signatures. For well locations, see
Figure 1
. FF = Foula Formation, OBF = Otter Bank Formation, OSBF = Otter Bank Shale Formation
Figure 4. Crossplots of the provenance-sensitive heavy mineral ratios ATi, GZi, and RuZi showing (upper) discrimination of Foula and Otter Bank sandstones, and (lower) slight deviation in ATi between data from cores and ditch cuttings.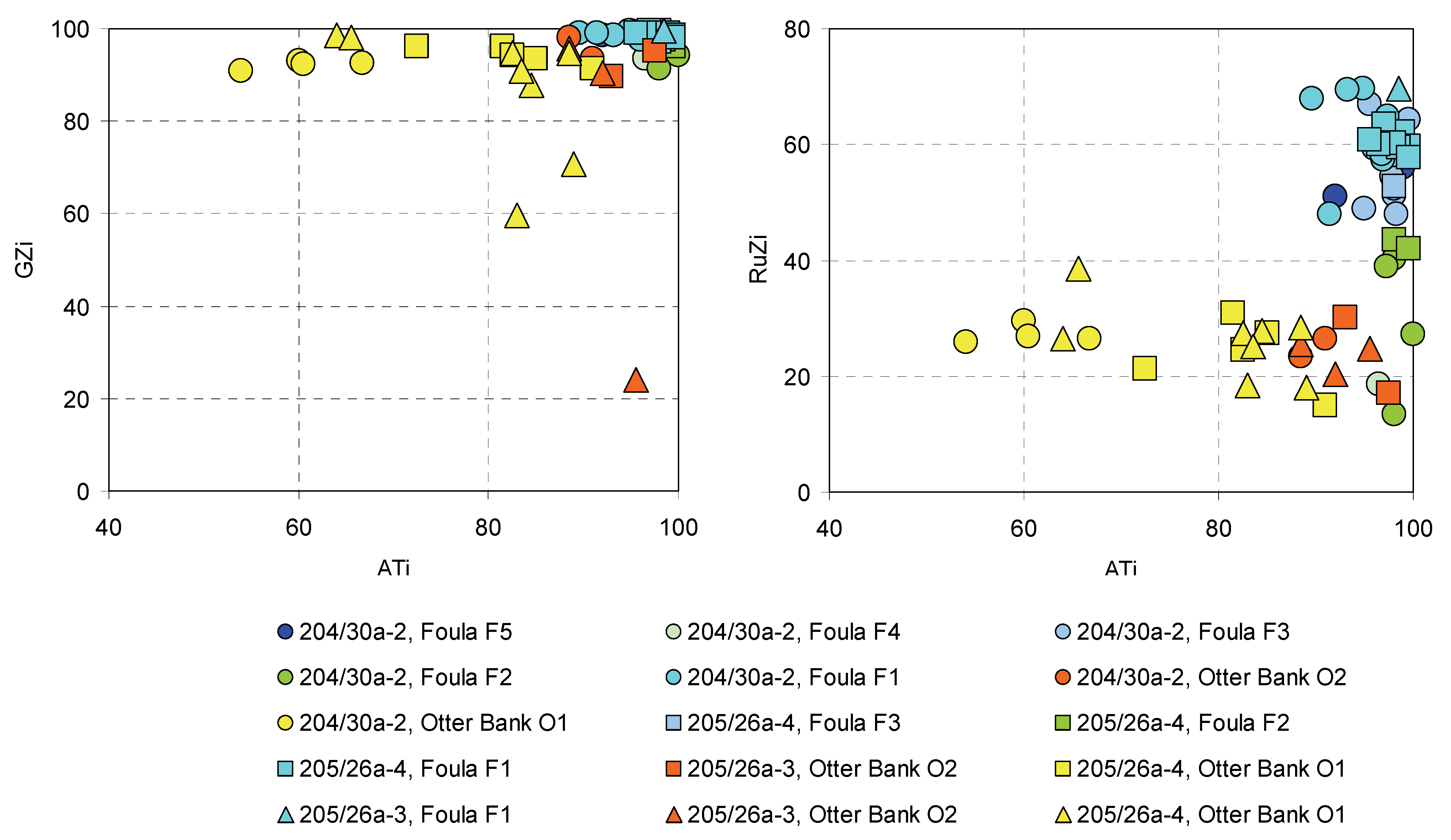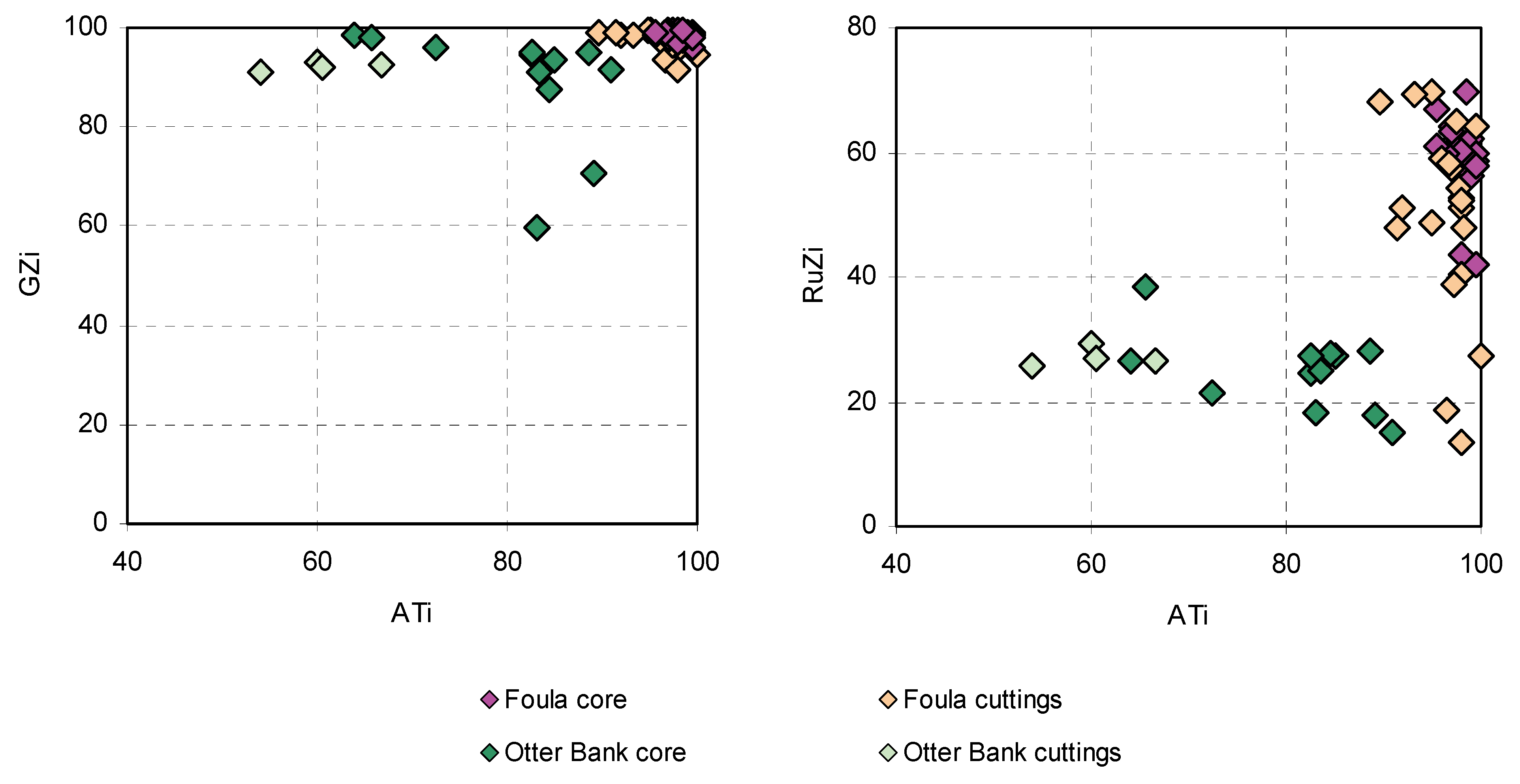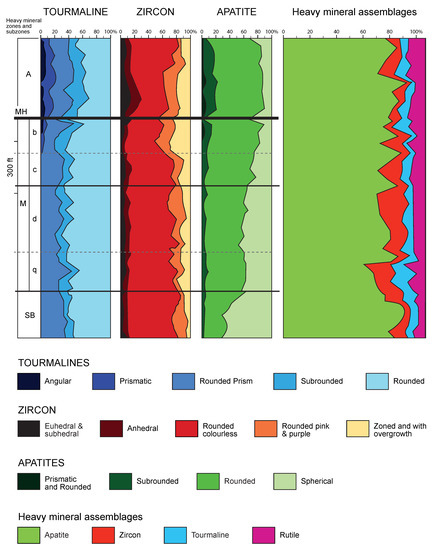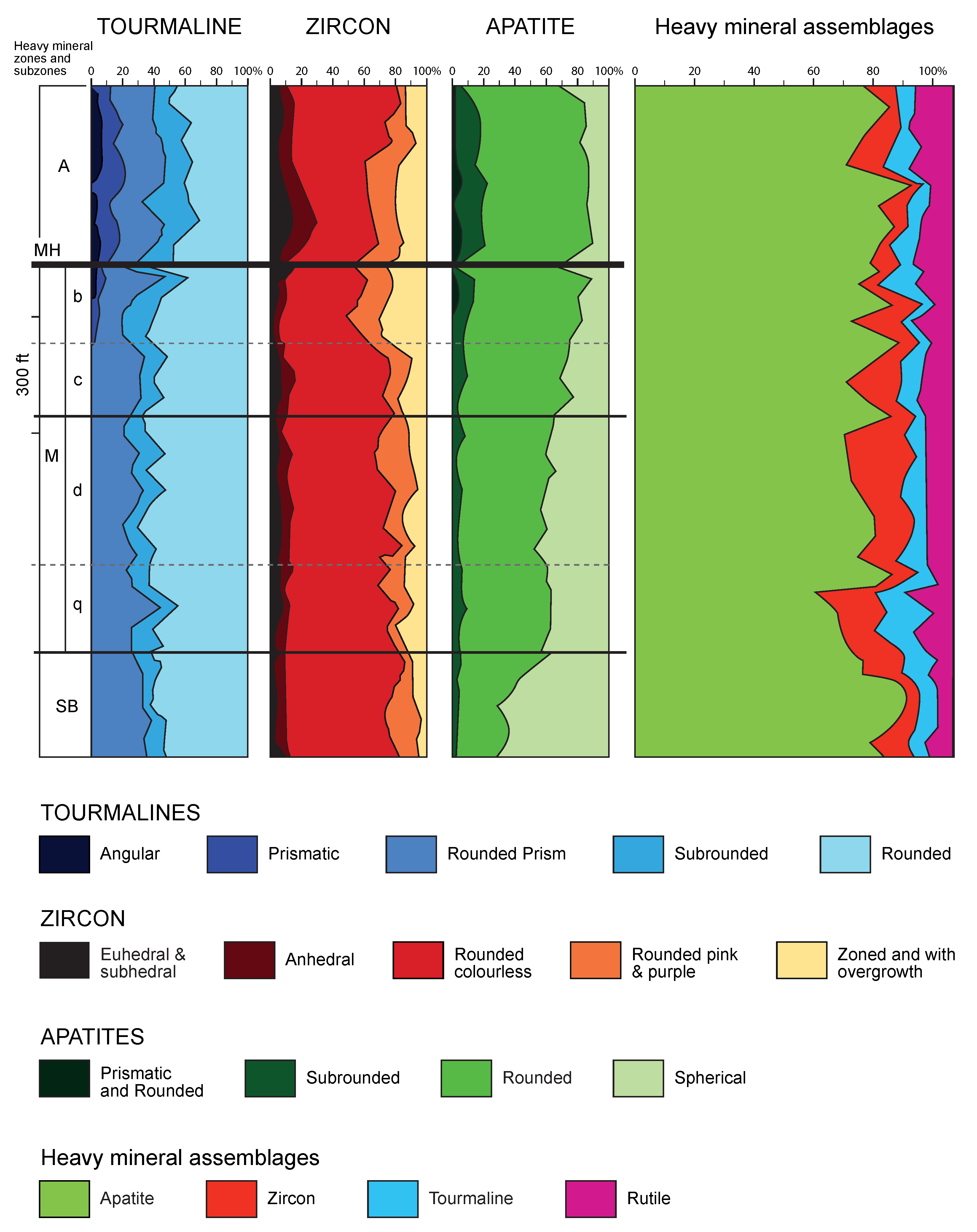 Figure 6.
Heavy mineral zonation of the Triassic Skagerrak Formation in Marnock Field well 22/24a-5 and Culzean Field well 22/25a-9Z using apatite roundness index (ARi) and zircon:apatite index (ZAi), after Mouritzen et al. [
48
]. For 22/24b-5Z, note the correspondence between the Mouritzen et al. zonation [
48
] and the earlier subdivision by Mange-Rajetzky [
34
], as shown in
Figure 5
.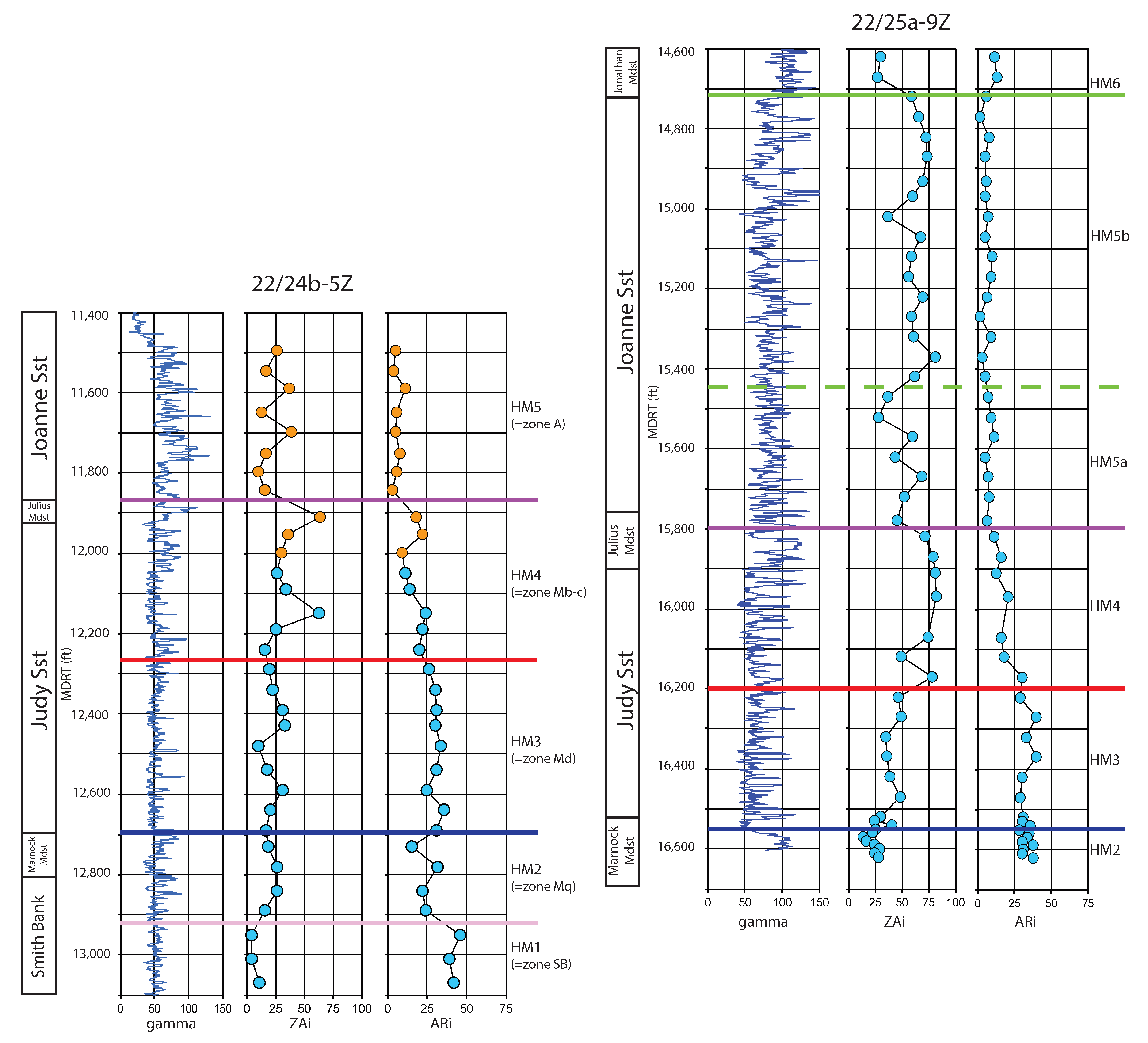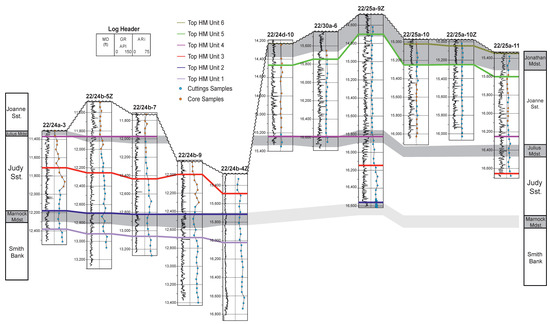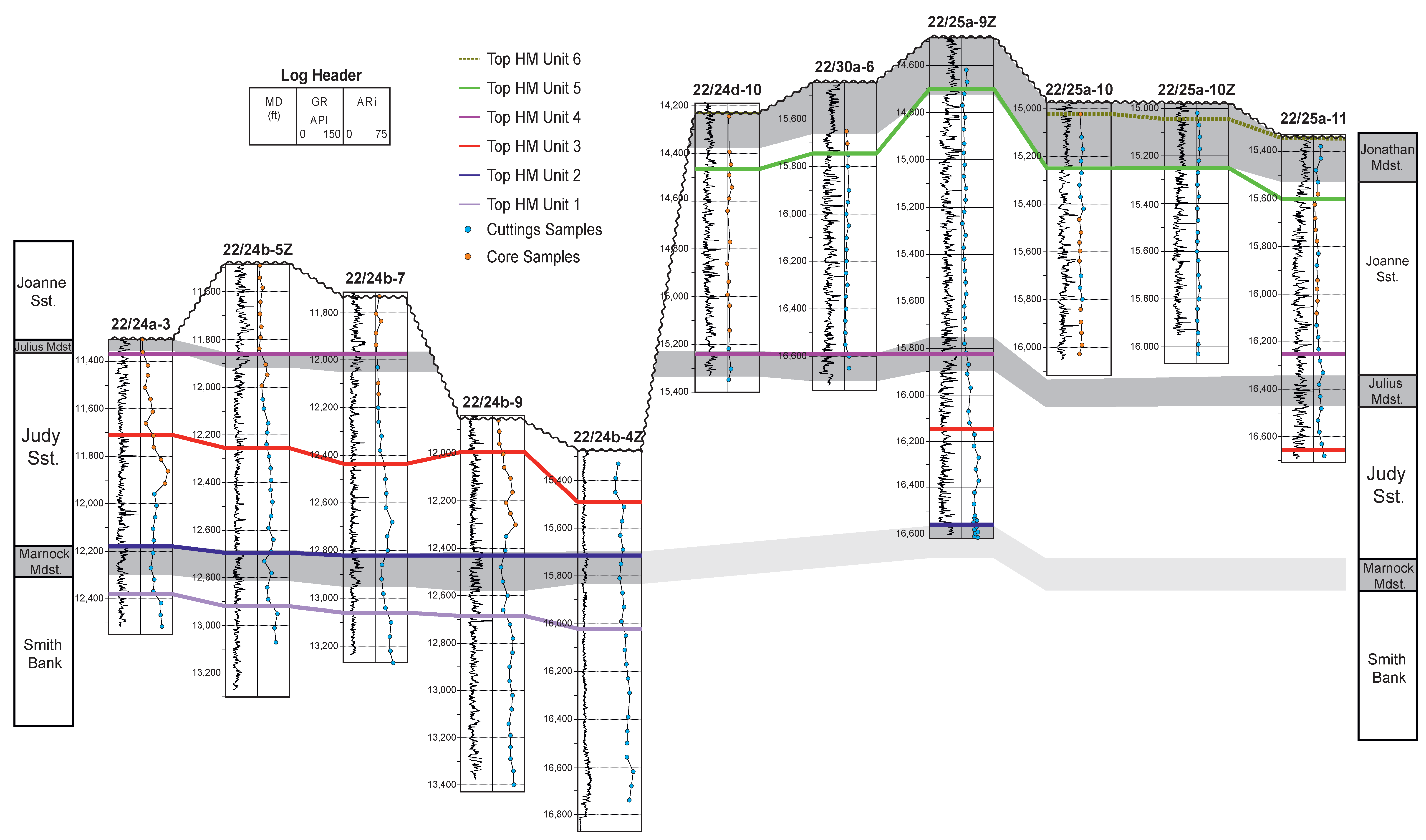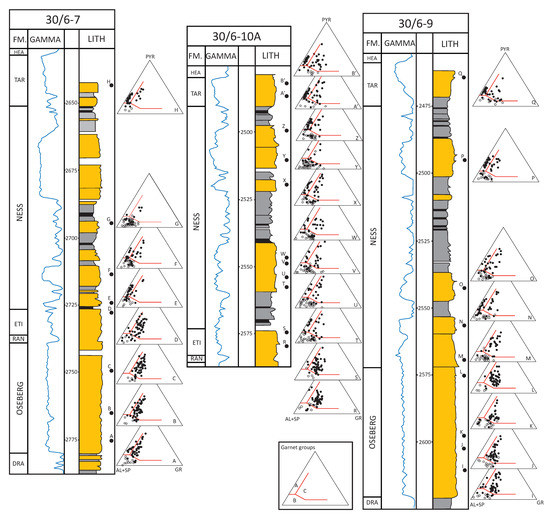 Figure 8.
Stratigraphic breakdown and correlation of the Brent Group in Oseberg Fields well 30/6-7, 30/6-9, and 30/6-10A using garnet geochemical signatures. AL = almandine, SP = spessartine, GR = grossular, PYR = pyrope. Garnet fields A, B, and C are as defined by Morton et al. [
56
] and Mange and Morton [
57
]. Yellow = sandstone, grey = mudstone, black = coal.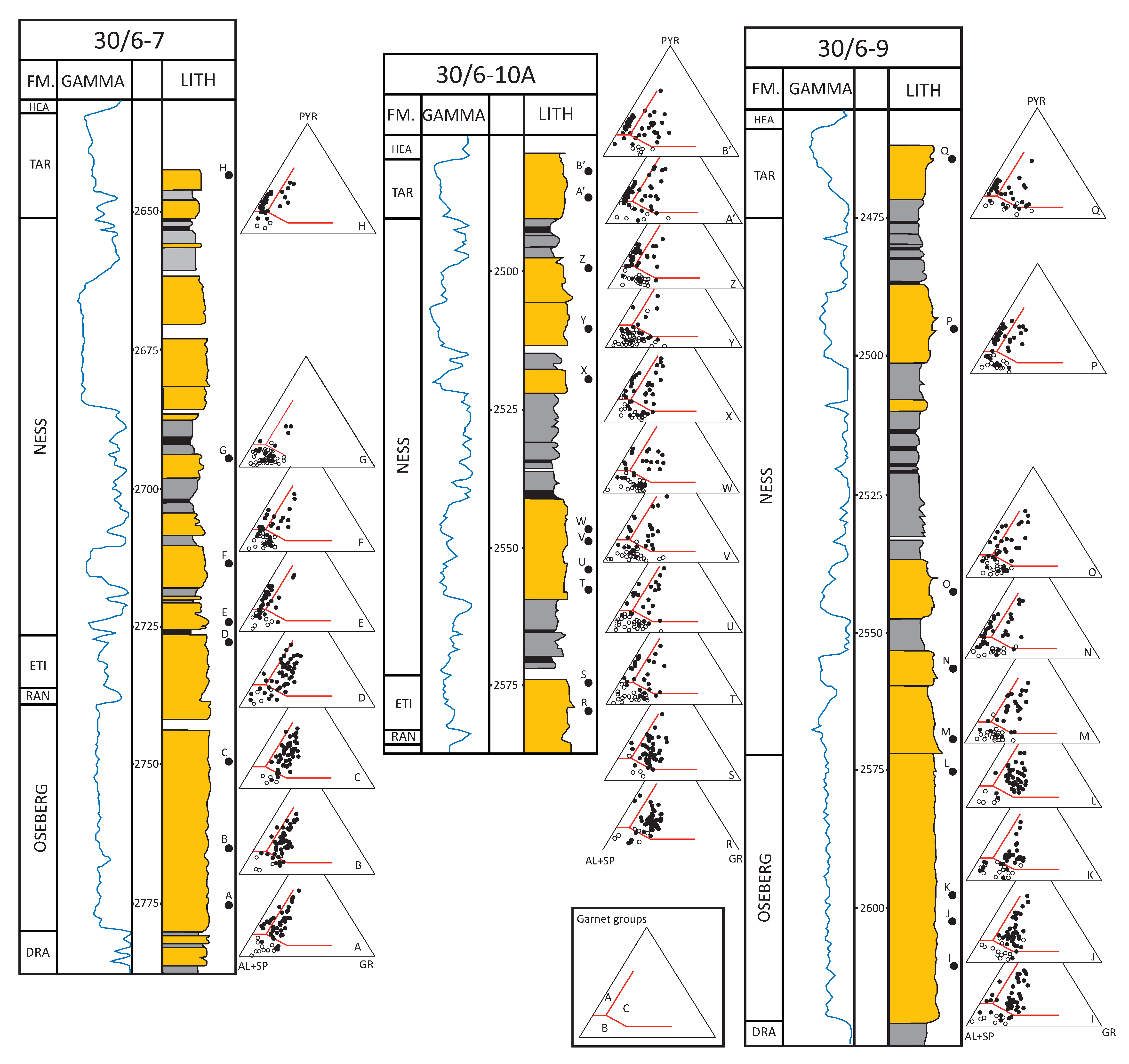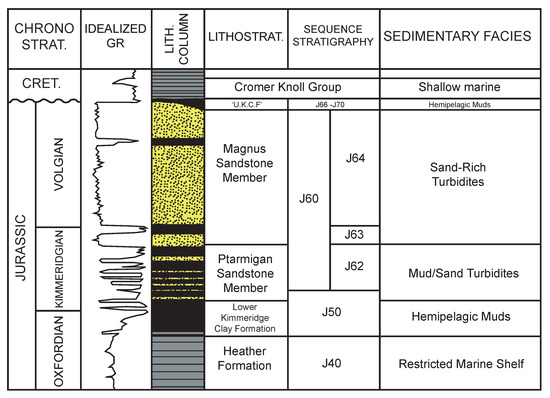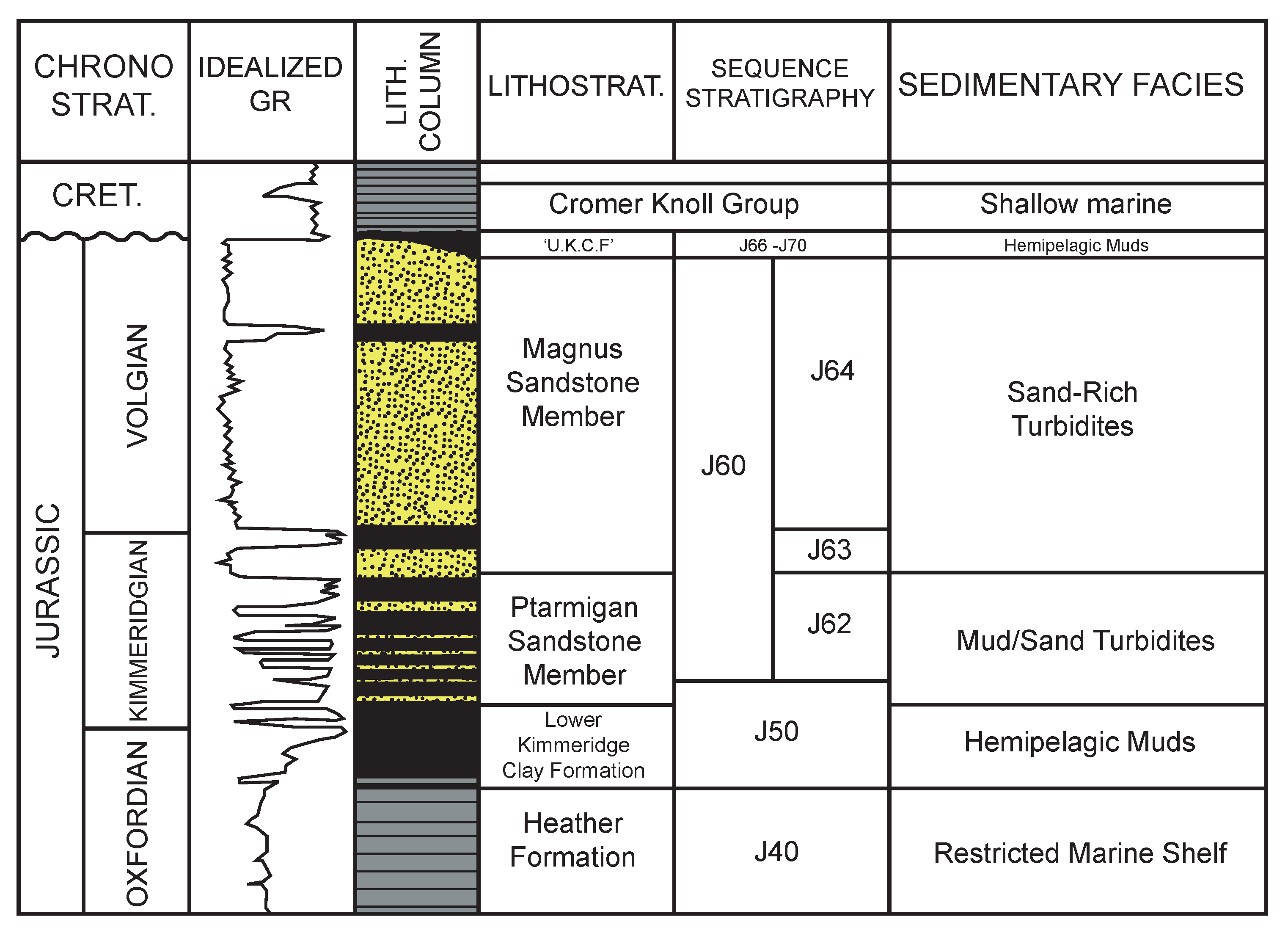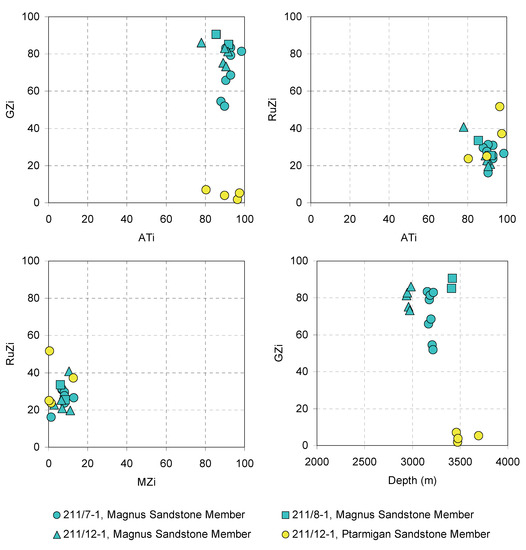 Figure 10.
Provenance-sensitive heavy mineral ratios for the Magnus Sandstone and Ptarmigan Sandstone members in the Magnus Field (see
Figure 1
). Note that there is no clear discrimination between the two sandstones in terms of ATi, RuZi, and MZi values. GZi is much lower in the Ptarmigan sandstone but this unit is more deeply buried and the lower GZi is likely to be a function of greater diagenetic modification.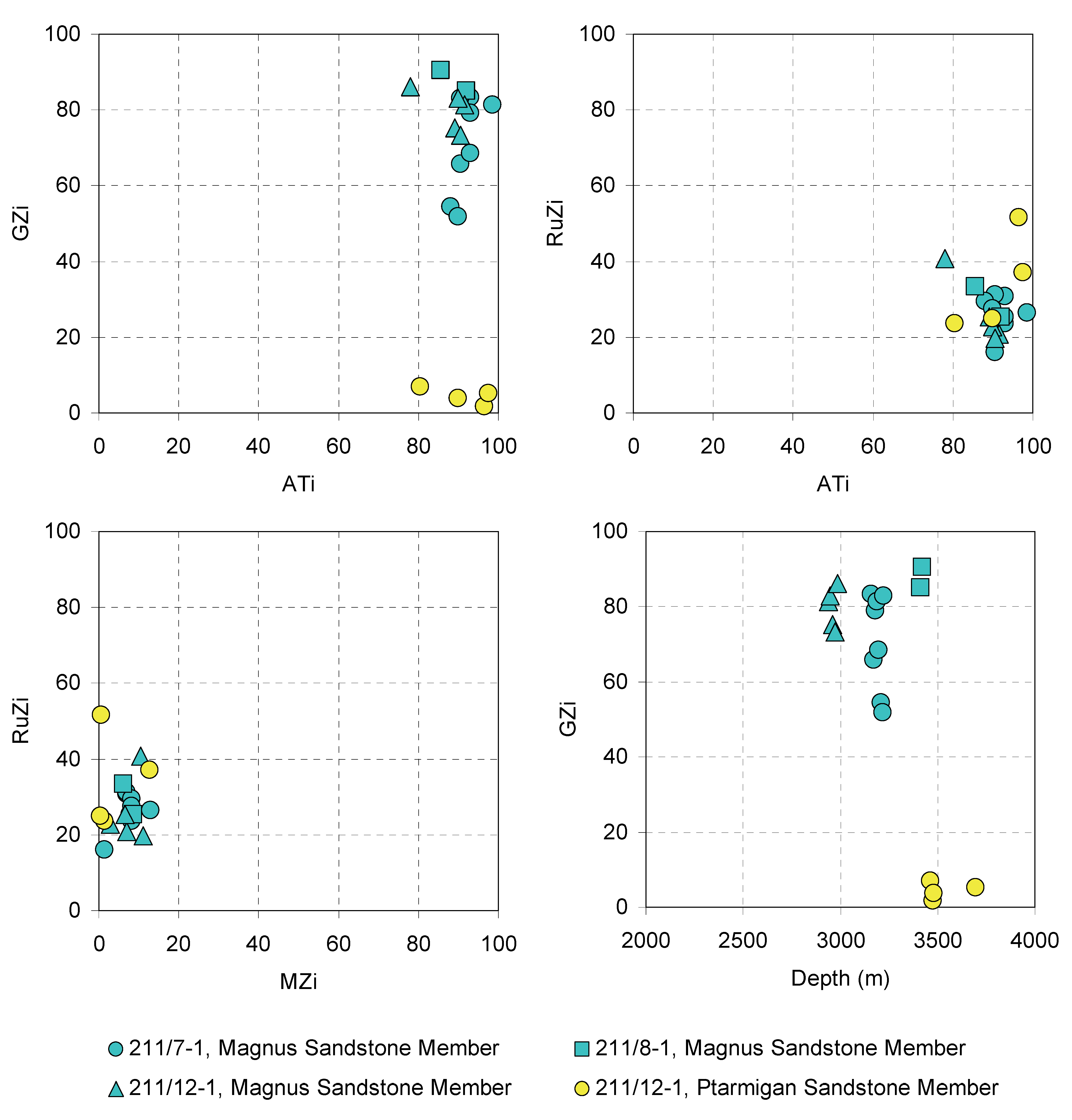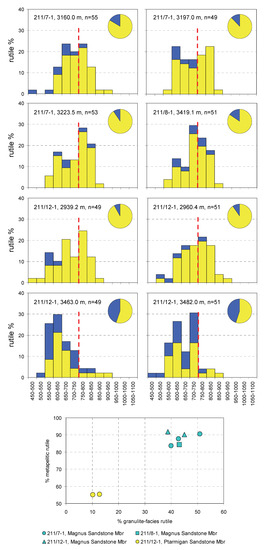 Figure 11.
Discrimination of Magnus and Ptarmigan sandstones using rutile trace element geochemistry. Magnus rutile populations are dominated by metapelitic types and include a high proportion that formed in high-grade granulite facies conditions, whereas Ptarmigan sandstones have much higher proportions of metamafic types and lack evidence for high-grade metamorphism. Categorisation of metamafic and metapelitic rutiles uses Cr and Nb contents as defined by Meinhold et al. [
63
]. Crystallisation temperatures were determined using Zr contents following Watson et al. [
64
].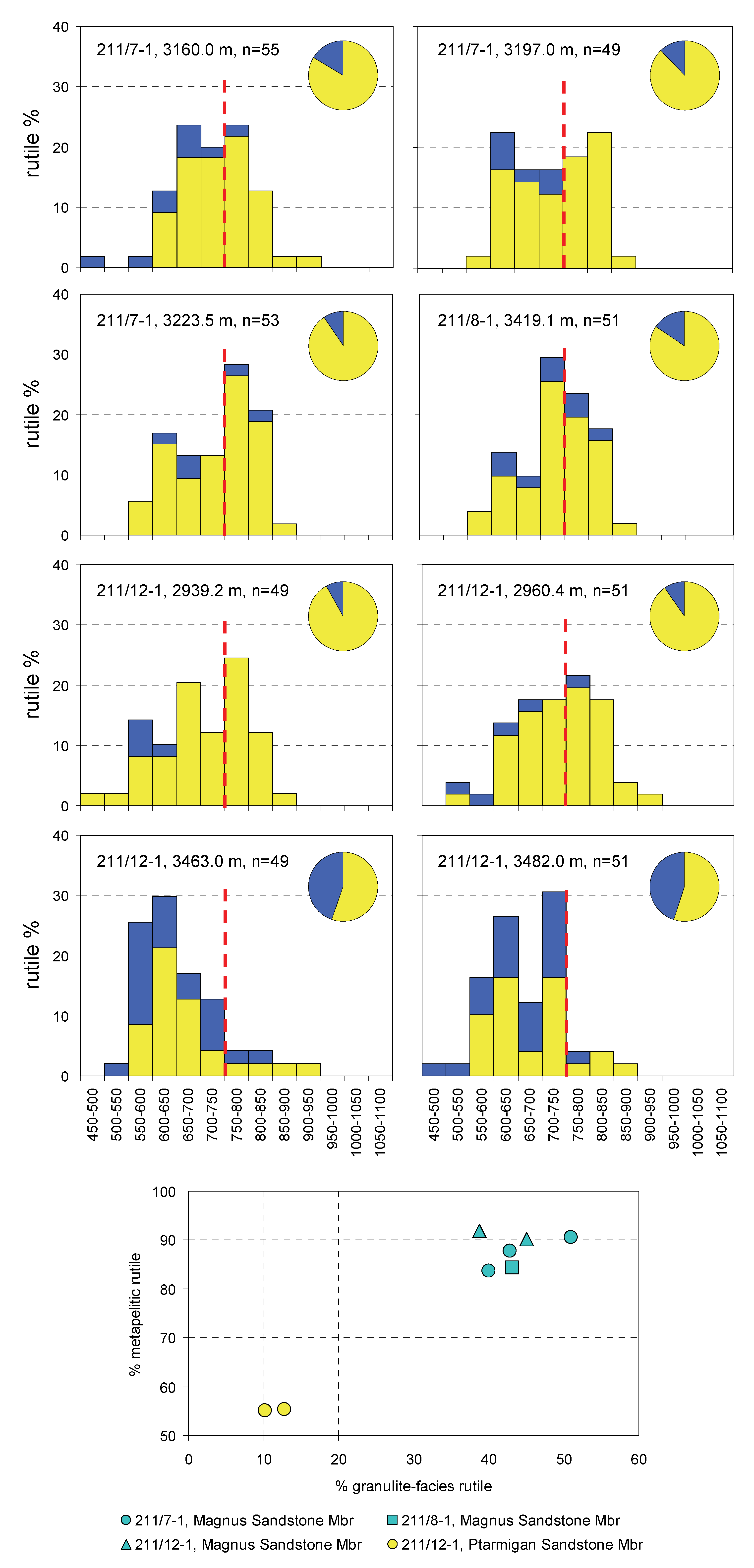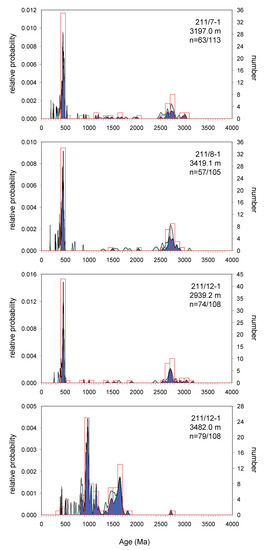 Figure 12. Probability-density plots of detrital zircon ages in three Magnus Sandstone Member samples (211/7-1, 3197.0 m; 211/8-1, 3418.1 m; 211/12-1, 2938.2 m) and one Ptarmigan Sandstone Member sample (211/12-1, 3482.0 m), confirming the rutile geochemical evidence for a difference in provenance. 'n' is number of zircons with <10% discordance in the total zircon population.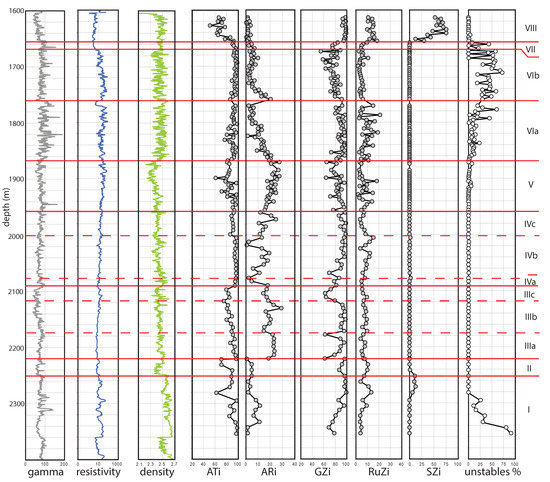 Figure 13.
Heavy mineral stratigraphic framework for the Devonian-Carboniferous Clair Group reservoir succession in the Clair field, west of Shetland (
Figure 1
), illustrated using the fully cored well 206/8-8. Stratigraphic units (I, II, etc.) were originally defined by Allen and Mange-Rajetzky [
37
] and subsequently revised by Morton et al. [
73
] and Morton and Milne [
74
].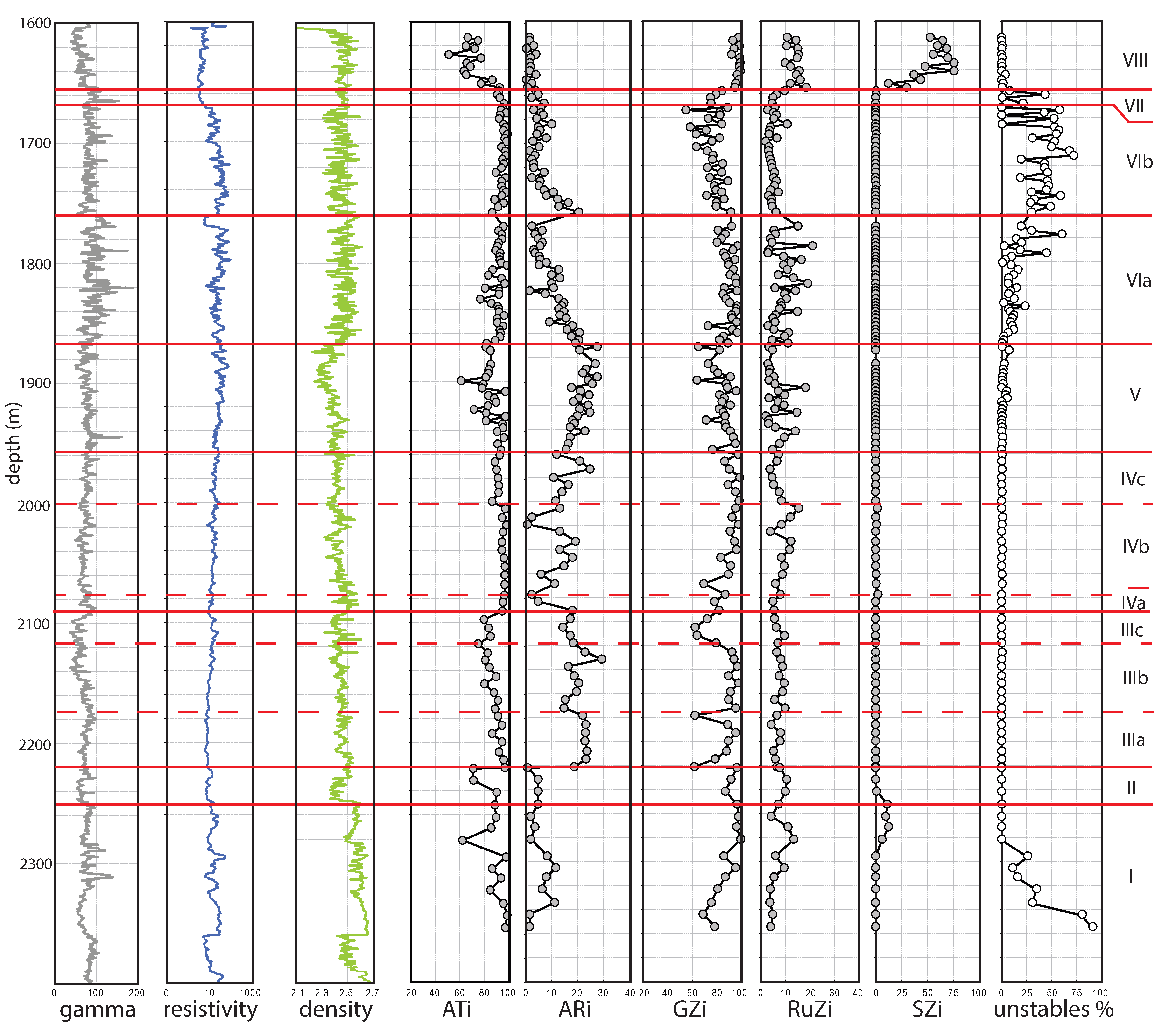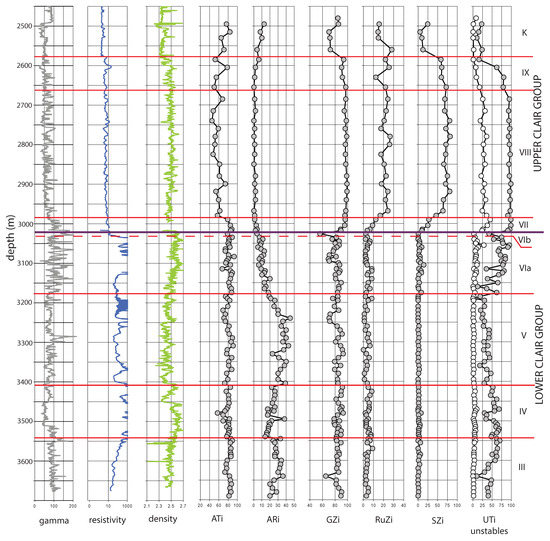 Figure 14.
Variations in heavy mineral parameters acquired at the well site during drilling of the high-angle well 206/8-A16, Clair Field, west of Shetland, together with the interpreted stratigraphy. Note the highly anomalous resistivity log responses in units IV, V, and VIa, caused by extensive mineralisation. Well location is shown in
Figure 1
and the geological interpretation along the well track is shown in
Figure 15
.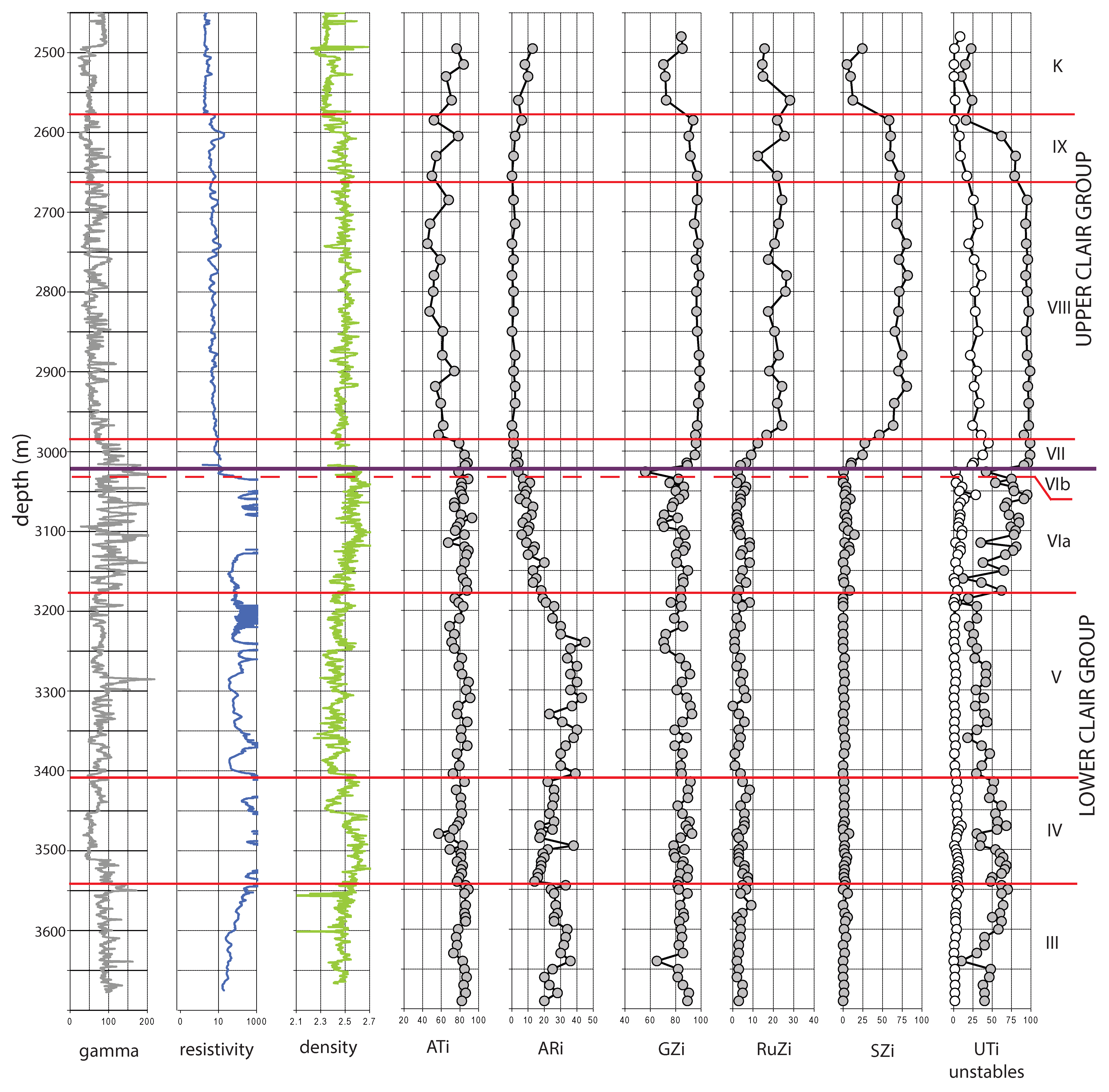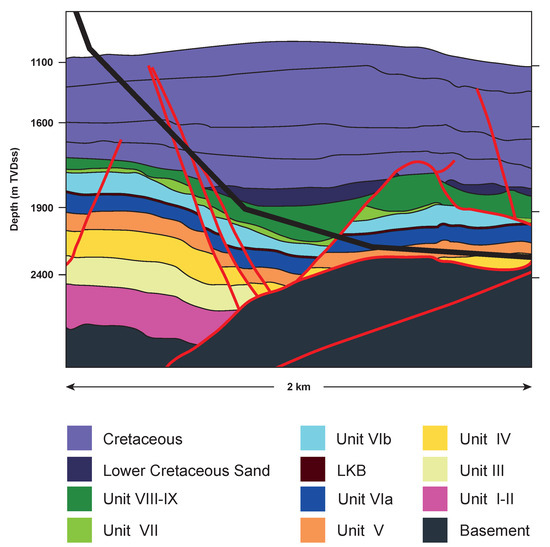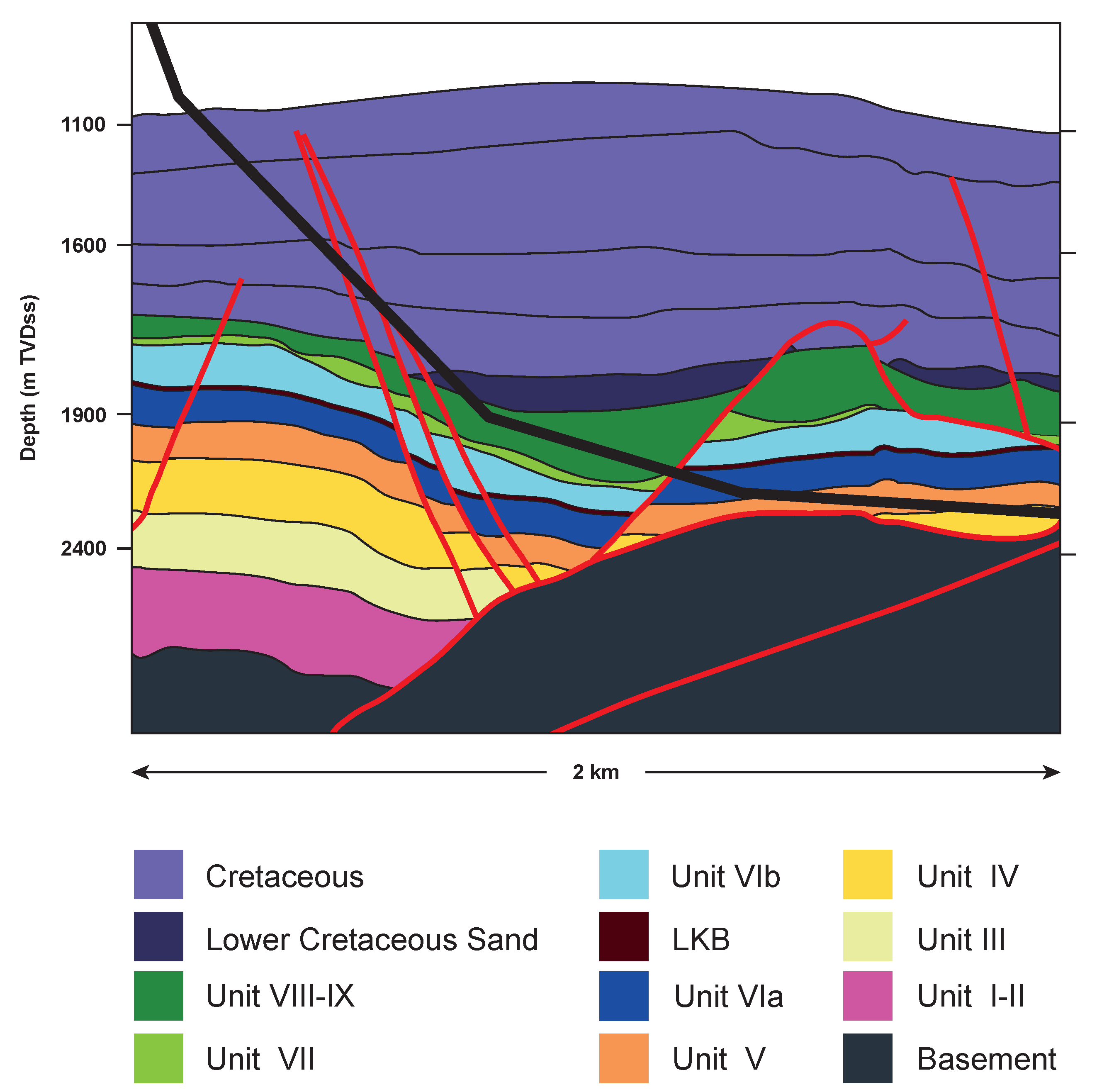 © 2018 by the authors. Licensee MDPI, Basel, Switzerland. This article is an open access article distributed under the terms and conditions of the Creative Commons Attribution (CC BY) license (http://creativecommons.org/licenses/by/4.0/).