Platinum-Group Mineral Occurrences and Platinum-Group Elemental Geochemistry of the Xiadong Alaskan-Type Complex in the Southern Central Asian Orogenic Belt
1
State Key Laboratory of Lithospheric Evolution, Institute of Geology and Geophysics, Chinese Academy of Sciences, P.O. Box 9825, Beijing 100029, China
2
Key Laboratory of Mineral Resources, Institute of Geology and Geophysics, Chinese Academy of Sciences, Beijing 100029, China
3
University of Chinese Academy of Sciences, Beijing 100049, China
4
State Key Laboratory of Ore Deposit Geochemistry, Institute of Geochemistry, Chinese Academy of Sciences, Guiyang 550081, China
5
Department of Earth Science, University of Ghana, P.O. Box LG 58, Legon-Accra 00233, Ghana
6
School of Applied Natural Science, Department of Applied Geology, Adama Science and Technology University, P.O. Box 1888, Adama 00251, Ethiopia
*
Authors to whom correspondence should be addressed.
Received: 7 August 2018 / Revised: 5 October 2018 / Accepted: 23 October 2018 / Published: 1 November 2018
Abstract
Alaskan-type complexes commonly contain primary platinum-group element (PGE) alloys and lack base-metal sulfides in their dunite and chromite-bearing rocks. They could therefore host PGE deposits with rare sulfide mineralization. A detailed scanning electron microscope investigation on dunites from the Xiadong Alaskan-type complex in the southern Central Asian Orogenic Belt revealed: various occurrences of platinum-group minerals (PGMs) that are dominated by inclusions in chromite grains containing abundant Ru, Os, S and a small amount of Pd and Te, indicating that they mainly formed prior to or simultaneously with the crystallization of the host minerals; A few Os–Ir–Rurich phases with iridium/platinum-group element (IPGE) alloy, anduoite (Ru,Ir,Ni)(As,S)
2−x
and irarsite (IrAsS) were observed in chromite fractures, and as laurite (RuS
2
) in clinopyroxene, which was likely related to late-stage hydrothermal alteration. The rocks in the Xiadong complex display large PGE variations with ∑PGE of 0.38–112 ppb. The dunite has the highest PGE concentrations (8.69–112 ppb), which is consistent with the presence of PGMs. Hornblende clinopyroxenite, hornblendite and hornblende gabbro were all depleted in PGEs, indicating that PGMs were likely already present at an early phase of magma and were mostly collected afterward in dunites during magma differentiation. Compared with the regional mafic–ultramafic intrusions in Eastern Tianshan, the Xiadong complex show overall higher average PGE concentration. This is consistent with the positive PGE anomalies revealed by regional geochemical surveys. The Xiadong complex, therefore, has potential for PGE exploration.
View Full-Text
►

▼

Figures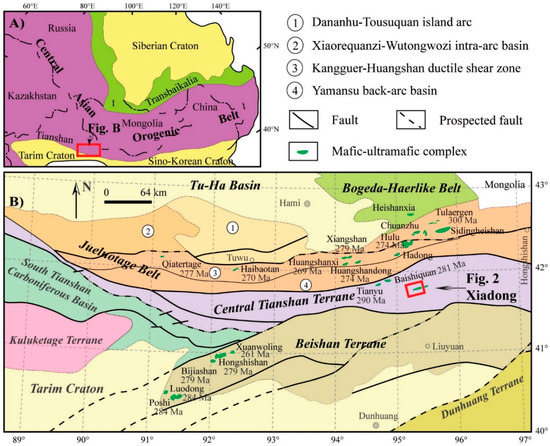 Figure 1
This is an open access article distributed under the
Creative Commons Attribution License
which permits unrestricted use, distribution, and reproduction in any medium, provided the original work is properly cited (CC BY 4.0).

Share & Cite This Article
MDPI and ACS Style
Yang, S.-H.; Su, B.-X.; Huang, X.-W.; Tang, D.-M.; Qin, K.-Z.; Bai, Y.; Sakyi, P.A.; Alemayehu, M. Platinum-Group Mineral Occurrences and Platinum-Group Elemental Geochemistry of the Xiadong Alaskan-Type Complex in the Southern Central Asian Orogenic Belt. Minerals 2018, 8, 494.
Note that from the first issue of 2016, MDPI journals use article numbers instead of page numbers. See further details here.
Related Articles
Comments
[Return to top]