Open Access This article is
freely available
re-usable
Commentary
Notes on Contributions to the Science of Rare Earth Element Enrichment in Coal and Coal Combustion Byproducts
1
Center for Applied Energy Research, University of Kentucky, Lexington, KY 40511, USA
2
National Energy Technology Laboratory, U.S. Department of Energy, Pittsburgh, PA 15236-0940, USA
3
Gradient, 600 Stewart Street, Suite 1900, Seattle, WA 98101, USA
4
Gradient, 20 University Road, Cambridge, MA 02138, USA
5
Department of Geosciences, The University of Texas at Dallas, ROC 21, 800 West Campbell Road, Richardson, TX 75080-3021, USA
*
Author to whom correspondence should be addressed.
†
These authors contributed equally to this work.
Academic Editor: Mostafa Fayek
Received: 29 January 2016 / Accepted: 25 March 2016 / Published: 31 March 2016
Abstract
:
Coal and coal combustion byproducts can have significant concentrations of lanthanides (rare earth elements). Rare earths are vital in the production of modern electronics and optics, among other uses. Enrichment in coals may have been a function of a number of processes, with contributions from volcanic ash falls being among the most significant mechanisms. In this paper, we discuss some of the important coal-based deposits in China and the US and critique classification systems used to evaluate the relative value of the rare earth concentrations and the distribution of the elements within the coals and coal combustion byproducts.
Keywords:
lanthanide; yttrium; critical materials; coal; coal combustion by-products
2. Rare Earth Elements in Coals
Finkelman and Palmer (U.S. Geological Survey, unpublished data) used selective leaching on 14 bituminous coals, five subbituminous coals, and one lignite to determine the modes of occurrence of 37 elements including Y, Ce, La, Lu, Nd, Sm, and Yb. Based on the response of the elements to ammonium acetate, hydrochloric acid, hydrofluoric acid, and nitric acid leaches they concluded that in the bituminous samples approximately 70% of the light rare earths (Y, Ce, La, and Nd) were associated with phosphate minerals, about 20% were associated with clays, and about 10% were in carbonate minerals. A smaller proportion was organically associated. The heavier rare earths (Sm, Yb) were primarily associated with phosphates (50%), clays (20%), organics (30%), and carbonates. In contrast, the light rare earth elements in the lower rank coals were associated with clays (60%), phosphates (20%), carbonates (20%), and organics. The heavier rare earths were also associated with clays (50%), phosphates (25%), and carbonates, but had a much larger (25%) proportion associated with organics.
3. Seredin and Dai Synthesis
4. Conclusions
Much of the recent research on coal utilization in the United States has focused upon the capture of pollutants such as acid gases, particulates, and mercury, and the greenhouse gas carbon dioxide. The possible recovery of rare earth elements from abundant coal and byproducts is an exciting new research area. Additional data is needed on the rare earth contents of coals and byproducts in order to determine the most promising potential feed materials for extraction processes. Future work will likely focus on the characterization of coals and byproducts, as well as on separation methods for rare earth recovery.
Acknowledgments
We thank our respective employers for granting the time for us to contribute to this work.
Author Contributions
All authors contributed to the writing of the manuscript.
Conflicts of Interest
This paper/information was prepared as an account of work sponsored by an agency of the United States Government. Neither the United States Government nor any agency thereof, nor any of their employees, makes any warranty, express or implied, or assumes any legal liability or responsibility for the accuracy, completeness, or usefulness of any information, apparatus, product, or process disclosed, or represents that its use would not infringe privately owned rights. Reference herein to any specific commercial product, process, or service by trade name, trademark, manufacturer, or otherwise does not necessarily constitute or imply its endorsement, recommendation, or favoring by the United States Government or any agency thereof. The views and opinions of authors expressed herein do not necessarily state or reflect those of the United States Government or any agency thereof.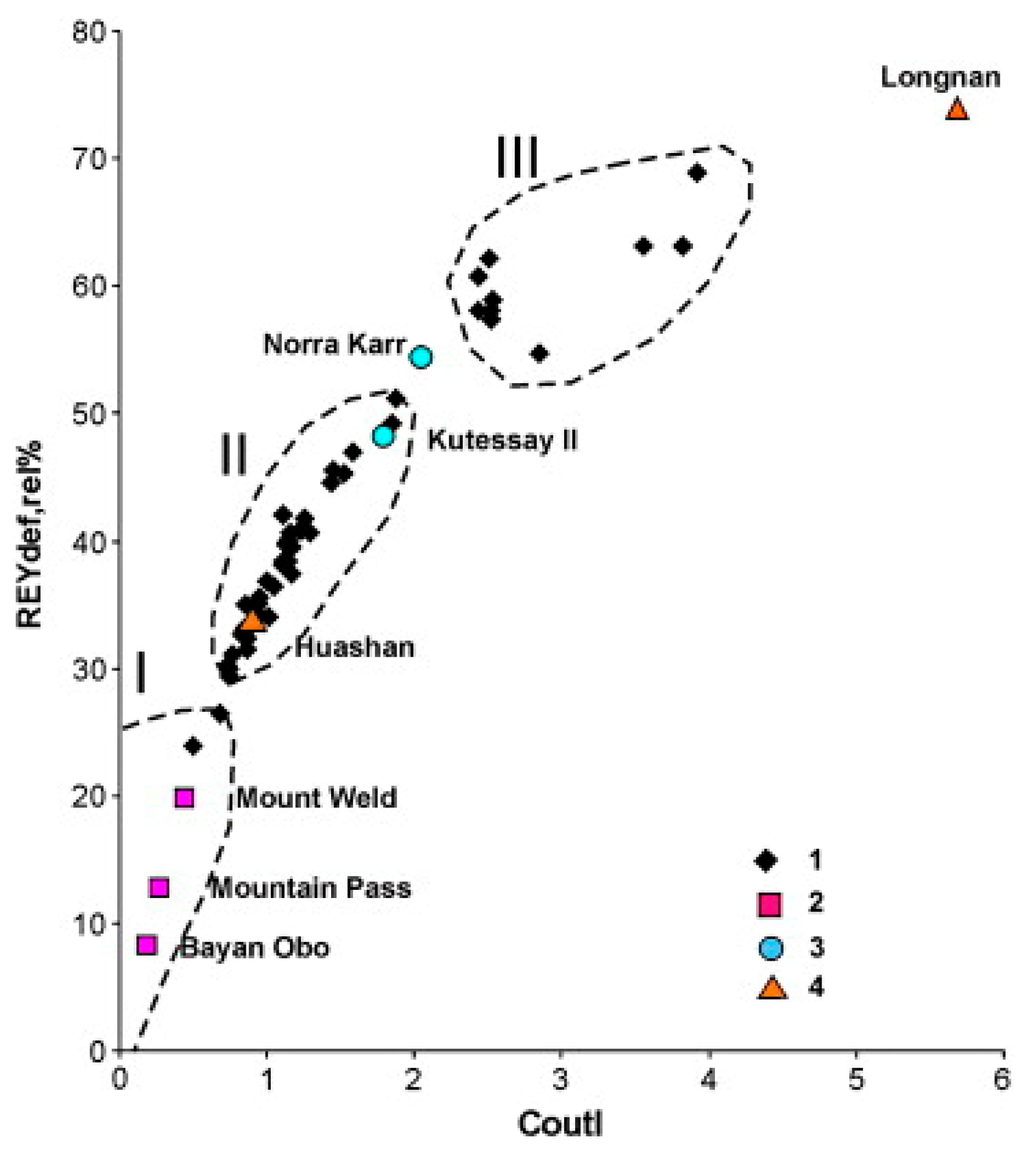 Figure 2.
Classification of REY-rich coal ashes by outlook for individual REY composition in comparison with selected deposits of conventional types. 1, REE-rich coal ashes; 2, carbonatite deposits; 3, hydrothermal deposits; and 4, weathered crust elution-deposited (ion-adsorbed) deposits. Clusters of REE-rich coal ashes distinguished by outlook for REY composition (numerals in figure): I, unpromising; II, promising; and III, highly promising. From Seredin and Dai [
9
].


Table 1.
The main genetic types of high REY accumulation in coals. After Seredin and Dai [
9
].
Table 1. The main genetic types of high REY accumulation in coals. After Seredin and Dai [9].
Type
REO Content in Ash, %
Associated Elements
Typical Example
Terrigenous
0.1–0.4
Al, Ga, Ba, Sr,
Jungar, China [25,26]
Tuffaceous
0.1–0.5
Zr, Hf, Nb, Ta, Ga
Dean, USA [20]
Infiltrational
0.1–1.2
U, Mo, Se, Re
Aduunchulun, Mongolia [48]
Hydrothermal
0.1–1.5
As, Sb, Hg, Ag, Au,

etc

.
Rettikhovka, Russia [49]
REO, oxides of rare earth elements and yttrium.
© 2016 by the authors; licensee MDPI, Basel, Switzerland. This article is an open access article distributed under the terms and conditions of the Creative Commons by Attribution (CC-BY) license (http://creativecommons.org/licenses/by/4.0/).