Mineralogical Diversity in Lake Pavin: Connections with Water Column Chemistry and Biomineralization Processes
1
Institut de Minéralogie, Physique des Matériaux et Cosmochimie, Sorbonne Universités, Muséum National d'Histoire Naturelle, CNRS UMR 7590, Université Pierre et Marie Curie, IRD 206, 4 place Jussieu, 75252 Paris cedex 05, France
2
Institut de Physique du Globe de Paris—Sorbonne Paris Cité—Université Paris Diderot, UMR CNRS 7154, 1 rue Jussieu, 75238 Paris cedex 05, France
*
Author to whom correspondence should be addressed.
Academic Editor: Karen Hudson-Edwards
Received: 29 January 2016 / Revised: 14 March 2016 / Accepted: 16 March 2016 / Published: 23 March 2016
Abstract
As biominerals are good tracers of microbial interactions with the environment, they may provide signatures of microbial evolution and paleoenvironmental conditions. Since modern analogues of past environments help with defining proxies and biosignatures, we explored microbe mineral interactions in the water column of a maar lake, located in France: Lake Pavin. This lake is considered as a potential Precambrian ocean analogue, as it is ferruginous and meromictic,
i.e.
, stratified with a superficial O
2
-rich layer (mixolimnion) and a deeper permanently anoxic layer (monimolimnion). We combined bulk chemical analyses of dissolved and particulate matter in combination with electron microscopy analyses of the particulate matter at different depths along the water column. The mineralogy changed along with water chemistry, and most of the minerals were intimately associated with microorganisms. Evolution of the redox conditions with depth leads to the successive precipitation of silica and carbonates, Mn-bearing, Fe-bearing and S-containing phases, with a predominance of phosphates in the monimolimnion. This scheme parallels the currently-assessed changes of microbial diversity with depth. The present results corroborate previous studies that suggested a strong influence of microbial activity on mineralogical diversity through extracellular and intracellular biomineralization. This paper reports detailed data on mineralogical profiles of the water column and encourages extended investigation of these processes.
View Full-Text
►

▼

Figures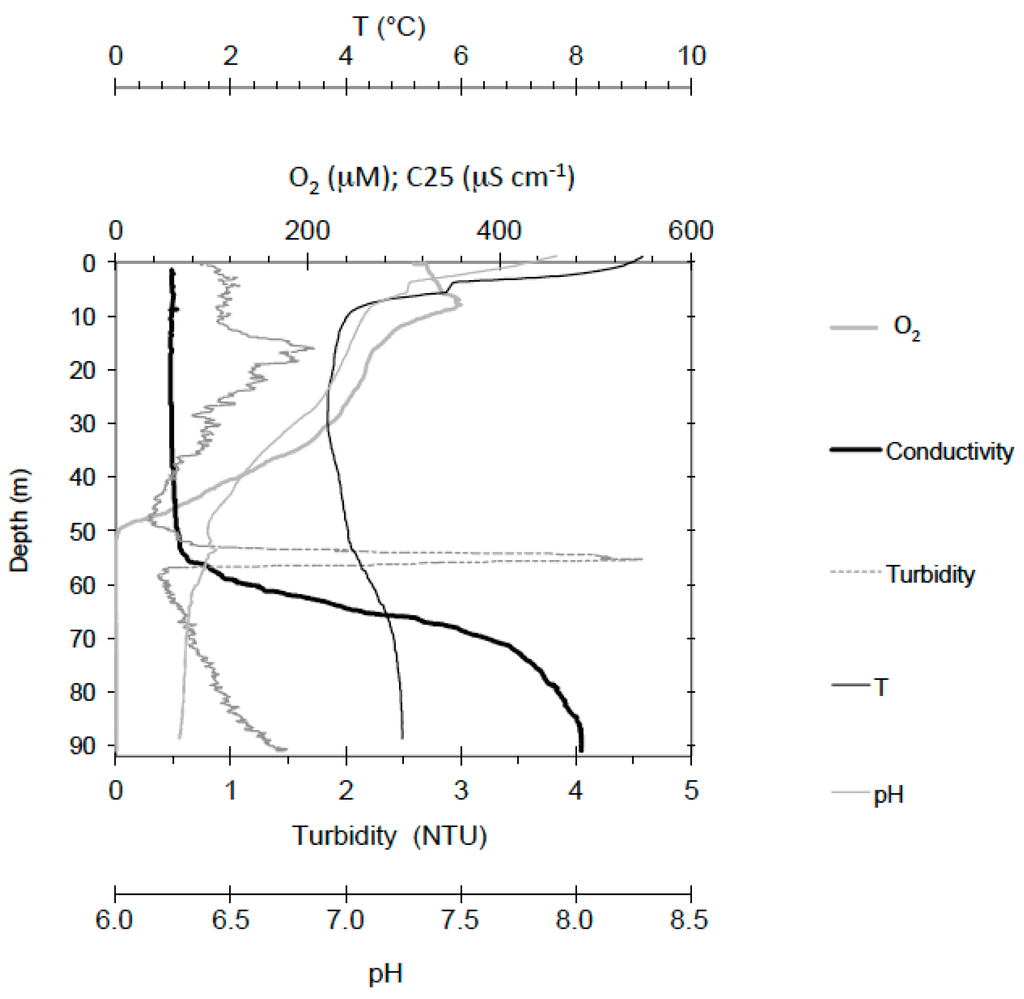 Figure 1
This is an open access article distributed under the
Creative Commons Attribution License
which permits unrestricted use, distribution, and reproduction in any medium, provided the original work is properly cited (CC BY 4.0).

Share & Cite This Article
MDPI and ACS Style
Miot, J.; Jézéquel, D.; Benzerara, K.; Cordier, L.; Rivas-Lamelo, S.; Skouri-Panet, F.; Férard, C.; Poinsot, M.; Duprat, E. Mineralogical Diversity in Lake Pavin: Connections with Water Column Chemistry and Biomineralization Processes. Minerals 2016, 6, 24.
Note that from the first issue of 2016, MDPI journals use article numbers instead of page numbers. See further details here.
Related Articles
Comments
[Return to top]