Open Access This article is
freely available
re-usable
Article
Dynamical Triangulation Induced by Quantum Walk
1
Aix-Marseille Université, Université de Toulon, CNRS, LIS, 13397 Marseille, France
2
École Normale Supérieure, PSL University, 75005 Paris, France
*
Authors to whom correspondence should be addressed.
Received: 17 December 2019 / Accepted: 4 January 2020 / Published: 8 January 2020
Abstract
:
We present the single-particle sector of a quantum cellular automaton, namely a quantum walk, on a simple dynamical triangulated manifold. The triangulation is changed through Pachner moves, induced by the walker density itself, allowing the surface to transform into any topologically equivalent one. This model extends the quantum walk over triangular grid, introduced in a previous work, by one of the authors, whose space-time limit recovers the Dirac equation in (2+1)-dimensions. Numerical simulations show that the number of triangles and the local curvature grow as , where and parametrize the way geometry changes upon the local density of the walker, and that, in the long run, flatness emerges. Finally, we also prove that the global behavior of the walker, remains the same under spacetime random fluctuations.
Keywords:
discrete time dynamical system; quantum walk; Pachner moves; dynamical triangulation; general relativity
Author Contributions
Conceptualization, Q.A. and G.D.M.; methodology, Q.A.; software, Q.A.; validation, Q.A., N.E. and G.D.M.; formal analysis, Q.A.; N.E. and G.D.M.; writing—original draft preparation, Q.A. and G.D.M.; writing—review and editing, N.E. and G.D.M.; visualization, Q.A. and N.E.; supervision, G.D.M.; project administration, G.D.M. All authors have read and agreed to the published version of the manuscript.
Funding
This work has been funded by the Pépinière d'Excellence 2018, AMIDEX fondation, project DiTiQuS.
Acknowledgments
The authors acknowledge inspiring conversations with Pablo Arrighi and Nicolas Durbec and useful remarks on how to better present this work by the anonymous referees.
Conflicts of Interest
The authors declare no conflict of interest.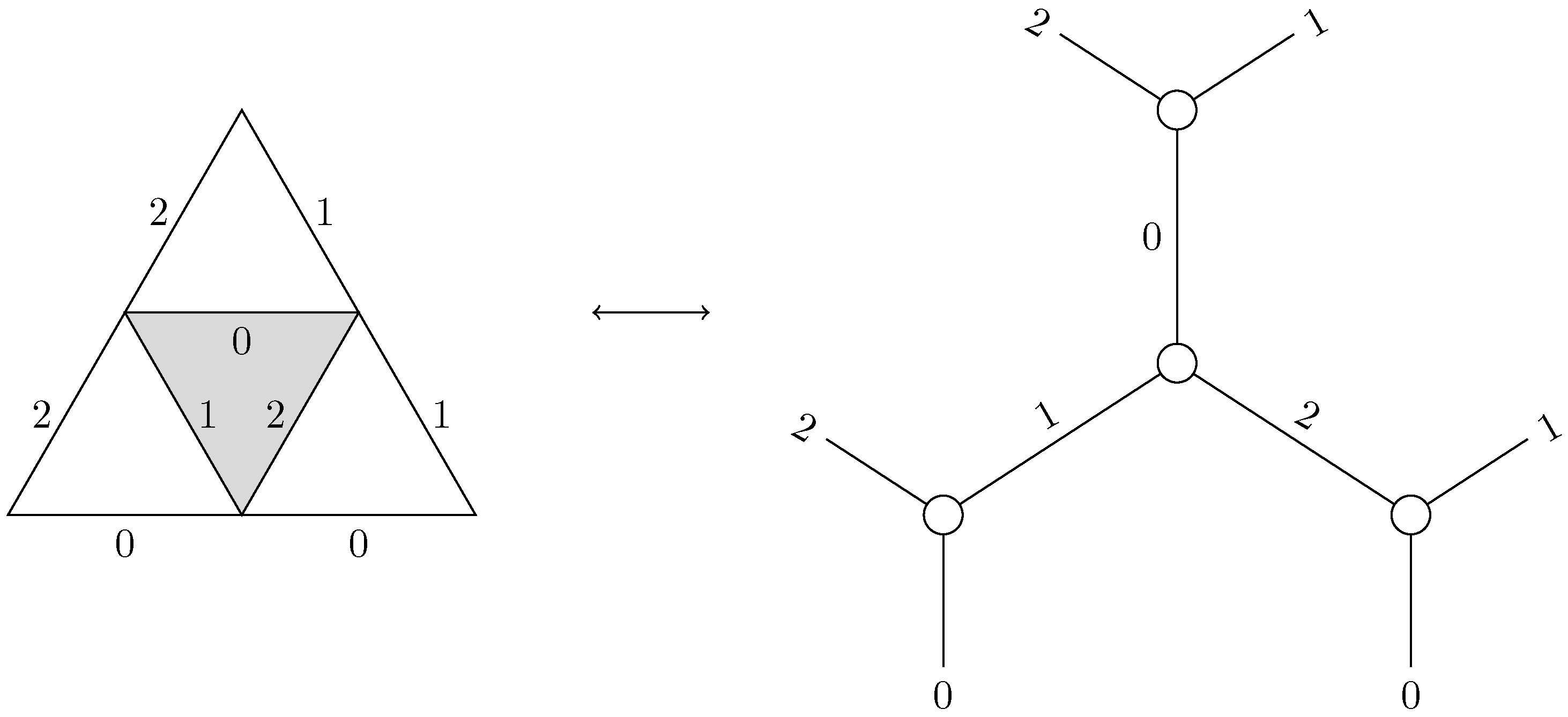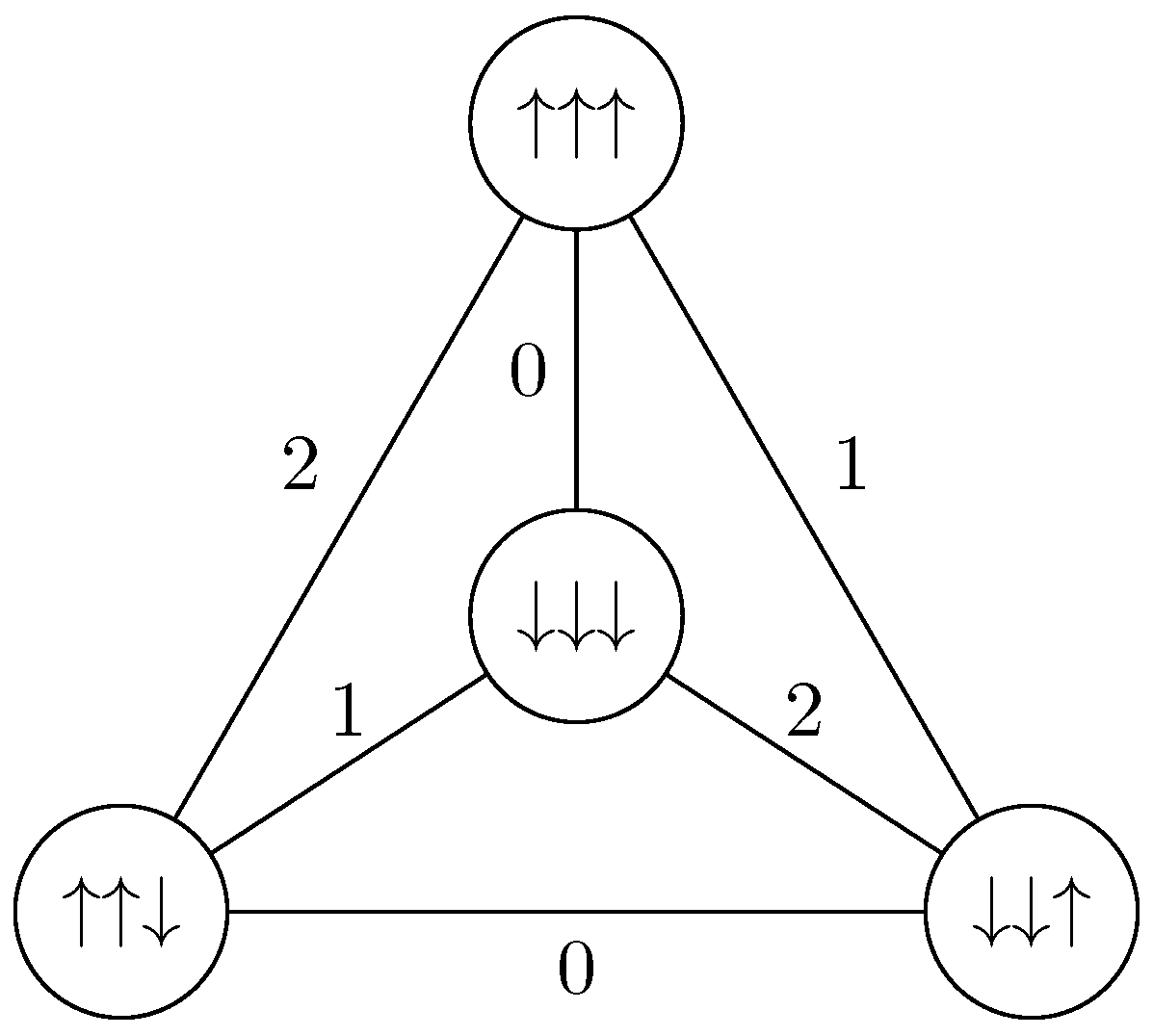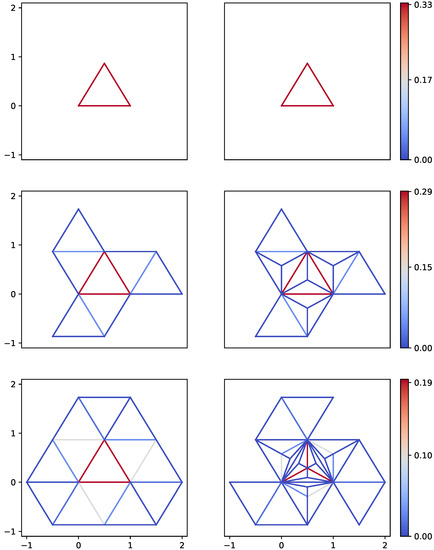 Figure 5.
Time goes down with one time step between each figure vertically.
x
and
y
axis are spatial dimensions. On the left is the evolution of the usual quantum walk, on the right is the evolution of the walk with Pachner moves.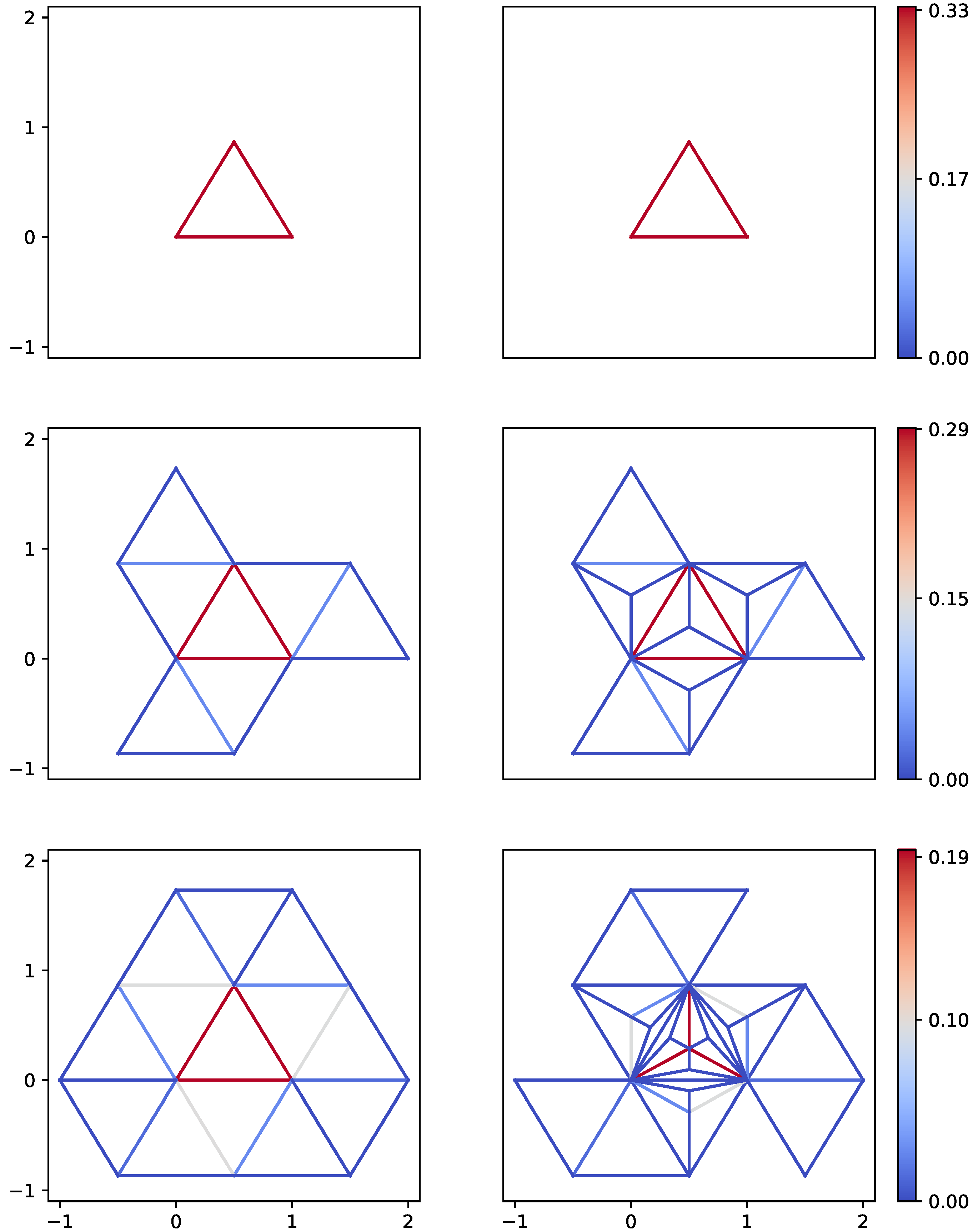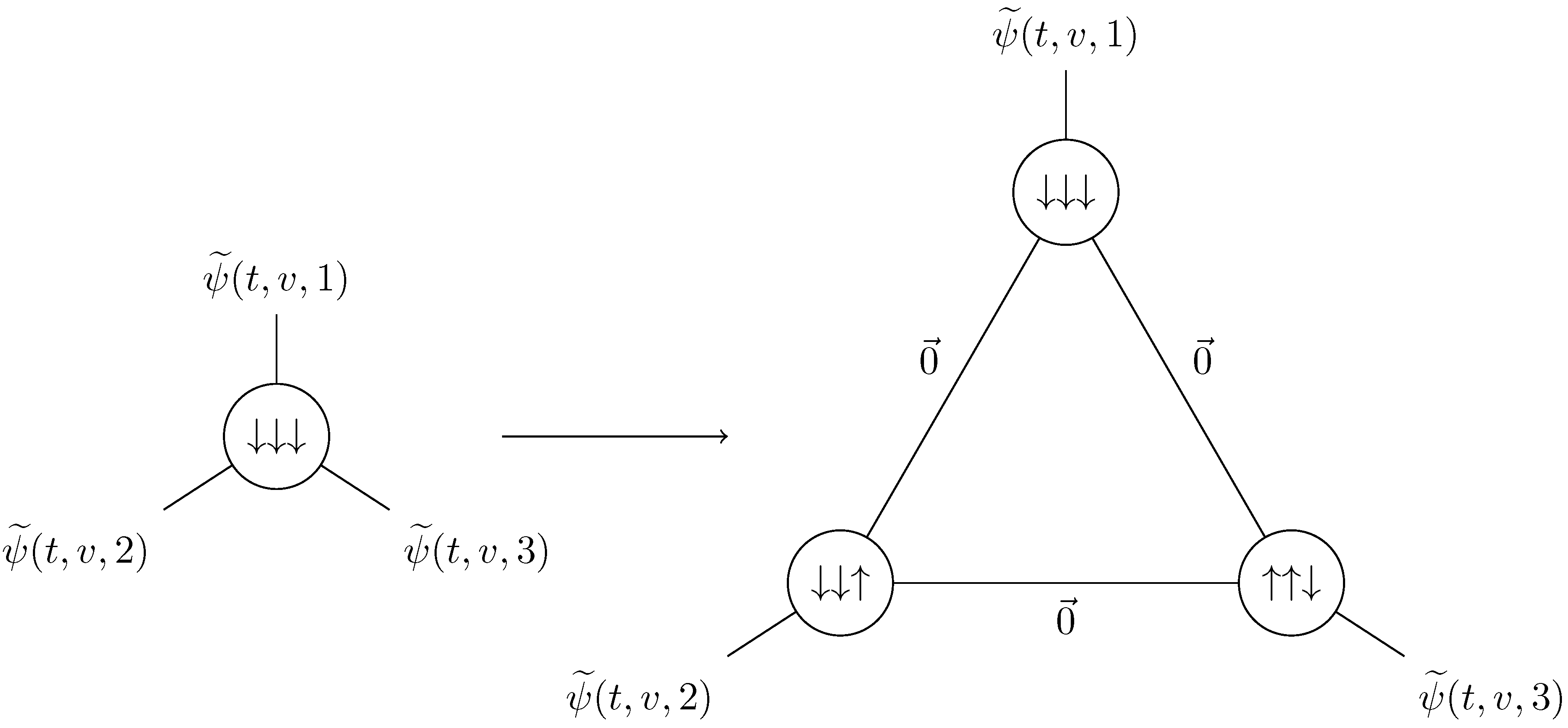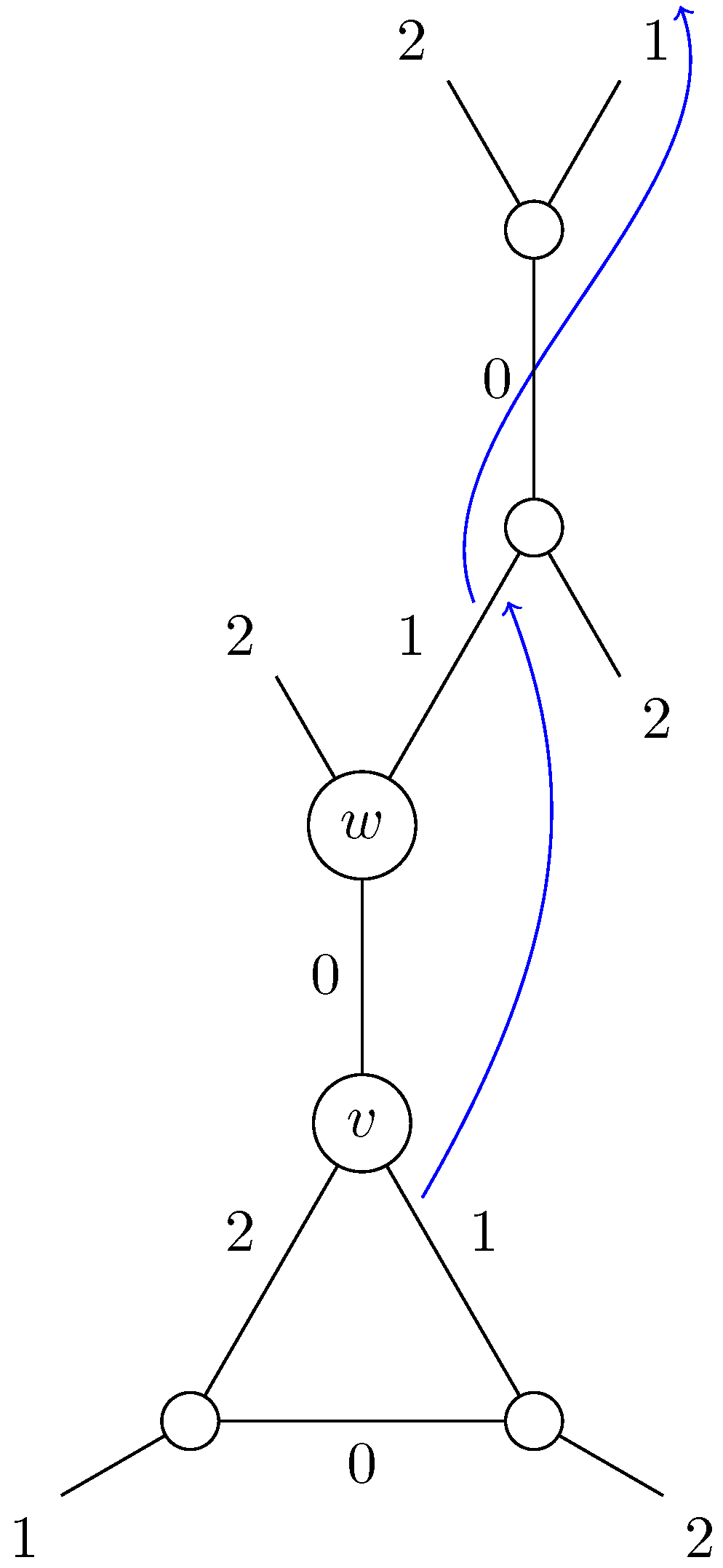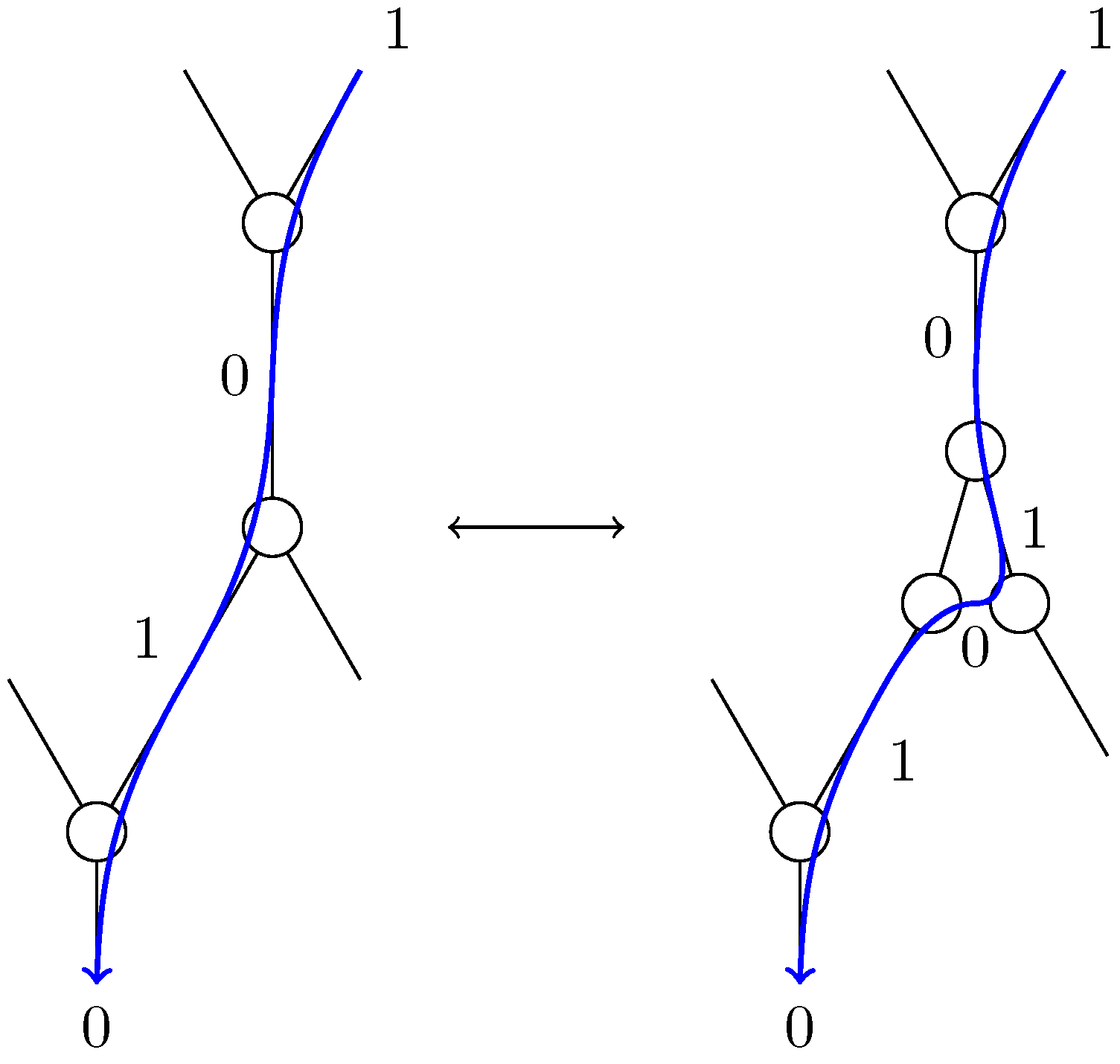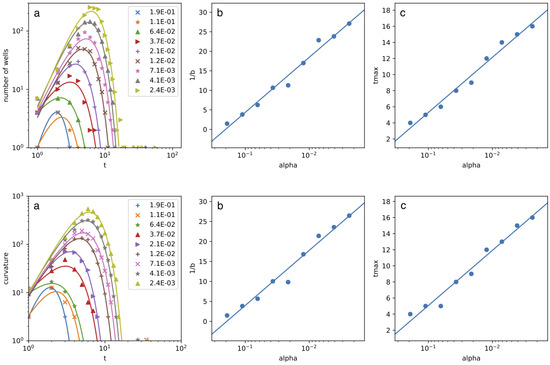 Figure 10.
From the left to the right: (
a
) Number of wells (
top
) and local curvature (
bottom
) in a ball of a radius 1, with , fit as ; (
b
) The parameter
b
as function of ; (
c
) The time of the exponential cut as function of . The initial condition on each of the three internal components of the origin triangle and 0 elsewhere.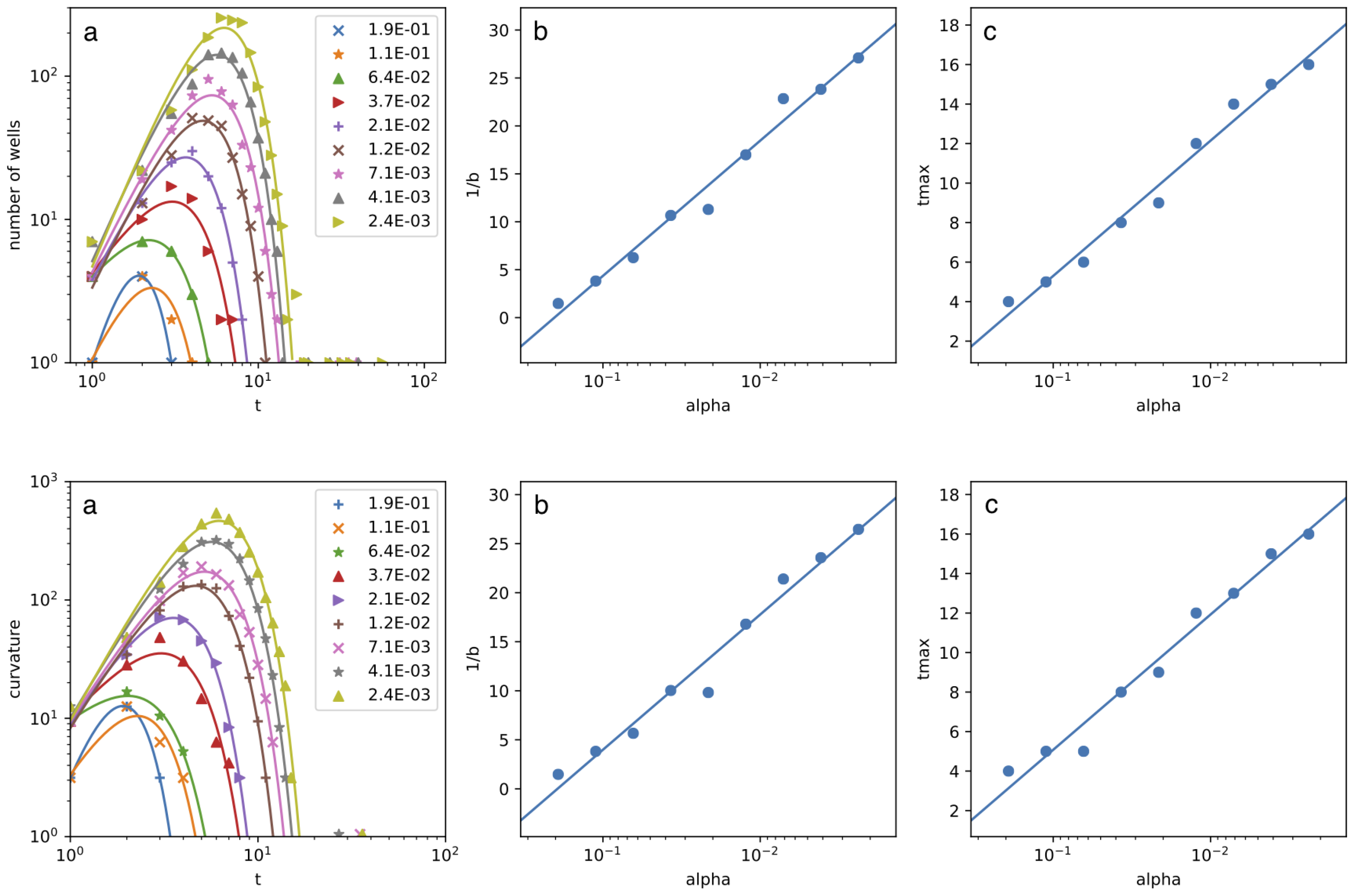 Figure 11. Gradient of the logarithm of the variance with : it always converges to 2. The initial condition on each of the three internal components of the origin triangle and 0 elsewhere.



© 2020 by the authors. Licensee MDPI, Basel, Switzerland. This article is an open access article distributed under the terms and conditions of the Creative Commons Attribution (CC BY) license (http://creativecommons.org/licenses/by/4.0/).