Open Access This article is
freely available
re-usable
Article
Olfactory Laterality Is Valence-Dependent in Mice
1
UMR EthoS 6552, Normandie Univ, UNICAEN, University of Rennes, CNRS, 14000 Caen, France
2
COMETE, Normandie Univ, UNICAEN, INSERM, GIP CYCERON, 14000 Caen, France
*
Author to whom correspondence should be addressed.
Received: 9 August 2019 / Accepted: 29 August 2019 / Published: 5 September 2019
Abstract
:
(1) Background: Although olfaction is the predominant sensory modality in rodents, studies focusing on lateralisation of olfactory processing remain scarce, and they are limited to the exploration of brain asymmetries. This study aimed to test whether outbred and inbred mice (NMRI and C57BL/6J mice strains) show nostril-use preference in processing olfactory
stimuli
differing in terms of emotional valence under unrestrained conditions. (2) Methods: Five odour
stimuli
were used in the study: vanilla, female urine, garlic, rat, distilled water. We measured the number of times mice used their left or right nostril for each testing session. (3) Results: We here showed that mice preferentially used their right nostril when sniffing attractive
stimuli
(female urine, vanilla), and their left nostril when sniffing aversive
stimuli
(rat odour). Results were consistent for both strains. (4) Conclusions: Surprisingly, the results obtained seem opposite to the valence theory assessing that the left and the right hemispheres are dominant in processing
stimuli
with a positive and a negative valence, respectively. It remains to be determined whether this valence-dependent pattern is specific or not to olfaction in mice. These new findings will be important to better understand how both hemispheres contribute to odour processing in rodents.
Keywords:
olfactory laterality;
Mus musculus
; valence theory; emotional processing
Author Contributions
Conceptualisation, C.J.-A., V.B.; Data collection and analyses, S.P.; Original draft preparation, C.J.-A.; Review and editing, all three authors.
Funding
This research received no external funding.
Acknowledgments
We warmly thank all interns who have participated in behavioural analyses: Sophia Belmokadem, Iris Lemercier, Andréa Lemoine, Julie Libercier, and Mélina Savary.
Conflicts of Interest
The authors declare no conflict of interest.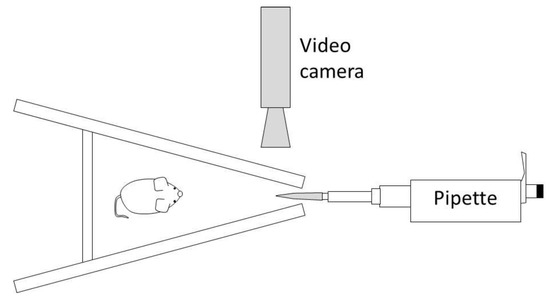 Figure 1.
Apparatus used to test olfactory lateralisation in mice. The tip of the pipette filled with 10 µL of one of the five odour
stimuli
is inserted through the slit before placing the mouse in the apparatus.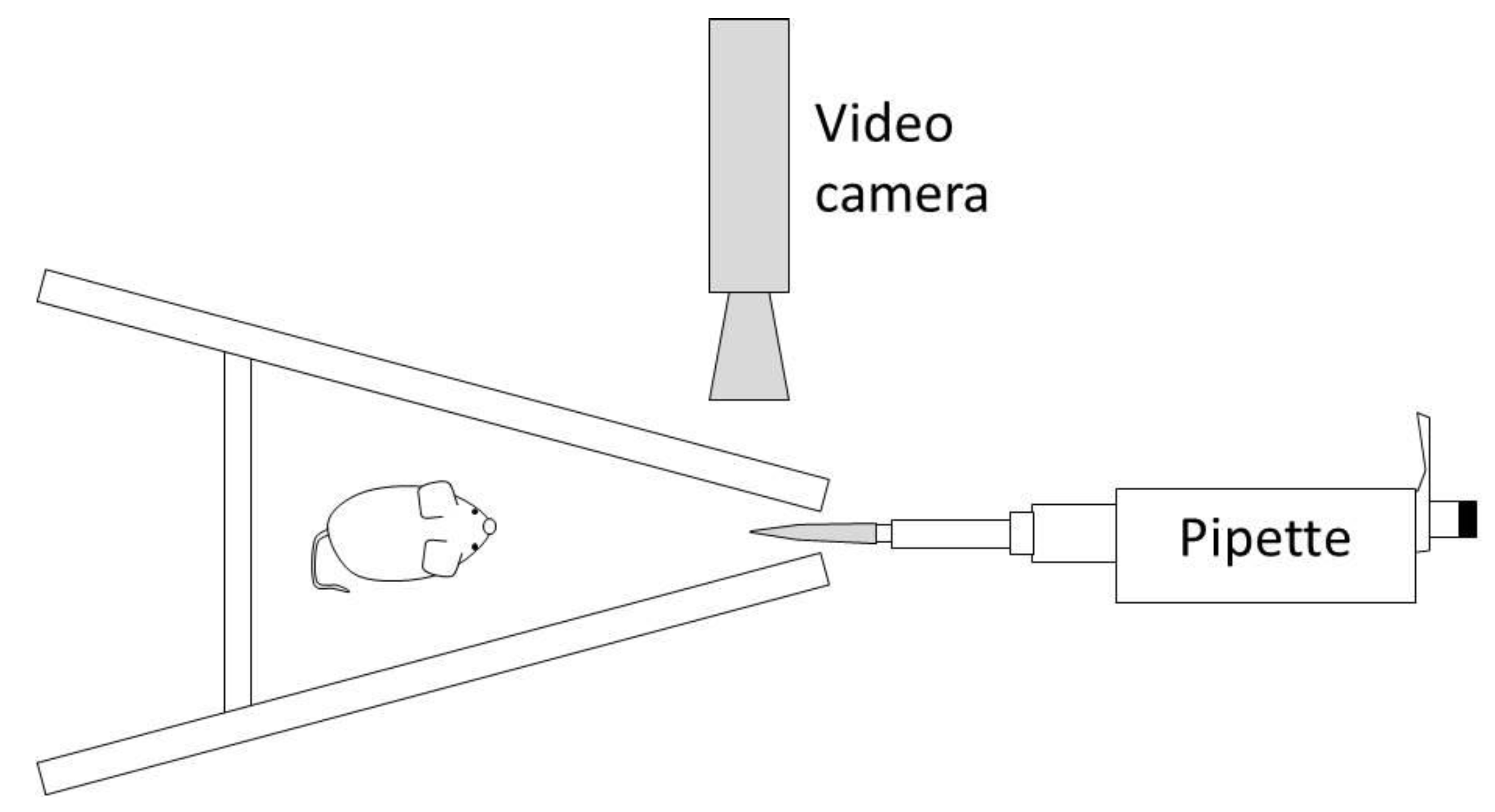 Figure 2. (a) Image of an NMRI mouse using its right nostril to sniff the odour presented; (b) Image of a C57BL/6J mouse using its left nostril to sniff the odour presented.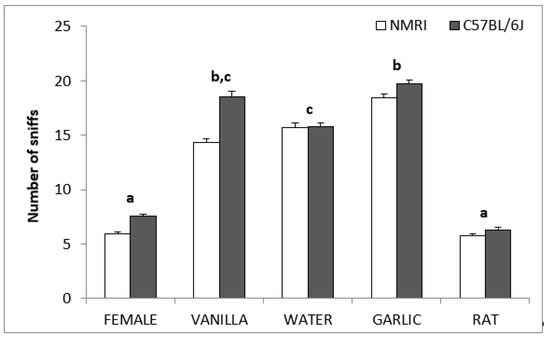 Figure 3. Number of sniffs (mean ± s.e.m) directed to the tip of the pipette during a session. Different letters indicate statistical differences between odours (Benjamini–Hochberg pairwise comparisons).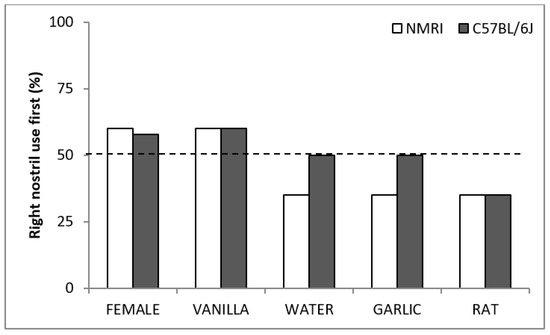 Figure 4. Percentage of mice using their right nostril to first smell the tip of the pipette filled with the odour stimulus at the beginning of a testing session. The dotted line indicates the theoretical expected distribution (50%).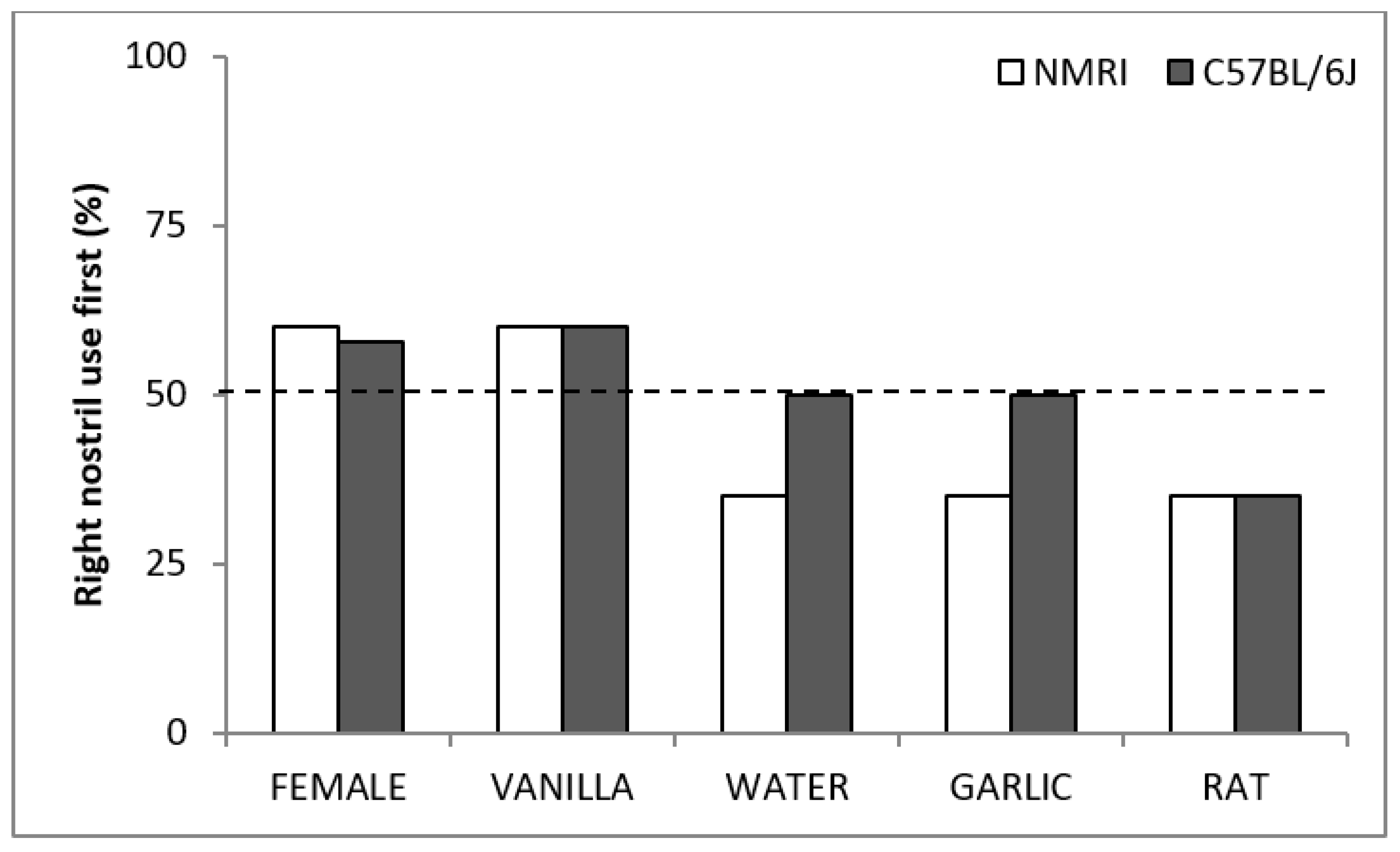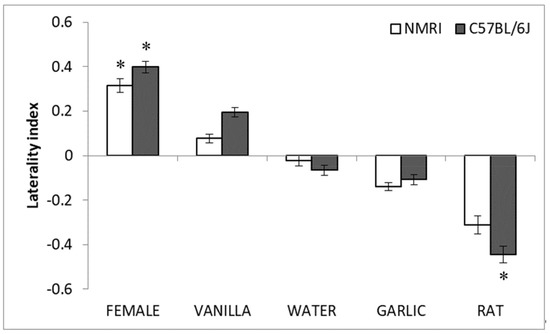 Figure 5.
Laterality indexes (mean ± s.e.m) obtained for each odour in the two mice strains tested. One-sample
t
-tests: *:
p
< 0.05.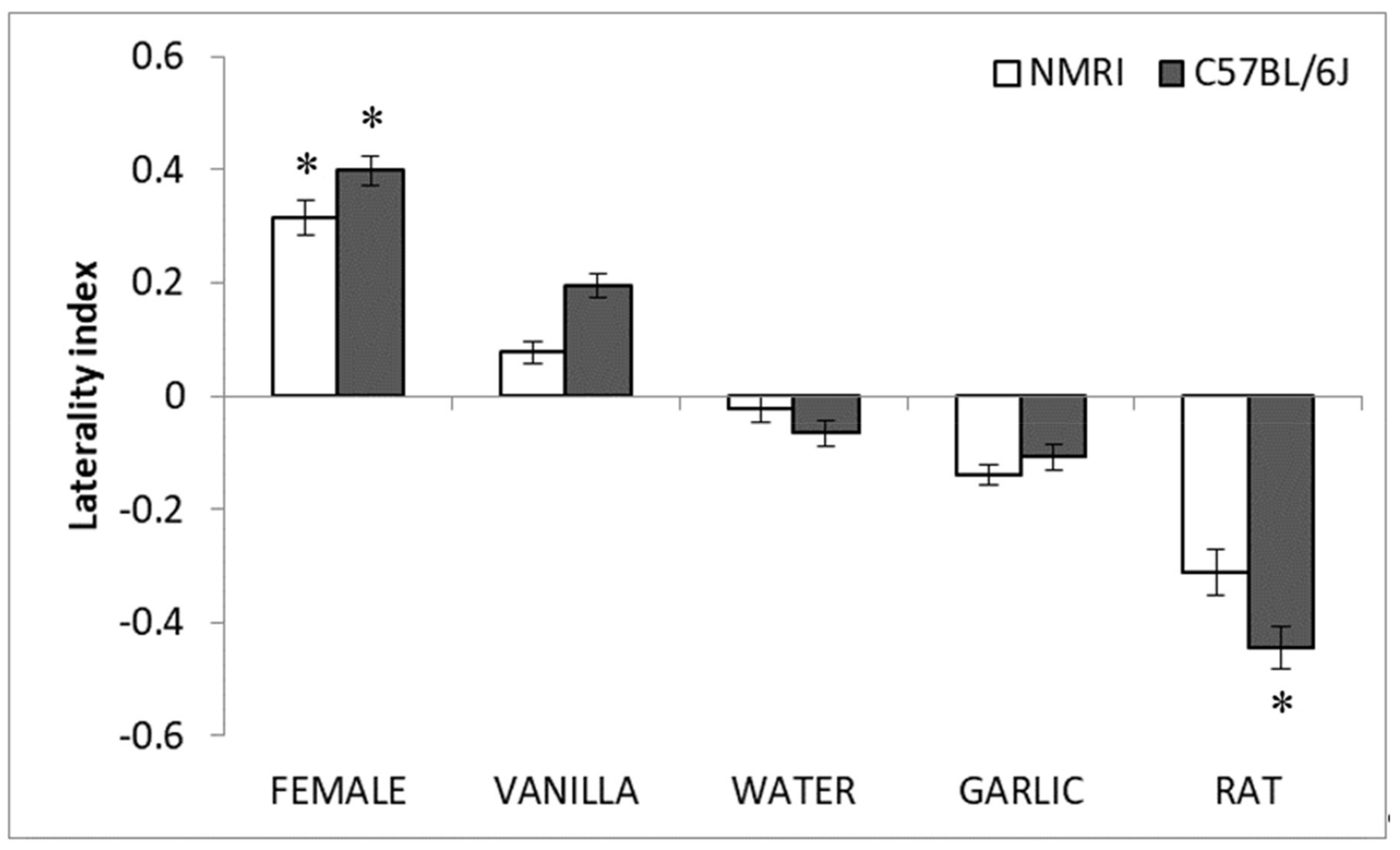 Table 1. Review of the studies on lateralisation of olfactory processing in rodents. OB: olfactory bulb; PC: piriform cortex.
| Species/Strain/Sex | Brain Structure | Side | Measure | Reference |
| --- | --- | --- | --- | --- |
| Rats/Long Evans males | anterior PC | LEFT | Enhanced beta frequency band oscillations during the first stages of odour discrimination learning Performance-and context-dependent asymmetry | [16] |
| Rats/Long Evans males | anterior PC orbitofrontal cortex | LEFT RIGHT | Enhanced odour-evoked activity during initial stages of odour discrimination learning | [17] |
| Rats/Sprague Dawley females | PC | LEFT | Olfactory-learning specific lateralisation of translocation of enzyme protein kinase C from cytosol to membrane | [15] |
| Rats/Wistar males | OB | LEFT | Absence of adaptive response to the odour of a stressed conspecific when lesioned | [14] |
| Rats/Wistar males | anterior PC lateral amygdala | LEFT | Activation correlated with behavioural responsiveness | [13] |

© 2019 by the authors. Licensee MDPI, Basel, Switzerland. This article is an open access article distributed under the terms and conditions of the Creative Commons Attribution (CC BY) license (http://creativecommons.org/licenses/by/4.0/).