Open Access This article is
freely available
re-usable
Article
Structure Learning of Gaussian Markov Random Fields with False Discovery Rate Control
1
Computer Science, Hanyang University ERICA, Ansan 15588, Korea
2
Department of Mathematics, Wroclaw University of Science and Technology, 50-370 Wroclaw, Poland
3
Institute of Mathematics, University of Wroclaw, 50-384 Wroclaw, Poland
*
Author to whom correspondence should be addressed.
Received: 11 September 2019 / Accepted: 15 October 2019 / Published: 18 October 2019
Abstract
:
In this paper, we propose a new estimation procedure for discovering the structure of Gaussian Markov random fields (MRFs) with false discovery rate (FDR) control, making use of the sorted -norm (SL1) regularization. A Gaussian MRF is an acyclic graph representing a multivariate Gaussian distribution, where nodes are random variables and edges represent the conditional dependence between the connected nodes. Since it is possible to learn the edge structure of Gaussian MRFs directly from data, Gaussian MRFs provide an excellent way to understand complex data by revealing the dependence structure among many inputs features, such as genes, sensors, users, documents, etc. In learning the graphical structure of Gaussian MRFs, it is desired to discover the actual edges of the underlying but unknown probabilistic graphical model—it becomes more complicated when the number of random variables (features)
p
increases, compared to the number of data points
n
. In particular, when , it is statistically unavoidable for any estimation procedure to include false edges. Therefore, there have been many trials to reduce the false detection of edges, in particular, using different types of regularization on the learning parameters. Our method makes use of the SL1 regularization, introduced recently for model selection in linear regression. We focus on the benefit of SL1 regularization that it can be used to control the FDR of detecting important random variables. Adapting SL1 for probabilistic graphical models, we show that SL1 can be used for the structure learning of Gaussian MRFs using our suggested procedure nsSLOPE (neighborhood selection Sorted L-One Penalized Estimation), controlling the FDR of detecting edges.
Keywords:
Gaussian Markov random field; Inverse Covariance Matrix Estimation; FDR control
Author Contributions
Conceptualization, S.L. and P.S.; methodology, S.L. and P.S.; software, S.L. and P.S.; validation, S.L, P.S. and M.B.; formal analysis, S.L.; writing–original draft preparation, S.L.; writing–review and editing, S.L.
Funding
This work was supported by the research fund of Hanyang University (HY-2018-N).
Conflicts of Interest
The authors declare no conflict of interest.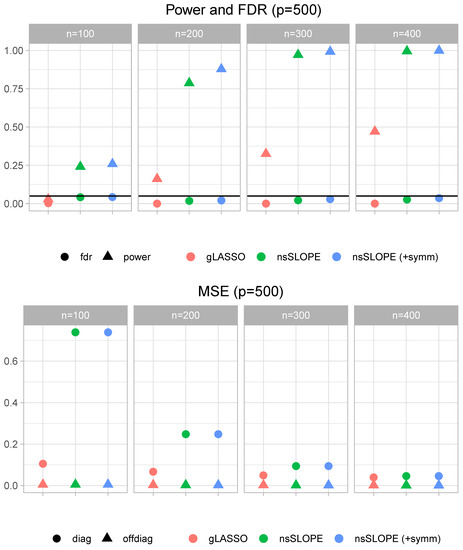 Figure 1. Quality of estimation. Top: empirical false discovery rate (FDR) levels (averaged over 25 repetitions) and the nominal level of (solid black horizontal line). Bottom: mean square error of diagonal and off-diagonal entries of the precision matrix. was fixed for both panels and , 200, 300 and 400 were tried. ("nsSLOPE": nsSLOPE without symmetrization, "+symm": with symmetrization and gLASSO.)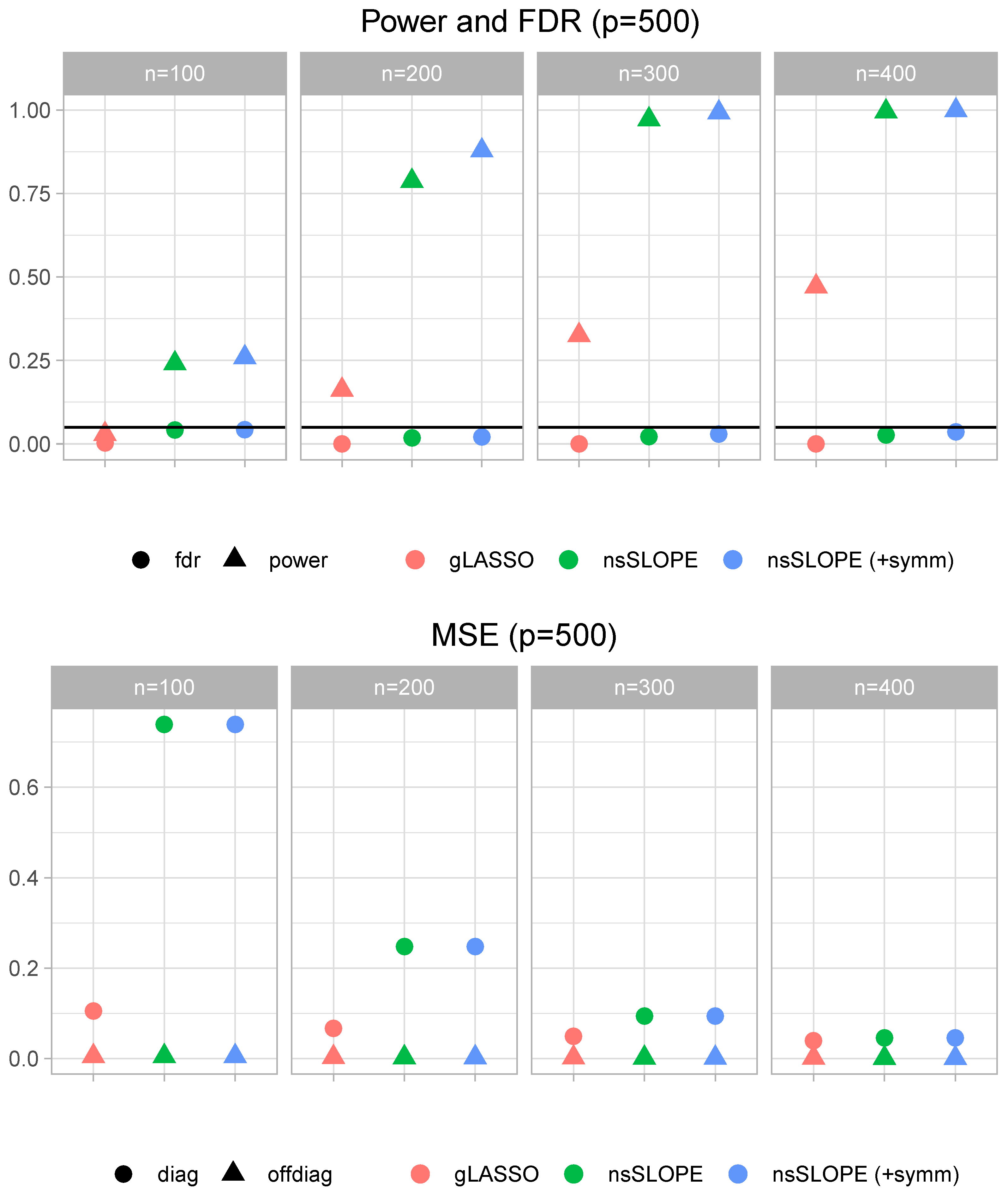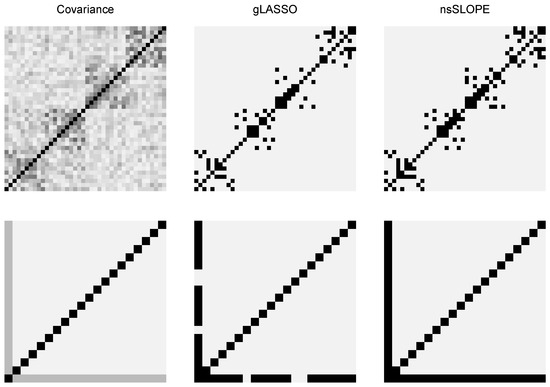 Figure 2. Examples of structure discovery. Top: a covariance matrix with block diagonal structure. Bottom: a hub structure. True covariance matrix is shown on the left and gLASSO and nsSLOPE estimates (only the nonzero patterns) of the precision matrix are shown in the middle and in the right panels, respectively.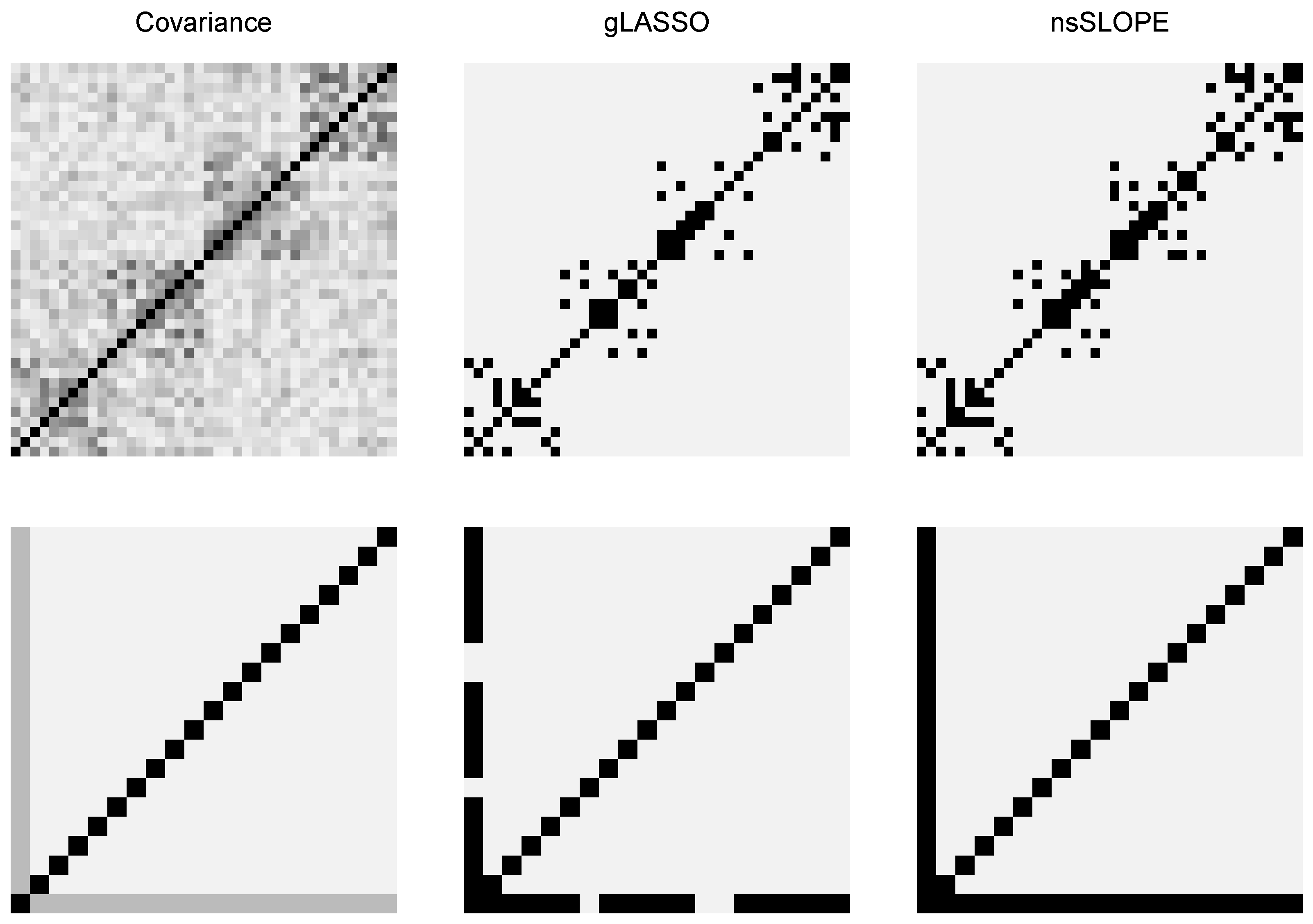 © 2019 by the authors. Licensee MDPI, Basel, Switzerland. This article is an open access article distributed under the terms and conditions of the Creative Commons Attribution (CC BY) license (http://creativecommons.org/licenses/by/4.0/).