Open Access This article is
freely available
re-usable
Article
The (A)symmetry between the Exterior and Interior of a Schwarzschild Black Hole
1
Department of Quantum Technolgies, Wroclaw University of Science and Technology, 50-370 Wroclaw, Poland
2
Faculty of Science and Engineering, Kingston University, London SW15 3DW, UK
*
Author to whom correspondence should be addressed.
Received: 30 July 2018 / Accepted: 22 August 2018 / Published: 27 August 2018
Abstract
:
A black hole in a Schwarzschild spacetime is considered. A transformation is proposed that describes the relationship between the coordinate systems exterior and interior to an event horizon. The application of this transformation permits considerations of the (a)symmetry of a range of phenomena taking place on both sides of the event horizon. The paper investigates two distinct problems of a uniformly accelerated particle. In one of these, although the equations of motion are the same in the regions on both sides, the solutions turn out to be very different. This manifests the differences of the properties of these two ranges.
Keywords:
black hole; event horizon; asymmetry
Author Contributions
P.G.: The idea of (a)symmetry, uniform acceleration, calculations; A.A.: Conceptual discussions, manuscript preparation and editing; F.F.: Numerical support, preparations of illustrations; A.R.: Discussing and developing the concepts of uniformly accelerated test particles as viewed by resting observers, calculations.
Funding
Department of Quantum Technologies, Wroclaw University of Science and Technology.
Conflicts of Interest
The authors declare no conflict of interest.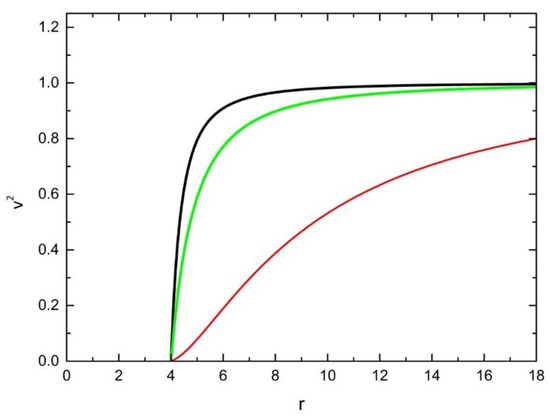 Figure 1. Squared speed (Equation (35)) of a uniformly accelerated test particle initially at rest at (in this case ) escaping radially from the gravitational field for different values of α = 0.1 (red), α = 0.5 (green), α = 1 (black).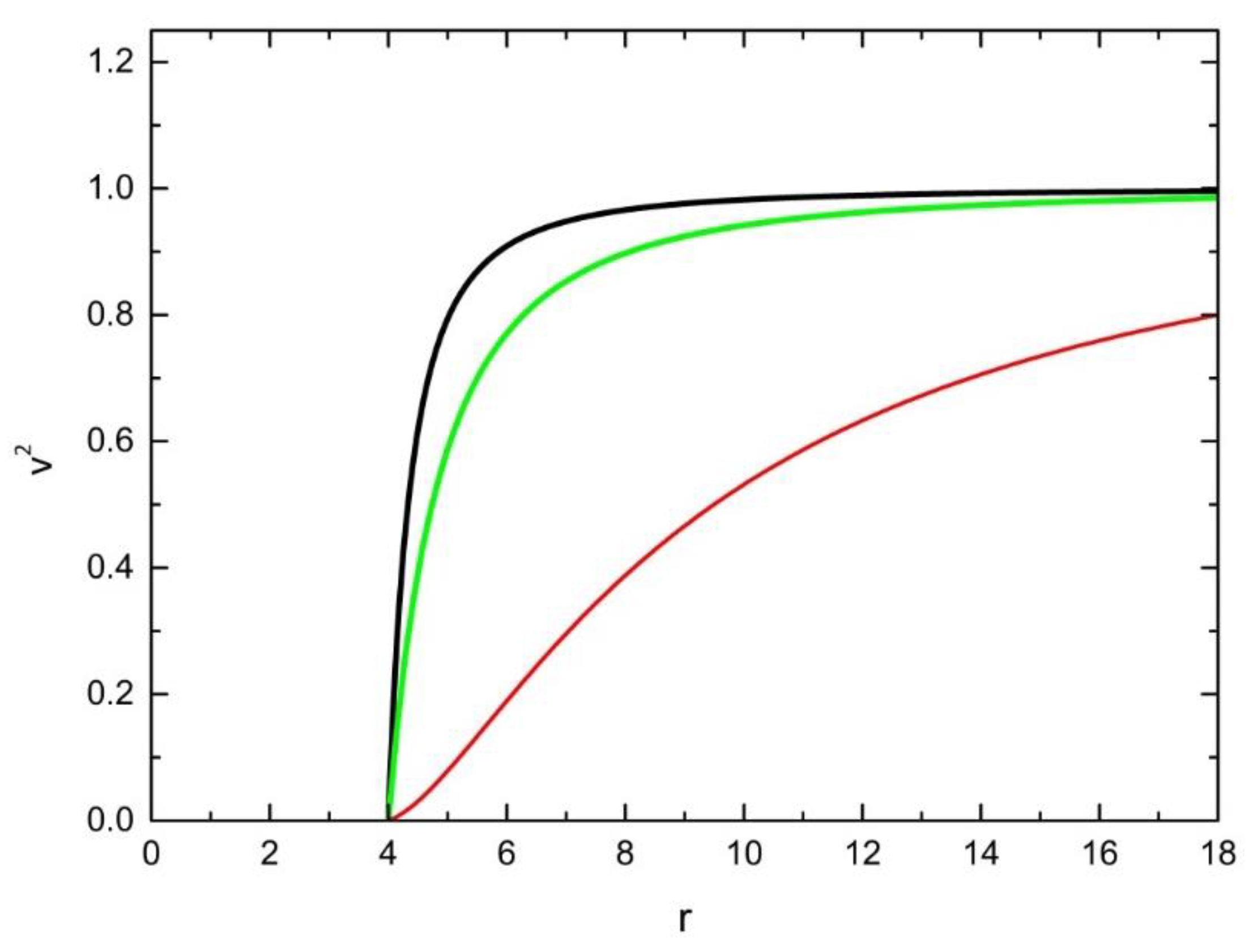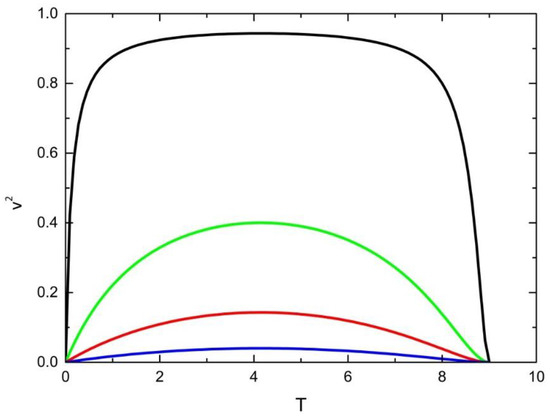 Figure 2. Squared speed (Equation (37)) of a test particle initially, at rest (in this case ) uniformly accelerated along homogeneity axis (=t) for different values of α = 0.05 (blue), α = 0.1 (red), α = 0.2 (green), α = 1 (black).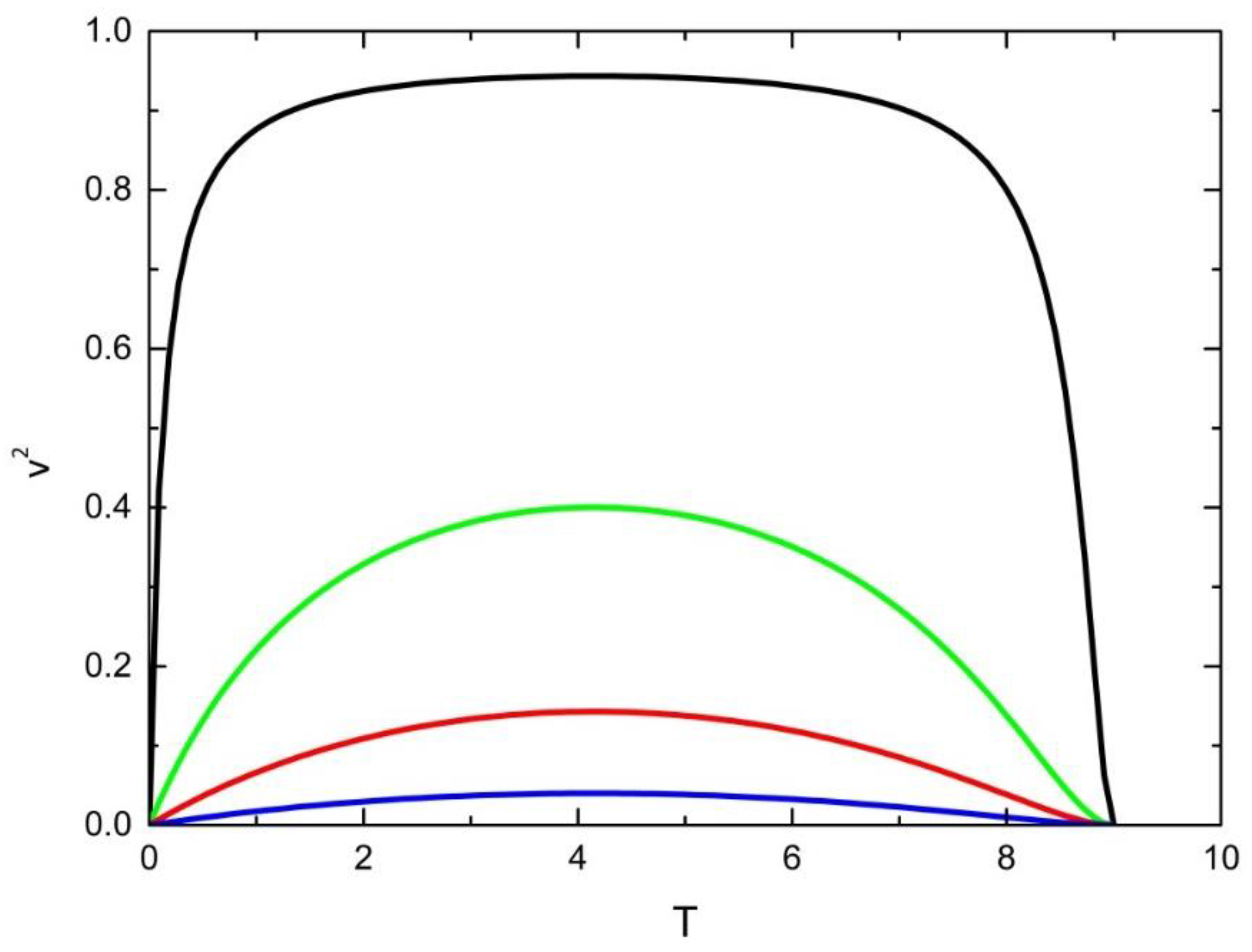 © 2018 by the authors. Licensee MDPI, Basel, Switzerland. This article is an open access article distributed under the terms and conditions of the Creative Commons Attribution (CC BY) license (http://creativecommons.org/licenses/by/4.0/).