Biological Homochirality on the Earth, or in the Universe? A Selective Review
Institute of Organo-Element Compounds, Russian Academy of Sciences, 119991 Moscow, Russia
Received: 21 November 2018 / Revised: 6 December 2018 / Accepted: 10 December 2018 / Published: 13 December 2018
The discovery of meteoritic alpha-amino acids with significant enantiomeric excesses of the L-form has suggested that some cosmic factors could serve as the initial source for chiral imbalance of organic compounds delivered to the early Earth. The paper reviews major hypothesis considering the influence of chiral irradiation and chiral combinations of physical fields on the possible ways asymmetric synthesis and transformations of organics could take place within the solar system. They could result in a small enantiomeric imbalance of some groups of compounds. More attention is paid to the hypothesis on parity violation of weak interaction that was supposed to cause homochirality of all primary particles and a more significant homochirality of compounds directly synthesized from the latter in a plasma reactor. The first experiment with material synthesized in a plasma torch resulting from a super-high-velocity impact showed formation of alanine with the excess of L-form between 7 and 25%. The supposed conclusion is that L-amino acids could serve as a starting homochiral biomolecular pool for life to emerge all over the Universe.
Funding
There is no extra funding.
Conflicts of Interest
The author declares no conflict of interest.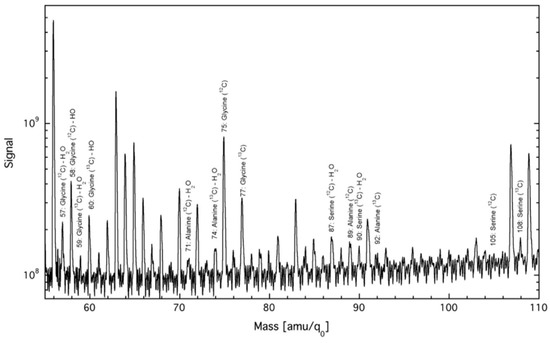 Figure 1.
The amino acid-corresponding section of the MALDI mass spectra of impact products. The high content of
13
C isotope is evident. Notably, glycine peaks dominate over those of alanine (by 4.75 times) and serine, which is not characteristic of bioproteins. Source: Reference [
51
].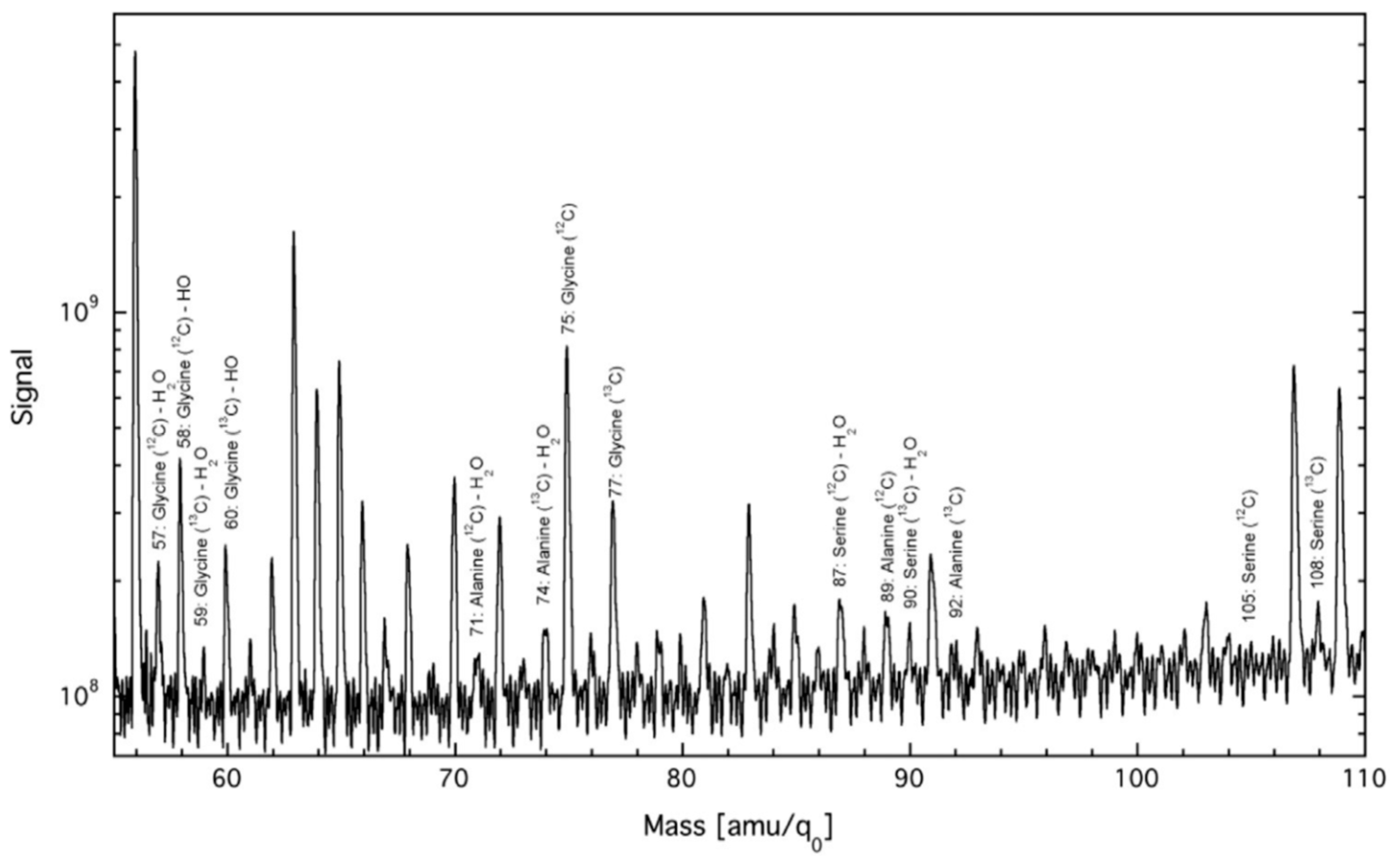 Figure 2.
Section of the total chiral GC-MS profile with D-Ala and L-Ala peaks (retention times 13.3 and 14.7 min, respectively) shown in SIM (140 amu) and TIC modes. Source: Reference [
51
].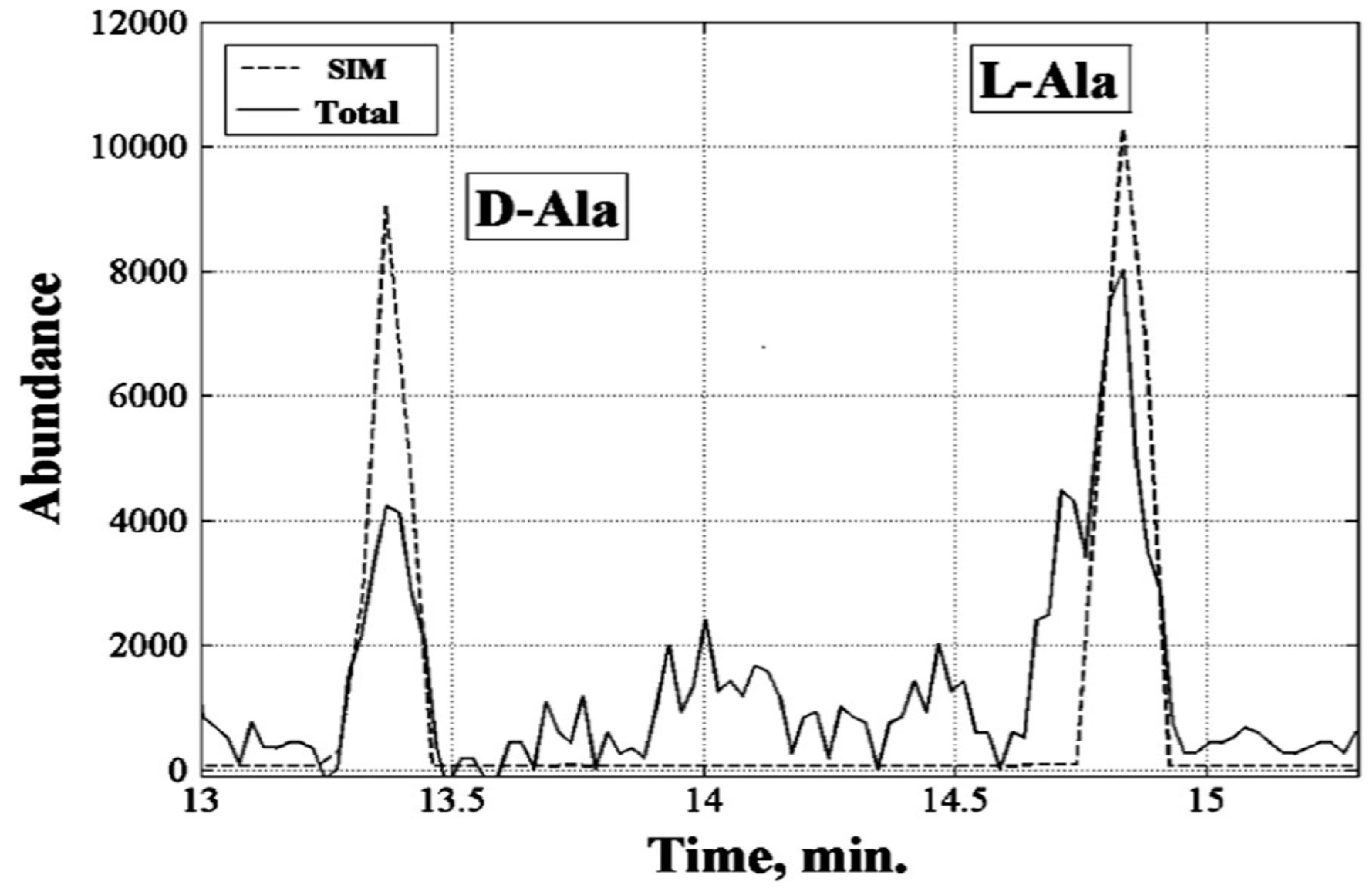 © 2018 by the author. Licensee MDPI, Basel, Switzerland. This article is an open access article distributed under the terms and conditions of the Creative Commons Attribution (CC BY) license (http://creativecommons.org/licenses/by/4.0/).