The Influence of Organs on Biochemical Properties of Tunisian
Thuja occidentalis

Essential Oils

1

LR11-ES31 Laboratory of Biotechnology and Valorisation of Bio-GeoRessources, Higher Institute of Biotechnology of Sidi Thabet, BiotechPole of SidiThabet, University of Manouba, Ariana 2020, Tunisia

2

Faculty of Sciences of Bizerte, Jarzouna-Bizerte, University of Carthage, Zarzouna 7021, Tunisia

3

Laboratory of Epidemiology and Veterinary Microbiology, Bacteriology and Development Biotechnology Groups, Pasteur Institute of Tunisia, University of Manar, Tunis 1002, Tunisia

4

LR17-ES03 Physiopathology, Food and Biomolecules, Higher Institute of Biotechnology of Sidi Thabet, Biotechpole Sidi Thabet, Ariana 2020, Tunisia

5

Laboratory of Management and Valorization of Forest Resources, National Research Institute of Rural Engineering, Water and Forestry (INRGREF), Tunis 1002, Tunisia

6

Department of Veterinary and Animal Sciences, University of Copenhagen, Stigboejlen 4, 1870 Frederiksberg, Denmark

7

Holy Spirit University of Kaslik, P.O. Box 446 Jounieh, Mount Lebanon, Lebanon

8

Faculty of Sciences and Arts in Balgarn, University of Bisha, Kingdom of Saudi Arabia, P.O. BOX 60 Balgarn, Sabt Al Alaya 61985, Saudi Arabia

*

Author to whom correspondence should be addressed.

Received: 21 August 2018 / Revised: 4 November 2018 / Accepted: 9 November 2018 / Published: 19 November 2018
Abstract
In this study, the chemical composition and biological activities of the essential oil (EO) extracts (from leaves and cones) of the Tunisian
Thuja occidentalis
were evaluated. The composition of the leaf EO extract was more complex than that of the cones. The major components of the leaf EO extract were α-Pinene (34.4%), cedrol (13.17%), and β-Phellandrene (8.04%), while the composition of the cone EO extract was characterized by the predominance of α-Pinene (58.55%) and 3-Carene (24.08%). All EO extracts showed much better antioxidant activity than Trolox against 2, 2′-diphenyl-1-picryl hydrazyl (DPPH) radical scavenging, but EOs extracted from leaves exhibited the highest total antioxidant activity. All EOs showed strong antibacterial and antifungal activities against nine tested foodborne microorganisms (
Bacillus cereus
American Type Culture Collection (ATCC) 1247,
Listeria monocytogenes
ATCC 7644,
Staphylococcus aureus
ATCC 29213,
Aeromonas hydrophila
EI,
Escherichia coli
ATCC 8739,
Pseudomonas aeruginosa
ATCC 27853,
Salmonella typhimurium
NCTC 6017,
Aspergillus flavus
(foodborne isolate), and
Aspergillus niger
CTM 10099. The highest antimicrobial activities by disk diffusion assay were recorded for the EOs extracted from leaves, while no difference in potency was marked between leaf and cone EO extracts by the agar dilution method. The most potent antimicrobial activity was recorded among fungi. This study confirms the strong antimicrobial and antioxidant potential of EO extracts from the Tunisian
T. occidentalis
(from the Sidi Bou Said site), highlighting its potential as a natural preservative against foodborne pathogens, particularly against
E. coli
and
S. typhimurium
.
View Full-Text
►

▼

Figures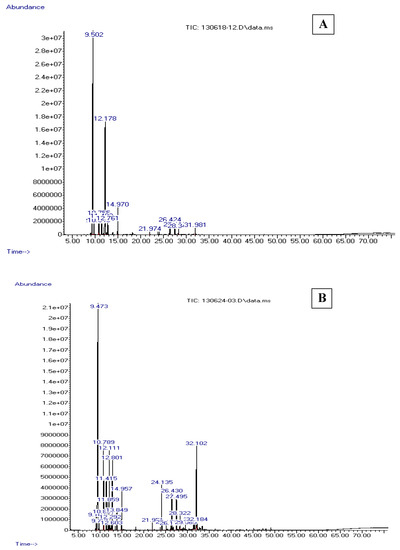 Figure 1
This is an open access article distributed under the
Creative Commons Attribution License
which permits unrestricted use, distribution, and reproduction in any medium, provided the original work is properly cited (CC BY 4.0).

Share & Cite This Article
MDPI and ACS Style
Bellili, S.; Aouadhi, C.; Dhifi, W.; Ghazghazi, H.; Jlassi, C.; Sadaka, C.; Beyrouthy, M.E.; Maaroufi, A.; Cherif, A.; Mnif, W. The Influence of Organs on Biochemical Properties of Tunisian Thuja occidentalis Essential Oils. Symmetry 2018, 10, 649.
Note that from the first issue of 2016, MDPI journals use article numbers instead of page numbers. See further details here.
Related Articles
Comments
[Return to top]