Open Access This article is
freely available
re-usable
Review
Single-Domain Antibodies as Therapeutic and Imaging Agents for the Treatment of CNS Diseases
1
Human Health Therapeutics Research Centre, National Research Council Canada, Ottawa, ON K1A 0R6, Canada
2
Department of Biochemistry, Microbiology and Immunology, University of Ottawa, Ottawa, ON K1H 8M5, Canada
*
Author to whom correspondence should be addressed.
Received: 1 March 2019 / Accepted: 28 March 2019 / Published: 5 April 2019
Abstract
:
Antibodies have become one of the most successful therapeutics for a number of oncology and inflammatory diseases. So far, central nervous system (CNS) indications have missed out on the antibody revolution, while they remain 'hidden' behind several hard to breach barriers. Among the various antibody modalities, single-domain antibodies (sdAbs) may hold the 'key' to unlocking the access of antibody therapies to CNS diseases. The unique structural features of sdAbs make them the smallest monomeric antibody fragments suitable for molecular targeting. These features are of particular importance when developing antibodies as modular building blocks for engineering CNS-targeting therapeutics and imaging agents. In this review, we first introduce the characteristic properties of sdAbs compared to traditional antibodies. We then present recent advances in the development of sdAbs as potential therapeutics across brain barriers, including their use for the delivery of biologics across the blood–brain and blood–cerebrospinal fluid (CSF) barriers, treatment of neurodegenerative diseases and molecular imaging of brain targets.
Keywords:
single-domain antibodies; neurodegenerative diseases; brain imaging; blood–brain barrier; delivery
1. Introduction to sdAbs
1.1. Structure and Characteristics
The concept of single-domain antibodies (sdAbs) originated in the 90's, with the proof-of-concept experiments demonstrating sdAbs as
bone fide
antigen binding fragments [
1
], and the discovery of camelid [
2
] and shark [
3
] heavy chain-only antibodies (HCAbs). Single-domain antibodies can be derived from the antigen binding variable domains of homodimeric, light-chain lacking immunoglobulins, such as camelid HCAbs [
4
] and shark immunoglobulin new antigen receptors (IgNARs) [
5
], variable light chain (V
L
) or variable heavy chain (V
H
) domains of tetrameric—typically human—conventional immunoglobulins [
6
] (
Figure 1
). The variable domains of camelid HCAbs and shark IgNARs are referred to as V
H
Hs (or nanobodies) and V
NAR
s, respectively. While V
H
Hs and V
NAR
s are almost without exception non-aggregating and highly soluble, the opposite is true for V
H
s and V
L
s. However, various strategies have been developed to successfully obtain aggregation resistant and soluble human V
H
s and V
L
s ([
7
,
8
] and references therein) including transgenic mice technology [
9
,
10
]. Human V
H
and V
L
domains are of interest because of their human nature, a property that presumably makes them less immunogenic in humans compared to camelid V
H
Hs or nurse shark V
NAR
s.
The desirable biophysical, biochemical, and structural properties of sdAbs, particularly those from natural repertoires are generally well known, and have been described in several reviews [
4
,
5
,
6
,
11
,
12
]. Despite their significantly smaller combining site, consisting of only three complementarity-determining regions (CDRs) or hypervariable loops—as opposed to six for conventional antibodies such as monoclonal antibodies (mAbs)—sdAbs demonstrate comparable antigen binding affinities. Interrelated properties such as small size (12–15 kDa vs. 150 kDa for mAbs); strict monomericity; high solubility, including at therapeutic doses; aggregation resistance; chemical, physical and protease stability; efficient folding /refolding; good recombinant expression, notably in economic microbial expression systems such as yeast and
E. coli
; excellent shelf life; excellent manufacturability; and low cost of production make sdAbs an attractive alternative to other antibody formats such as mAbs, Fabs (fragments antigen binding), and scFvs (single chain variable fragments) as therapeutic and diagnostic agents. Resistance to aggregation is particularly noteworthy as it significantly reduces the risk of immunogenicity. Furthermore, their small size and frequently extended CDR3 make sdAbs the antibody of choice when targeting recessed epitopes of proteins such as enzymes' active sites or receptors' cavities. Longer CDR3s also increase the combining site's surface area, and to a significant degree compensate for the absence of V
L
CDRs. In addition, their fast blood clearance and effective tissue penetration, attributed to their small size, make sdAbs ideal imaging agents, e.g., against tumors. In this respect, the high stability and folding properties of sdAbs provide flexibility for labeling reactions with optimal outcomes. Modularity is another hallmark of sdAbs, and becomes a key property when engineering sdAb-based multimeric and multispecific constructs as CNS diagnostics and therapeutics (see
Section 1.3
).
1.2. Single-Domain Antibody Libraries and Selection
1.3. Modular Building of Multispecific Molecules
Their small size and monomeric nature make sdAbs ideal building blocks for the construction of multivalent and multispecific therapeutic and imaging molecules of improved function and potency (compared to monomeric versions) with good development capacity and manufacturability [
11
,
21
,
22
]. For example, bivalent or bispecific sdAbs have been generated by linking two identical or two different sdAbs using a short spacer sequence [
23
,
24
,
25
,
26
,
27
,
28
,
29
,
30
,
31
,
32
]. Successful generation of trivalent bispecific and tetravalent bispecific sdAbs—where sdAb moieties are linked through short linker sequences—have also been reported [
28
,
29
,
33
,
34
,
35
,
36
]. Monospecific pentavalent sdAbs have been constructed by fusing sdAbs to the N- or C-terminus of the verotoxin 1B (VT1B) subunit [
37
]. Similarly, fusing different sdAbs to the N- and C-terminus of VT1B has yielded bispecific decavalent molecules [
38
]. Bivalent monospecific or tetravalent bispecific sdAbs can also be made by fusing sdAbs to an antibody Fc fragment [
8
,
39
,
40
,
41
,
42
,
43
]; this has the added advantage of greatly extending the serum half-life of sdAbs [
44
] and imparting effector functions such as antibody-dependent cellular cytotoxicity (ADCC) [
42
] or complement-dependent cytotoxicity (CDC) [
45
]. Single-domain antibodies should also be ideal molecules for constructing bivalent and bispecific antibodies incorporating a heterodimeric Fc region [
46
]. More complex constructs such IgG-sdAb fusions have also been reported [
47
]. For therapeutic applications, sdAbs have been linked to enzymes or toxins, either by cloning or by chemical conjugation [
48
,
49
,
50
,
51
,
52
,
53
].
1.4. Developing sdAbs as CNS Diagnostics or Therapeutics
Treating CNS disorders remains one of the greatest challenges in modern medicine. Although several promising therapeutics are developed every year, their failure to reach brain target prevents their advancement to the clinic. This is mainly due to the presence of the BBB acting as a gatekeeper to maintain brain homeostasis and protect neurological capabilities [
54
]. The BBB is composed of specialized endothelial cells sealed together by tight junctions to form a physical barrier lining the brain blood vessels. These cells differ from endothelial cells lining peripheral vessels by their lack of fenestrations and limited pinocytic activity thereby restricting transcellular transport. The brain endothelial layer is surrounded by pericytes and astrocyte end-feet, which are essential for maintaining the integrity of the BBB. In addition, several efflux transporters are present at the BBB and function to remove unwanted molecules from the brain. Although this restrictive physiology is necessary to prevent undesirable blood-borne material from penetrating the brain, it also limits the effective delivery of CNS therapeutics. Therefore, agents designed for use as CNS diagnostics or therapeutics must be delivered to sites of action via administration routes that circumvent the BBB, such as intrathecal/intraventricular, intracerebral administration, or combined with delivery technologies that increase their penetration across the BBB upon systemic administration.
The brain neuropil is packed with interacting cells, including neurons, neuronal processes, and various types of glial cells. The brain extracellular space (ECS), filled with brain extracellular fluid, is tight and very convoluted—modeling studies estimate its width between 35 and 60 nm [
55
]. Any compound administered directly into the neuropil will diffuse through the ECS to distances inversely proportional to the size of the molecule. Monoclonal antibodies exhibit limited diffusion in the brain ECS due to their large size and interactions with the extracellular matrix (ECM). Single-domain antibodies have a distinct advantage as intracerebrally administered reagents/therapeutics, achieving diffusion across longer distances from the site of injection [
55
]. In addition, the lack of a Fc fragment reduces their interactions with the ECM and brain efflux via an FcRn-mediated reverse transcytosis. A recent study on the brain biodistribution of antibodies via perivascular transport after intrathecal infusion in rodents [
56
] demonstrated both deeper brain penetration and broader brain exposure of a smaller V
H
H fragment compared to a full mAb. This study demonstrated that sdAbs are advantageous as a CNS therapeutic antibody modality developed for intracerebral (local) or intrathecal administration. This is particularly relevant for brain diseases originating from or confined to a specific brain area, such as Parkinson's disease.
However, the majority of CNS diseases can be considered 'whole-brain' diseases, even when they initially affect more localized brain regions. The brain's vascular network is particularly dense, and thus each brain capillary supplies only few neurons, the diffusion distance of compounds, including antibodies, delivered across the BBB to their neuronal targets is only ~25 µm. Transvascular (cross-BBB) brain delivery would therefore achieve a more global brain distribution of antibodies, regardless of their size, since these diffusion distances are readily achievable even by mAbs. Systemic delivery of therapeutic antibodies targeting the CNS could be improved using 'carrier' molecules selected or engineered for the ability to traverse the BBB.
In the following sections, sdAbs that have been developed as delivery agents across the BBB, as treatments against the most common neurodegenerative diseases and as neuroimaging tools are descried and summarized in
Table 1
.
2. Single-Domain Antibodies as Delivery Agents across the BBB
The above studies provided evidence for the feasibility of using sdAbs as carriers targeting a new generation of RMT receptors for the development of CNS therapeutics.
3. Single-Domain Antibodies as Treatments against Neurodegenerative Diseases
3.1. Protein-Misfolding Diseases (PMDs)
A vast majority of neurodegenerative diseases are associated with misfolded proteins that interact with each other to form large aggregates referred to as amyloid fibrils [
78
]. These complexes are insoluble, highly organized and extremely stable, and their accumulation is toxic to the cell. Although all PMDs share a common mechanism of action, the nature of the misfolded proteins differs between each disorder and dictates the identity of the disease. Alzheimer's disease is caused by the accumulation of amyloid β (Aβ) peptides and Tau proteins, whereas the aggregation of α-synucleins (αSyn) is at the origin of Parkinson's disease. Similarly, aggregates formed by huntingtin (Htt) proteins lead to Huntington's disease while Prion disease is associated with the conversion of the normal, cellular prion protein (PrP
c
) into its disordered scrapie isoform (PrP
sc
), which accumulates into large oligomers. The formation of fibrils is a complex phenomenon involving several intermediate distinct structures [
78
,
79
]. The identification and characterization of the various species formed during the process is essential for the development of early diagnostic tools and new therapeutic strategies. This is, however, an extremely difficult task due to the insolubility and heterogeneity of the different forms involved in the process of fibril formation. This explains the lack of effective treatments against the devastating PMDs to date.
Single-domain antibodies represent a promising asset for the treatment of PMDs since they possess unique characteristics allowing them to access unprecedented epitopes (see
Section 1
). In addition, their high specificity and stability ensured the targeting of specific species under harsh solubilizing conditions along the process of fibril maturation. In this next section, we will review recent advances in the use of sdAbs for the diagnostic and treatment of the main PMDs affecting the CNS.
3.1.1. Alzheimer's Disease (AD)
3.1.2. Parkinson's Disease (PD)
3.1.3. Huntington's Disease (HD)
3.1.4. Prion Diseases
Prion diseases, also known as transmissible spongiform encephalopathies (TSEs) comprise of a group of fatal transmissible neurodegenerative diseases caused by the misfolding of the cellular prion protein (PrP
c
) into the abnormally shaped scrapie prion protein (PrP
sc
). The emergence of the diseased state of the prion protein (PrP) can be spontaneous, genetic, or acquired [
115
]. In all cases, each newly formed PrP
sc
acts as a template and promotes the conversion of more PrP
c
leading to the assembly of large insoluble amyloid fibrils associated with neurotoxicity and spongiform change in the brain parenchyma. The most common TSE is the Creutzfeldt-Jakob disease with a new incidence rate of about 1–2 cases per million of population worldwide [
116
]. People suffering from this disorder show a wide variety of psychiatric symptoms that rapidly progress leading ultimately to death. Despite the severity of prion diseases, only two sdAbs targeting PrPs have been generated to date.
The first one, PrioV3 was isolated from a phage-displayed V
H
H library generated from the blood of dromedaries immunized with brain homogenates from scrapie-infected mice adsorbed on magnetic beads [
117
]. The V
H
H showed high affinity binding to a linear epitope at the C-terminus of both PrP
c
and PrP
sc
. PrioV3 was shown to cross the BBB in vitro in rat and human brain endothelial cell lines via RMT [
92
,
117
]. Moreover, when injected intravenously in rats, the V
H
H was detected in the brain parenchyma suggesting its ability to cross the BBB in vivo. It also had the capacity to reduce PrP
c
expression and PrP
sc
accumulation in prion-permissive cells following its addition to the culture medium. When the treatment was prolonged over four days, PrP
sc
was undetectable by Western blot suggesting complete and permanent inhibition of its replication by the antibody. Similar results were obtained in vivo in mice inoculated with scrapie-infected brain homogenates receiving a weekly dose of PrioV3 [
92
,
117
]. This treatment severely abrogated the accumulation of PrP
sc
in the spleen of the animals. Finally, PrioV3 showed no sign of neurotoxicity in vitro.
Nb484 was selected from a pool of 14 V
H
Hs identified following llama immunization with murine PrPs and construction of phage-displayed V
H
H libraries [
118
]. This specific V
H
H showed the highest affinity for human PrPs. Assessment of its neutralizing properties revealed that the antibody could delay the formation of fibrils and abrogate the expression of PrP
sc
in scrapie-infected murine cells. In addition, Nb484 was used as a crystallization chaperone, allowing the solution of the first crystal structures of the full length human PrP
c
and a C-terminal truncated version of the protein, revealing novel structural insights on the early events of the conversion of PrP
c
into PrP
sc
.
3.2. Glioblastoma Multiforme (GBM)
4. Single-Domain Antibodies as Neuroimaging Tools
4.1. Single-Domain Antibodies as Targeted Molecular Imaging Agents
Molecular imaging using advance and hybrid imaging modalities such as computed tomography (CT), positron emission tomography (PET), single photon emission computed tomography (SPECT), magnetic resonance imaging (MRI), and optical imaging, provide noninvasive means to characterize physiological processes and correlate molecular alterations with clinical outcomes. These technologies are improving early disease diagnosis, surgical guidance, patient stratification, and treatment monitoring [
131
]. Molecular imaging has advanced significantly during the last few decades through the identification of novel molecular targets and the development of multifunctional contrast agents along with new imaging instrumentation and analysis tools to extract quantitative data.
Targeted molecular imaging consists of an imaging probe linked to an agent that targets a specific biomarker of clinical relevance. Targeted molecular imaging agents have unique requirements that often differ from those of targeted therapeutic agents. In both cases, a high expression of the target antigen in the diseased versus normal tissue is required. However, for a targeted molecular imaging agent, a short half-life in circulation is preferable. Standard mAbs have a long half-life with slow liver clearance, which is a major hindrance for imaging applications, where a high contrast at early time points is critical for clinical applications [
132
]. The small size of sdAbs enables good tissue penetration and a fast clearance of the unbound fraction primarily via renal filtration (~60 kDa cutoff) [
133
,
134
,
135
]. This also allows the use of short-lived radionuclides, such as
68
Ga (t
1/2
= 68 min) or
18
F (t
1/2
= 109.8 min) for PET imaging which significantly reduces the patient's exposure to radiation. A first-in human PET study using an anti-HER2 sdAb labeled with
68
Ga-NOTA in female patients with metastatic breast cancer showed that imaging at 60–90 min provides suitable contrast to detect small and large tumor lesions with a fast blood clearance of the sdAb, such that only 7.2% of initial activity was remaining at 90 min [
131
].
The unique modularity of sdAbs to be engineered in different multivalent formats, including monomers, dimers, and pentamers provide additional flexibility to fulfill their antigen binding and pharmacokinetic characteristics to specific applications [
136
]. For instance, anti-EGFR sdAbs in monomer and pentamer formats showed to be particularly suitable for molecular optical imaging of glioblastoma tumors due to their respective short half-lives of 40 min and 80 min, while the same sdAbs engineered into a bivalent format fused with human IgG Fc have better potential to be exploited for therapeutic applications due to their extended half-lives (12.5 h) and enhanced avidity [
136
].
4.2. Single-Domain Antibodies for Imaging Brain Tumor Vasculature
The brain tumor vasculature represents a readily reachable target for molecular imaging due to its direct access via blood perfusion after intravenous administration. For brain tumors, such as GBM, assessment of tumor angiogenesis can provide information on the severity of the disease and guide appropriate treatment regimens [
137
,
138
]. Various tumor vascular targets that are overexpressed in the disease brain tissue and not in normal brain have been previously exploited by molecular targeted moieties for the non-invasive assessment of tumor angiogenesis using PET, optical imaging, and MRI. These include vascular endothelial growth factor receptor 2 (VEGFR2) [
139
], endothelial cell adhesion molecules (αvβ3 and αvβ5 integrins) [
140
], and insulin-like growth factor binding protein 7 (IGFBP7) [
141
,
142
]. IGFBP7, in particular, is a secreted protein that accumulates in the basement membrane of tumor endothelial cells, and its expression is believed to be associated with higher-grade gliomas [
141
,
142
,
143
]. Since the tumor's malignancy is highly correlated with the degree of angiogenesis [
137
,
138
], the use of anti-IGFBP7 sdAb linked to a contrast agent for tumor vascular imaging could aid in the diagnosis and clinical management of brain tumors. In preclinical mouse models of GBM, an anti-IGFBP7 sdAb linked to a fluorophore was capable of non-invasively imaging the degree of angiogenesis [
142
]. Furthermore, bimodal optical-MRI contrast agents were developed by the bio-conjugation of anti-IGFBP7 sdAbs and the near-infrared fluorophore Cy5.5 to the surface of two types of nanoparticles, gadolinium-coated lipid particles for T1-weighted MRI imaging [
144
] and PEG functionalized-iron oxide nanoparticles for T2-weighted MRI imaging [
145
]. In both cases, after intravenous administration, the agents elicited an increased MRI contrast enhancement and fluorescent signal in a xenograft GBM tumor compared to a non-targeted nanoparticle. The molecular localization of the anti-IGFBP7 sdAb in the tumor brain vessels was further demonstrated by fluorescence microscopy [
142
].
4.3. Single-Domain Antibodies for Imaging Brain Targets
In summary, sdAbs hold promise for dynamic imaging compared to other antibody-based agents due to their small size that allows better tissue penetration, rapid and homogeneous tumor/brain accumulation and fast blood clearance, which results in high tissue-to-background noise ratios. Single-domain antibodies are versatile, stable in very harsh conditions (pH, temperature), easy to conjugate to different imaging probes, and relatively safe due to their high specificity.
5. Conclusions
Singe-domain antibody technologies are 'coming of age' with many being tested in clinical trials. Several notable advantages of this compact antibody format, including ease of engineering, stability, recognition of unusual epitopes, and versatility for creating bi- and multifunctional molecules, have resulted in sdAbs being poised to address some of the most difficult target and disease spaces, most notably those of the CNS. CNS diseases are among the most difficult to treat not only because therapeutic targets (e.g., misfolded proteins, ion channels and G-protein coupled receptors) are very complex, but also because they are 'hidden' behind brain barriers and are thus difficult to access systemically. Selectivity of targeting of receptor/channel subtypes, often in specific activation states, specific targeting of point mutations, or epitopes 'embedded' in misfolded proteins present unique challenges, often difficult to address by either synthetic molecules or mAbs. While 'precision' targeting of desired epitopes is achievable by both sdAbs and mAbs, compact sdAb format could improve access to hidden epitopes. One distinct advantage of this format is improved diffusion in brain tissue after direct intracerebral administration, and enhanced brain tissue penetration after intrathecal infusion via perivascular flow. Furthermore, sdAbs are proving to be a versatile format for designing BBB carriers that could be easily combined in various display linkages (mono-, bi-, multivalent) with therapeutic monoclonal antibodies and other therapeutic cargos (peptides, proteins, nanocarriers, and imaging agents). The pipeline of sdAbs, both camelid and human, raised against CNS targets from naïve or immune libraries and tested in preclinical models is growing with prospects for entry into clinical testing in the near future. With parallel and significant progress in the development of BBB-delivery technologies based on sdAbs, the field of CNS, so far dominated by small molecule therapeutics, is slowly but steadily progressing into a new era of biological treatments, most notably antibody therapies for chronic neurodegenerative diseases.
Author Contributions
K.B., U.I., M.M., J.T., R.M. and D.S. wrote and proof-read the manuscript. K.B. assembled the manuscript.
Funding
This research received no external funding.
Conflicts of Interest
The authors declare no conflict of interest.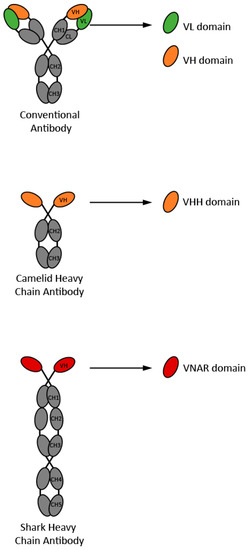 Figure 1. Schematic representation of the four types of sdAbs described in the current review. Antibody constant domains are in grey, whereas antibody variable domains from which sdAbs are derived are in color.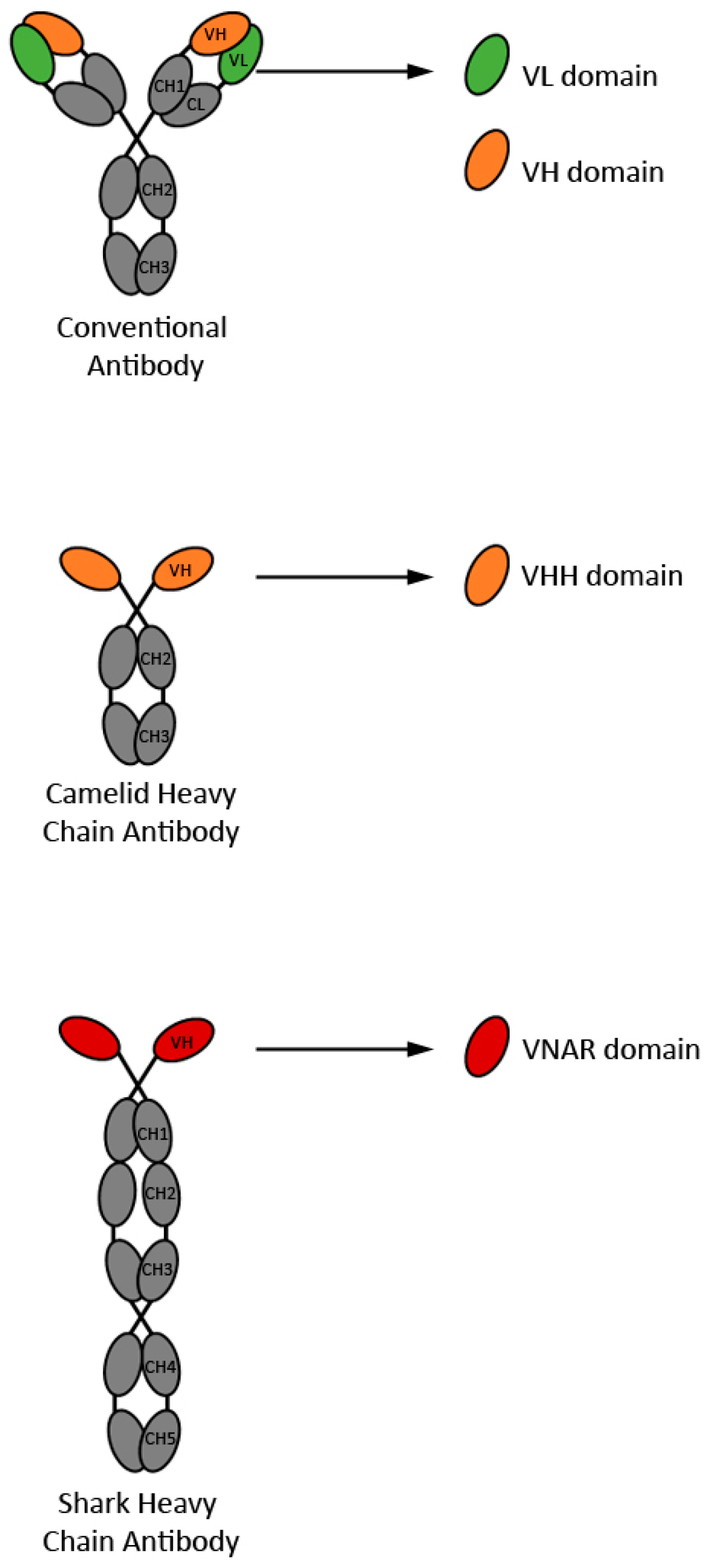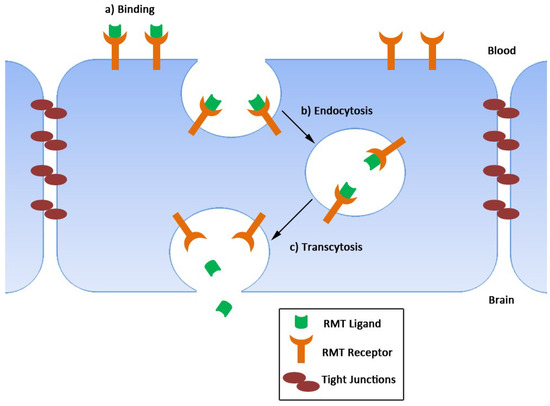 Figure 2. Representation of the receptor-mediated transcytosis (RMT) process. (a) Initially, an RMT ligand binds to a specific RMT receptor on the luminal cell membrane, which (b) leads to the internalization of both receptor and ligand in intracellular vesicles via endocytosis. (c) These vesicles then travel within the cell cytoplasm to reach the abluminal membrane where fusion of endosomes with the cell membrane releases the vesicular cargo inside the brain.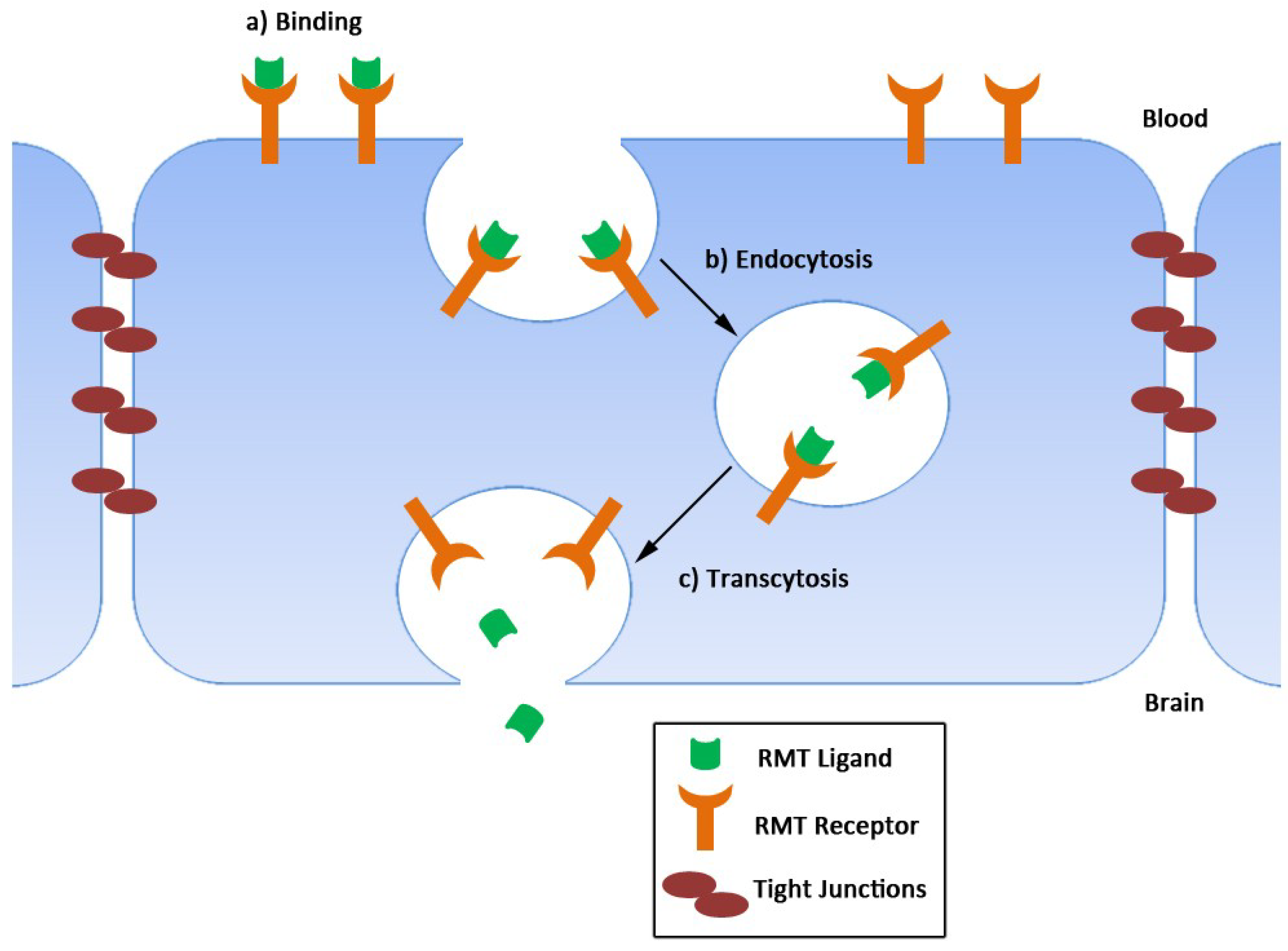 Product Name
Target
sdAb Type
Source
References
BBB Shuttles
TBX4
TfR1
VNAR
Synthetic phage-displayed VNAR library
[66]
IGF1R-3
IGF1R
VHH
Immune phage-displayed VHH library
[75,76]
FC5
TMEM-30A
VHH
Non-immune phage-displayed VHH library
[20,70,71,72,73,74]
FC44
Unknown
VHH
Non-immune phage-displayed VHH library
[20,70,71]
Neurodegenerative diseases
Alzheimer's disease
B10
Mature Aβ (1-40) fribrils and protofibrils
VHH
Synthetic phage-displayed VHH library
[84]
KW1
Non-fibrillar Aβ (1-40) oligomers
VHH
Synthetic phage-displayed VHH library
[86,87]
ni3A
Aβ (1-42) deposits
VHH
Non-immune phage-displayed VHH library
[88,89,90]
V31-1
Monomers and small Aβ (1-42) oligomers
VHH
Immune phage-displayed VHH library
[91]
PrioAD12
Aβ (1-40) peptide
VHH
Immune phage-displayed VHH library
[92]
PrioAD13
Aβ (1-42) peptide
VHH
Immune phage-displayed VHH library
[92]
PrioAD120
Tau (1-16) peptide
VHH
Immune phage-displayed VHH library
[92]
VH1.27, VH1.28, VH2.8
Aβ (1-42) peptide
VH
Immune phage-displayed mouse VH library
[93]
Aβ (1-10),
Aβ (3-12),
Aβ (6-15),
Aβ (9-18),
Aβ (12-21),
Aβ (15-24),
Aβ (18-27),
Aβ (21-30),
Aβ (24-33),
Aβ (27-36),
Aβ (30-39),
Aβ (33-42)
AB monomers, soluble oligomers or fibrils
VH
Grafted amyloid-motif antibodies (Gammabody)
[94,95,96,97]
DesAb-Aβ
Aβ (15-21) peptide
VH
Gammabody
[98]
Parkinson's disease
αSyn (69-78)
αSyn fibrils
VH
Gammabody
[95]
DesAb-D,
DesAb-E,
DesAb-F
αSyn (61-67) or αSyn (70-76) peptide
VH
Gammabody
[98]
NbSyn2
Monomeric αSyn and mature fibrils
VHH
Immune phage-displayed VHH library
[101,102,104]
NbSyn87
Monomeric αSyn(A53T) and mature fibrils
VHH
Immune phage-displayed VHH library
[102,103,107,108]
VH14
Monomeric αSyn
VH
Non-immune yeast-displayed human scFv library
[106,107,108]
Huntington's disease
VL12.3
Htt protein
VL
Non-immune yeast-displayed human scFv library
[110,111,112,113]
Happ1, Happ3
Htt protein
VL
Non-immune phage-displayed human scFv library
[112,113]
iVHH1, iVHH2, iVHH3, iVHH4
Htt protein
VHH
Immune phage-displayed VHH library
[114]
Prion diseases
PrioV3
PrPc and PrPsc
VHH
Immune phage-displayed VHH library
[92,117]
Nb484
MoPrP (23-230)
VHH
Immune phage-displayed VHH library
[118]
Glioblastoma multiforme
Nb237
TRIM28
VHH
Immune phage-displayed VHH library
[122]
Nb141
β-actin
VHH
Immune phage-displayed VHH library
[122]
Nb10
ACTB/NUCL complex
VHH
Immune phage-displayed VHH library
[123]
Nb79
VIM
VHH
Immune phage-displayed VHH library
[123]
Nb179
NAP1L1
VHH
Immune phage-displayed VHH library
[123]
Nb225
TUFM
VHH
Immune phage-displayed VHH library
[123]
Nb314
DPYSL2 and MTHFD1
VHH
Immune phage-displayed VHH library
[123]
Nb394
CRMP1
VHH
Immune phage-displayed VHH library
[123]
Nb395
ALYREF
VHH
Immune phage-displayed VHH library
[123]
Nb206
TUFM
VHH
Immune phage-displayed VHH library
[124]
VH-9.7
GSC
VH
Non-immune yeast-displayed human scFv library
[125]
C-C7
Dynactin-1-p150Glued
VHH
Non-immune phage-displayed VHH library
[126]
ENb1, ENb2
EGFR
VHH
Immune phage-displayed VHH library
[127,130]
Neuroimaging
EG(2)
EGFR
VHH
Immune phage-displayed VHH library
[136]
sdAb 4.43
IGFBP7
VHH
Immune phage-displayed VHH library
[142,144,145]
FC5
TMEM-30A
VHH
Non-immune phage-displayed VHH library
[148]
R3VQ
Aβ (1-42) peptide
VHH
Immune phage-displayed VHH library
[135]
A2
Phospho-Tau protein
VHH
Immune phage-displayed VHH library
[135]
mVHH A10,
mVHH E9,
mVHH E3
GFAP
VHH
Immune ribosome-displayed VHH library
[151]

© 2019 by the authors. Licensee MDPI, Basel, Switzerland. This article is an open access article distributed under the terms and conditions of the Creative Commons Attribution (CC BY) license (http://creativecommons.org/licenses/by/4.0/).