CD20 mAb-Mediated Complement Dependent Cytotoxicity of Tumor Cells is Enhanced by Blocking the Action of Factor I
Department of Biochemistry and Molecular Genetics, University of Virginia School of Medicine, Charlottesville, VA 22908, USA
*
Author to whom correspondence should be addressed.
Received: 30 August 2013 / Revised: 13 November 2013 / Accepted: 21 November 2013 / Published: 28 November 2013
Abstract
The CD20 mAbs, rituximab (RTX) and ofatumumab (OFA), have been used with success in the clinic in the treatment of B cell malignancies. These mAbs can eliminate B cells only by utilizing the body's immune effector mechanisms, and there is considerable evidence that OFA is particularly effective at eliminating B cells by mediating complement dependent cytotoxicity (CDC). However, effector mechanisms such as complement can be exhausted or down-regulated. Therefore, several approaches are being investigated with the goal of increasing CDC mediated by these mAbs. We reported that when patients with chronic lymphocytic leukemia (CLL) are treated with RTX or with OFA, complement is rapidly activated on circulating, targeted CLL B cells. However, a substantial fraction of these cells escape CDC and clearance due to degradation of covalently deposited active C3b fragments to inactive fragments iC3b and C3d. This process is mediated by a plasma protease, Factor I. Therefore, a rational approach for increasing CDC would be to block this reaction by inhibiting Factor I with a neutralizing mAb. Indeed, we have demonstrated that use of neutralizing mAb A247, specific for factor I, significantly and substantially increases CD20 mAb-mediated CDC of both cell lines and of primary CLL cells
in vitro
.
View Full-Text
►

▼

Figures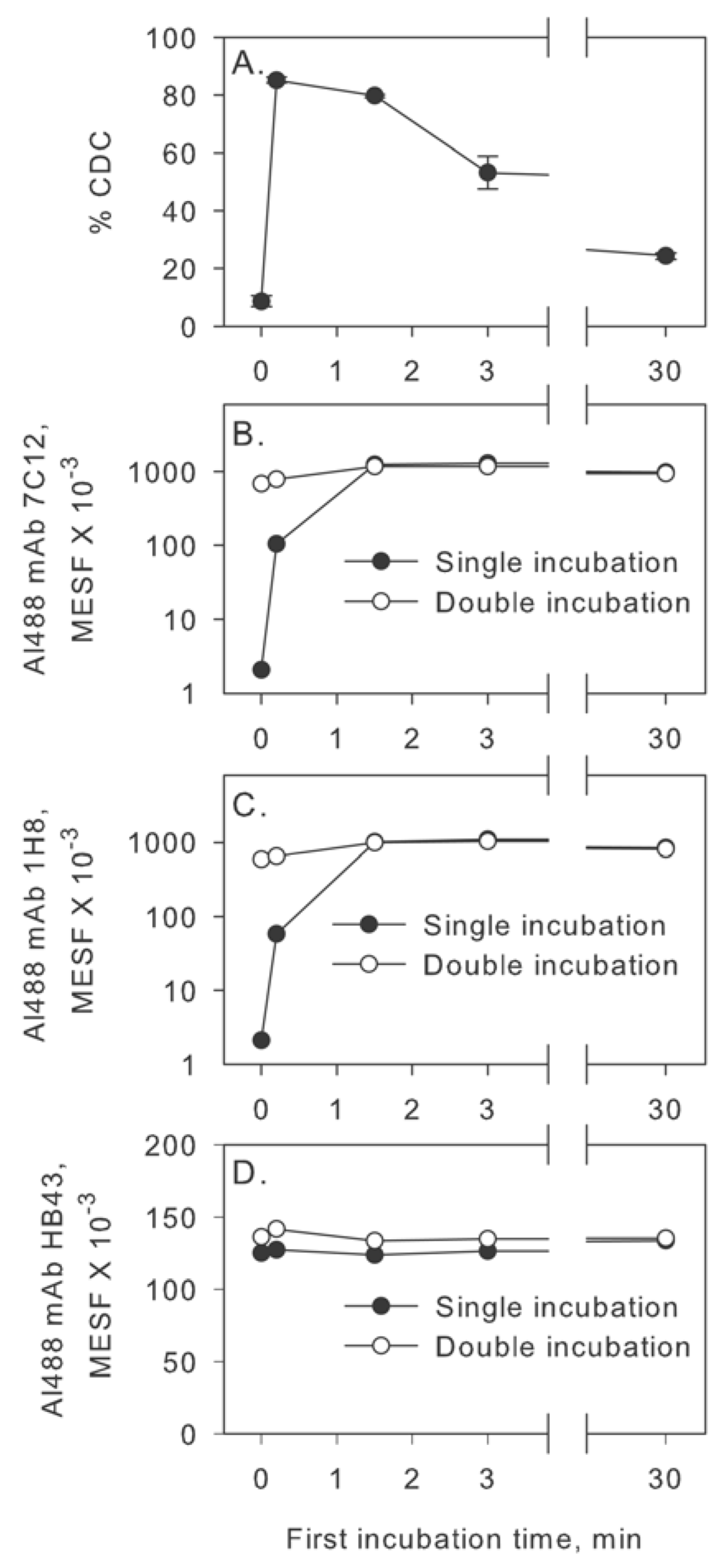 Figure 1

Share & Cite This Article
MDPI and ACS Style
Lindorfer, M.A.; Beum, P.V.; Taylor, R.P. CD20 mAb-Mediated Complement Dependent Cytotoxicity of Tumor Cells is Enhanced by Blocking the Action of Factor I. Antibodies 2013, 2, 598-616.
Related Articles
Comments
[Return to top]