Soil-Related Sustainable Development Goals: Four Concepts to Make Land Degradation Neutrality and Restoration Work
1
Soil, Water and Land Use Team, Wageningen Environmental Research, Droevendaalsesteeg 3, 6708RC Wageningen, The Netherlands
2
Civil, Surveying and Environmental Engineering, The University of Newcastle, Callaghan 2308, Australia
3
Climate Change, Water & Food Team, Wageningen Environmental Research, Droevendaalsesteeg 3, 6708RC Wageningen, The Netherlands
4
International Soil Reference and Information Centre (ISRIC), Droevendaalsesteeg 3, 6708RC Wageningen, The Netherlands
5
The Ministry of Infrastructure and Watermanagement, Rijkswaterstaat, Griffioenlaan 2, 3526LA Utrecht, The Netherlands
6
Environmental Sciences; Wageningen University and Research, Droevendaalsesteeg 3, 6708RC Wageningen, The Netherlands
*
Author to whom correspondence should be addressed.
Received: 18 October 2018 / Revised: 6 November 2018 / Accepted: 7 November 2018 / Published: 10 November 2018
Abstract
In the effort to achieve the Sustainable Development Goals (SDGs) related to food, health, water, and climate, an increase in pressure on land is highly likely. To avoid further land degradation and promote land restoration, multifunctional use of land is needed within the boundaries of the soil-water system. In addition, awareness-raising, a change in stakeholders' attitudes, and a change in economics are essential. The attainment of a balance between the economy, society, and the biosphere calls for a holistic approach. In this paper, we introduce four concepts that we consider to be conducive to realizing LDN in a more integrated way: systems thinking, connectivity, nature-based solutions, and regenerative economics. We illustrate the application of these concepts through three examples in agricultural settings. Systems thinking lies at the base of the three others, stressing feedback loops but also delayed responses. Their simultaneous use will result in more robust solutions, which are sustainable from an environmental, societal, and economic point of view. Solutions also need to take into account the level of scale (global, national, regional, local), stakeholders' interests and culture, and the availability and boundaries of financial and natural capital. Furthermore, sustainable solutions need to embed short-term management in long-term landscape planning. In conclusion, paradigm shifts are needed. First, it is necessary to move from excessive exploitation in combination with environmental protection, to sustainable use and management of the soil-water system. To accomplish this, new business models in robust economic systems are needed based on environmental systems thinking; an approach that integrates environmental, social, and economic interests. Second, it is necessary to shift from a "system follows function" approach towards a "function follows system" one. Only by making the transition towards integrated solutions based on a socio-economical-ecological systems analysis, using concepts such as nature-based solutions, do we stand a chance to achieve Land Degradation Neutrality by 2030. To make these paradigm shifts, awareness-raising in relation to a different type of governance, economy and landscape and land-use planning and management is needed.
View Full-Text
►

▼

Figures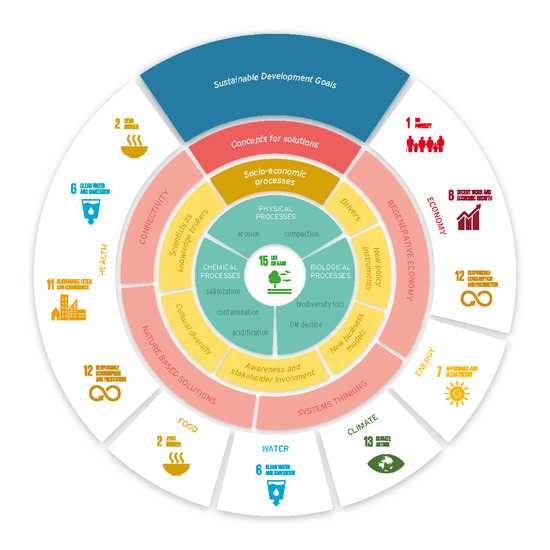 Graphical abstract
This is an open access article distributed under the
Creative Commons Attribution License
which permits unrestricted use, distribution, and reproduction in any medium, provided the original work is properly cited (CC BY 4.0).

Share & Cite This Article
MDPI and ACS Style
Keesstra, S.; Mol, G.; De Leeuw, J.; Okx, J.; Molenaar, C.; De Cleen, M.; Visser, S. Soil-Related Sustainable Development Goals: Four Concepts to Make Land Degradation Neutrality and Restoration Work. Land 2018, 7, 133.
Note that from the first issue of 2016, MDPI journals use article numbers instead of page numbers. See further details here.
Related Articles
Comments
[Return to top]