Transparency, Geomorphology and Mixing Regime Explain Variability in Trends in Lake Temperature and Stratification across Northeastern North America (1975–2014)
1
Department of Biology, SUNY New Paltz, 1 Hawk Drive, New Paltz, NY 12561, USA
2
Department of Chemistry and Biology, Ryerson University, 350 Victoria Street, Toronto, ON M5B 2K3, Canada
3
Department of Biology, Miami University, 700 E High Street, Oxford, OH 45056, USA
4
Department of Biological Sciences, Virginia Polytechnic Institute and State University, 2011 Derring Hall, 926 West Campus Drive, Blacksburg, VA 24061, USA
5
Itasca Biological Station and Laboratories, University of Minnesota Twin Cities, 28131 University Circle, Lake Itasca, MN 56470, USA
6
Center for Limnology, University of Wisconsin-Madison, 680 North Park Street, Madison, WA 53706, USA
7
Leibniz Institute of Freshwater Ecology and Inland Fisheries, Müggelseedamm 310, Berlin 12587, Germany
8
Department of Natural Resources, Cornell University Biological Field Station, 900 Shackelton Point Road, Bridgeport, NY 13030, USA
9
Mohonk Preserve, Daniel Smiley Research Center, P.O. Box 715, New Paltz, NY 12561, USA
10
New York City Department of Environmental Protection, 71 Smith Avenue, Kingston, NY 12401, USA
11
Dorset Environmental Science Centre, Ontario Ministry of the Environment and Climate Change, P.O. Box 39, Dorset, ON P0A1E0, Canada
12
Climate Change Institute, University of Maine, 137 Sawyer Research Center, Orono, ME 04401, USA
13
Department of Biology, York University, Toronto, ON M3P1J3, Canada
14
Environmental Studies, Dickinson College, 28 North College Street, Carlisle, PA 17013, USA
15
Cary Institute of Ecosystem Studies, Box AB, Millbrook, NY 12545, USA
16
Department of Biology, State University of New York at Fredonia, 280 Central Avenue, Fredonia, NY 14063, USA
*
Author to whom correspondence should be addressed.
Received: 28 April 2017 / Revised: 9 June 2017 / Accepted: 14 June 2017 / Published: 20 June 2017
Abstract
Lake surface water temperatures are warming worldwide, raising concerns about the future integrity of valuable lake ecosystem services. In contrast to surface water temperatures, we know far less about what is happening to water temperature beneath the surface, where most organisms live. Moreover, we know little about which characteristics make lakes more or less sensitive to climate change and other environmental stressors. We examined changes in lake thermal structure for 231 lakes across northeastern North America (NENA), a region with an exceptionally high density of lakes. We determined how lake thermal structure has changed in recent decades (1975–2012) and assessed which lake characteristics are related to changes in lake thermal structure. In general, NENA lakes had increasing near-surface temperatures and thermal stratification strength. On average, changes in deepwater temperatures for the 231 lakes were not significantly different than zero, but individually, half of the lakes experienced warming and half cooling deepwater temperature through time. More transparent lakes (Secchi transparency >5 m) tended to have higher near-surface warming and greater increases in strength of thermal stratification than less transparent lakes. Whole-lake warming was greatest in polymictic lakes, where frequent summer mixing distributed heat throughout the water column. Lakes often function as important sentinels of climate change, but lake characteristics within and across regions modify the magnitude of the signal with important implications for lake biology, ecology and chemistry.
View Full-Text
►

▼

Figures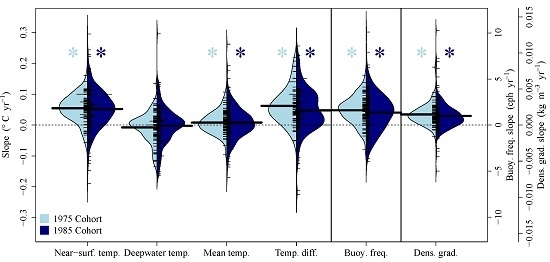 Graphical abstract
This is an open access article distributed under the
Creative Commons Attribution License
which permits unrestricted use, distribution, and reproduction in any medium, provided the original work is properly cited (CC BY 4.0).

Share & Cite This Article
MDPI and ACS Style
Richardson, D.C.; Melles, S.J.; Pilla, R.M.; Hetherington, A.L.; Knoll, L.B.; Williamson, C.E.; Kraemer, B.M.; Jackson, J.R.; Long, E.C.; Moore, K.; Rudstam, L.G.; Rusak, J.A.; Saros, J.E.; Sharma, S.; Strock, K.E.; Weathers, K.C.; Wigdahl-Perry, C.R. Transparency, Geomorphology and Mixing Regime Explain Variability in Trends in Lake Temperature and Stratification across Northeastern North America (1975–2014). Water 2017, 9, 442.
Note that from the first issue of 2016, MDPI journals use article numbers instead of page numbers. See further details here.
Related Articles
Comments
[Return to top]